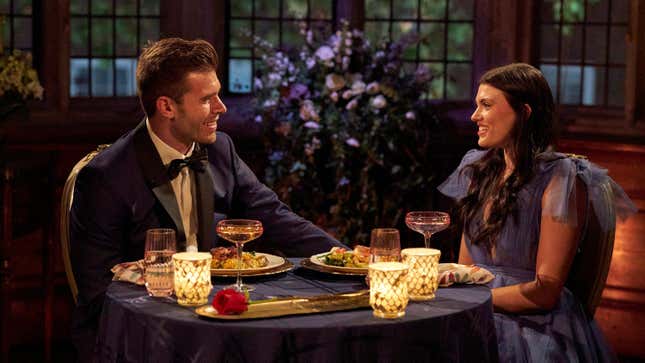 To quote Paul Rudd in Forgetting Sarah Marshall, "You sound like you're from London!" That is the theme of this week's episode of The Bachelor–dumb Americans trying to sound like they're from London. Everyone does their worst British accents. "Pip pip! Cheerio!"

Miles Teller on becoming Rooster in "Top Gun: Maverick"
Several of the women and Zach refer to London as a city of romance, but guys, no, that's Paris! British people are notoriously emotionally repressed. Other things they associate with London: royalty, fish and chips, and–crucially–tea. As they all wait for the date card to come, Greer goes on and on about how much she loves tea. She has a tea tattoo! She mentioned she loves tea to Zach! This date will be hers!
It is not. The card comes and reads, "Gabi, you're my queen." Everyone says they're happy for her, but this begins Greer's descent into madness. A man in a bowler hat arrives to tell Gabi that "Zachary Shallcross" will meet her downstairs. "Cheers! Brilliant!" Gabi says as she rushes out the door. "A butler grabbed Gabi; I don't think it gets more London than that," says Brooklyn knowledgeably, as if every Londoner has a house staff.
I have to hand it to Gabi. When she made him drink maple syrup as she got out of the limo and drunkenly called him Zachy Poo on her first group date, I thought she was not long for this world. But she turned it around with that jar of peanut butter cups and now here she is on one of the best one-on-one dates of the season.
They begin at a perfumery frequented by British royals because Zach says he wants to treat Gabi like royalty. They begin to craft a custom perfume called Zabi (the name needs work) by sniffing samples, getting notes of sour patch kids and Christmas. "This one smells like weed," says Gabi. "Marijuana?" Zach asks for clarification in the episode's funniest moment. When they land on their final product, Gabi refers to it as their first child and Zach laughs.
The next stop is a visit with a former royal butler, who brings them upstairs to try on funny hats and jewelry and have some tea among royal corgis. It's honestly delightful, and Gabi comes off charming and funny. This clearly breaks Zach's brain, because he keeps saying what a great personality she has. She tries on dresses for their dinner date and finds one that makes her feel like Cinderella.
Now it's time to go home to drop of the spoils of her shopping trip! An intern couldn't have handled this? The producers really said, "If you're going to keep cutting the villains, we're going to have to resort to desperate measures to create conflict." Gabi walks into the hotel room weighed down by bags and proceeds to unpack all of them to show the other girls, who are positively seething with jealousy. When Gabi pulls out a pair of Jimmy Choos, Kylee whines, "I don't remember the last time a man bought me a meal, let alone a pair of Jimmy Choos." Kylee, Zach didn't buy her them, ABC did!
Greer finally snaps when Gabi brings up the tea party with the corgis, storming out of the room in tears. Tea parties is how she and her family bond (?) she sobs to Charity, who comes to comfort her. "It's like rubbing dirt in the wound!" Honey, I think you mean salt? I do feel for Greer, who got the first-impression rose but seemingly has not made an impression on Zach since. That would mess with anyone's head.
Gabi meets back up with Zach in her Cinderella dress for their dinner date, and they have a nice but boring (to me) conversation about insecurities and the little things being huge and blah blah blah. She gets the rose, and they dance to that Elvis cover we've been hearing in the previews all season. Next!
It's time for the group date! Unfortunately, a card arrives to tell everyone that Zach is feeling under the weather and won't be joining them for their day of London exploring. Bullocks! Bloody hell! They board a double decker bus for a tour of London, and everyone is very sour. They complain that the weather is gloomy (um, yeah, it's London). "I tried to dress cute and sexy, and he's not even here so I'm freezing my ass off," Kylee says. To all of this I say, stop your whinging! You're on a free vacation; shut up and enjoy it!
Maybe the producers suggested this, too, because eventually everyone starts to lighten up. They exchange zingers with a British barmaid, have a beer chugging contest, and try to get the London guards to crack. "I'm going to make the most of today," says Greer. Yes, good choice! But then they get all dressed up to go sit and wait at the cocktail party, hoping for Zach to show up, only for another butler to show up with a note saying he's not coming. Why do this? Let these poor women take their makeup off and go to bed! "I feel stood up," says Brooklyn.
The next day was supposed to be Charity's one-on-one, but Jesse Palmer shows up to reveal what we've suspected this whole time: Zach has COVID. "Kaity, you're a nurse, so you understand the sensitivity." Jesse! You don't have to be a nurse to understand COVID! We have all been living through it, we get it.
Kaity visits Zach's room with a little care package and they chat through the door. As they talk, we get a whole Zach and Kaity clip show of their past interactions. I guess ABC had to fill the two hours somehow. At least the group date got to explore London. What does Charity get to do on this lost day? Kaity walks away from their door date on a high: "I haven't met a man so genuine, so ready to fall in love. I could see myself being married to this man."
Zach does some self-filming to update us on his health situation. I would say he's preparing for his post-Bachelor life as an influencer, but as he's still under 100,000 Instagram followers, probably not. He does a little AV setup in his room to host a cocktail party via Zoom, which Jesse informs the girls will be followed the show's first-ever virtual rose ceremony. The girls come in one by one to sit on a couch and hold an iPad with Zach's face on it. At least no one can "steal him for a sec" when you're virtual. To make up for their missed date, Zach gives Charity a little glass Big Ben. It's no Jimmy Choos, but okay.
Everyone else has good conversations until Greer. Poor, sweet Greer. She's already hanging by a thread, but the conversation goes off the rails when she tells him she understands how he's feeling, because when she got COVID, it was at the end of the sales quarter at work, and she was frustrated about not being able to meet her goals. Instead of nodding politely like a normal person, Zach takes this as the most offensive statement in the world and informs Greer their two situations could not be more different! He's here to find his person! It's so much different than sales!
This is, frankly, pretty fucked up. There is an unfair power dynamic between these two, and Greer is simply trying to connect in a very awkward situation. His decision to scold her like a child is gross. If they were on an even playing field, if he were her actual boyfriend, she would say, "You're willfully misinterpreting what I'm saying, you dick." Instead, she nods tearfully.
Greer is not feeling great going into the rose ceremony. All the women have to get dressed up and stand in their rows to watch Zach, donning a suit and sitting on a couch in front of webcam, call their names. "It's literally like someone breaking up with you over the phone," says Brooklyn. Who gets the honor? Kylee and Mercedes, whose time had come. Greer, you have one more week, but I'm afraid that black SUV is just around the corner.
Stray observations
Their London hotel is huge! Even the nice European hotels that I've stayed in are usually on the smaller side.
Meghan Markle's name comes up at the perfumery. When Zach says he wants to treat Gabi like royalty, I'm guessing he doesn't mean like Meghan. Or Diana, for that matter.
Why wasn't Gabi isolating? They were making out the day before Zach starting feeling sick, but she's still hanging out with the other women?
Once again, you can tell who Zach really likes. Charity blows him a kiss across the iPad, saying they won't do something as cheesy as kissing the camera. But when Kat suggests a camera kiss, he acquiesces.