For two artists that don't sound or act much alike musically, the parallels between the careers of Paul McCartney and Paul Simon are substantial. Both Pauls started in pop music as teenagers, wound up playing in extremely popular and influential bands, released a prodigious amount of great material with those bands for much of the '60s, and split up their signature acts in 1970 at near-peak popularity to embark on solo careers. Those careers are now inescapably close to their end, relatively speaking—even if Simon does, as promised, continue recording after retiring from touring in a few weeks, and even if McCartney does, as he presumably intends, live until a ripe old 120 or so.

Egypt Station, Paul McCartney
Capitol Records
Grade: C+
In The Blue Light, Paul Simon
Legacy Recordings
Grade: B-
Both artists' relationship to the youthful game of rock 'n' roll has become clearer in their last quarter-century of material. Following his 1986 masterpiece Graceland, Simon has turned increasingly reflective in his considerations of mortality. Every five years or so, he releases an album of subtly tinkered-with variations on his folk-inflected, world-influenced sound. McCartney doesn't necessarily make more records these days, but his enthusiasm makes it feel like he does. So it's fitting that Simon's new album, In The Blue Light, is actually a collection of delicately reconsidered, re-recorded songs he feels have been relatively overlooked in his catalog, while McCartney has bashed out another new batch of largely uptempo pop songs titled Egypt Station.

This sounds like a knock on McCartney, and maybe it is—a little one! The man is a genius, or at least a substantial part of a collective genius called The Beatles. But beyond his feats of actual brilliance, he deserves credit for his restless energy, if not always what it produces. Egypt Station finds McCartney working with producer Greg Kurstin, who has produced plenty of overt pop but also has some alt-rock cred. The songs here don't skew as dance-pop as Kurstin's work with Beck or Tegan And Sara; in place of synth beats or disco flourishes, there's often a steady drum-and/or-piano rhythm, sort of a light stomp.

That rhythm powers two of the catchiest songs on the record, released together as a double A-side: "I Don't Know" and "Come On To Me." Along with "Fuh You," which despite its title line sounds practically movie trailer-ready (even the maybe-profanity, sung out loud, can be politely interpreted as an accented "for"), these tunes are McCartney in a nutshell. They're undeniably pleasurable pop-rock that demands close listening not because of sonic density, but out of suspicion that McCartney will use his gift of songcraft to slip in something stupid. That suspicion is confirmed by "Come On To Me," an inane horny-for-consent flirtation that unintentionally balances out the lovely ruefulness of "I Don't Know" (the title of which answers his own question: "What's the matter with me?") and the pleasantly love-drunk "Fuh You."

G/O Media may get a commission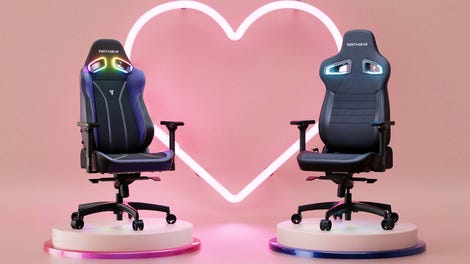 Up to $150 off
Vertagear Gaming Chairs
When McCartney tries harder to get current in his lyrics, the results are about what you'd expect: The extended, multi-section "Despite Repeated Warnings" sounds like a rumination on the rise of Trump and extremely vague thoughts on fighting back, principally, "Yes we can do it!" On the more plaintive "People Want Peace," he admits: "The message is simple, it's straight from my heart, and I know that you've heard it before." No such caveat accompanies "Do It Now," which offers pablum about living for today. In other words, this is very much a Paul McCartney solo album: the uneven product of compulsive songwriting that includes several delightful songs, several terrible ones, and a lot in between. It wouldn't be fair to say he sounds out of ideas, because this formula describes a whole lot of his non-Beatles albums going back decades.

---
Paul Simon may be a little more discerning about what makes it to his records, but his recent albums follow a similar pattern, tending toward respectable efforts with a few gems apiece. In The Blue Light, which takes its name from a lyric on a One-Trick Pony track, finds Simon essentially submitting a batch of songs from throughout his career for reconsideration. It would be easy to get bogged down in treating Blue Light as a compare/contrast exercise, but what's most impressive about is the way that it sounds more or less of a piece as its own record.

This may be in part because a full 40 percent of the songs are from 2000's You're The One (no other album has more than a single cut). The marriage drama "Darling Lorraine" and the nature parable "Pigs, Sheep, And Wolves" in particular benefit from livelier makeovers, clearing some of the gauzy haze that surrounds some of that record. In The Blue Light doesn't exactly reinvent Simon's deep cuts as full-fledged rockers; if anything, there's a jazzy undercurrent to many of the arrangements. Several songs downplay acoustic guitars in favor of piano or horns, sometimes augmented with little flicks of guitar harmonics.

Though adding a New Orleans shuffle to "Pigs, Sheep, And Wolves," a light-limbed looseness to "One Man's Ceiling Is Another Man's Floor," and staccato strings and woodwinds to "Can't Run But" runs contrary to the plodding that characterizes stretches of his later records, In The Blue Light still winds up sounding a little downtempo. It lacks highlights on par with later-period songs like "Rewrite," "You're The One," or "Cool Papa Bell," presumably because Simon feels like he got them right the first time, and the re-arrangements can't compete with the thrill of brand-new Simon tunes.
There's even an argument to be made that Simon's tastefulness has become suffocating—that rather than explore the creative impulses that led to critical or commercial disappointments like One-Trick Pony or Hearts And Bones (to say nothing of Songs From The Capeman, conspicuously ignored here), he revisits songs from those records and tries to get them "right," while McCartney plows ahead heedlessly. Then again, Simon's self-covers are often more inventive than McCartney's supposedly fresh cuts; he's seemingly incapable of the empty calls to arms that McCartney can clearly write in his sleep (or, worse, when he's fully awake). Ultimately, these different approaches to both invention and mediocrity help to distinguish the Pauls both from each other and from their more coast-friendly peers. They're both obviously still engaged with their process in their own ways, which is why almost anything either of them does inevitably produces a few worthwhile songs. Even their inessential records can serve as reminders that the world is a slightly better place with them in it.
---
Purchasing Egypt Station and In The Blue Light via Amazon helps support The A.V. Club.