In a year full of hate, there's a lot of love in the world of comics. Romance is a shared theme among many of this year's best comics: There's heartwarming queer love in books like Aquicorn Cove, Heartstoppers, and On A Sunbeam; Tolkien-infused marital drama in the pages of Coda; a futuristic Romeo & Juliet reimagining in The New World; and even interspecies affection in My Boyfriend Is A Bear. Oni Press has an especially strong 2018 with three titles on our list, all created by women. In the world of superheroes, two Marvel titles go back to basics with exceptional results, and Jack Kirby's New Gods get a modern update perfect for these anxious, unsettling times. Books like Sabrina directly tackled this tumultuous political moment, while The Seeds imagined where the world's current destructive path would lead. From masters of the form to rising stars making a name for themselves, this year's best comics showcased remarkable talents dedicated to pushing the medium forward.

---
Aquicorn Cove (Oni)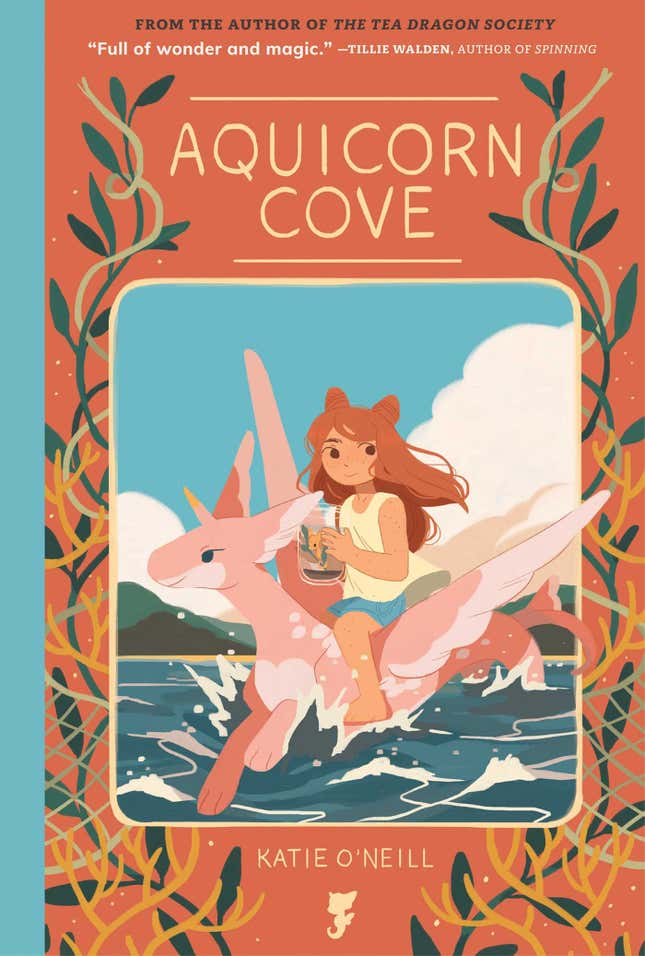 After the death of her mother, a girl finds a way to process her grief by devoting herself to an environmentalist cause in Katie O'Neill's touching graphic novel. The relationship between Lana and her late mother gives this book the heaviest emotional core of any of O'Neill's works, with visuals being the driving force behind this connection. A standout scene is a flashback of Lana and her mother sailing over a bloom of bioluminescent jellyfish whose golden glow bursts through the darkness of a storm. When her mother is gone, that darkness seeps back into Lana's life as she deals with the early symptoms of depression. This might sound depressing, but O'Neill finds plenty of moment of joy, most of which involve the aquatic life that Lana dedicates herself to protecting. The soft, lush artwork balances out the tone, giving young readers an easy entry into this complex coming-of-age story thanks to the cartoonish visuals. [Oliver Sava]
---
Brat (Koyama)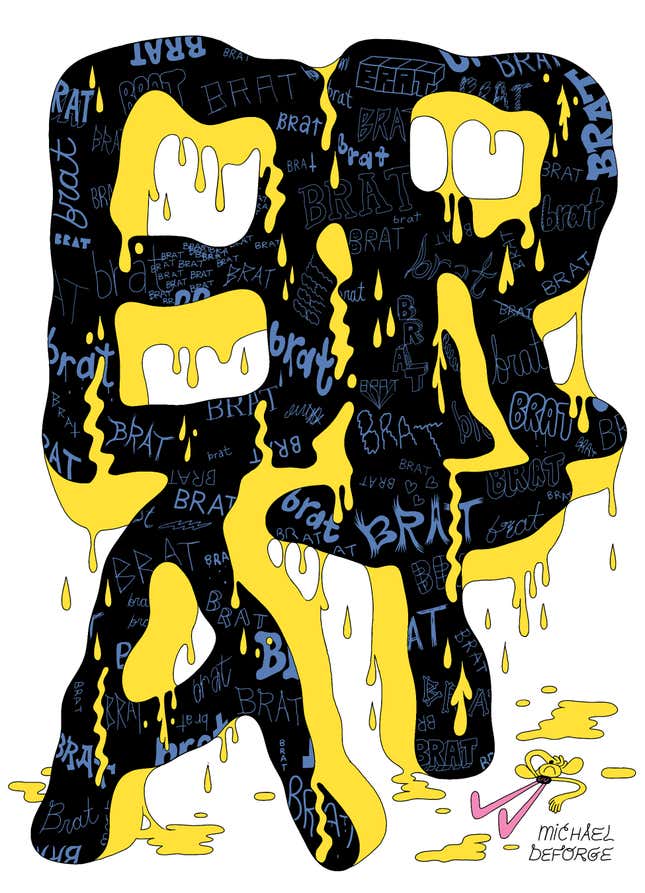 Michael DeForge is one of the biggest names in indie comics, and his latest graphic novel has him grappling with fame, legacy, and self-worth through the misadventures of a celebrity juvenile delinquent who no longer finds pleasure in her wanton acts of vandalism and destruction. DeForge is always pushing himself to explore how abstraction of form, space, and color alters tone and deepens character expression, and the intense disconnect from reality in the visuals brings new dimensions to his satirical storytelling. DeForge mines humor from the contrast of Ms. D's existential crisis with the endless adoration showered on her by the rest of the world, and as Ms. D ages, she recognizes the emptiness of this praise and searches for something more meaningful. Koyama also published a collection of DeForge's short comics, The Western World, earlier this year, giving readers a comprehensive look at the range of his talent. [Oliver Sava]
---
Coda (Boom! Studios)
Coda is the comic to hand a fantasy reader to convince them to give comics a try. Though the tropes and visuals will be familiar to anyone with a passing acquaintance with Dungeons & Dragons or Lord Of The Rings, what sets Coda apart is a consistent ability to twist familiar patterns into something entirely new, zigging when the reader expects it to zag. That's no surprise coming from writer Simon Spurrier, who's proven with titles like Angelic and Cry Havoc that he's got a particular skill when it comes to subverting expectations in order to tell a unique story. Matias Bergara's painterly, textured art makes Coda a visual joy, too, wild and full of character designs that look like the twisted combination of Miyazaki movies and Wizards. At the center of Coda is a love story that's just as epic as any journey to save the world from evil, and a marriage that's written with open affection and concern that's just as important as the adventuring. [Caitlin Rosberg]
---
Dodge City (Boom! Studios)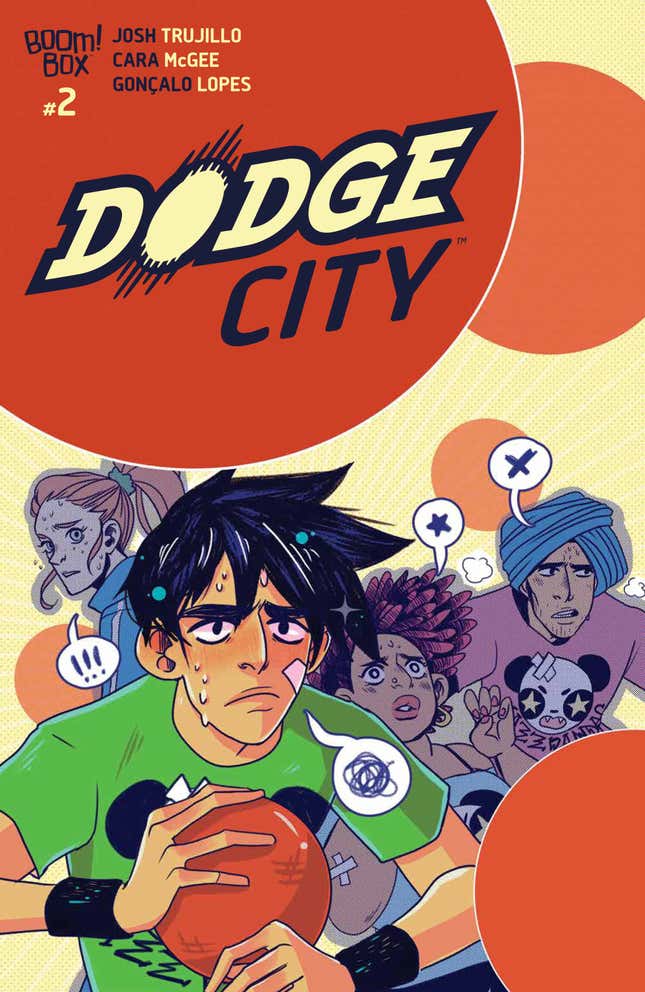 Though sports manga are popular enough to make up a healthy portion of that industry, until recently it's been rare to see Western comics embracing sports and games as a primary story-telling vehicle. With the arrival of Fence and Dodge City that's beginning to change, and the latter, written by Josh Trujillo with art by Cara McGee, packs a lot into its four-issue run. The book revolves around an intramural dodge ball team called the Jazz Pandas. The broad appeal of sports manga and anime isn't necessarily the game itself, but instead focuses on the relationships between individual teammates as well as the protagonist's problems with their adversaries, casual contests blown to warfare. Trujillo and McGee created a core cast of characters that are bright and compelling, a true team made up of a variety of personalities that don't feel stale or too familiar. Dodge City is inclusive and sweet without being cloying, a truly welcoming all-ages book that allows adorable art and a strong team ethic to stand front and center, rejecting conventional wisdom that demands violence and needless interpersonal conflict to drive a story forward. [Caitlin Rosberg]
---
Frankenstein: Junji Ito Story Collection (Viz)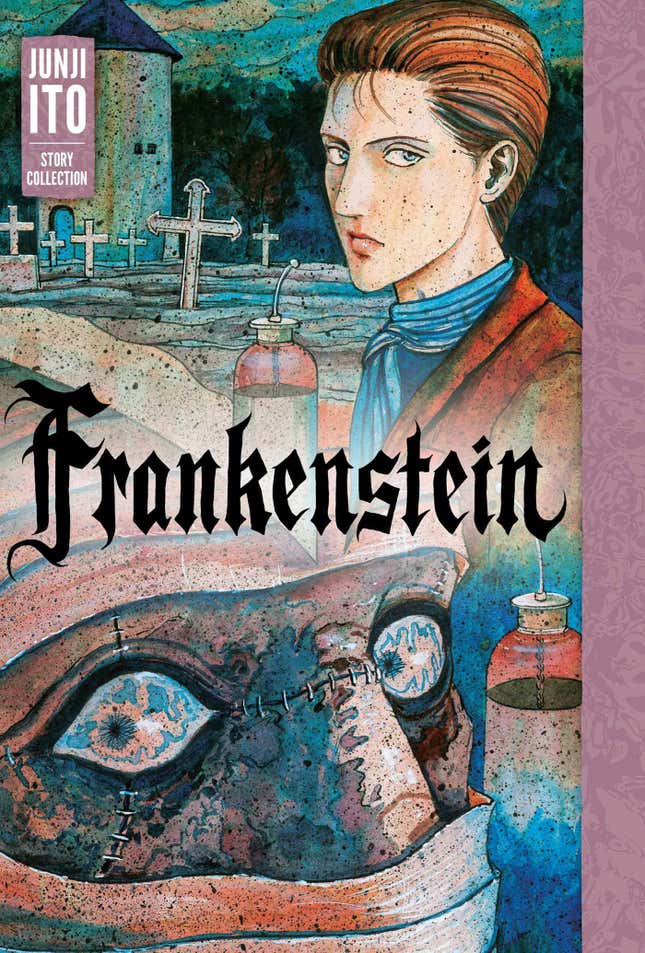 For 200 years Mary Shelley's Frankenstein has stood the test of time and occupied a place in pop culture and the hearts of horror fans that's difficult to overstate. Adding the skills of one of manga's masters of horror to Shelley's gothic novel can only be a benefit to both, and Junji Ito's take on Frankenstein is proof positive. Where many have skewed far from Shelley's canon in films, TV, and comics, Ito stuck closely to the original text, creating a monster that is capable of speech, but also massive in size and a terror to behold. The building sense of dread that defines so much of the original novel is reproduced beautifully in Ito's visuals, a central well of tension and fear that keeps the characters on the page tight and visibly uncomfortable. The success of this book relies just as much on Shelley's skills as a storyteller as Ito's, and readers will not be disappointed by what they find. [Caitlin Rosberg]

---
Giant Days (Boom! Studios)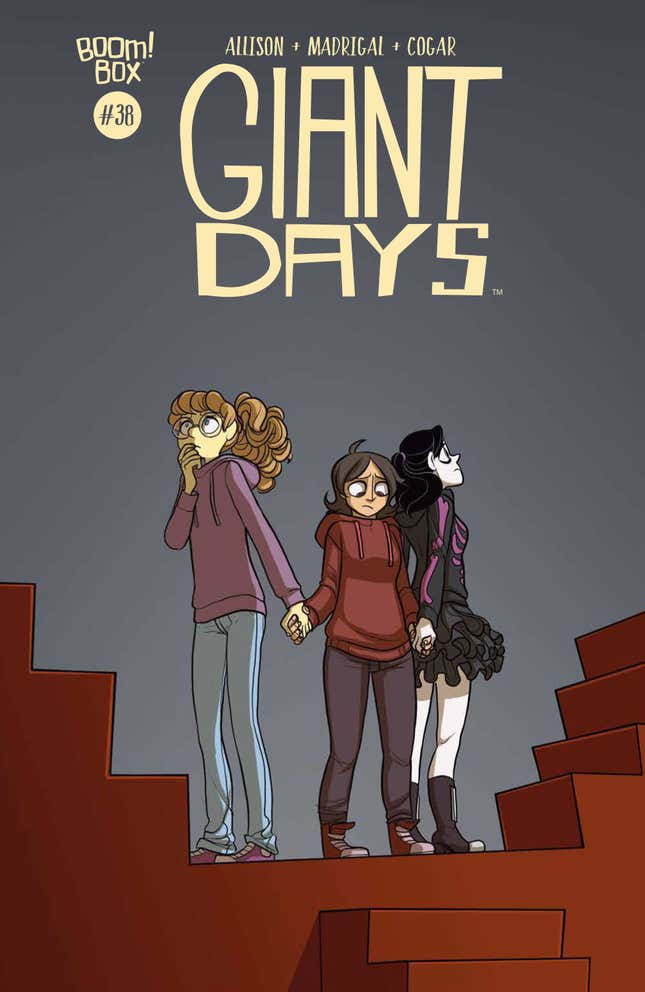 With the end of university drawing nearer, the characters of Giant Days have been figuring out their futures over the past year. John Allison continues to write some of the most believable relationships in comics, as delightful as they are fraught, and Max Sarin's linework imbues every drawing with feeling. This is a world overflowing with life, and visiting new environments reveals new treasures thanks to the detail and personality in Sarin's artwork with colorist Whitney Cogar. Daisy has an especially satisfying arc this year, finally overcoming the spell of her insufferable girlfriend and bringing the book back to its campus roots by becoming an RA. Susan and McGraw are #relationshipgoals while Esther and Ed's saga of unrequited love gets more complicated, and the stresses of adulthood put new pressures on these character dynamics. 2018 is also the year when Giant Days reveals its versatility, making a smooth transition into the world of YA prose in a novel written by Non Pratt. [Oliver Sava]
---
Heartstopper (Webcomic)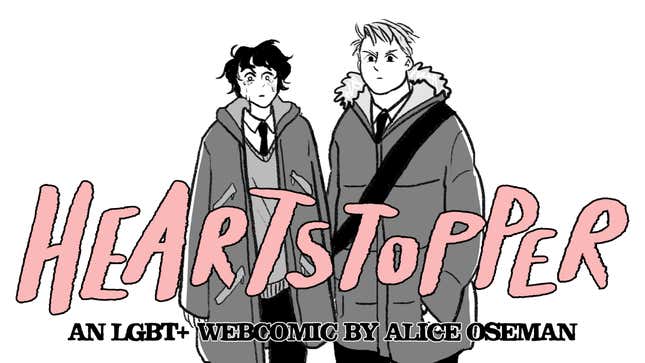 Alice Oseman has been carving a niche in the U.K. young adult book world, publishing three prose novels in addition to her webcomic Heartstopper. She recently ran a successful crowdfunding campaign to print the first volume of the comic, then announced it would be published by Hodder Children's Books. Oseman's work is best defined by its kindness both to the characters and the reader. That isn't to say there are no problems; the main characters are two teenage boys who fall in love and struggle with bullying and mental health issues. Oseman treats each individual character's identity with respect, and the difficulties that they each face are not sugar-coated or dismissed as being particular to their age. Heartstopper may be a YA comic, but it's filled with moments that will resonate with adults, too, especially the kind of sweet affection that's often missing from comics aimed at adults. Fans of Giant Days and Rainbow Rowell should check out Heartstopper. [Caitlin Rosberg]
---
Immortal Hulk (Marvel)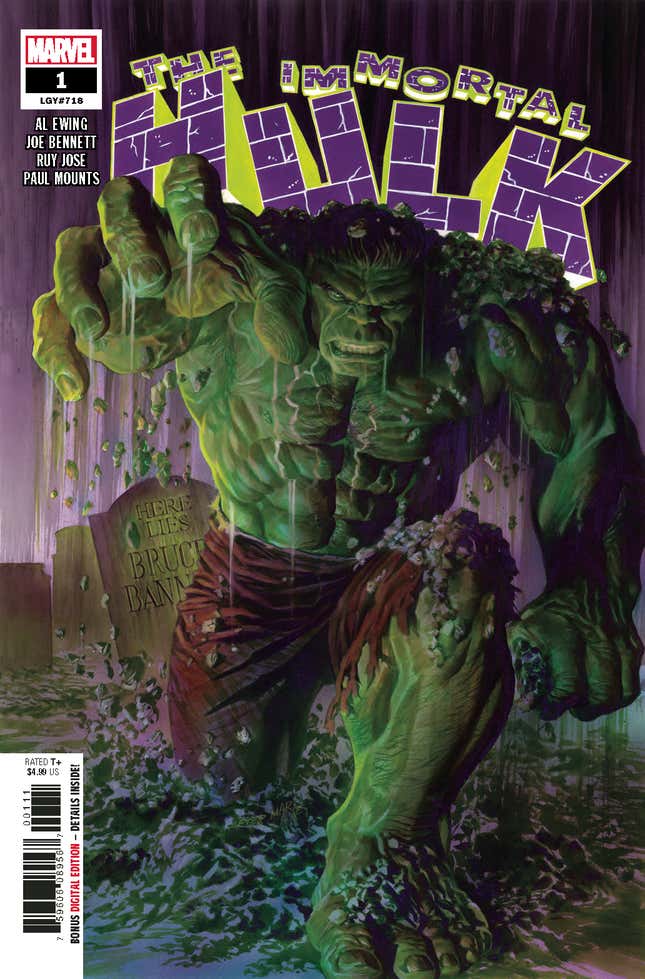 Kill Bruce Banner however you want during the day, but when the sun goes down, the Hulk will rise. By going back to Hulk's horror roots, writer Al Ewing, artist Joe Bennett, inker Ruy José, and colorist Paul Mounts revitalize the monstrous superhero, adding a supernatural twist that opens new narrative opportunities. Hulk is Banner's opposite, but that goes beyond physicality and emotional disposition. He's a creature of pure intuition and magical thinking, a gamma-powered detective whose intellect isn't defined by facts, but knowledge beyond scientific explanation. The scope of Ewing's story expands with every issue, and the art is equally ambitious, with Bennett delivering the strongest work of his career as he blends atmospheric suspense with superhero spectacle and grotesque body horror. Ewing smartly structures the series to give the regular art team extra time to create astounding visuals while guest artists hop on board to introduce new plot points, and his emphasis on short story arcs gives the title a much quicker pace than most superhero books. [Oliver Sava]
---
Love And Rockets (Fantagraphics)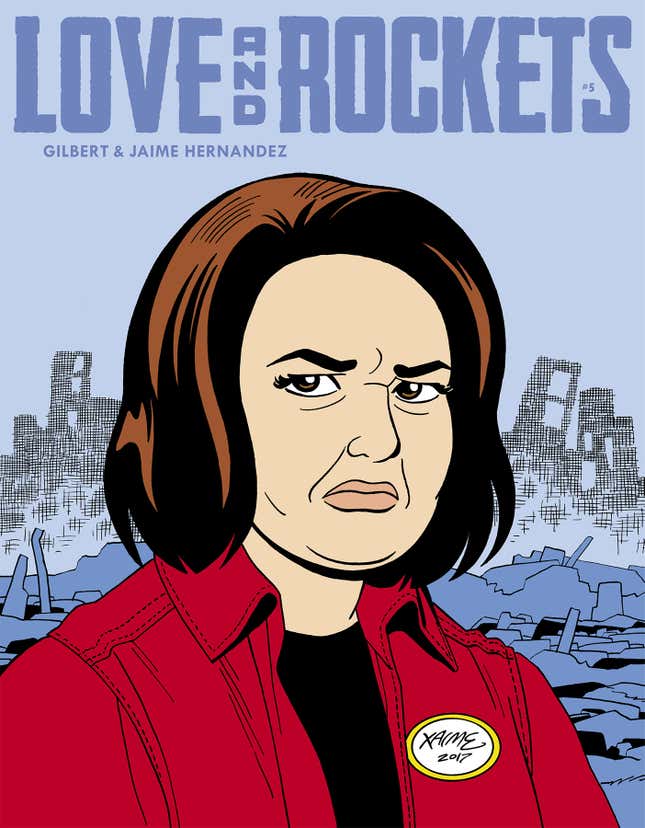 After 36 years, new issues of Love And Rockets are still cause for celebration. That long history is what makes Jaime and Gilbert Hernandez's series so fulfilling, and there are some huge emotional payoffs this year that could only be achieved by watching these creators and character's evolve over time. Nostalgia has become a major element of this series as Los Bros Hernandez look to the past to acknowledge how far they have come over the decades. The conclusion of Jaime's Locas reunion highlights his brilliant work creating complex character dynamics that evolve in real time, and he enriches these present-day relationships by flashing back to a simpler era. Gilbert has always been much looser with the passage of time in his stories. He's reluctant to go backward, but he brings literal ghosts into play to pay tribute to what has come before, keeping these spirits in the world thanks to the love that remains in the hearts of the living. [Oliver Sava]
---
Manfried The Man (Quirk)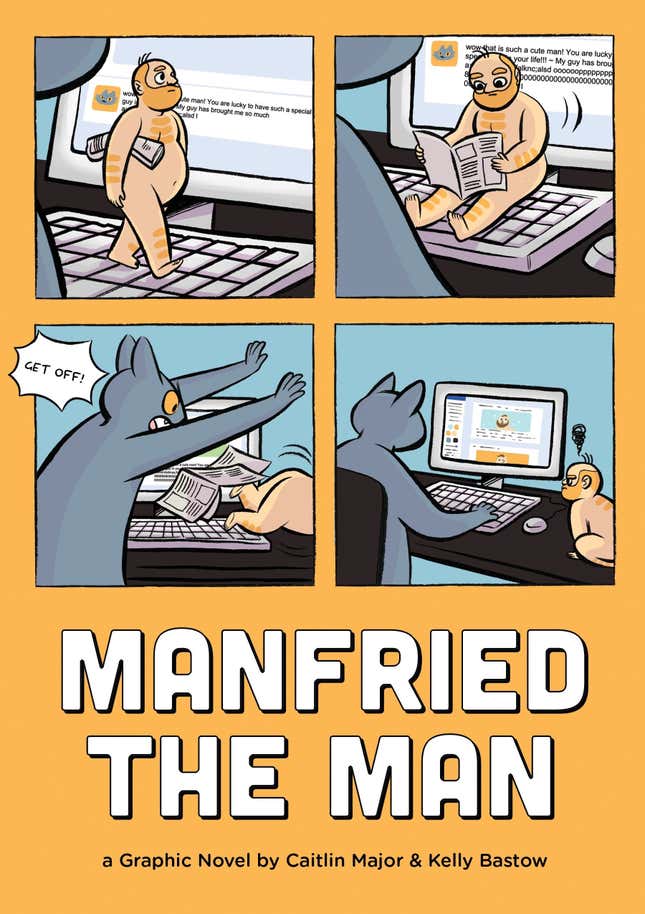 At first glance Caitlin Major and Kelly Bastow's collaboration is a gag comic, something easy to explore in a series of four panel pages that have no overarching plot beyond the gag itself. Manfried The Man is a book about Steve, a cat who is man-sized and does all the things that men do like speak and have a job, and his pet Manfried, a man who is the size of a cat and does cat things like demanding to be fed and putting his butt on everything. But like My Boyfriend Is A Bear, this book is less gag comic and more extended metaphor, a parable that's been framed around a jokey idea in order to shift the reader's perspective. Steve is struggling with his job, his friends, and his life in general, often teased for his pet and the time and attention he devotes to being a good man owner. Comparisons to Jon Arbuckle and Garfield aren't entirely unwarranted, but what makes Manfried The Man not just worth picking up but one of the best books of the year is how emotional Steve and Manfried's journey is together when the little man runs away and Steve struggles to find meaning in his life. It's a must read for pet owners of any stripe, especially anyone of an age whose generation has been accused of killing an industry. [Caitlin Rosberg]
---
My Boyfriend Is A Bear (Oni)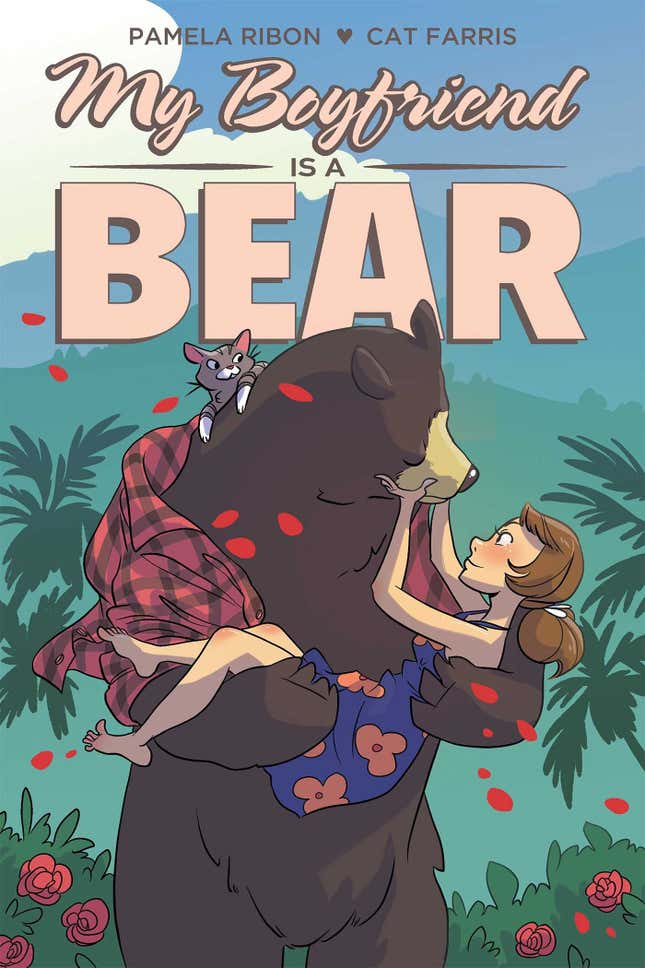 Adorably charming with valuable insights into the struggles of modern dating, Pamela Ribon and Cat Farris' My Boyfriend Is A Bear follows an unconventional courtship between a human woman and the bear that falls for her after a chance encounter in the woods. This interspecies romance is used as a metaphor for finding a person who doesn't match the expectations of friends, family, and the rest of society, but gives you everything you want in a relationship. Ribon's script is heartwarming with an undercurrent of tragedy as the couple braces for the bear's inevitable goodbye during hibernation season, and she makes exceptional use of the comic book medium to blend visual lists and comic-strip-style storytelling into a larger narrative. Farris bolsters the book's playful spirit with animated artwork overflowing with personality, imbuing the book's ursine love interest with a warm, kind aura that spotlights why he's such a pleasant partner. [Caitlin Rosberg]
---
Nancy (GoComics)

Sluggo. Is. Lit.
Olivia Jaimes' Nancy realized its true destiny on Labor Day, when Jaimes dropped an image that turned the 83-year-old Nancy into an icon for the meme generation. Wearing shutter glasses while riding a hoverboard, taking a selfie, and listening to streaming music on her wireless earbuds, Nancy proclaims the lit-ness of her best friend in a concise takedown of the comic strips' haters. Want to call Jaimes' work a cheap attempt to cash in on modern trends for cultural relevance? She'll show you what that actually looks like, and in the process spotlight the insight and wit of her regular work on the strip. Jaimes does an outstanding job exploring how technology changes the ways people interact with each other, but she still maintains the clever, playful spirit of classic Nancy. Jaimes' comics also change with the seasons, and spending the year with this bushy-haired rapscallion has been one of 2018's greatest comic pleasures. [Oliver Sava]
---
On A Sunbeam (First Second)
With the success of Spinning in 2017, expectations were high for On A Sunbeam. Tillie Walden has been putting out new books at a remarkable rate for the past few years, but On A Sunbeam delivers a story and art that are just as evocative and even more delicate than her previous work, defying concerns of burnout. It's difficult to pin down a genre for On A Sunbeam, which is suitable for young adult readers but has enough emotional weight and intricately detailed artwork for adults, too. It's a love story, but not exclusively romantic, and while the book is set in space it has fantasy elements that make it fall in line with tales of magical boarding schools. Ultimately what makes On A Sunbeam such a wonderful read is the work that Walden puts into her characters. There is sweetness in each of them, and affection for one another, but more importantly there's also steel in their spines; they don't always agree on what the right thing to do is, but they do act on it. [Caitlin Rosberg]

---
Prism Stalker (Image)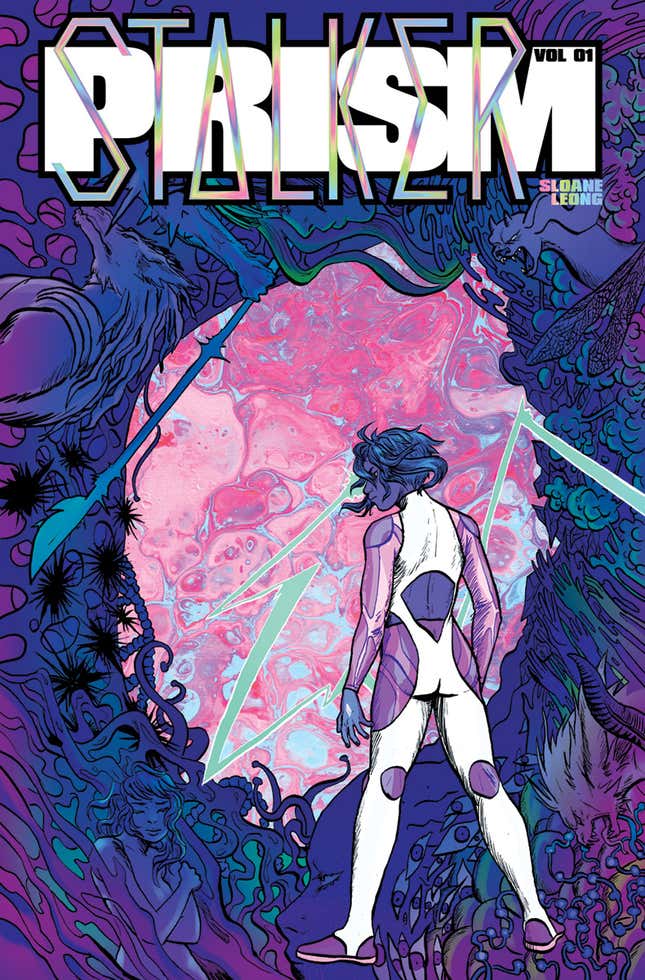 At the end of a year that saw plenty of new sci-fi universes emerge on the page, Sloane Leong's vision stands out from the crowd. The "oh shit!" factor of Prism Stalker is incredibly high, largely because Leong is so eager to take risks in her storytelling. At first glance, you might think that Leong sent the wrong art files to the printer with her oversaturated color palettes, but it's an aggressive artistic choice that pushes genre expectations out of way to make room for Leong's distinct perspective. She draws readers into alien environments by focusing on tactile qualities, resulting in particularly innovative designs as she considers what a slimy room would look like compared to something spongy. Leong is not interested in giving readers a dense history of the universe these characters inhabit, and the world-building comes from character interactions and what they discover in the moment. It makes for an especially active read, taking readers on a thrilling and totally unpredictable journey. [Oliver Sava]
---
Rice Boy (Iron Circus Comics)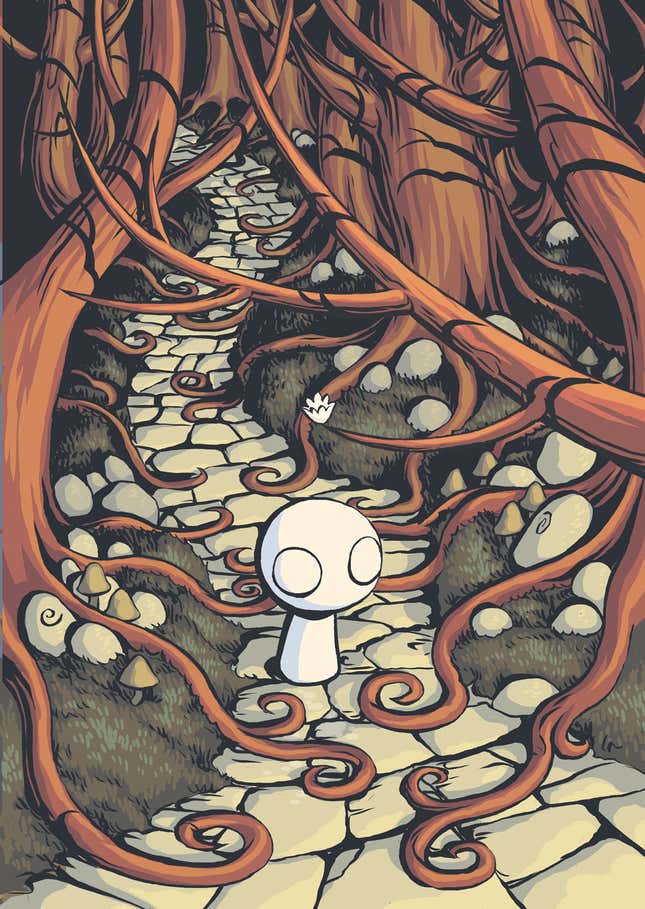 For readers who generally stick to cape-and-cowl stories, Rice Boy might not be an easy book to dive into, but it's more than worth the effort. Originally a webcomic and published this year by Iron Circus Comics, Evan Dahm's story about the titular Rice Boy and his world isn't constructed or paced like a traditional superhero book, and that's part of what makes it so refreshing. Rice Boy himself is a visual blank canvas, but the world that he's theoretically supposed to save is rich with detail and nuance and unfamiliar creatures. It can be difficult to pin the book down at first, since it doesn't have the same types of details or plotting that more familiar superhero comics might, but Dahm lays out a graceful story that unfolds naturally and draws the reader forward without sacrificing quiet moments. There's real conflict in Rice Boy's world centered around cruel and capricious rulers, struggles that have weighty implications, and it's a real pleasure to turn the page and see how Dahm is going to resolve the problems. The book acts as an excellent reminder not only of personal responsibility and community impact, but also that there are a multitude of different types of comics out there; this one in particular is excellent for fans of speculative fiction like Ursula K. Le Guin. [Caitlin Rosberg]
---
Runaways (Marvel)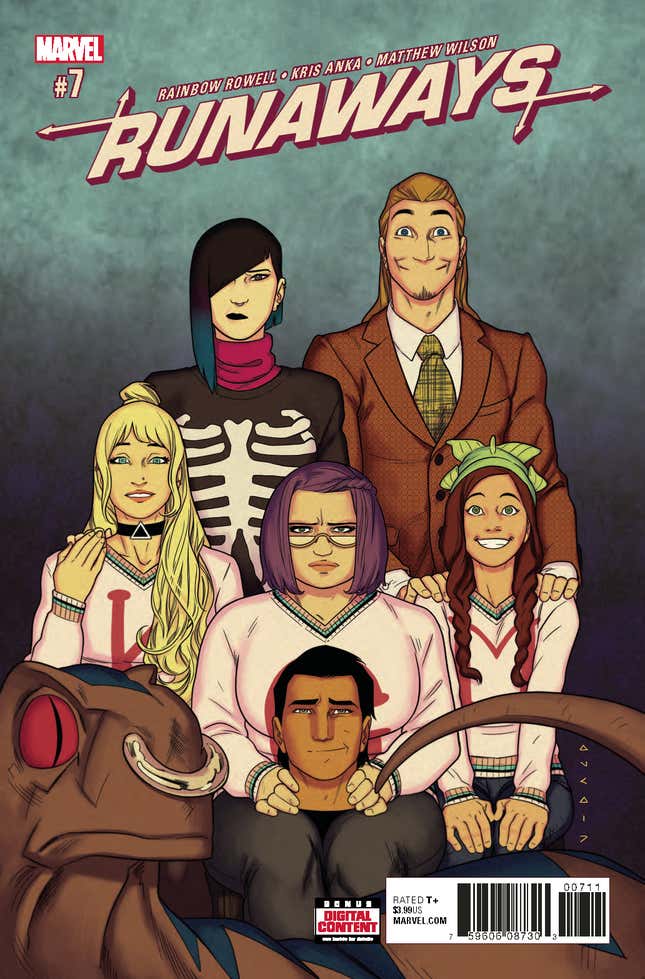 Runaways is a superhero comic that is constantly rebelling against its true nature. Like its team of superpowered teens and young adults, the series defies tradition to pave its own path as a romantic drama rooted in the harsh realizations of growing up. Writer Rainbow Rowell, artist Kris Anka, and colorist Matthew Wilson rekindle the fire of the original series to create a vibrant, stylish, angst-filled comic about the struggles of growing up and the difficulty of recapturing the joys of youth. Rowell uses history to drive the storytelling without requiring readers to be familiar with past Marvel comics, most prominently in a Molly-centric story guest-starring Asgard's The Enchantress, which also brought in Victor's Doombot teammate from Avengers A.I. to deal with the fallout of The Vision. Anka and Wilson (along with a stellar line-up of guest artists) beautifully match the unconventional approach of Rowell's writing, and she gives her art team plenty of room to show off the strength of their storytelling chops. [Oliver Sava]
---
Sabrina (Drawn & Quarterly)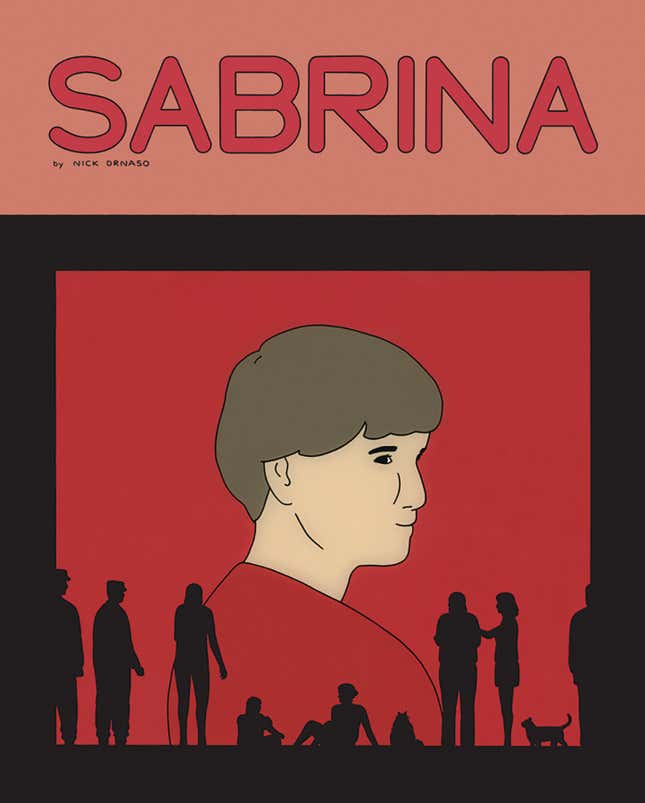 The internet is a terrifying thing. Nick Drnaso's graphic novel looks at how online conspiracy theorists weaponize opinions, advancing their agendas without any consideration for the truth or how their actions destroy the lives of others. Sabrina is the first graphic novel to be longlisted for the Man Booker prize, gaining mainstream recognition for its devastating depiction of how a 24-hour news cycle and online attacks grind away at three people connected by personal tragedy. Drnaso's stark, sterile art style heightens the alienation felt by these grieving people as their pain is written off as performance, and a 24-panel grid sets a claustrophobic tone that traps the reader in the characters' misery. It's a tough read, but one that says a lot about our current cultural climate of fear-mongering that turns innocent people into political pawns. [Oliver Sava]
---
Spectacle (Oni)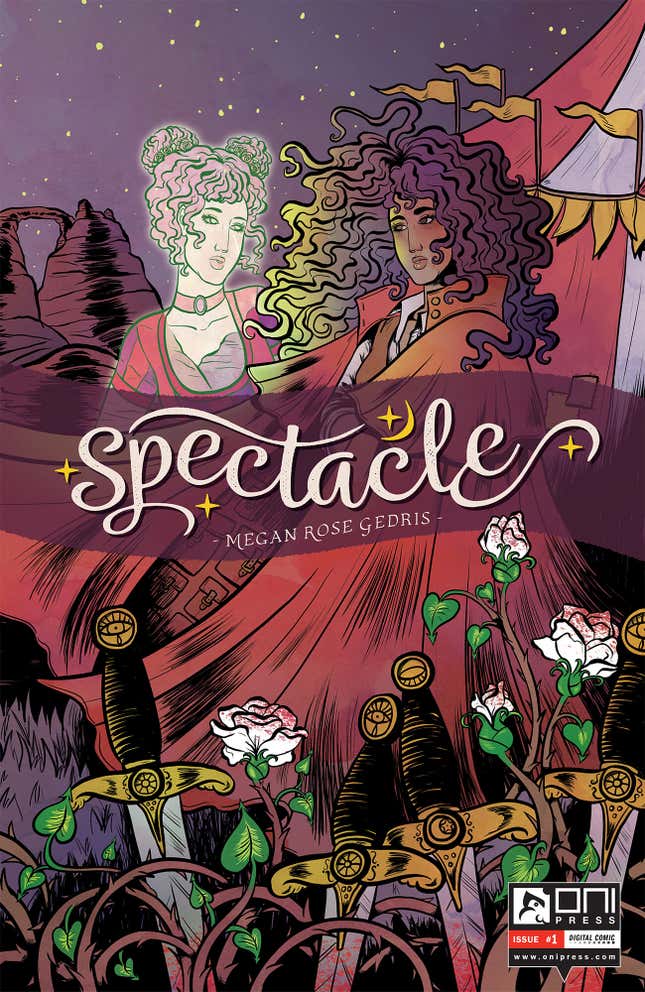 Megan Rose Gedris is a curator of weird and wonderful things, the exact sort of person you want crafting stories. She has extensive comics creating experience between webcomics like Meaty Yogurt and small press, but Spectacle is one of her first forays into a book targeting a younger crowd. A murder story involving a ghost and set at a traveling circus, it's full of just as much personality as her previous work, lacking nothing for being rated PG instead of R. Anna, an engineer at Samson's Circus, is trying to solve her knife-throwing twin Kat's murder, but she's also contending with being haunted by Kat's ghost as the mystery starts to expand and reveal new secrets. Spectacle is a story about sisterhood and love, but it's also about found family and embracing who you really are, warts and weirdness and all. With the murder and supernatural happenings as a central narrative, it never feels like a very special episode, simply accompanying readers and respecting their intelligence and freakiness for what it is. It's Geek Love for a new generation, with lush and expressive art to boot. [Caitlin Rosberg]
---
The New World (Image)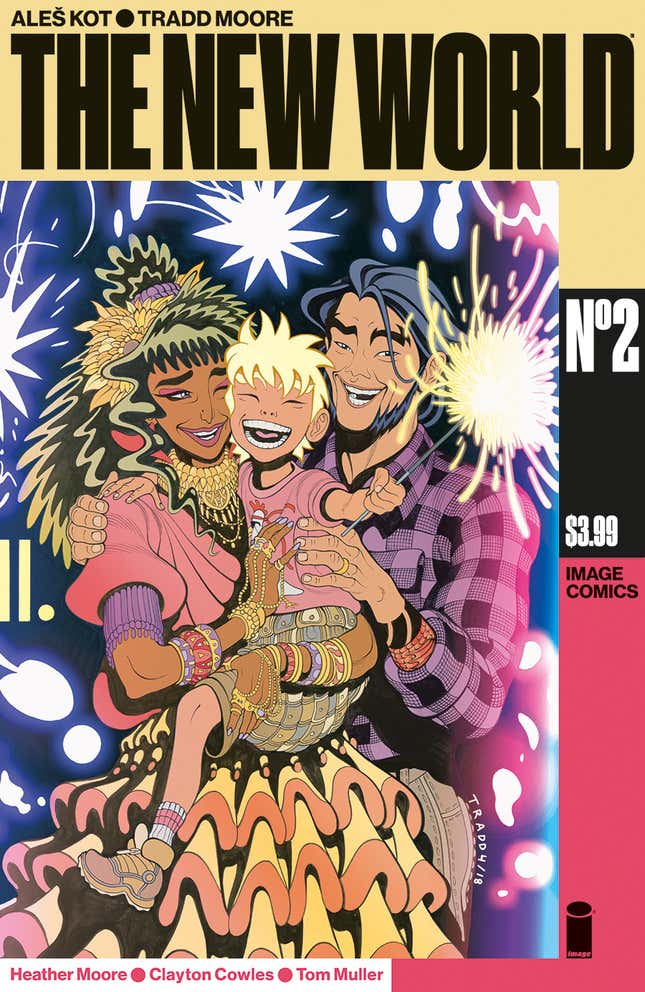 Aleš Kot is not particularly subtle about his personal beliefs, regardless of the type of comic he's working on. From Material to Generation Gone, he's written extensively about the systems of oppression, both legal and social, that keep people stratified and separated. But with both Days Of Hate and The New World, his work has become even more explicitly analytical, and they're both two of the strongest titles he's collaborated on. The New World is neon and visually stunning thanks to art Tradd Moore and Heather Moore, a cyberpunk social media dystopia built on real-time broadcasts of violence against individual citizens to numb the rest of the population, gladiators for the internet age. It's Dredd and Ghost In The Shell and a little bit of Demolition Man thrown in for good measure, full of teeth and satire but hopeful for something better. It's also one of the most family-driven stories that Kot has ever attempted, with legacies and lineages to contend with on top of ethical quandaries. Tradd Moore alone would be enough to sell this book, but the entire creative team is delivering sharp comics that firmly target the worst that our world has to offer. [Caitlin Rosberg]

---
The Seeds (Dark Horse)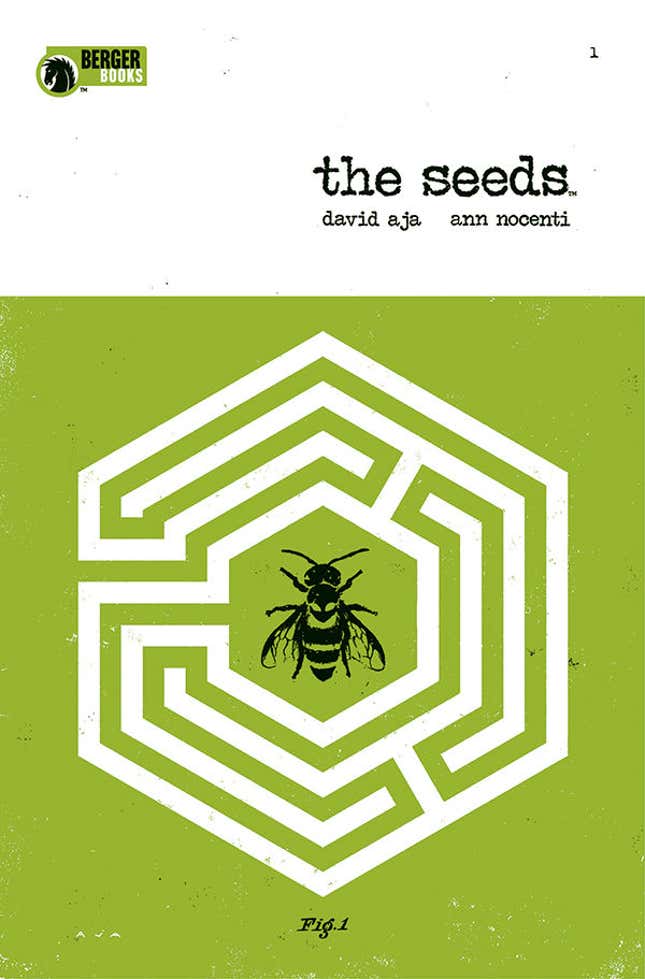 Dark Horse's Berger Books, a new imprint by Vertigo Comics founder Karen Berger, debuted at the start of this year with solid titles that weren't especially groundbreaking. The spirit of innovation that defined early Vertigo finally arrived with Ann Nocenti and David Aja's The Seed, a dystopian sci-fi about a reporter who discovers the presence of aliens on Earth. This is a poetic series both in terms of writing and artwork, with Nocenti employing a more lyrical scripting style that gives Aja freedom to think outside the box as he works within a nine-panel grid page structure. Aja combines photo realism with a bold graphic sensibility defined by thick lines, deep pools of black, layered screentones, and a dull greenish gray as the only color. Nocenti scripts the pages so that many of them stand alone as their own distinct pieces of art, and the imagination of Aja's layouts and compositions highlights the immense versatility of a panel structure that is extremely popular this year (see also: DC's Mister Miracle and Vault's These Savage Shores). [Oliver Sava]