Hey, you like podcasts? Make sure you check out Reasonable Discussions, the A.V. Club podcast. (New episode coming soon.) Podmass comments can be directed to podmass@avclub.com.
QUOTES OF THE WEEK
"I have an urge to get along well with people" —Stephen Merchant, WTF with Marc Maron

"This is the time to trot out all my terrible stories that aren't funny. 'In fairness, she wasn't feeling well, and then she died.'" —Janet Varney, feeling the effects of bad iced tea, Never Not Funny

"I'm terrified of [Marc] Maron. So the whole time I talk to him I'm like, if he insults me I'm going to say, 'I'm going to be a millionaire by making an app that skips the first 10 minutes of your podcast.'" —Pete Holmes, You Made It Weird
"Chicks and ducks and UNLV's Moses Scurry/Put a hand in the face of Dell Curry/Every three-point attempt from Dell Curry is suuuure to drop. The rotation's pure, the follow-through's good, the touch it couldn't be sweeter/And he never gets credit for playing good defense/Virginia Tech's all-time steals leaaaader." —Mike Pesca singing "Dell Curry With The Fringe On Top," Hang Up And Listen

"What else don't women like besides the Three Stooges? Tom Waits. Being hurt physically or emotionally." —Julie Klausner, How Was Your Week With Julie Klausner

"I don't know what that was. It sounded like a Men At Work record played at half-speed." —Tom Scharpling on Gotye's SNL performance, The Best Show On WFMU
NEW (TO US)
G/O Media may get a commission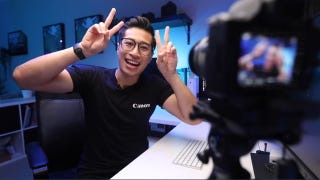 Up to 33% off
Canon Camera National Promotion
Webcam kits, lenses, & more
Since many of us adopted working from home, we've become accustomed to the crappy video quality output of our laptops' built-in webcams. Present yourself professionally with the help of a professional quality camera. Dress to impress now means set dressing and picture definition. Canon has made it easy to take your EOS camera and convert it to a webcam with the help of a variety of kits.
Bob's Boneyard 
Morning radio has become shorthand for bad entertainment, with overused sound effects and jokes aimed at the lowest common denominator. When the industry summarily dismissed host Bob Frantz, he suddenly had the opportunity to break the constraints of radio and start his own podcast. Frantz covers news, sports, TV, and everyday life with his co-hosts, the loveable and occasionally creepy Manny Fresh and the philosophical tough guy Alfredo Torres. Each of the hosts has worked in radio, and it shows, both in the podcast's clean professionalism and how commercial breaks provide natural endcaps to conversations, giving the show the kind of "tune in and tune out" appeal that one expects from drive-time radio. The show's humor is slightly vulgar and not overly complicated, mixed with an occasional surprising turn, like nerdy Star Trek factoids. The real appeal of the show is how Frantz straddles the line between "Adam Carolla-type regular guy" and "Chris Hardwick-type regular nerd." Combined with the traditional radio format, this makes Bob's Boneyard the comfort food of podcasts: It's familiar and all inclusive, but if you're searching for a specific gourmet flavor or regional dish, you aren't going to find it.
Episode 102: Party All The Time  is the perfect example of Bob's Boneyard's comfortable setting. Any new listener can understand who the three hosts are and how they interact in the first five minutes, and feel right at home with their jokes before much longer. The topics run the gamut from Eddie Murphy's poor film choices to how the average auto-mechanic job stacks up against those requiring a college degree, leading to a discussion of co-host Manny Fresh's new lifestyle with his serious girlfriend. [AJ]
The Champs
Built around the premise that minorities are underrepresented in the podcasting world, The Champs sets about to correct that injustice one week at a time. Of course, it's hosted by three white dudes—comedian Moshe Kasher, Chappelle Show co-creator Neal Brennan, and DJ Douggpound of Tim And Eric fame—but the show does shine Internet broadcasting's faint, weird light on some figures not yet exposed to the world of podcasting, like Let's Make A Deal's Wayne Brady or Hollywood Shuffler Robert Townsend. While the show sticks to the formula for the most part, The Champs does make exceptions for weird guest outliers like Sasha Grey.
This week, for example, The Champs hosts disgraced baseball player and human steroid Jose Canseco. It's an inalienable fact that Canseco's rambling, conspiracy theory-laden Twitter feed is one of the most insane and hilarious things around. Get him on a podcast, though, and he turns out to be, well, kind of persuasive. Sure, Canseco sounds a little nuts when he adamantly insists to The Champs that, because of steroids, he's going to live to be 130 years old, or that at one point, 85 to 95 percent of players in the major leagues were juicing. On the other hand, he's so bombastically unapologetic and emphatic that you can't help but believe at least some of it. Unfortunately, the show only briefly addresses his whackjob Twitter feed, with Canseco explaining some of his weirder exclamations by claiming that they work in multiple dimensions and that he can't be held responsible for grammar because he doesn't have auto-correct on his phone. For such an outlandish character, though, Canseco comes across as kind of sympathetic. [ME]
---
OUTLIERS
19 Nocturne Boulevard  
Julie Hoverson is a writer and producer who lets her dark side show in this anthology audio-drama series. Many episodes of 19 Nocturne Boulevard are horror stories, including some quality adaptations of H.P. Lovecraft, but the show can include comedy, sci-fi, romance or whatever genre Hoverson feels like producing that month. The writing and the sound effects shine brightest in these productions, but the voice acting is made up of a mix of professionals and brand-new talent, which can produce a mixed result. The episode "Little Boxes" is a creepy tale of some store clerks who agree to sell a new product that could save their business, with disastrous results. The story is elegant in its simplicity and a good example of how music and sound effects can set a gloomy and foreboding mood. This is the perfect show for anyone who needs a good scare to motivate their morning jog. [AJ]
---
THE BEST
The Best Show On WFMU
After two stellar calls in a row from comedy partner Jon Wurster, Best Show host Tom Scharpling is left to his own devices again this week. Scharpling's ongoing discussion of Celebrity Apprentice finally peaks when he takes submissions for "Ultimate Celebrity Apprentice," which features a cast of luminaries like Herman Cain, Courtney Love, and Mark Twain. A caller's story about Donald Trump's son playing free carnival games ups the ante even further. But aside from Scharpling's hilarious screeds on Lana Del Rey and TRU TV, the Gary and Vance show is clearly the highlight this week, proving even further that Best Show is typically at its best without high-profile guests. A call from Ted Leo and Tom's disturbing vision of a Nirvana reunion tour make this particular episode a treat for music nerds. [AF]
The Bugle #190: Santorum Splashes Out   
There's more funny packed into the opening segment of this episode than in the average sitcom. Andy Zaltzman makes a number of quick, easily missed jokes throughout the show, making it worthwhile to rewind just to catch them all. The true highlight of the episode is Zaltzman's pun run on expensive pieces of art, not just because it's obscure and bizarre, but because it brings out John Oliver's amusing whininess. The Bugle also provides a service to the world by pointing out that the widely reported story of Kate Winslet's bosom being edited out of the Chinese release of Titanic 3D is false. It just seems slightly ironic whenever The Bugle gets to call someone else out for being childish and ill-informed. [AJ]
Comedy Bang Bang #154: Lennon Parham, Jessica St. Clair
Longtime Comedy Bang Bang fans know Jessica St. Clair's characterization of perpetual 15-year-old Marissa Wompler, Earwolf's endlessly enthusiastic, relentlessly self-promoting, and eternally absent intern. In honor of the debut of Best Friends Forever, the NBC sitcom St. Clair stars in and created with improv partner Lennon Parham, Comedy Bang Bang brings back Wompler, this time alongside Parham's Miss Listler, Wompler's self-styled "teacher" and mentor who might not actually be a teacher but definitely has a problem with inappropriate self-disclosure. St. Clair and Parham have terrific, lived-in chemistry with each other and Scott Aukerman, but the nearly 90-minute podcast might have benefited from a third guest for St. Clair to play off of the way she did with Todd Glass, Donald Glover, and Andy Richter during previous trips to the show. Wompler's giggling girlishness is still hilarious, and her creepy relationship with Listler is nicely fleshed out, but a release valve from the duo's craziness might have improved a nevertheless solid and funny episode. [NR]
Doug Loves Movies: Matt Besser, James Adomian, Jay Hollingsworth And Graham Elwood 
This week's bonus episode, recorded in Portland, should help silence critics of Build-A-Title, as it features one of the most impressive, entertaining editions of the game since it was added to DLM's regular rotation. And that's despite an interruption from a loud, drunken audience member that Doug Benson eventually has to kick out, leading to a lot of fun yet vaguely awkward onstage banter. James Adomian (sticking mostly his own voice instead of impressions, to the feigned dismay/confusion of Benson) and Matt Besser garner most of the big laughs this episode, but Graham Elwood's aptitude for the games—whether real or bluffed—keeps things interesting. This 90-minute episode drags in places, especially during some instances of visual humor that don't play well on a podcast, but the energy is high enough overall to sustain the longer runtime. [GK]
Hang Up And Listen: The Frisbee Fever Edition
Mike Pesca is a consistent source of quality tomfoolery—some of it impressively elaborate, like his set of made-up rules for Canadian football—but he outdoes himself in this week's "Afterball" segment. After emerging disappointed from the lackluster Magic/Bird show on Broadway, Pesca breathlessly previews the Oklahoma!-themed basketball musical we didn't know we wanted. It's a fine episode all around, with Deadspin's Tommy Craggs filling in capably for Stefan Fatsis and a nice range of topics, from the rampant thuggery in this year's NHL playoffs to the challenges facing the nascent professional Ultimate Frisbee league. (One of those challenges being quipsters like Pesca, who wonders if putting dogs in play might boost interest.) There's also a great discussion of the wild-and-wooly run of ESPN's Page 2, which closed its virtual doors after 11 years and columns of varying quality. [ST]
How Was Your Week With Julie Klausner #58: "College Hounds": Susan Orlean, Jon Hendren
Julie Klausner comes to you again from California, noting that the waiters and waitresses of Los Angeles live up to their stereotype of being mostly people chasing the Hollywood dream. For her first guest, Klausner brings in Jon Hendren, known to Twitter as @Fart. (Seriously.) The interview is ridiculously hilarious and involves a conversation about Hendren getting the lead singer of Smash Mouth to eat two dozen spicy eggs cooked by Guy Fieri. It seems unbelievable, but it is, in fact, true, and totally amazing. Later, Klausner continues to be the Oprah of podcasts by talking to Susan Orlean about her book Rin Tin Tin. With the recent death of Klausner's beloved cat Smiley Muffin, the conversation seems somewhat cathartic for the host. [JD]
Judge John Hodgman #56: Early Man
Despite the presence of a defendant with rabbits and a sword collection, "Early Man" isn't the most colorful of Judge John Hodgman episodes, but it gives Hodgman a chance to rule on important matters of etiquette. Carmen brings the case against her husband Troy, whose habit of arriving way too early for parties and events borders on the pathological. Carmen describes awkward scenes of them showing up to dinner parties 20 to 30 minutes before the scheduled time, or at a wedding where they arrive as the bride and groom are out having their picture taken. Confessing his own compulsion to be early, especially for flights, Hodgman offers a reasonable, nuanced guide to when it's proper and when it's rude to be early. [ST]
Nerdist #192: Jim Gaffigan
Coinciding with the release of his new stand-up special Mr. Universe, comedian Jim Gaffigan joins the Nerdist crew to discuss the process behind his new special and his choice to distribute it online. The episode deals mainly in the group's past experiences in comedy and how Louis C.K.'s model for downloadable specials is reinventing the stand-up industry. Although Gaffigan discusses Mr. Universe at length, it never feels like he's just shilling his product. Instead, he finds ways to open up about the anxiety he has regarding how alt-comedy audiences perceive him, due in part to his success in the mainstream. But Gaffigan's self-awareness never becomes self-loathing, and the interplay between him and the Nerdist hosts flows naturally. The conversation covers the business side of comedy as well as the personal, with Gaffigan sharing stories about his four children. It's not one of the podcast's nerdier episodes, but it's an effective one all the same. [DA]
Nerdist #193: Bobcat Goldthwait
Although his retirement from stand-up was a tenuous one at best, Bobcat Goldthwait has spent most of the past decade behind the scenes. Gone is the squirrely nature that made him a name in the '80s, and in its place is a writer, director, and filmmaker who has not lost his absurdist lean. Goldthwait proves to be an ideal guest for Nerdist, as he seems to have a compelling anecdote on almost every topic Chris Hardwick brings up. Whether he's talking about opening tours for Nirvana or working on films alongside Bill Murray and John Cusack, Goldthwait's experience as an industry veteran makes the episode fly by. In fact, the episode ends not because the group has a lack of interesting topics, but because the recording device hits critical mass. [DA]
Nerdist #194: Tenacious D
Jack Black and Kyle Gass have kept their comedic rock act Tenacious D largely dormant since 2006's poorly received film The Pick of Destiny. But with a new album on the horizon, the duo has re-emerged with all of its sophomoric charm still intact. Black and Gass have a built-in rapport that melds nicely with that of Chris Hardwick and Jonah Ray. The four bounce from topic to topic, and Black proves to be incredibly candid while telling stories about some of Hollywood's biggest celebrities. The episode concludes with Tenacious D playing some songs—both old and new—and proving that even as the group approaches 20 years of rocking, its brash sense of humor has not subsided one bit. [DA]
Never Not Funny #1019: Drink Up With Janet Varney
For the most part, the first half of #1019 is unremarkable in its adherence to the standard Never Not Funny formula. Jimmy Pardo rants about Easter, insults the intern, and leads the conversation with Janet Varney through a superficial discussion of literature and The Hunger Games. But then, after the break, Varney—who props up the first half by calling out Pardo's many misfires, and also by being a glowing, sincere presence—becomes genuinely convinced she's been poisoned by something in her iced tea, or at least nauseated from the thought of it. It threatens to consume her for the rest of the episode, so in heartwarming solidarity, Pardo and Matt Belknap (who has one of his better outings of late) take swigs of the mysterious drink. The result is a surreal, hilarious blur of accusations, fake freak-outs, real freak-outs, and some pointed commentary on the show itself. [SM]
Sklarbro Country #90: Jim Gaffigan, Colin Hay, Dan Van Kirk, Chris Cox
Episode 90 is less a typical installment of Sklarbro Country than a vaudeville-style, 140-minute extravaganza, with guests that span continents and two celebrity impersonators. The meat of the episode is a lengthy and substantive interview with Jim Gaffigan, who discusses his past as a college athlete, his wide-ranging appeal, the evolution of his comic sensibility, and the surprising reason he decided to pull a Louis C.K and release his new comedy special independently on his website. The Gaffigan interview is sandwiched between two engaging segments with Australian '80s superstar-turned-troubadour-of-the-Largo-set Colin Hay, who plays some lovely songs on his acoustic guitar, including "My Brilliant Feet," a bittersweet and thematically appropriate number about legendary soccer player George Best. (Rarely have the show's interests in sports and indie music dovetailed so nicely.) Dan Van Kirk's dead-on Mark Wahlberg, which is quickly emerging as the funniest part of the show, chips in with some succinct, surprising thoughts on Bully before Racist Vin Scully waxes amusingly apocalyptic and xenophobic. This a long one, but entirely worth it. [NR]
The Smartest Man In The World #154: Soaps
You can tell Greg Proops is a man who likes to think himself at home among the French. For the purposes of this show in Paris, he manages to convince the audience of that as well, opening pretty strongly with rants about the crudeness of Americans and the dreariness of English people. It's an episode where even Proops' fact-attacks feel welcome, especially when he reminds the French that they helped out the U.S. before the reverse happened. Not that he lets Parisians off the hook, but the episode operates on the simple principle that if Proops earns his welcome early, his frenetic barrages are a lot more fun and comfortable. [SG]
Stop Podcasting Yourself: Episode 213
Even without a guest, hosts Graham Clark and Dave Shumka go long this week, cycling through some pet subjects and recounting their week as pop-culture consumers. A long bit on reality TV spans from The Real Housewives Of Vancouver to assorted Kardashian mythology. Some music talk covers '90s phenomena and one-hit wonders, including Norway's most infamous black-metal musicians and a discussion of how well the swing revival translated from an aesthetic to an actionable trend. A Cherry Poppin' Daddies reference leads to a discussion of public figures who scour Twitter for references to themselves. "Overheards" include observed words of wit from a group of homeless people, a would-be adulterer, and a mattress-hater (as opposed to mattress hater). Compared to the last few weeks, the episode does wander, but it's far less random. [DXF]
Stuff You Should Know: Body Odor: You Stink
Once again, hosts Josh Clark and Chuck Bryant tease that this could be their worst episode. Presumably that's based on the subject matter: Body odor is apparently caused by bacteria eating the proteins we produce, which means the smell comes not from us, but from tiny wildlife we cultivate on our bodies that gnaw on our flesh-waste. It really only gets more disgusting from there. There's also a strange segue into racism, because apparently if you eat lots of curry or garlic, you are "propagating racist attitudes," a statement that's made ironically but is as politically gross as anything literally gross here. But it all remains fascinating and completely harmless. Clark and Bryant's easygoing approach cancels out the weirdness and makes the whole event worth the listen. [DT]
Stuff You Should Know: How Whaling Works
Technically, whaling isn't legal anymore. And yet "militant" group Sea Shepherd is really the only defense against Japanese whalers who have worked a loophole in the law to kill hundreds of endangered animals a year. But before whale-lovers get too rabid, the show's hosts are smart enough to point out that at the dawn of the Industrial Revolution, whale oil was once what fossil oil is today, putting into context the reflex to call whaling a horrible nightmare, as most people who love whales are still dumping a great deal of petroleum into a vehicle of some sort. There are still moments when the episode's research seems a bit inconsistent: Host Josh Clark refers to stabbing a whale in the gills, which is not physically possible. Despite moments like this, listeners still get a wealth of details and a good sense of why this tradition still exists despite popular opinion and the best efforts of Sea Shepard captain Paul Watson. [DT]
The Tobolowsky Files #55: The True Arena
Stephen Tobolowsky's storytelling extravaganza returns after more than two months away with an episode that should be required listening for anyone who wishes to pursue anything artistic. Tobolowsky tells stories from his acting career, as well as his time as a competitive equestrian rider, all of which revolve around the idea of practice versus preparation. Tobolowsky frames practice as something you do to get ready, but preparation as what happens when you're existing in the moment, totally aware of your surroundings and fellow artists, ready to react to anything that's coming. It's less centered and more episodic than some previous hours, but that quality makes it seem more like a masterful lecture on technique. [TV]
The Todd Glass Show: Mike Koman And Daniel Kinno 
It might seem perverse to recommend a nearly two-and-a-half hour podcast that's at least partially devoted to analyzing where and how exactly the podcast devolved into anarchy. But if Todd Glass' characteristically freewheeling conversation with pals Mike Koman and Daniel Kinno is a bit of a shambles, it's nevertheless a gloriously weird, alive, and unpredictable mess: One moment the gang is indulging in a spectacularly silly bit where they pretend to uncover audio of the show's producer washing a baby in a toilet; the next, Glass is getting on his soapbox to discuss bullying and tolerance as they relate to the much-buzzed-about documentary Bully. But the episode is nevertheless studded with memorable moments, like Koman's contention that cocaine is good primarily for making people think they've come up with great ideas for Frasier episodes. If the show ultimately flies off the rails, at least it does so spectacularly and enjoyably. [NR]
Walking The Room #99: Justin Hamilton And The Clown Story
Dave Anthony and Greg Behrendt's Australian comedy pals consistently bring out a good side of the Walking The Room hosts. Still in Australia for a comedy festival, they sit down with Justin Hamilton, who puts a congenial spin on the pair's usually grouchy and twisted conversations. As the episode title promises, Hamilton has a memorable story or two about scary clowns. He's also able to share Anthony and Behrendt's engaging fretting over career moves past and present, as he proves with some discussion of his comedy-song past. [SG]
WTF With Marc Maron #270: Chris Elliott
Marc Maron's conversation with eccentric comic genius Chris Elliott is worth listening to solely for Elliott's surreal account of playing the lead in Equus in his underwear as a teenager. (The town it played in was too timid for full-on nudity, merited or not.) Thankfully, there's a whole lot more to the interview, which explores nearly every facet of Elliott's impressive and multi-faceted career, from his early days as a singular conceptual weirdo in David Letterman's formidable comedy arsenal and his rocky stint at Saturday Night Live, to his time starring in Get A Life, movies (particularly Cabin Boy), and now Adult Swim's Eagleheart. The genial Elliott emerges as a comic elder statesman, especially when talking about his famous, influential dad (Bob Elliott of Bob & Ray fame) and his funny daughters: Saturday Night Live's Abby Elliott and stand-up comedian Bridey Elliott. [NR]
WTF With Marc Maron #271: Stephen Merchant
If Ricky Gervais is the freewheeling Ernie in his working relationship with writing/directing/acting partner Stephen Merchant, then Merchant is definitely the more polite, responsible Bert. In his discussion with Marc Maron, Merchant discusses his radio and stand-up comedy past, and is quite likable as he discusses peacocking comedians and his tendency to be the anal-retentive brains of the operation despite rock n' roll fantasies. The conversation takes a detour from the show's typical subject matter as Maron and Merchant mull over the absurdity of royalty, both British and American, each confessing that despite how ridiculous and outdated the concept is, they wouldn't be averse to befriending powerful people, or at the very least sticking their dicks in them. [CZ]
You Made It Weird #40: Patrick Walsh
Pete Holmes and television writer Patrick Walsh (Rob & Big, It's Always Sunny In Philadelphia, 2 Broke Girls) met in the writers' room of Outsourced, and they spend the beginning of this episode talking about how they used humor to combat the (relative) misery they experienced while working on that show. For what basically amount to inside jokes, the absurd bits they came up with to make themselves laugh—a human-sized-chicken one-hit wonder recording artist with a catchphrase; a frustrated father whose never gets to have any breakfast—are pretty damn hilarious. Past that, Walsh shares a lot of stories about some of the truly bizarre things that have happened to him over the course of his life, some of which are disgusting and almost all of which are amusing. On the whole, it's not the most insightful episode of You Made It Weird, but it's easily one of the funniest. [CG]
You Made It Weird: Live From NYC w/ Michael Ian Black, Jim Gaffigan, Jessi Klein, Matt McCarthy, and Chelsea Peretti
You Made It Weird is generally at its strongest when guests take shots, affectionate or otherwise, at the genial, endlessly indulgent host. So it bodes well that You Made It Weird's second live taping prominently features Chelsea Peretti, who was invited as Pete Holmes' sidekick but ends up playing the role of officially sanctioned heckler, and the eternally prickly Michael Ian Black, who previously turned Holmes down for a writing job on Michael And Michael Have Issues in favor of Holmes' best friend Kumail Nanjiani, a topic that comes up more than once. Holmes' pal Matt McCarthy is the least well-known guest on the bill but delivers some of the funniest lines, though Jim Gaffigan seems a little worn out. Still, this is a strong, funny podcast and a welcome break from episodes focusing on a single guest. Holmes' fake videogame titles, meanwhile remain a consistent delight and a highlight of every podcast. Hell, even Holmes cracks up at them (though that's true of much of what he says). [NR]
---
THE REST
Doug Loves Movies: Riki Lindhome, Steve Agee, Shane Mauss, and Brett Gelman 
That the highlight of this week's pre-game banter is Shane Mauss educating Riki Lindhome on the minutiae of ovulation on the occasion of Lindhome's impending nude scene speaks to the unfocused, not particularly movie-centric nature of this episode. There are a lot of funny moments sprinkled throughout, many stemming from the ovulation exchange, but the digression-filled conversation overshadows the game portion of the show—though listeners who don't like Build-A-Title will be glad to hear it's skipped over entirely in the interest of time. [GK]
The Mental Illness Happy Hour #56: Morgan Murphy
Comic Morgan Murphy's sit-down with Paul Gilmartin this week is as detailed and deliberate as any other Mental Illness Happy Hour episode, covering Murphy's struggle to keep her TV-writing career together while coping with panic attacks. This is one of those episodes where the rapport between guest and host seems almost too easy, making it satisfying but not always surprising. [SG]
Mike And Tom Eat Snacks #55: Licorice
Michael Ian Black and Tom Cavanagh usually get a lot of mileage just bantering about the people who send them snacks. Yet that gets less entertaining the more they repeatedly fall back on MATES' running tics ("they're not viewers," "respect for women") in their effort this week to review some possibly racist Finnish licorice. [SG]
Monday Morning Podcast
It's hard to say what the issue is this week, but something is amiss. Bill Burr claims early on that he has no enthusiasm for recording the episode, but he does seem to have quite a bit of energy. Either way, there just aren't any notable stories or moments and almost every single comedic bit falls flat. [CG]
The Moth: Sevanne Kassarjian: Bedtime In Iran
Sevanne Kassarjian gets a lot of little side-plots into her short Moth entry about being a scared kid caught in Iran during that country's revolution, which makes the episode feel a little frenzied and staged. Though the story itself is a scary firsthand experience, Kassarjian's myriad dramatic shifts in tone are a distraction from the visceral fear and childhood emotion at the heart of the material. [SG]
Sound Opinions: Alabama Shakes And Nicki Minaj Review
It's hard to take Greg Kot and Jim DeRogatis seriously when they begin an episode by debating what concept albums might make good film adaptations. It helps that they come off more sober and judicious discussing a band that's seen a sudden flurry of recent coverage, Alabama Shakes, who come in for an in-studio performance and seem humble and honest about how their musical roots both are and aren't authentically Alabaman. [SG]
Stuff You Missed In History Class: Westward Bound: Beryl Markham's Transatlantic Flight
Beryl Markham was one of the first people to fly across the Atlantic, but unlike Amelia Earhart, Marham flew east to west, which was a much more difficult accomplishment. Born with the even more eccentric-sounding name Beryl Clutterbuck, she spent much of her youth as a daredevil British transplant in Africa, where her idea of fun was beating the most deadly snake in the world to death with a stick. It gets a bit more relatable from there, but while interesting, Markham's life lacked the sort of eccentricity that makes for an unmissable episode of this podcast. [DT]
Stuff You Missed In History Class: Who Was The Real Indiana Jones?
The show's hosts point out early on that there is no "real" Indiana Jones, and it becomes difficult to call this episode necessary after that. For the most part, paleontologists and scholars really only have occasional and less epic adventures. In the end, it seems it would have been more appropriate if the hosts had focused on someone like Roy Chapman Andrews instead of snapshots of several different people and a discussion of "who had the most 'Indiana Jones' hat." [DT]
This American Life #462: "Own Worst Enemy"
Some of the best episodes of This American Life are those with stories or anecdotes worth repeating. This week's show certainly begins that way, but then falters, not quite living up to the promising theme. The prologue and first act make the show: Ira Glass speaks with people who eat foods they know they're allergic to because the threat's worth, say, the taste of shellfish, and Act One continues that look at weird psychology in an interview with Steve Blass, a pitcher whose brain suddenly wouldn't let him pitch well anymore. Act Two is a podcast within a podcast, while Act Three covers a friendship between a gay activist and an ex-gay reformer. [EW]
Thrilling Adventure Hour #67: Captain Laserbeam: Disenchantment Under The Sea
"Captain Laserbeam" isn't Thrilling Adventure Hour's funniest or craziest running serial, but it's an excuse to bring a lot of folks into the mix, including Bruce McCulloch, Colin Hanks, John Ennis, and, in this episode, John Hodgman. There's a bit of a Venture Brothers streak to this episode, what with its subplot about super-villains and their not-so-badass married lives, even including an emotionally needy henchman. [SG]
Who Charted? #72: Scientific Matter
It's not that guests Elizabeth Laime and Andy Rosen aren't charming; quite the contrary, actually. It's just that they seem to function better as podcast hosts rather than guests. In the case of Who Charted?, Laime and Rosen aren't quite as accomplished as the usual crop of guests, and therefore don't have as many showbiz anecdotes to draw on. Plus, Laime's stint doing voiceover for an unauthorized Leonardo DiCaprio documentary has been sufficiently mined on her own excellent podcast, Totally Laime. [MS]