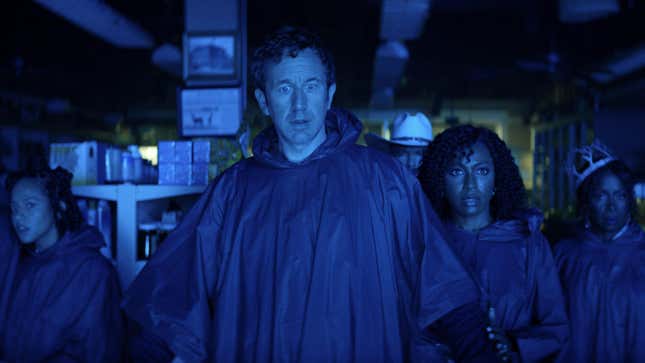 "Am I reaching my full potential?" That is the question at the heart of The Big Door Prize, which premieres March 29 on Apple TV+, a series about a small-town community whose lives are upended after a mysterious machine called "Morpho," claiming to have the ability to tell an individual's true calling in life, appears at a general store. Although billed as a high-concept, sci-fi comedy, the series adaptation of M.O. Walsh's novel of the same name feels more like an existentialist dramedy with more heart than humor, pondering deep, philosophical questions in punchy, half-hour installments that will leave viewers wanting more by the end of the 10-episode first season.
Young Mazino talks "Beef," needle drops, and karaoke
The show, created by Schitt's Creek writer and executive producer David West Read, has a unique structure in that the first eight episodes, while continuing to push the overall arcs of each character forward, each focus on the "true potential" of a different resident in Deerfield, which is reflected in the clever title sequences that change in every episode. It's a kind of character study that gives an opportunity to excavate backstories through dialogue or to relive scenes that viewers might already know about from a different perspective. In doing so, the writers are able to keep the story contained to this quaint town and foster a sense of empathy and intimacy with the residents, who are all grappling with how their dreams for their lives have compared to their reality.

Morpho's modus operandi is simple: In exchange for payment in quarters, as well as a person's social security number and fingerprints (eek!), the gadget will be able to distill a person's purpose down to one or two words on a blue card. Some are self-explanatory ("guitarist," "male model"), but others are more open to interpretation ("storyteller," "royalty," "superstar," "hero"). For some, a chance encounter with Morpho is the catalyst for their decision to quit their jobs, make big purchases, end long-standing relationships, and move to a new city or country. But for others, that little card forces them to confront uncomfortable truths about the lives they've led.

The pilot introduces viewers to Dusty Hubbard (Chris O'Dowd), an affable and easygoing high-school history teacher who is celebrating his 40th birthday with his wife, Cass (Gabrielle Dennis), and their teenage daughter, Trina (Djouliet Amara), just as the Morpho craze begins to kick into high gear around him. When Cass gives him a theremin for his birthday (along with 39 other small gifts to represent his new age) and insists that it would be good for him to try something new, Dusty is initially confused but soon interprets the gift as a sign that his wife thinks he is boring. Having a central character undergo a midlife crisis while celebrating a milestone birthday hardly feels like a novel premise, but Dusty, who has only ever been in one romantic relationship for more than two decades and acculturated to the United States after immigrating from Ireland as a child, has grown accustomed to the rhythm and routine of his everyday life.
Although he tries to write off his initial skepticism of Morpho as a meaningless toy, Dusty, like his loved ones and students, can't resist the machine's pull. But much to his disappointment, Dusty discovers that not only has he already fulfilled his "true potential" as a teacher and whistler, but his reading also pales in comparison to that of Cass, who grows increasingly disillusioned with her current life and yearns for the days when she was an exchange student in Italy. That source of tension between the couple remains throughout the season—especially with the presence of former-hockey-player-turned-restaurateur Giorgio (Josh Seggara), who has been hopelessly and shamelessly in love with Cass for years—and O'Dowd and Dennis both bring a grounded humanity to their roles, highlighting the realities that older married couples face as long-time partners and parents.

Some descriptors, as is the case with the character arcs accompanying them, are obviously better than others. The show's fourth episode, titled "Father Reuben" after the town's priest (Damon Gupton), delivers an emotional punch to the gut that is masked by his seemingly serene disposition. Similarly, with the loss of his mother compounded by the recent tragic death of his identical twin brother, Jacob Kovac (Sammy Fourlas), one of Dusty's students who works part-time at the corner store (and was there the night the machine first appeared), finds solace in Trina. Despite being two of the youngest cast members, Fourlas and Amara's performances stand out in this ensemble, with their ability to capture the teens' deep emotional wounds that are not immediately apparent at first glance. On the flip side, Sammy's well-intentioned but distant father, Beau (Aaron Roman Weiner), is given an arc that doesn't have the same consistent emotional weight, despite the fact that they are grieving the same people.

The format of the show means that most episodes are spent examining open-ended questions about life and death, happiness and sadness, ecstasy and misery, and the like, through the characters. As a result, the mystery surrounding Morpho's origins, which was presented in the trailer, is pushed until later in the season, making the machine feel more like a literal plot device to introduce those heftier topics than the real focus of the show. But by putting the spotlight instead on the residents of Deerfield, The Big Door Prize has the potential—no pun intended—to tell a more sustainable story about human connection that might be as hard to resist as Morpho itself.

---
The Big Door Prize premieres March 29 on Apple TV+.