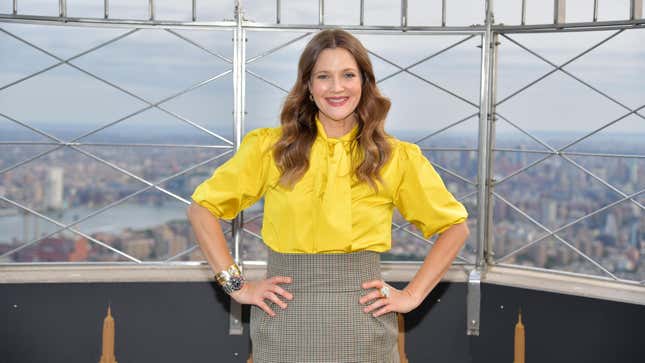 Daytime talk shows are entering a new era. The holdover juggernauts from the pre-streaming days—Ellen, Dr. Phil, The Wendy Williams Show, Rachael Ray—are on their way out. A spate of new shows, including The Kelly Clarkson Show and The Jennifer Hudson Show have popped up, showing promise for long, successful runs. But The Drew Barrymore Show is an immediate standout, and the attention comes as much—if not more—from online audiences as from those in front of their TV.
Why Christian Bale just can't quit David O. Rusell
Seldom a week goes by where a clip from Drew isn't making the rounds on social media for reasons of absurdity, pathos, or both. Take, for instance, Barrymore's recent conversations with Brooke Shields and Allison Williams. In the first, the two talk frankly and emotionally about the unrelenting gaze they faced as girls in the public eye in the 1980s; in the second, Barrymore surprises her guest by dressing up as a M3GAN doll, doing the dance from the movie as her colored contacts shift and fall from her retinas.
While these instances couldn't be more different in content, the reason they're effective is similar. In both cases, Barrymore immediately warms her guest up like chocolate in her palm. She, kicking her legs up underneath herself on the couch, immediately makes Shields feel safe. Conversely, she completely catches Williams off-guard, immediately establishing a manic bond between the two. In both cases, they transcend beyond the typical talk-show fodder because it feels like you're watching two famous people do something authentic together. And while these are just two recent examples, this is something that Drew has always been highlighting.
"Our premiere episode in season one when Drew and Adam Sandler check in on their characters from the beloved romantic comedy 50 First Dates just took off on social media," executive producer and showrunner Jason Kurtz said in an email to The A.V. Club last month. "That's the great thing about Drew. She has been a part of so many iconic movies and played these beloved characters that we often get to check back in on." While nostalgia is certainly a powerful drug, the success of the show and these segments has everything to do with who Drew Barrymore is as a person, a personality, and a symbol.
Drew Barrymore is Hollywood, and there's no convincing anyone otherwise. Other contemporary talk show hosts—Oprah Winfrey, Ellen DeGeneres, Clarkson, Hudson, even Jimmy Fallon—can fall back on a folksy, humble-roots narrative. But Drew is of the famous Barrymore showbiz family—about 10 blocks south of where Drew is filmed, there is a Broadway theater with her last name on the marquee. While she's joked in the past that the family name wasn't worth much by the time she was born, she at least arrived into the world fame-ish, if not famous. Of course, when she was 7, she appeared in E.T. The Extra-Terrestrial, kicking off both a long film career and a long tabloid presence.
This period of Barrymore's life is well documented and doesn't need to be rehashed here. It's so well known that it's impossible to not be familiar with it when someone stops by the show—she even acknowledges some of her most infamous moments in the show's opening credits. When she wants to have a heart-to-heart with Shields or Machine Gun Kelly or Jennette McCurdy about trauma and the industry, the viewer knows that she personally relates to what they're talking about. In fact, there may be no one who understands Hollywood's seedy underbelly as well as Barrymore.
This makes her, in many ways, an ideal celebrity interviewer. Where DeGeneres and Fallon often feel thirsty for celeb approval, Barrymore has already been an A-lister her whole life. Her relentless positivity feels more like compassion than appeasement. When she went long with McCurdy last fall, the former iCarly star quickly admitted that she had been in "press mode" but felt her "press wall" drop once Barrymore shared her own experiences growing up in the industry with a controlling mom. It's immediately clear that McCurdy isn't doling out canned answers but is reacting thoughtfully to the questions posed. It sets the interview apart from the other talk show appearances she did to promote her book and becomes The One To Watch.
But it isn't only the celebrity interviews that make Drew unique. Watching a couple of full-length episodes in researching this story, it was surprising how little of the show is actually devoted to these interviews, and how much is simply "Drew Barrymore doing things." The hour-long episodes often just have one interview, and the rest of the show is devoted to things like cooking segments, playing with her audience, or doing "Drew's News"—often by herself. Of course, Barrymore is still a celebrity on her own, and the appeal of watching her navigate these segments carries much of the same appeal as watching her conduct an interview. In his email, Kurtz was quick to point out that one of the top three videos on the show's TikTok page is a solo video of Barrymore explaining how a corded landline phone works. She is a movie star, after all, and the star quality is still present even when she's on camera alone. And when the show started, she often had to be.
When Drew debuted in September 2020, it was produced under heavy COVID restrictions. The audience was virtual, as were (at least the majority of) her celebrity guests. Barrymore frequently had to fill the time by herself. While she did have in-person help—there were writers, of course, as well as the hilarious Ross Matthews—it was more or less Barrymore playing to screens. Not just TV screens, but laptops, iPads, and phones from day one. Kurtz touts Barrymore as a "pioneer" who "breaks up the antiquated daytime talk format and truly making it a 360 experience across all platforms." People were obviously living on their smartphones before the pandemic, but the approach does feel tied to the (post-)COVID era.
Drew is hardly the first talk show to recognize the opportunities of digital media—Kelly Clarkson's "Kellyoke" segment, Fallon's "Wheel Of Musical Impressions," and James Corden's "Carpool Karaoke" all come to mind as bits that reliably go viral. But none of them convey the spontaneity of Barrymore's most famous moments. Ultimately, that's why Drew has carved out its place as the talk show that people talk about. The show is often bizarre and surreal, strikingly reminding us that Barrymore doesn't live in the same reality as the rest of us. But she always seems real.
No matter what kind of screen they're watching on, an audience can smell inauthenticity from 3,000 miles away. Ellen DeGeneres, who picked up the daytime crown when Winfrey's show ended in 2011, built an empire on a sandy foundation of kindness that came crashing down shortly before her show ended last year. But kindness is different than compassion, and Barrymore has been demonstrably compassionate. (While we can never completely knows what goes on behind the scenes, her recent decision to bow out of the MTV Movie & TV Awards in support of the writers' strike stands in stark contrast to the reported conditions backstage at Ellen.) Which is all to say: In a media climate that feels supremely focus-grouped and rehearsed, these few moments of genuine connection catch our attention. And more often than not, we want to share them.