The melancholy comedy of Fleabag season one made for some of the best TV in recent history, its mix of depravity and empathy encapsulated in a bravura performance from series creator, writer, and lead Phoebe Waller-Bridge, whose star has continued to rise in the three years since. That's right, it's now been three years since we were first introduced to the eponymous Fleabag, a single woman filling the voids caused by grief and distant family members with copious amounts of sex. Waller-Bridge has more than established her talents in front of and behind the camera—in addition to bringing the glorious tragicomedy of Fleabag to TV, she also helped make Killing Eve one of the best adaptations in years. And over the course of the last 18 months or so, she's become a part of two huge franchises, voicing the L3-37 droid in Solo last summer and signing on to co-write Bond 25.
It's not an exaggeration to say Waller-Bridge has her pick of projects, which makes the delayed follow-up to Fleabag season one a bit of a curious choice at first glance. The first season was both scathingly funny and ruthlessly efficient, creating compelling arcs for all of its core characters, including Fleabag, her uptight and brilliant sister Claire (Sian Clifford), and even the smarmy Martin (Brett Gelman), over the course of six half-hour episodes. The resolution wasn't tidy—Fleabag ended up getting the small-business loan she applied for in the premiere, but was practically disowned by her remaining family members—but it was bracingly honest and hilarious. Waller-Bridge brought together a terrific ensemble, including Olivia Colman as the imperious Godmother and Bill Paterson as her well-meaning, but often inarticulate Dad, to tell a gut-wrenching story about loss, guilt, and loneliness even in the presence/under others.
The show was so good yet self-contained, that it seemed just as likely as not that we'd get to keep watching Waller-Bridge's character fail at connecting with others on screen, especially given all of the Crashing alum's other projects. But thank god that she did decide to pick up the bad habits of Fleabag once more, because season two is even better. The premiere is an early frontrunner for best episode of the season, if not the series, returning to Fleabag's theatrical roots for an evening of farce and concentrated viciousness. With the help of series director Harry Bradbeer, Waller-Bridge stages a dinner party for the ages, one that's both a comedy of manners and the introductory chapter to a love story.
G/O Media may get a commission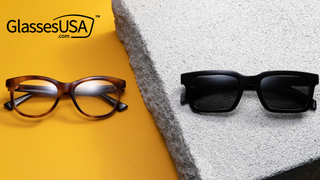 60% off frames
GlassesUSA.com Back to School Sales
After a quick refresher at the top of the episode, a title card declares that it's been 371 days (and counting) since Godmother's "Sexhibition," which revealed just how deep Claire's mistrust of her sister runs. In the year-plus since their falling-out (and Fleabag's falling-out with Dad), Fleabag has turned things around, on the surface at least—she still drinks and smokes, but she's traded sex with anonymous and dubious people (including Arsehole Guy) for boot camps and running a successful business. She retains her sharp wit, though, and disdain for her vain godmother and cretinous brother-in-law. Most important, Fleabag still looks directly at the audience, allowing us access to her thoughts that she doesn't grant anyone else (for now).
This direct line to what Fleabag is really feeling remains a boon for the viewer, and Waller-Bridge's asides are as seamless as ever. In the opening moments, she stares at her reflection, wordlessly wiping blood from her nose, mouth, and chin. She calls through the bathroom door to tell some unseen person that she's okay, but it isn't until she takes a breath and casts a sidelong glance at the camera that we feel invited back into her world. And when she confides that what we're about to watch unfold over the course of the next three hours is "a love story," it's just as thrilling as kicking off the hunt for an international assassin or heading off into space. Waller-Bridge's reading of the line is more devilish than sarcastic, but it's still hard to know what's in store.
The dinner party, which is ostensibly an engagement party but actually just another opportunity for Godmother to show off while also putting Fleabag down, goes horribly wrong. The restaurant isn't big enough to hold the egos of the Godmother and Martin, who lords Fleabag's estrangement from Claire over her, or the years of hurt feelings among the Fleabag family, let alone Fleabag's burgeoning crush on a sexy Priest (Andrew Scott) who drinks, smokes, and swears. Their attempts to remain pleasant while celebrating Dad's engagement become increasingly strained, but Waller-Bridge doesn't give Fleabag or the audience a respite longer than a smoke break. Even when Fleabag removes herself from the tension (and temptation), it practically pursues her, whether it's the Priest bumming a cigarette, Dad giving her a voucher for a therapy session, or Martin twisting the knife in her back.
Fleabag piles on the anxiety while tracing it back to its many different sources, from Fleabag's desire for self-improvement—which is also meant to prove herself worthy of being around Claire again—to her concern for her sister over her shitty husband. Claire's forced cheeriness over the meal as she preaches the gospel of "committing to happiness" is just as nerve-wracking. Sian Clifford steadily lets the mask slip, showing Claire's growing irritation over how little everyone, including her family, knows about her life. But she drops the icy exterior entirely when Claire and Fleabag find themselves in the women's room, where Claire reveals she's been having a miscarriage this whole time.
The juxtaposition of what the two sisters have been enduring over dinner is startling, but in a way, the revelation brings them closer together. Fleabag briefly hits pause on her rehabilitation to punch Martin in the face for being an asshole (although somewhat less intentionally this time)—Claire might not want her help, but she's going to get it anyway. And by the end of the episode, the sisters are in a taxi on the way to the hospital, gossiping about the hot priest. "This is a love story," we're told before watching several family members casually tear someone in their midst to shreds, planting seeds of doubt. But when Fleabag comes to Claire's aid, that framework begins to assert itself.
Stray observations
Welcome to the Fleabag season two binge watch! Reviews will post daily.
Andrew Scott is the more Irish Scoot McNairy, of that I am convinced.
Phoebe Waller-Bridge can write a takedown like no one else, but the Priest's little confessions were among my favorite lines this episode: "Oh, fun, my parents are alcoholics!" 
It's clear that Godmother's only real framework for relationships is romance, which is why she appears to come on to all the men at the dinner table.
That poor, overly solicitous waitress.
Equally sexy Priests: For my money, Robert De Niro in Sleepers.