Here's what's happening in the world of television for Thursday, February 1. All times are Eastern
Top pick
The Good Place (NBC, 8:30 p.m.): NBC is keeping mum about the end of The Good Place's stellar second season, which is understandable: The less you knew going into the end of the show's similarly stellar first season, the greater impact it had. In that spirit, we present to you this raw publicity copy from the network; use your own best judgement and newly vigorous sense of morals and ethics to decide what to do with it:
MICHAEL MAKES A PLEA AND ELEANOR LOOKS TO TAKE THE HIGH ROAD IN THE SEASON TWO FINALE—Michael (Ted Danson) tries to pull a rabbit out of a hat.
Regular coverage
RuPaul's Drag Race (VH1, 8 p.m.)
Arrow (The CW, 9 p.m.)
Scandal (ABC, 9 p.m.)
Will & Grace (NBC, 9 p.m.)
How To Get Away With Murder (ABC, 10 p.m.)
G/O Media may get a commission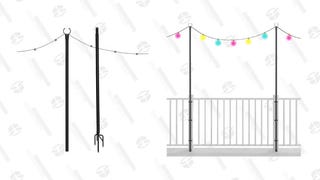 Up To 49% Off
Holiday Styling String Light Poles
Wild card
A.P. Bio (NBC, 9:31 p.m.): From 7 Minutes In Heaven creator Mike O'Brien comes this tart apple of a classroom comedy, which casts Glenn Howerton as a disgraced Harvard professor using his fallback teaching job—and the honors students who come with it—to exact revenge on the rival who stole his dream job, much to the chagrin of the high-school principal played by Patton Oswalt. Randall Colburn will have a recap for this special preview of the pilot episode, and we'll be back with a longer view on the series when it premieres for real after the Olympics.