Each week, Big Issues focuses on a newly released comic book of significance. This week, it's The Legend Of Wonder Woman #6 (print) and #26 (digital). Written and drawn by Renae De Liz (Womanthology, The Last Unicorn) with inks, colors, and letters by Ray Dillon (Noble Causes, The Last Unicorn), these issues showcase the heart, wisdom, and dynamic energy behind this team's reinterpretation of the Wonder Woman mythos. (Note: This review reveals major plot points.)
Since August of 2014, the best Wonder Woman books at DC Comics have come via its digital comics division. Sensation Comics Featuring Wonder Woman was an outstanding anthology series that was especially notable for hiring women to write and draw Wonder Woman comics, and editors Kristy Quinn and Jessica Chen sought out a wide range of talents to celebrate DC's most prominent superheroine. Sensation Comics was just a small taste of the excellence to come, and Quinn and Chen made a brilliant decision in hiring Renae De Liz to write and pencil The Legend Of Wonder Woman, an all-ages miniseries reinterpreting Diana's origin story.
DC just released a higher-profile reinterpretation of Diana's origin story in Grant Morrison and Yanick Paquette's Wonder Woman: Earth One. While that graphic novel is a very compelling read, there are no women involved on a creative and editorial level, the male gaze is prevalent in the artwork, and it's not appropriate for younger readers due to its emphasis on the fetishistic elements of Wonder Woman's history. The Legend Of Wonder Woman offers an all-ages alternative that reads like a Studio Ghibli version of the myth, telling an emotional, spiritual tale with lush, expressive visuals. It's not as subversive as Morrison's take, but telling a more conventional narrative doesn't diminish the strength of De Liz's work.
G/O Media may get a commission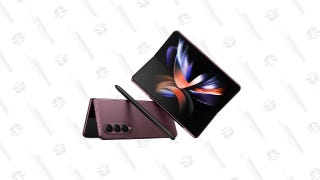 Save Up to $300
Galaxy Z Fold4
Diana's coming of age is impeccably told, and the story works so well because De Liz devotes a significant amount of page space to building a sturdy emotional foundation. The early issues do phenomenal work exploring the world of Paradise Island and establishing Diana's relationships with her mother, Queen Hippolyta, and her mentor, Alcippe. Beginning the series with Diana as a child makes it both more engaging to younger readers and accentuates Diana's growth over the course of the narrative. She goes from a curious, sheltered girl to an enlightened, powerful, liberated young woman, and each stage of that evolution is treated with care to make De Liz's Diana a complex, multifaceted character.
Joined by her husband, Ray Dillon, on inks, colors, and letters, De Liz has crafted an immensely inviting introduction to the character, one that is rooted in compassion, joy, and wonder. Much of that wonder stems from the fantastic roots of Diana's Amazon background, but once the book moves away from Paradise Island, the wonder comes from De Liz's depiction of the U.S. and Europe during World War II. The time period gives the book a delightful retro charm as Diana takes her first steps into a strange new world, but it also raises the stakes as she learns more about the war raging across the globe and immediately starts looking for ways to help. She makes her way overseas from Boston by volunteering as a nurse (joined by her new best friend, Etta Candy), but she wants to take a more proactive role as she realizes the scope of the threat faced by Allied troops.
This week sees the release of The Legend Of Wonder Woman #6 (print) and The Legend Of Wonder Woman #26 (digital), and they both feature major moments of triumph for Diana as she leaps into action. Diana doesn't embrace a superhero identity until over halfway through the series, and this week's print issue is the first time she suits up to fight the forces of evil, putting a soldier's uniform over her mystically charged weapons and accessories and charging into battle. De Liz has been building to this event for the entire series, and she does not disappoint when Diana unleashes her power on the Duke Of Deception's undead horde. It's a thrilling action sequence that spotlight's Diana's strength, speed, and determination, ending with a stunning splash page of Diana soaring through the air as her golden lariat wraps around zombie soldiers and forces their souls from their deceased bodies.
Action is the primary focus of this week's penultimate digital chapter, which shows Diana's final face-off against the giant Manhunter awoken by the Duke Of Deception. As exciting as Diana's zombie fight is, De Liz and Dillon step up their action game dramatically for this titanic clash, revealing the full force of Diana's might after being blessed by Gaea in the previous issue. Diana was no slouch before, but the goddess has amplified her abilities exponentially, and the creative team takes full advantage of her new power to deliver a spectacular fight sequence. In the issue's coolest moment, Wonder Woman stops a tidal wave by flying into it at supersonic speed, which is an effective way of indicating that Diana's become a force of nature after receiving her gifts from Gaea.
The development of Wonder Woman's costume is one of the print issue's main plot points, and De Liz deserves kudos for how she explains the creation of the character's signature look. Diana's instinct to put on a common soldier's uniform is important, and she initially chooses to blend in with the rest of the troops rather than stand out and call attention to herself. She still wears all her golden accessories because of the powers they bestow on her, but wearing the soldier's uniform reveals that Diana doesn't see herself as any different than the men she's fighting to protect. De Liz is subtly making a feminist statement in Diana's costuming, and although Diana has greater abilities than her male allies, she still views them as her equal.
If Diana had her way, she would probably just stay in that soldier's uniform, but Etta sees the positive impact Diana has on the troops and thinks she should publicly announce herself to boost morale. Etta comes up with the name Wonder Woman and tries to create a heroic, dazzling look for Diana that will allow her to keep her civilian identity a secret, but she finds that crafting a superhero look is a lot harder than it looks. This sequence is the funniest in the entire series, and De Liz comments on superhero costume design with bits about the multi-pouch look of the '90s and the absurdity of fighting evil in high heels. Etta's first attempt is a hilarious disaster, but inspiration strikes when she sees the folded American flag given to Diana by a fallen soldier's mother. She turns the flag into Wonder Woman's star-spangled skirt, and that extra background detail gives the costume deeper symbolic value.
Like the rest of DC's digital comics, the digital issues of The Legend Of Wonder Woman are released on a weekly schedule while print issues consisting of three digital chapters are released monthly. Digital chapters are formatted for a horizontal mobile screen, and most of these digital comic creators lay out pages for the digital size, then stack two pages for each vertically oriented print page. This has resulted in bland panel layouts for many of these series as creators work within a tighter space, and the stacking can look very awkward on the printed page when artists aren't considering how the two digital halves will look when they're put together.
De Liz is very aware of this issue, and she's put a lot of work into figuring out how to make her layouts read smoothly in both the digital and print format. She often accomplishes this by having the two halves bleed into each other, and Dillon's background coloring plays a big part in bridging the two digital pages together. Dillon's lettering also contributes to this smooth flow, as evidenced by the page where Diana finally comes clean to Etta about her Amazon background. The upper-left side of the page features the wispy panel layout that De Liz uses when characters recount the past, and those images line up with Etta's word balloons on the bottom-left side to bring the entire page together when the two halves are united.
The craft on display in this series is extraordinary, and the creative team's passion for the character is clear on every page. There's so much rich material introduced here that deserves further exploration, and thankfully this miniseries isn't the end of De Liz and Dillon's time in this world. Earlier this week, DC announced that a second The Legend Of Wonder Woman series is in the works, a decision that is surely motivated by the miniseries' Eisner Award nomination for Best Digital/Webcomic, and it's a wise move given the shifting landscape of the comics industry.
Graphic novels for girls are incredibly popular right now; just take a look at The New York Times' paperback graphic books best seller list, which is regularly dominated by titles targeted to girls. The Legend Of Wonder Woman's print collection is probably going to be huge when it's released in December (just in time for the holidays), and it's the perfect gift idea for any girl with a passing interest in superheroes. DC has made big strides recently to appeal to that specific market, particularly with the launch of the DC Super Hero Girls line of action figures (with tie-in books, comics, and webseries). Hopefully the success of projects like The Legend Of Wonder Woman and DC Super Hero Girls will compel the publisher to continue reaching out to these readers. That's just smart business, especially when backed by the creative talent on display in De Liz and Dillon's work.