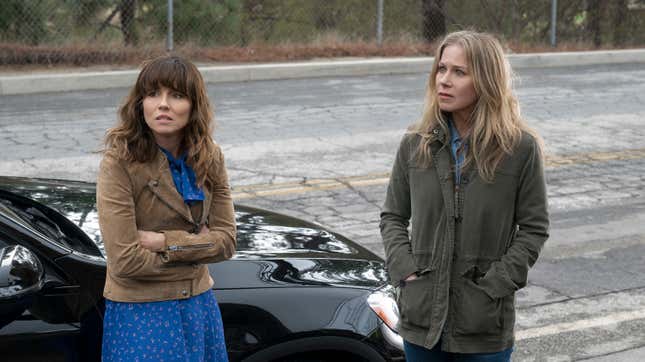 There's a moment in the first half of Dead To Me, a kind of black comedy thriller from Liz Feldman, that both neatly summarizes the dynamic between the two leads played by Christina Applegate and Linda Cardellini and also points to the type of format that would better serve these veteran TV actors. Jen (Applegate) and Judy (Cardellini) are two middle-aged women who've become fast friends after seeking refuge in a grief counseling group, albeit for very different reasons. Their bond develops so quickly that they have their first big fight within days of meeting each other, which leads to one of the other members in the group referring to Jen and Judy as "Kate & Allie."
Late-night hosts welcome back their writers—and their jokes
Admittedly, that reference to a pair of similarly unmoored women many watched become a found family on TV in the '80s won't connect with all of Dead To Me's viewers. But if you recall the CBS sitcom, the nod to Kate & Allie does bring the dynamic between Jen and Judy into sharper relief: Like the eponymous duo played by Susan Saint James and Jane Curtin, Jen and Judy are also dealing with what comes after happily ever after—namely, divorce and/or the death of a spouse. Both sets of co-leads also have great chemistry; Applegate and Cardellini establish an instant bond, which helps justify Jen's otherwise baffling decision to let Judy move into her guest house/late husband's studio after knowing each other for a week. The longer Jen and Judy drink, toke up, rage, and look after Jen's kids together, the more you wish they'd move to Cougar Town and lounge around with the equally dysfunctional Jules, Ellie, and Laurie instead of trying to find empathy and friendship in the midst of the latest of serviceable TV mysteries.
It's tough to summarize the plot of Dead To Me without giving away embargoed details, so let's stick to character beats and broad strokes: The series kicks off with Jen, an Orange County realtor with a portfolio of swanky homes, and her two sons (played by Sam McCarthy and Luke Roessler) in mourning after Jen's husband Ted killed in a hit-and-run. We learn a lot about Jen from her brief exchange with a solicitous neighbor who drops off a "take on Mexican lasagna" (complete with raisins, for some reason); she refuses to euphemize death, which suggests she's a straight shooter, but as the season unfolds, she avoids some inconvenient truths. But Jen also takes her duties as the new primary caretaker for her sons—her late husband was a stay-at-home dad—seriously, so she seeks help in grief therapy. There she meets Judy, a free spirit whose entire existence is the antithesis of her own: all florals, incense, and tchotchkes to Jen's California minimalism.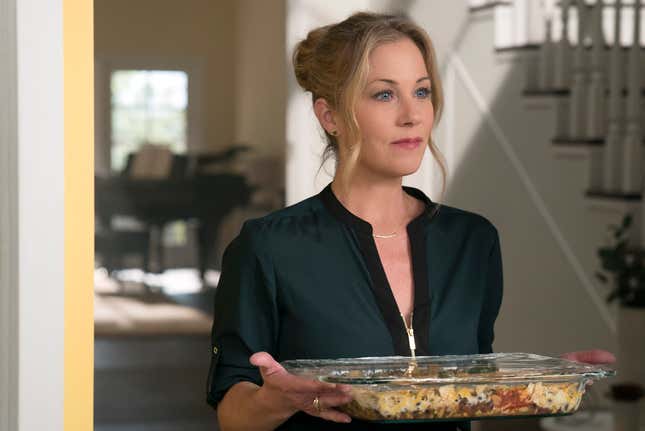 They've led very different lives; Judy is an artist with a day job at an assisted living facility, whose infertility issues (which are explored with sensitivity and sincerity) prompt her join the grief group where she meets and immediately tries to befriend Jen. At first, Jen is put off by Judy's openness, but soon finds herself making the most of her loss-fueled insomnia by reminiscing with her new friend about everything from her marriage to The Facts Of Life to Lilith Fair. They share bottles of wine along with confidences, and support each other through some upsetting developments and separations. Ultimately, their friendship is tested by more than just the inconveniences of everyday life, but the resultant intrigue is more intrusive than it is suspenseful.
There are some highlights even within that stock framing, but they're mostly in the characterization and performances. What nudges Dead To Me slightly above average is the cast—Applegate and Cardellini are both at the top of their game here. Long before losing her husband to a careless driver, Jen had anger issues that would make Lewis Black look relaxed, and Applegate proves once more that she's just as comfortable spitting fire as she is offering up a hilarious reaction shot. Meanwhile, Cardellini transcends the loopiness that usually comes with being the "kooky one" in an odd couple, bringing pathos and verve to the role of Judy in equal measure. Together, they make Jen and Judy contenders for a spot among the most memorable female duos in TV or film, pairs like Kate and Allie, Thelma and Louise, and Mary Richards and Rhoda Morgenstern.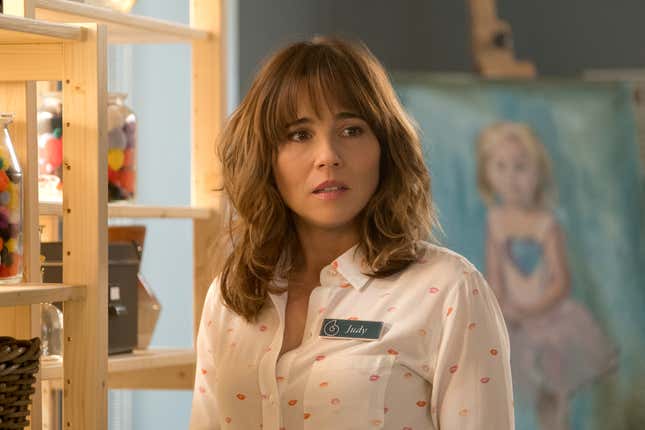 But Dead To Me's stars also take us on what remains a relatively untrod path, one that follows middle-aged women and mostly treats romantic entanglements and male friends and peers as rest stops or detours. Ted's death is undeniably traumatizing for Jen (and her sons, though they're often relegated to the background), and it is the catalyst for much of the action in season one, but the most inspired and resonant moments come from Jen and Judy's burgeoning friendship. Their pop culture references act as age markers as well as entry points for viewers who are looking for relatable women who are nonetheless rarely seen on TV: middle-aged women, especially those whose primary focus isn't family or career. Jen and Judy are adrift until they find each other, and then again as they find out more about each other. There's inherent intrigue, yes; more important, there's a connection. Jen and Judy don't complete each other, but they do complement one another—and they have a helluva time doing so, which is what makes Dead To Me more compelling than its adequately teased and deployed twists. There is a winning comedy along the lines of The Golden Girls and a poignant coming-of-middle-age story like Better Things hidden in Dead To Me; the real mystery is why they aren't the focus of the show.