DC has embarked on the radical step of revamping its entire line of comics, rolling out 52 first issues beginning with Justice League on Aug. 31. Some are new titles. Some restart long-running titles like Detective Comics and Superman. Some promise new concepts, while others offer new takes on old characters. Oliver Sava and Keith Phipps are reading and discussing all of them each week as part of an ongoing Crosstalk. Up this week: The final 13 titles including Aquaman, The Flash, and Justice League Dark.
Aquaman #1
Keith Phipps: I've got a crazy theory: The whole New 52 initiative was really just an elaborate excuse to reintroduce Aquaman to the world. Yeah sure, day-and-date with digital. Continuity tweaks. Marketing push. Creative reshuffling. I'm sure DC wanted all that, too. But what if it were all a fig leaf in an elaborate plan to return Aquaman to a top-rank position on the superhero food chain? Because that would be quite an accomplishment, and almost require an elaborate undertaking, given what a punching bag Aquaman has become in pop culture. I blame Super Friends, which made a whole generation think of him only as the guy who talks to the fish. Then that generation grew up to make irreverent commercials for the Cartoon Network. And Entourage. And Family Guy. That means writer Geoff Johns and artist Ivan Reis have their work cut out for them with this first issue.
G/O Media may get a commission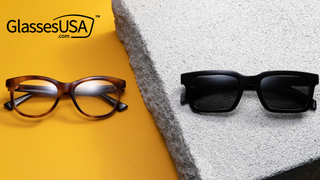 60% off frames
GlassesUSA.com Back to School Sales
They're not the first to try. Peter David gave Aquaman a hook for a hand in the '90s. Will Pfeifer made him the guardian of an underwater San Diego—renamed Sub Diego—in the '00s. A few years after that, Kurt Busiek tried to turn him into an underwater high-fantasy character in Aquaman: Sword Of Atlantis. Spinning off his work in the recent Brightest Day series, Johns does what he does best here: revamping a character by reviving and modernizing what made Aquaman cool in the first place.

And what's not cool about powerful undersea monarch/powerful superhero who's at home fighting bad guys both in the ocean and on the surface world? In this fun first issue, Johns addresses the uncool elephant in the room head-on by having Aquaman take on a van full of criminals who underestimate him ("Bye-bye, Tuna Man"), then head to a seafood restaurant and order a plate of fish and chips to the horror of his fellow diners, including a pesky blogger who tells him he can't eat it because "you talk to the fish." "How's it feel to be nobody's favorite superhero?" the blogger says just before Aquaman loses his patience. By that point, Johns and Reis—who outdoes his fine work on Green Lantern here—already have more than a few readers thinking this Aquaman could very well become their favorite superhero.

I loved this first issue, but you can only pull this kind of meta-humor once. Then the problem remains: What kind of stories can you tell with Aquaman? The closing pages establish that this new title won't be telling stories about Atlantis, at least for a while. By the issue's end, Aquaman and his wife Mera have decided to return to the surface of the earth to start over. Now what? I don't know, but I'll definitely be reading the next issue to find out.

OS: Johns may have been trying a little too hard to hammer home that Aquaman isn't a joke. Aquaman's answer to the "nobody's favorite superhero" question is to pull out his trident with a "shing" sound effect and stare down the blogger as if to say, "Mine's bigger." Aquaman is going to be macho and brooding now, wielding his mighty five-pronged phallus against all who question his masculinity. I liked this issue, but I hope the book spends more time underwater than above it. I'd like to see Johns create an aquatic world similar to what he's done with DC's cosmic landscape over in the Green Lantern titles. Also, Ivan Reis could do magic with underwater creatures and plant life, so let him draw it. I've enjoyed all the runs you mentioned above, so I think I might actually be an Aquaman fan, and this issue has me excited to read more.

Teen Titans #1
OS: Is this the first iteration of the Teen Titans in the DCnU? Last week's Red Hood And The Outlaws suggested that at least the Wolfman/Perez era existed, but Teen Titans #1 reads like teen superheroes are a brand-new phenomenon. Not to mention there's no mention of Wally West anywhere, so was there a Kid Flash to join Dick, Donna, and Garth in the original Titans?  Hopefully continuity questions will be answered in the future, but this month is about reintroducing ideas, and Scott Lobdell and Brett Booth turn in a competent but unspectacular start to the new Teen Titans. The issue starts with Bart "Kid Flash" Allen showing off for TV cameras by helping firefighters in a burning building, but his super-speed creates a backdraft that spreads the fire even faster. It looks like any of Bart's character development in the last 10 years has been erased, bringing the character back to his Impulse-ive roots, and hoo-boy is he obnoxious. It appears this is going to be a book with a lot of exaggerated personalities, so it will be interesting to see if Lobdell can give us a reason to care about them before they get too grating.

This is the Superboy Lobdell, not the Red Hood Lobdell, so that's a relief. The plot is closely tied to Superboy, with the mysterious organization N.O.W.H.E.R.E. serving as the major villains, rounding up teen superheroes for some unknown reason. (Lobdell and his mysterious organizations… jeez.) Tim Drake is operating as a kinda-cyberterrorist by the name of Red Robin, and he tracks down Cassandra "Wonder Girl" Sandsmark, a young thief, to rescue her from N.O.W.H.E.R.E. agents. It's actually similar in pacing to the new Justice League, but that's not necessarily a good thing. Half of the team has yet to be seen, and judging by the cover, they're all new characters, including the intentionally flamboyant Bunker and the unnervingly Marrow-looking Bugg, which doesn't inspire much confidence.

Brett Booth's art is very much in the classic Image style; the action is good but the anatomy can get a little wacky and the faces are generic. While his Red Robin costume design could stand to lose some straps and buckles, he deserves major props for Wonder Girl's new costume, which, despite the tube top—how can you fight crime in a tube top—covers almost her entire body. Not even an exposed midriff! Now, the tank-top Superboy with the barcode S-sign tattoo is a whole different story, but it looks like that's still a while away. For a book that will be picked up by a younger audience, this actually manages to stay kid-friendly, so Lobdell and Booth deserve credit for that.

KP: I think you're giving too much credit to a book I could feel myself forgetting as I turned the pages. I'll at least give it credit for one really weird moment: In one scene, Red Robin stares at a framed photograph of himself with Batman and says, "Look what you started. Seriously. What were you thinking?" A couple of things about that: 1) Is he suggesting that Batman is somehow responsible for the outbreak of superpowered teens? 2) Who took that photo in the first place? Did he and Batman set up the shot, push the timer, and then swing into action? I found thinking about that more interesting than thinking about the rest of the book, which is, as you say, pretty reminiscent of the Image look of the '90s and driven by a rebellious capital-A "attitude" that rang hollow to me.

The Flash #1
KP: Before this reboot, it looked like DC was trying to get back to square one the long way anyway. Following the return of Hal Jordan as Green Lantern, DC reintroduced Barry Allen as The Flash. I was skeptical about that change, having been a big fan of the stories Mark Waid and Geoff Johns had been able to tell with Wally West, Allen's successor as the character following his death in Crisis On Infinite Earths in 1985. Though I missed Wally (still do), I ended up liking Johns' brief run of Barry Allen stories, which found him working a day job as a forensic scientist—as Allen had done before his death' while doing double duty as a superhero. The Flash's status quo has gotten another shake-up in the New 52, fitting since it was Allen who unwittingly instigated the universe-shattering crisis in the first place. Still working as a police scientist, Allen's now a single man again, though his once (and future?) bride Iris West makes an appearance here.

Artist Francis Manapul drew The Flash for most of Johns' run in the Allen era, bringing a nice mix of kinetic compositions and classically cartoony character designs to the title. With the reboot, he assumes co-writing duties with Brian Buccellato, who also serves as colorist. That made me a little nervous, since not every artist can make it as a writer (and, of course, vice-versa). But maybe I shouldn't have worried so much. Manapul and Buccellato's scripting hasn't revealed any great innovations so far, but they've turned in a solid first issue that establishes Barry's new situation and gets the first story going. And it looks great. Taking over co-writing duties has freed Manapul up to play with the pages. A couple of full-page compositions—one of the Flash falling out a window, the other of Barry pacing around his apartment—make neat use of ways to show the progression of time unique to comics. I hope the team's writing voice gets a little stronger as the story progresses, but this is the rare book I'd buy for the art alone.

OS: Solid writing, great artwork perfectly nails it, Keith. There's a lightness to Manapul's writing and art that works for Barry Allen, and his experimentation with the form works well for capturing the Flash's movement. It's interesting that the more sophisticated artists have also been the strongest at transitioning to writing, and as was the case with Batwoman, having Manapul as writer-artist gives the book a clearly defined, unique creative vision. All the extra lines on Flash's costume are a little unnecessary, though, and while they help create the illusion of speed when Flash runs, they clutter up a classic character design. I'm not quite intrigued by the main story yet, but the love triangle of Iris-Barry-Patty has potential and is already making Barry a more interesting character. Barry has the potential to be the DCU's Peter Parker, and this issue feels like a step toward making him a likable everyman with a heart of gold. Basically, Barry Allen is becoming Wally West.

All Star Western #1
KP: Since 2006, Justin Gray and Jimmy Palmiotti have co-written the adventures of Jonah Hex, DC's Western hero with a strange dedication to wearing a Confederate uniform years after the end of the war and a face that's half Clint Eastwood, half mutilated nightmare. Consisting mostly of done-in-one stories, their Jonah Hex showcased both its writer's affection for uncompromising Western stories and the art of a rotating cast of all-stars. Gray, Palmiotti, and Hex all return in All Star Western, but the focus, at least for now, isn't squarely on Hex's lone-wolf adventures in the unforgiving West. Here, Hex ventures to 1880s Gotham City where he teams up with psychologist Amadeus Arkham (note the name) to track down a serial killer.

That's a cool idea, and Gray and Palmiotti pull it off well. I have some nerdish complaints about why Gotham, an East Coast metropolis, would still be in the building stages in the 1880s and look so much like a frontier city, but I'm willing to let those slide given that the story made me forget those complaints. Hex and Arkham make a great team of mismatched heroes, and the art by Moritat brings the seedy underside of 19th-century Gotham to life. Jonah Hex can be a bit of a one-note character, but Gray and Palmiotti have used a stable of first-rate artists to vary the look and feel of his stories over the course of their run. I hope that continues, but for now this feels like the right match of artist, character, and story. (Though I wonder if it will work as well as the previous series if Gray and Palmiotti try to write the now-traditional six-issue story arcs or if it sticks with a single artist.)

OS: Gotham reminds me more of Victorian London than a frontier city in this book, with the Jack the Ripper-esque Gotham Butcher and Moritat's European-influenced artwork. Gray and Palmiotti's Jonah Hex was one of DC's most consistent books, and while the single-issue story format will be missed, the added room has given the writing team more time to create an environment that feels real and alive. Moritat's art is a fusion of Jordi Bernet and Kevin O'Neill: gritty, detailed, sensual, and brutal all at the same time. The crowded streets of Gotham are the opposite of the barren plains Hex roamed before, filled with people who don't know and don't care about what the name Jonah Hex means. They learn really fast. Hex cuts his way through the Gotham underworld, and frankly the best part of the new setting is that there's opportunities for carnage around every corner. Gotham is a dangerous place, Hex is a dangerous man. It's a perfect match. Arkham's narration provides insight into the psyche of a character that rarely reveals his thoughts or feelings, and his psychoanalysis of Hex humanizes the Confederate soldier who has become more of a ghost than a man. Now we just need the story where we find out Jonah Hex is Harvey Dent's ancestor, because come on, it's too perfect not to do.

Superman #1
KP: This first issue of Superman is far from the worst comic DC has released as part of the New 52, but it's the most disappointing. A great artist and an often-good writer, George Perez takes over writing and layout duties for the other major Superman title. But unlike Action Comics, which is set in the recent past, Superman takes place in the present of the new DC Universe, though readers could be forgiven if they think it takes place a couple issues in the future, since Perez doesn't bother bringing newcomers up to speed. And there's a lot to be brought up to speed about here: The old Daily Planet building is being destroyed at the insistence of its new owner Morgan Edge, who hopes to bring it into the 21st century. This doesn't sit well with Clark Kent after, in Perry White's words, "everything that's happened." Presumably future issues will delve into that further, but for now we get a brooding Superman tangling with masked hijackers, Lois Lane entertaining a shirtless man at her home at a late hour, Jimmy Olsen sporting a Justin Bieber haircut, and a lot of convoluted set-up.

This feels more like a none-too-promising fourth issue than a première. I'm willing to stick with it to see where it's going and because I like Perez, artist Jesús Merino—though seeing his art dropped into classic Perez layouts looks odd to my eyes—and, of course, the character. The standard knock on Superman is that it's hard to tell good stories with a character that iconic and powerful, but I've never believed that. I've enjoyed several recent Superman runs from Greg Rucka, Johns, and Kurt Busiek, to say nothing of Grant Morrison and Frank Quitely's wonderful All-Star Superman. As part of the relaunch, Morrison and Rags Morales have offered a terrifically fresh take on Superman as a young man in Action. I was hoping this would do the same for the established Superman, but it feels pretty tired, an unappealing info dump of a story that does little to entice back even someone already eager to read a good Superman story.

And as for the biggest change, the dissolution of Superman and Lois Lane's marriage, here's how I see it: We had long run of married-years stories, some of them good, some of them not-so-good. Now that the marriage has been erased from continuity, writers get a chance to tell different sorts of Superman and Lois stories. That's fine, as long as they give us a reason to care about the characters. But, beyond their familiar names, this post-reboot Superman cast is woefully underdeveloped.

OS: How can a book be so dense yet so uninteresting? This may be the most boring issue of the entire relaunch, and it's not for lack of content, just lack of depth. The pages are overcrowded with panels doused in narration and dialogue. Some pages have up to 13 panels, yet nothing seems to be happening. Perez is tasked with establishing Superman's supporting cast and the new status quo of the Daily Planet, but it's essentially a retread of what happened to the Daily Bugle over in Amazing Spider-Man a couple of years ago, and he does it in the clunkiest way possible. Perez's Superman is missing the exact thing that makes Morrison's character in Action Comics so endearing: a personality. He's a little more brooding, but everyone in the relaunch is, and without any sort of explanation for his behavior, it feels like a shallow change to create a superficial edge to DC's flagship Boy Scout.  

Batman: The Dark Knight #1
OS: David Finch's original The Dark Knight series was plagued by lateness and uninspired storytelling, and while it's too early to tell on the former, Batman: The Dark Knight #1 stays consistent on the latter point. Paul Jenkins joins Finch as co-writer, taking over scripting duties while Finch contributes plot details, and the two just aren't a very good fit. I don't know what's happened to Jenkins in recent years: his X-Men: Prelude To Schism was a pointless, sentimental mess, and last week's Deadman gave him the opportunity to return to his character-driven strengths, but he spent most of the issue doing the Deadman version of the Six Feet Under cold opens. Finch's plot doesn't give Jenkins much to work with in this issue, and the similarities between The Dark Knight and last week's Batman highlight Finch's flaws as a writer. Both books feature narration that segues into a public speech Bruce Wayne is giving and a breakout at Arkham Asylum. Did Bat-editor Mike Marts not notice that these were the same story? The difference is that Scott Snyder approaches the character with some degree of subtlety, whereas Jenkins and Finch have a double-page spread of Batman jumping out of a plane narrating, "You are the parent of your own fear."

Jenkins is all about beating us over the head this month. Deadman jumps between bodies, so he will jump through 12 bodies in this two-page spread just to make sure you get the idea. Batman strikes fear into the hearts of criminals, and my God does he spend a lot of time talking about it. "Fear is a cannibal. A goblin. An unruly tyrant armed with a bludgeon of doubt." A bludgeon, what an appropriate image. At Arkham, Batman encounters a new Playboy Bunny-themed villain, and then runs into One-Face, the new Hulked-out version of Harvey Dent. There's no intrigue or mystery; it's just one grim musclehead versus one crazy musclehead, with some cheesecake just to keep it relevant. Finch is one of the stronger Marc Silvestri clones, and while his faces look similar and the T&A can get a little silly, he's good at drawing action and those big splash pages DC loves so much. This book is redundant, and I don't see it lasting more than a year, especially with Finch's reputation for lateness.

KP: I liked David Finch's work on New Avengers just fine, but his art here doesn't have as much character, and if you're not really into Finch's art, there's not enough in the way of story to make up for it. Oliver, you didn't even single out the worst line of the book, which is also the first line of the book: "Fear is a cannibal that feeds upon itself." What does that mean? I keep turning it over in my head and I can't get it to mean anything. I still like this better than Detective Comics, though.

I, Vampire #1
OS: I'm not familiar with the character of Andrew "I…Vampire" Bennett beyond an appearance in Brian Azzarello and Cliff Chiang's Doctor 13, but some Internet magic revealed that he's a shape-shifting vampire telepath with super-strength and a noble, do-gooder spirit. After turning the love of his life, Mary, into the demonic leader of an undead army, Andrew atones for his actions by fighting his ex-girlfriend's vampire horde, one decapitated head at a time. I doubt his early stories were anywhere near the tone of Joshua Hale Fialkov and Andrea Sorrentino's revival—J.M. Dematteis' Andrew sounds more like Vincent Price than Robert Pattinson—but the team's unique creative vision makes I, Vampire #1 one of more sophisticated titles of the relaunch. The Twilight comparisons stop at the hair, though, as Fialkov crafts a tense, creepy story that reads like a high-budget pilot for a horror TV show, especially with Sorrentino's atmospheric art.

Exposition is a tricky thing, and after 52 issues, we've seen just about every way writers can bring readers up to speed on the history of these characters. Fialkov does it all through dialogue, using it as narration while Andrew starts fighting. The dialogue from the intercut scenes of Andrew and Mary's final night together carries over to the action of the morning after, when Andrew walks through the pile of bodies Mary left outside his window as a goodbye present. Lines like, "Do you remember the Revolutionary War?" establish the centuries-long relationship of these characters, and Fialkov quickly develops a history that will be exciting to explore if this series lasts. More importantly, I believe their relationship, because Fialkov doesn't forget about humor. A scene where Mary transforms into a wolf and catches a swan ends with Andrew commenting on the marvelous beauty of the act. It's eerie but light, which is immensely helpful in a book this dark.

Sorrentino's artwork is heavily reminiscent of Jae Lee, with heavily rendered but highly realistic characters doused in heavy shadows. The entire book is composed of horizontal panels, giving it a widescreen-cinema feel, and Marcelo Maiolo's colors help establish the tone for the different scenes. Drab earthy colors create a desert-like bleakness for the present scenes, and blue and purple give the past sequences a cool yet somber feel. Sorrentino could work on making his characters more distinct—on first read I thought a random female vampire was supposed to be Mary—but otherwise he does a great job, especially at conveying violence without too much gore or glorification. Fialkov and Sorrentino have crafted a first issue with elegance and style, and it's the kind of debut we should have seen more of this month.

KP: Sorrentino's art is both the best and worst thing about this book. It's striking but muddy, and I had a hard time following the action here. (At first I thought it was set in a post-apocalyptic world.) That said, I liked the book and want to read more, though this seems like the sort of story that will read a lot better when collected in a book than in monthly installments. For all the vampire action, it reads like a ruminative mood piece. Putting it down after getting only a little bit of the story breaks the spell.

Justice League Dark #1
KP: One of the most significant changes brought about with the DC reboot, a change that seems like it was in the works even before the decision to launch 52 new first issues was made, is the reintegration of characters previously confined to Vertigo titles into the DC Universe. So Swamp Thing, Animal Man, John Constantine, and other characters that began in the DC Universe now get to return after a sojourn in Suggested For Mature Readers-land. It's never made sense to me that they would have to live in one or the other. Maybe that's because my formative comics-reading years came in the late '80s and early '90s when titles like Swamp Thing and Sandman existed on the dark fringes of the DC Universe. People tend to forget that Sandman featured cameos from Justice Leaguers in its early issues—to say nothing of an issue that resurrected Prez, the first teenage president—and that Alan Moore's Swamp Thing regularly used DC characters both prominent and obscure.
[pagebreak]
Justice League Dark goes all in with that reintegration, taking the first steps to assembling a superteam of magic-based characters that includes Constantine, Zatanna, Madame Xanadu, Shade The Changing Man, Enchantress, and Deadman (who, with his appearance here, his starring role in DC Universe Presents, and his cameo in Hawk And Dove, is one hard-working ghost). Writer Peter Milligan doesn't take the notion too far this issue but establishes a) there are magical threats that make short work even of the most powerful superheroes and b) it takes a special class of weird characters to deal with those threats. Hence Justice League Dark (which kind of sounds like a beer name to me). It's a promising idea, but we don't get much of an idea of whether or not it will come together with this first issue. Characters only get a brief chance to introduce themselves and less of a chance to interact. I'll file it under "Too Soon To Tell," but I wish this was a stronger first outing.

OS: Everyone on the cover shows up in this book! How many team books in the relaunch can say that? I think I would have liked this book better with a different artist, because Mikel Janin seems ill-suited for Milligan's story. It looks like many of the character models are computer generated then drawn over, creating a mannequin-like stiffness where a more fluid style would be appropriate. I've never read Milligan's Shade, The Changing Man, but I'm compelled to check it out after this issue, because Shade has the most chilling scene of the book. There's some grotesque imagery throughout the issue, but Shade's scene with his girlfriend Kathy is the only sequence that felt truly horrific, showcasing Shade's incredible power and instability. If Milligan can create a superhero-team book with that kind of tone from beginning to end, then this will be a book to watch, but Janin's art is going to be a hurdle.

Voodoo #1
OS: The controversy from last week's Catwoman/Starfire fiasco lingers over Voodoo #1, which unfortunately begins with the title character on all fours in her bra and panties. Priscilla "Voodoo" Kitaen is a Wildstorm refugee, a member of the WildC.A.T.S., who even starred in a solo series written by Alan Moore once upon a time. An alien scout sent to gather information on the human race, Priscilla works as a stripper in New Orleans, mining the minds of men from the local military base for state secrets. Her new series has a strong creative team in Ron Marz, who turned cheesecake-fest Witchblade into a solid detective/horror book, and Sami Basri, who did fantastic work with Judd Winick on Power Girl, and while the sexual content is gratuitous and exploitative, Marz and Basri use it to distract the reader in the same way Voodoo uses it to distract her targets.

The hypersexualization of females has been happening in comics for decades. The problem with last week's books was that they were just horribly written; Ron Marz at least knows how to construct a first issue. Marz has a column on Comic Book Resources, and he recently detailed his approach to first issues, using the journalistic Five Ws as the foundation for his story. Who, what, when, where, and why. It's so simple and obvious, but how many books have we read this month that weren't able to give us all five of those? Especially why. Voodoo has a premise that could sustain an ongoing series, and this issue has me interested in reading more about all these characters. Marz wisely chooses to have another ass-kicking female lead in the book with all her clothes on, a special agent named Jess who is tracking Priscilla, and watching Jess beat up some street thugs is a welcome diversion from the extensive writhing.

Sami Basri knows how to draw titillating characters, and when you get past the fact that you're looking at a comic book striptease, there's some beautiful figure work and body language happening on the page. Basri uses Priscilla's hair and flying money to create an art nouveau effect, and Jessica Kholine's bright color palette helps set a different atmosphere for each scene. There's a rhythm in the artwork that lulls the reader into a false sense of security, and the final pages are truly shocking because of their contrast to what preceded them. I'm guessing this book will tie in to Grifter at some point, as the characters have a history, are currently in the same location, and deal with alien conspiracies—and both books have been unexpected successes for me. Who'd have thought these Wildstorm leftovers had it in them?

KP: A few of the critiques of last week's Catwoman and Starfire portrayals referenced preview art from Voodoo as a title sure to complete the triumvirate of one-dimensional sexbot DC heroines, so I was prepared for the worst when I picked this up. Goes to show that you shouldn't judge something until you've read it. There's probably more bare flesh in this book than either of the titles we complained about last week, but it never feels cheap. Yes, the art is titillating, but the titillation serves the story, the setting, and the character, disarming the reader until those final pages you mention, which I did not see coming. I thought I knew what kind of story I was reading, then, all of a sudden, I realized I had no idea. This one caught me by surprise in more ways than one. And while, yes, it's probably not ideal that the only book starring a woman of color (sort of) gives her a job as a stripper, that's not necessarily reason enough to dismiss Voodoo, which looks like it will be a far trickier title to pin down than it seemed from a distance. (Then again, if every issue finds an excuse to get the heroine on all fours in a bra and panties, I'll have to take back everything I just said.)

Blackhawks #1
OS: Full disclosure time: Blackhawks writer Mike Costa is a friend of The A.V. Club, and I've been following his career from back when he was hawking books on the BendisBoard. Costa's first book, a Wildstorm miniseries focusing on Authority member Jack Hawksmoor, established a sci-fi-action-noir sensibility to his writing that would somehow find a way to flourish in the G.I. Joe and Transformers universes of all places. In terms of setting up a series, Costa has potentially the most difficult job of any writer in the relaunch: reviving a Golden Age war comic with a completely new concept and cast of characters. At least Ivan Brandon has a Sgt. Rock connection in Men Of War. As expected, there's a very G.I. Joe feel to Blackhawks #1, from the costumes and vehicle design to the character nicknames. The Blackhawks are a multi-ethnic team of covert operatives outfitted with high-tech weaponry, and the issue starts with four agents rescuing a group of hostages in Kazakhstan. There's a lot of action but not much character as of yet, and the biggest challenge for this book will be establishing an emotional hook for a cast that doesn't have a built-in fan base.

Well, the second biggest challenge. Graham Nolan and Ken Lashley are the art team for only this issue, with different artists handling the next two, and the artistic inconsistency could hurt the book's future. Except for a panel where the image doesn't match the dialogue, Lashley's art is well-suited to Costa's script, with a flashiness that is still realistic and structured. His anatomy is strong and consistent, and most importantly, he can draw smooth action and big explosions. The next issue will be taken over by Trevor McCarthy, whom I think is actually a stronger artist than Lashley, so maybe the art inconsistency isn't going to be too bad. DC can say it was intentional and it's trying to do a whole Global Frequency thing. This book needs more clearly defined characters and to build a connection to the rest of the DCU before it can reach greatness, but if Costa could make a book about freakin' G.I. Joe bad guys readable, he can handle this.

KP: I liked this issue too, and not just because I know Mike a little bit. (This may be the only profession in which making friends can be a liability.) There's a lot to take in here, but the script doesn't rush the exposition as it sets up a plot involving nanocites—powerful, miniature technology—that I could see running through the whole series. I recoiled a bit when I first saw the character of Andrew Lincoln, because my aversion to a particular thread of '90s comics has left me with a kneejerk dislike of smirking tough guys with white hair and reflective sunglasses, but I can get past that. There's a lot of potential here and I'm looking forward to seeing where it goes.

Green Lantern: New Guardians #1
OS: What a cruel tease the start of Green Lantern: New Guardians #1 is. A full-page image of a pile of dead Guardians—it's like DC is actually listening! Turns out those sneaky devils just forgot to put a "____ years ago" caption on the page, establishing a flashback to when Hal Jordan murdered the Guardians and Ganthet chose Kyle Rayner as the last Green Lantern. After the unnecessary recap of Kyle's origin, Tony Bedard jumps into the story, which involves different members of the various Lantern Corps losing their rings. The rings all fly down to Earth where Kyle is rescuing a construction worker, then some random ring-bearers show up to get the rings back. The end. Beyond a brief introduction to Fatality, nearly every other character appears with no explanation, like random action figures Bedard gets to play with in his Lantern Corps sandbox. This is a book that already feels redundant; don't make the first issue pointless.

Tyler Kirkham comes from the Top Cow school, and I'm pretty sure I've typed some variation of "Top Cow/Image school" more often than I would have liked this month. He's competent but generic, and while the interiors are better than the white, badly proportioned cover, Bedard's story doesn't give him much to work with. There are some impressive images like a full-body shot of Fatality that uses her ring's energy for an art-nouveau effect, and Kirkhm needs a book that will force him to experiment and push his boundaries. This book is Pokemon meets Captain Planet, and that's a combination that can only breed creative stagnation.

KP: I'm on the record with my general indifference to even the best Green Lantern books, which have come this close to winning me over but never quite done the trick. This doesn't change that, and maybe that's just because I checked out before Darkest Night, when the Green Lantern universe introduced a plethora of new colors and characters. I'll take it over Red Lanterns any day, though, if only because there's no blood vomit.

The Fury Of Firestorm: The Nuclear Man #1
OS: Superman was a disappointment, but I was expecting clunky, traditional storytelling from Perez. My biggest letdown this week is The Fury Of Firestorm: The Nuclear Man #1, a badly paced, unfocused story with unlikable characters, unrealistic dialogue, and boring art. I'm a huge fan of Gail Simone, and while I don't know much about Ronnie Raymond, I enjoyed Stuart Moore and Dwayne McDuffie's stories with Jason Rusch. Brightest Day established an interesting dynamic between Ronnie and Jason, but this new series dials back the clock to give Firestorm a new origin, with the two boys now going to the same high school. Jason is the brainy school newspaper reporter with a grudge against the privileged, self-important jock Ronnie, and like Mister Terrific, this book throws down the race card early and without any subtlety. My major complaints in the relaunch have been about gratuitous sex and violence, and this issue has a lot of the latter, with a huge body count for a book about high-school students.

A homicidal group is looking for the mysterious Firestorm Protocol, murdering and torturing until their path ends with Jason, who has a nuclear device in his locker because he's a whatever-level genius. If he's so smart, why is he such a petulant bitch to Ronnie? Jason freaks out when he's accidentally called "Jarod," and when Ronnie reacts aggressively, Jason starts to bring race into the discussion just because he can. It does lead to my favorite moment of the issue, the split page showing Jason and Ronnie at dinner with their parents, with Ronnie asking his mom about their lack of black friends. It's the kind of quiet moment that I wish there were more of. Instead, there are a few more pages of people getting shot in the head (in a school!), and then Jason takes a metal canister of nuclear boom out of his locker ands transform Raymond and himself into dual Firestorms. One red, one yellow, both puffy-sleeved. Instead of fighting the guys that just killed his best friend, Ronnie goes after Jason, and the boys fight until they combine to form Fury, the MegaFirestorm that talks like a '50s gangster. The dialogue is rough once the boys transform, with laughably bad lines like, "What did you DOOOO?" and, "Don't make me casket you, Raymond!" But a neon orange Hulk with pointy shoulder pads saying "sweetcheeks" at the end of an issue is pretty much guaranteed to make me avoid the next one.

KP: I'm willing to give this book another shot just because I think it's trying to do something, but I was pretty disappointed too. Plus, between Firestorm and The Dark Knight, hulking out seems to be the order of the day. I do like that the book addresses race issues, I just wish it would do it with a little more finesse. I don't want to read a superhero equivalent of The Thing With Two Heads.


The Savage Hawkman #1
KP: Hawkman has one of the most convoluted histories in DC Comics. He's either Katar Hol, a warrior from the planet Thanagar, or Carter Hall, the reincarnation of an Egyptian prince—or, most recently, both at once. I'm not sure who this Hawkman is after this first issue. Called Carter Hall, he's first seen trying to swear off being Hawkman, even taking the drastic step of destroying his Hawkman costume. But this is not to be. By the issue's end, the Hawkman armor has emerged from Hall's skin itself, a previously unheard-of property of Nth metal, a powerful metal native to Thanagar. Yet Hall claims to be "born and bred in the U.S. of A." So it looks like the Hawkman story will get another twist in the New 52 era.

I wish the story raised as many questions. Written by Tony S. Daniel (who's also penning Detective Comics) and drawn by Philip Tan, this first issue turns into a standard guy-fights-monster story pretty quickly. It has shouting and mace-waving aplenty, but little else in the way of intrigue, and nothing much in the way of character development beyond giving Hall a drinking problem. I like Philip Tan's art, which looks like it combines pencils and watercolors, though I'm not sure if that's actually the process. But, unlike the best of the New 52 titles, which offer new perspectives on familiar characters, this feels like it could easily have been a quickly forgotten reboot attempt from the previous era.

OS: Philip Tan is doing some of the best work of his career on this book, utilizing a beautiful inkwash that highlights Sunny Gho's vivid colors. It's stunning, but it's wasted on a lackluster script. I think the resurrection angle Geoff Johns introduced is out completely, and Carter Hall is the only incarnation of Hawkman. That's completely fine, but Tony Daniel's weak writing holds this book back. Hawkman's new villain is called Morphicius. Which sounds like "more vicious" when said out loud. Which is ridiculous. The plot isn't bad but it's nothing original, and the narration is full of clichés, including a death and taxes joke that left me humming Avenue Q (probably not the desired effect). Hawkman is a character with a lot of mythology, but it looks like Daniel is focused on the slashing and smashing, and it just isn't the best foundation for a book.

Last thoughts
OS: 52 issues later, the DC relaunch is over, and it's a massive success. The books may have been hit-or-miss, but in terms of marketing strategy, the DC relaunch brought attention to the company and put people in comic shops. The mainstream coverage of the relaunch is unprecedented, and while there's been a fair share of bad press, the publicity is selling books. There weren't very many surprises in terms of which books ended up rising above the rest, although Jeff Lemire has now become a major force in the superhero comic world, which I would have never thought while reading Essex County.

My favorite part of this month was when a book like O.M.A.C. or Captain Atom genuinely defied all my expectations and forced me to look at characters and creators in a new way. I'm suddenly excited to see more of Freddie Williams II's artwork and read a comic by Dan Didio. And this is all just the beginning. Creative shake-ups are happening every day, and the DCnU is going to look like a very different place come next September as books get cancelled, new titles are introduced, and the fabric tying the titles together becomes tighter. I will be checking out the second issue of at least 24 of the new 52 titles, which is considerably more than I was reading before, and honestly not too bad of percentage for DC to get right.

I haven't utilized the digital service at all, but it seems like having a digital alternative has been helpful, especially with all the sell-outs. It's a genius move. They publicize all these sell-outs at the distributor level, bringing people into stores because they worry their store will sell out. When the stores sell out because of the additional traffic, people can go to get a digital copy, and hopefully they'll continue to buy digital copies in the future. It's a gamble that has paid off financially, but if DC wants to compete with Marvel creatively, they need to put their strongest writers on high-profile assignments that will sustain long-term readers.

KP: This is one of those so-crazy-it-just-might-work ideas that seems to have actually worked, at least commercially. But beyond selling monthly superhero books, it's gotten people talking about monthly superhero books again, which I welcome. As for the digital prong of the strategy, I have read a couple of comics in that format, which I like. But, unlike with eBooks, I've discovered I'm not neutral when it comes to comics: I prefer the printed page. (That said, I'm not sure the digital push was made for old folks like me.)

As for how it worked creatively, I want to end with the pros, so let's talk about the cons first. I read a lot of forgettable comics this past month, and some that were unforgettable for all the wrong reasons. As a grown-up who spends time reading, thinking about, and sometimes writing about comic books featuring characters with capes and tights, I'm particularly sensitive to stories and images that make me feel embarrassed about a genre I enjoy: thoughtless sexism, brainless action scenes, thinly conceived characters, and so on. I would have loved to have walked away from DC's New 52 experiment able to report that the company had committed to weeding out those excesses.

I can't do that. But I can say this: The New 52 books I do like I like a lot, more than any of the titles I was reading before the relaunch. We list our favorites below, and I count nine titles I'm already hooked on reading, another 10 I'll happily read for a while to see which way they go, and a handful of others I'm at least curious to see how they develop. I suspect I'm not alone and that anyone out there who's curious about these titles will find at least a handful of books they'll like a lot. If it took a radical step like this to make quality books like Animal Man and Wonder Woman seem approachable to newcomers and lapsed fans, then it was worth the upheaval.

Oliver Sava's DC 52 Picks:
Already in it for the long haul:
Animal Man
Action Comics
Swamp Thing
Batwoman
Frankenstein, Agent Of S.H.A.D.E.
Demon Knights
Batman
Wonder Woman
I, Vampire

Sticking around for at least the first arc:
Batgirl
Grifter
Birds of Prey
Nightwing
All Star Western
Aquaman
Voodoo
Justice League

Trying at least one more issue:
OMAC
Batman and Robin
Green Lantern
Blackhawks
Captain Atom
Supergirl
The Flash

Keith Phipps' DC 52 Picks
Already in it for the long haul:
Animal Man
Action Comics
Aquaman
Batman
Batwoman
Frankenstein, Agent Of S.H.A.D.E.
Demon Knights
Swamp Thing
Wonder Woman

Sticking around for at least the first arc:
All Star Western
Batman and Robin
Blackhawks
The Flash
Justice League
Justice League International
Nightwing
OMAC
Voodoo
Supergirl

Trying at least one more issue:
Batgirl
Batwing
Birds of Prey
I, Vampire
Men Of War
Superman