"It'll be a polished, tightly produced abomination," says MacKenzie, in reference to a News Night sellout show that pairs Nancy Grace-style Casey Anthony coverage with salacious details about the Anthony Weiner Twitter scandal. And though I'd be glib enough to say the same thing about tonight's episode of The Newsroom, "The Blackout Part 1: Tragedy Porn," I can't quite call it an "abomination," because the show again took positive steps toward challenging Will and Mac's righteous "mission to civilize" by acknowledging that they can't simply snap their fingers and make it so. There are other things to consider, like sustaining a cable news show that's hemorrhaging viewers. You can ask CNN about that.
The "polished" and "tightly produced" part does apply to this episode, which sets about integrating many of the major storylines into a full-fledged conspiracy that not only threatens Will's career and the future of News Night, but private citizens across the nation. The Newsroom, which was once about the struggle of a Jay Leno type ditching his populist pandering and becoming a journalist again, has expanded into Aaron Sorkin's Grand Theory Of Everything, an attempt to explain how the government and corporate concerns conspire to protect each other's interests while owning the Fourth Estate and violating people's privacy and their right to know the substantive truths that journalism exists to provide.  In movies, it's the type of conspiracy that "goes all the way to the White House," but Sorkin settles for the top of AWN, where Leona Lansing (Jane Fonda) and her son Reese (a.k.a Ratings Guy, played by Chris Messina) are the Rupert and James Murdoch of Big Media wiretapping.
It's a juicy theory. Early on in the season, Sorkin did a nice job establishing it by casting Fonda as Ned Beatty in Network, i.e. the bigwig who warns her cavalier newsman "not to fuck with the forces of nature." We knew going into Will's grand experiment that his attacks on the Tea Party were not aligned with AWN's interests and if a substantial drop in the ratings gave the company an excuse to cut him loose, then they'd do that in a second, because they have business with Tea Party types on Capitol Hill. And though it might seem far-fetched that AWN would wage a tabloid war against its own anchor, it certainly seems more plausible in light of the real-life implications of News Of The World's phone-hacking shenanigans and its connection to the tippy-top of the News Corp organization. For a show that shimmers with the fairy-dust of idealized fantasy, AWN's plan to bring down Will for damaging its business in Washington strikes me as well within bounds.
Tonight, we're informed that News Night has lost nearly half of its viewership by refusing to report on the Casey Anthony case, slipping from second in the ratings to fifth. Reese's solution: all Casey Anthony all the time, despite more significant national news like the possible default of the U.S. government on its loan obligations for refusing to raise the debt ceiling. (Maybe I'm misremembering, but I don't recall the default issue getting a lack of news coverage. But still, we press on.) Mac, of course, doesn't care a whit about the ratings and implores Will to brush off Reese and report the real news. But Will comes up with a compelling excuse to sell out: If ACN wants to host a Republican primary debate—and, in so doing, change the entire format forever—then being fifth in the ratings will not make them a compelling option to do so. It's the type of conflict that the show has needed to have all along, one where the viewer can really feel the tangible costs of Will's mission to civilize, rather than simply watching him be superior to all broadcasters real or imagined.
G/O Media may get a commission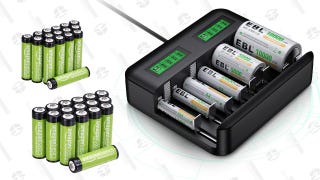 Where the show collapsed into give-a-fuckness tonight was in the behind-the-scenes drama between Will and Mac, which is stoked by the appearance of Brian Brenner (Paul Schneider), a hard-on-his-luck journalist who's handpicked by Will to write a story about him. Why? Because Brian happens to be the same guy Mac slept with while she was seeing Will. As good as Schneider is in the role—in fact, his presence as a reporter trying to get a story from other reporters is often riveting—Will and Mac's romantic business remains an ongoing distraction. The personal and professional lives of The Newsroom's characters have mingled poorly throughout this first season, mainly because these bedroom squabbles make everyone—Maggie and Mac especially—look like nincompoops. And with the stakes so high at News Night, the last thing the show needs is to drag out the Will-and-Mac saga any further.
Though the full articulation of the conspiracy plot puts "The Blackout Part 1" on the positive side of the ledger, the episode was a mixed bag. On the plus side, Don's unpacking of the winning Nancy Grace format—the multiple fields of information, the use of "instant replay" and close-ups of Casey Anthony's tattoo to indicate guilt, the need for the viewer to share in Grace's certainty of guilt—was sharply written, even though it belittles women more than it should. On the negative, the gang's ideas about blowing the lid off the debate format are poorly thought-out and full of rhetorical lines of questioning that would be seen as egregiously biased in real life. Asking anything like Maggie's first question to Michele Bachmann ("What does God's voice sound like?") would be the antithesis of moderation.
"The Blackout" ends with the silly deus ex machina of the title, as the station shuts down mere moments before Will grants an interview with one of the recipients of Weiner's infamous tweets. And all this after Mac implores God to "give me a sign" about whether she should go forward with a compromised broadcast. To quote the famous speech from Sorkin's script for Malice: "You ask me if I have a God complex? Let me tell you something: I am God." So, too, Mr. Sorkin.
Stray observations:
Special thanks to Myles McNutt for taking over review duty last week while I was tending to a flooded basement. This week I'm back after failing to flood the basement a second time.
"Today, you have a blog." Between this and a reference in Contagion, blogs are getting all the regard of toe jam in TV and movies these days.
Harsh words for the late BigGovernment.com founder Andrew Breitbart. Too soon? (No.)
Having Schneider and Munn on the show together gives the tens of people who saw The Babymakers—like me!—the reunion they never asked for.
Very funny exchange between Charlie and his NSA source about the former mistaking someone else at the library for him: "I thought because of the carnation." "Did I say anything about a carnation?"
Dev Patel's Neal Sampat is rapidly becoming my least favorite character. His plan to reveal the trolling habits of trolls by inserting himself into an Internet message board and taking trash for a story. BREAKING: People say mean things on the Internet anonymously.