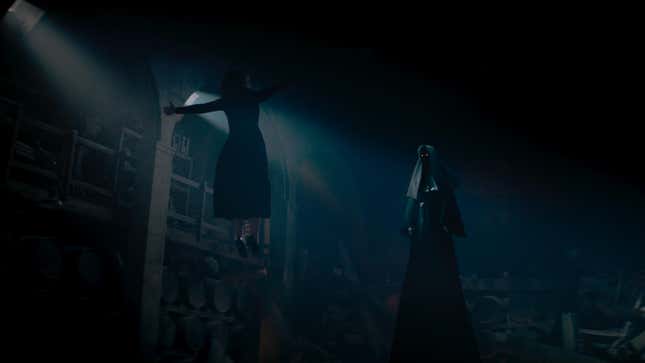 It looks like the Conjuring universe is back in the habit of box office domination, because The Nun II pretty easily claimed the top spot at the domestic box office this weekend (sorry, everyone is legally obligated to make a hacky "habit" pun whenever nuns are mentioned). The film made $32 million, enough to beat last week's top film Equalizer 3 (which made $12 million and has $61 million after two weeks) and fellow newcomers My Big Fat Greek Wedding 3 ($10 million with a pretty wide rollout, which isn't great) and Jawan ($6 million with a pretty small rollout, which is impressive). These newcomers were all at least buzzy enough to bump Barbie down to the fifth spot, putting it close to missing the top 5 for the first time since its debut eight weeks ago.
Why Christian Bale would love to be friends with Burt Berendsen
Down in the bottom half of the top five, we have Blue Beetle (falling a ways from last week, but it has $63 million total after four weeks, so that's not terrible), Gran Turismo, Oppenheimer, Teenage Mutant Ninja Turtles: Mutant Mayhem, and Bottoms. That last one stings a bit, since it's still expanding to more theaters but perhaps not fast enough to account for the steady box office drop-off it's also getting. Distributor Orion Pictures tried to do the thing where you start it small and let it build up hype as you take it to more and more theaters, but it doesn't seem to have worked here unless it expands again and taps into a previously unknown market for modern teen sex comedies.
Elsewhere in the charts, Sound Of Freedom doesn't appear to be playing anywhere anymore, so now Mission: Impossible—Dead Reckoning Part One has a chance to rally and try to rectify the injustice of its box office. Come on, Ethan!
The full top 10 is below, from Box Office Mojo.
The Nun II
The Equalizer 3
My Big Fat Greek Wedding 3
Jawan
Barbie
Blue Beetle
Gran Turismo
Oppenheimer
Teenage Mutant Ninja Turtles: Mutant Mayhem
Bottoms