In "Wrestling PTSD," the first episode of Jordan Klepper's new Comedy Central show called, logically enough, Klepper, the former Daily Show and The Opposition star asks a raggedy-looking veteran what someone like him can do to help. "What you need to do is get off your lazy ass," is the brusque response, something that Klepper (and Klepper) puts into immediate practice in the show's May 9 premiere. In that first episode, profiling a trio of veterans who've taken up professional wrestling as a way to process their PTSD, it seems that Klepper's mission will be more of a docuseries, dick-on-the-street extension of the comic's knowingly snarky persona. Adopting the in-ring character of the Washington, D.C.-based heel "Mr. Red Tape" (complete with cutoff button-down shirt and tie and administrative props aplenty), Klepper plays up his signature smug douchebag schtick to the delighted boos of the sparse indie wrestling crowd, before allowing himself to be body-slammed through a folding table by one of the soldiers-turned-grapplers.

It's good TV, and a canny way for Klepper to take his fake conservative blowhard role to a whole new arena. And if stunting up the deliberately disingenuous, faux Fox News blowhard character Klepper portrayed so slyly during The Oppostion's short run was all that he had in store, Klepper might have run out of steam before the end of the three episodes provided to critics. (The first episode eventually plays like a slightly too-extended Daily Show human interest segment.) Instead, Klepper finds Klepper stepping outside his old world—literally and figuratively—and marking out some adventurous, often riveting, new territory.
Even in the more feel-good character piece of the first episode, Klepper allows its host much more room to exhibit an unaccustomed sincerity, as he takes time away from taking bumps from the buff and burly wrestling club for interludes lamenting the fact that administrative bureaucracy and governmental neglect leads to some 20 veteran suicides every day. Coaxed into the ring for some physical training work, Klepper gingerly prepares to deploy a Sandman-style "Singapore cane" attack on one, explaining, "This is for the vets, even though I'm literally attacking a vet." He does it, but Klepper sees Klepper playing a more receptive role than before, allowing his subjects—burly everyman Jan, "Juggalo with a Sephora rewards card" Eddie (a.k.a. El Guero), and scrappy, undersized Bryson ("Mr. Studtacular")—room to speak about the damage lingering from their combat in Iraq. "I've never heard such a beautiful sentiment said with such stupid face paint," says Klepper after the ring-ready El Guero explains how the artistry of pretend violence helps him work through his lingering pain.
G/O Media may get a commission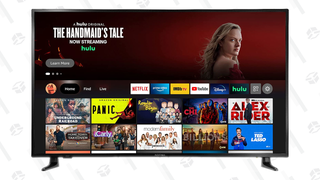 38% Off
Insignia 50" 4K UHD Smart TV
And therein lies the conflict of Klepper, with the host easing his former frat boy gadfly persona into some new, more genuine directions. Especially once the second and third episodes see host and show venturing not only into some more legitimately dangerous waters, but also the more tonally perilous borderlands between his old on-screen role and something close to righteous anger. Joining a group of Louisiana environmental activists in a nighttime, swamp-borne direct action against a land-despoiling pipeline, Klepper plays at embodying the cowardly, city-slicker clown, deadpanning to his cameraman, "I used to be behind a desk." And whether behind the desk at The Opposition or in his similarly performative Daily Show field pieces and interviews, Klepper once found a comfy niche portraying the ultimate privileged white asshole, playing devil's advocate on behalf of the legitimately villainous. In these first three episodes, it's clear that Klepper is still finding his feet, even if the latter two make the convincing case that he's actually joined the fight for real. Calling out pipeline purveyors Energy Transfer and CEO Kelcy Warren—also behind the Dakota Access Pipeline—by name, Klepper isn't hesitant about declaring which side he's on. Seeing the Dakota protestors dispersed by fire hoses and brutality, Klepper states bluntly, "I can't ignore reality."

"Are they with them?" Klepper later asks nervously of his anti-pipeline guide, as the activists' fragile boats steam past their intended action site, a larger, unidentified patrol boat shadowing them silently. Later, when rough waters (churned up, one activist speculates, intentionally by the pipeline's guard boat) capsizes their little craft, stranding Klepper and his comrades in an alligator-filled swamp for hours, Klepper's pronouncement that he has to put his faith in the unruffled activists jars immediately with his anxious confession, "I'm pretty sure I'll be leaving here in handcuffs."
He doesn't, that time. But the third episode is publicized with Klepper's mugshot. The episodes concerns the operation of an underground Georgia-based "freedom university" for undocumented students denied entrance to state schools by Georgia's unelected, draconian board of regents. Joining a group of clergy and activists in disrupting (with prayer, and, for layperson Klepper, the slogan "education not segregation") the agenda of the smirking regents, Klepper is, indeed, arrested, signaling that Klepper is Klepper (and Comedy Central) deciding to throw over irony as the most effective tactic for affecting change. Before the meeting, Klepper listens to one freedom university educator's advice to "listen, show up, and find where you're most powerful." (It echoes the woman leading the anti-pipeline protest who tells the clowning Klepper, not unkindly, "You're here for a reason. It's not just to do some silly TV show.") As the educator reminds Klepper before his arrest, "If you have a show on Comedy Central, then use that power."
Klepper is Jordan Klepper using that power. Upon his release from a 12-hour stint in Fulton County Jail, Klepper says that he had to squat and cough "to see if anything would fall out of my anus," walking with a perhaps uneasy pride to the waiting crowd of applauding undocumented students. After three episodes, that also ably sums up Klepper and Comedy Central's initial foray out of the studio, and off the sidelines.