Westworld's second season one-upped its predecessor by introducing not just new parks, but confusing, abstract manifestations like The Cradle, The Forge, and The Valley Beyond. Still, despite all the rips in reality, there was some neat stuff to grab onto in the finale, like Dolores (Evan Rachel Wood) and Bernard's (Jeffrey Wright) Logan-led journey through the Forge.

There, arranged in a vast, sumptuous library, were the coded consciousnesses of the park's guests. It was a striking scene, one with so many noteworthy visuals that you'd be forgiven for missing the visual nod to Game of Thrones, the show HBO really, really wishes Westworld could be.
Captured on Reddit (and shared by The Wrap), the below screenshot shows the Game of Thrones' gyroscope—featured in both the show's opening credits and, ta-da, the Citadel library—hovering among the Forge's innumerable stacks.
Once upon a time, a crossover between the two shows was suggested by George R.R. Martin himself, but Westworld co-creator Jonathan Nolan shot down the idea because he chooses to believe that "dragons are real" and not, like the rest of Westworld, an elaborate simulation created for rich people.
G/O Media may get a commission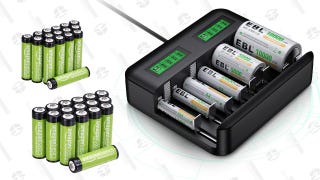 Ah, but there are some out there who believe that Game Of Thrones is exactly that. As Inverse reported last year, one theory making the Reddit rounds tried to explain away the series' time inconsistencies by positing it as an immersive, high-stakes simulation where one transplants their mind into the Game Of Thrones world, temporarily forgetting their real life. Silly? Sure, but it does help explain the fact that nobody seems to age across the show's massive time gaps, as well as the muddy nature of the show's gods, who are here put forth as the game's "admins."
Could the gyroscope be the engine powering these myriad simulations? Or does everyone just need to calm down?