All it takes is one look at the cover of Anya Davidson's new graphic novel Band For Life to understand why she's the perfect cartoonist to tell the story of an aspiring noise rock band. That bold mix of different graphic elements is a powerful visual interpretation of the layered, often clashing sounds of noise rock music, and there's an intense energy in that cover image that carries through to the interior contents.
Davidson's central band, Guntit ("The wildest band on Earth!"), doesn't play very much music in this excerpt, but everything about these pages is loud, from the designs to the coloring to the character expressions. Davidson's work reads like a return to the aggressive no-fucks-given attitude of the underground comix scene of the late '70s and early '80s, but with a much stronger focus on fully developed female characters. She's committed to exploring the women of Guntit's complex personal lives, giving Band For Life deeper substance underneath the bold visual style.
Readers can learn more about the members of Guntit by picking up Band For Life right now, but meanwhile, here's an exclusive look at the book's opening pages.
G/O Media may get a commission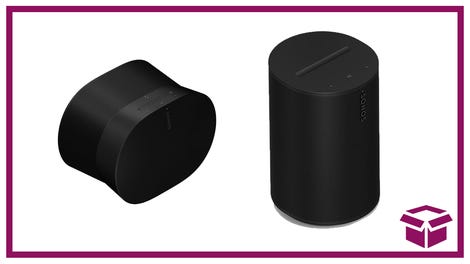 Sonos
Sonos Era 300 + Sonos Era 100