J.V. Club is Drew Toal's roundup of recent games, controversies, triumphs, mishaps, and other amusements in the world of sports.
Neymar Mr. Nice Guy
The 2014 World Cup got underway this week when host Brazil (or "Brasil") beat a surprisingly feisty Croatia 3-1. No one much expected Brazil (or "Brasil") to break a sweat in this one, but they didn't take control of the match until the 71st minute when a highly questionable penalty call by Japanese referee Yuichi Nishimura led to a penalty kick by Brazil's mighty Neymar, who at 22 years old, has already achieved a level of fame that ensures the rest of his life is only going to be a huge letdown. 

Why anyone would want to be a soccer referee is completely beyond me. The NFL replacement refs had it rough in the media, but at least they didn't have to worry about getting torn limb from limb for making a bogus pass interference call. Fortunately for Nishimura, his officiating boner aided the home team; otherwise, his entrails probably would have been festively strung along a doorway in the favela.
Or maybe not. It's often said that "football is religion" in Brazil, but if that's the case, it's undergoing a secular revolution. Apparently, many of Brazil's citizens see a problem with spending $11 billion on new stadiums and sports-centric infrastructure when that money could have been used to address less flashy but arguably more important endeavors like decent housing and basic education. It's possible Brazilians are also upset because FIFA, the notoriously corrupt world soccer governing body, reaps all of the profits from the World Cup, while Brazilians who can't even afford tickets to the games foot the bill.
J.V. Club World Cup Game Of The Week
Portugal v. United States, Sunday, June 22, 3 p.m.: Just kidding. This is going to be a total beatdown.
G/O Media may get a commission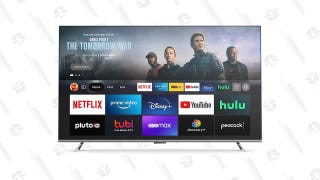 Save 46%
Fire TV 55" Omni Series 4K UHD Smart TV
Vote for Yoenis
I went to this one Phillies game, maybe seven years ago, in which Efren Ramirez threw out the first pitch. Ramirez, as you may recall, played Pedro in the 2004 cult film Napoleon Dynamite. It's not often that Philly crowds give a non-sarcastic ovation to anyone who isn't Chase Utley or one of the guys from It's Always Sunny, but there was a strong plurality of people in the stands who had apparently voted for Pedro.

I was a little disappointed that the Phils didn't tab Uncle Rico instead. He was the film's token athlete: "Back in '82, I used to be able to throw a pigskin a quarter-mile," Rico tells Napoleon's brother. "How much you wanna make a bet I can throw a football over them mountains?" Rico's limp-wristed sidearm delivery casts doubt on his claims, but that's not really a knock on the guy. No human could throw a ball over those mountains. It's physically impossible. Or, at least, I thought it was.
This week, the Oakland Athletics' Yoenis Cespedes threw out Howie Kendrick at home from deep left field. It was one of the most incredible throws I have ever seen. After Cespedes misplayed a base hit by Mike Trout, it looked like Kendrick would score easily. Instead, Cespedes picked up the ball and threw a strike to catcher Derek Norris from about 300 feet away. The ball did not bounce first, nor did it hit a cutoff man. Norris barely had to move his glove. How was such a thing possible? The training, of course.

2015 High School Assistant Girls' Basketball Coach Of The Year
Metta World Peace. You know, this dude.
The Spurs dethrone the Heat and bring the "Big Three" era to a possible end
The Miami Heat have made the NBA Finals four years in a row, but during those runs, they haven't always looked like the best team on the floor. The closest they came to being a truly dominant force was two years ago, when they bullied a young Thunder team and won LeBron James his first championship. 

Never have the Heat looked so exposed, though, as they did this year against a rejuvenated Spurs team. The Heat's roster was always three awesome guys and a bunch of role players who each only had to show up once or twice per series. Miami always counterpunched, almost always came up big when they had to. This year, though, the Spurs ran them off the floor. San Antonio dominated this series to the point where the Miami fans were booing their own team before halftime in Game 4. The Heat's predicament never got better, and the Spurs closed them out Sunday night, 104-87.
Since all of Miami's "Big Three"—James, Dwyane Wade, and Chris Bosh—can opt out of their contracts this summer, it's a pivotal offseason for Miami. It will be interesting to see what LeBron does in light of his team's complete demolition and his local supporters booing the Heat the minute they start not completely kicking ass. (This isn't the first time Heat fans have been shamefully disloyal.) King James' long-term plans are a mystery.
But this wouldn't be the J.V. Club (or, really, the Internet) if I didn't indulge in some wild and baseless speculation. Will LeBron go back to Cleveland? Will he retire from basketball and become the starting tight end for the Cleveland Browns, catching passes from Johnny Manziel, who is himself represented by James' childhood friend Maverick Carter? Will he eat a bunch of peyote and go on a spirit quest in the Gobi Desert? This will be a fun offseason.
But whose side was Aragorn on?
The L.A. Kings secured Lord Stanley's coveted spittoon Friday night when they dispatched the New York Rangers in a double-overtime game. It was L.A.'s second title in three years. New York goes home empty-handed, still looking for its first Cup since 1994. These guys just didn't quit. The Miami Heat sure could've used some of whatever the Kings were putting in their beard gloss.
Next time on J.V. Club
We compare the Olympic Committee, FIFA, and the NCAA, rating them on a scale of sleazy to sleaziest.