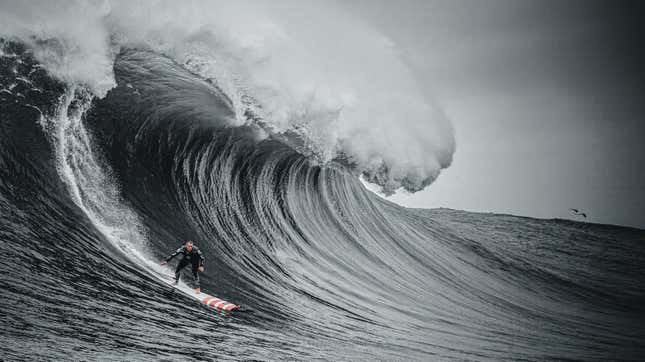 Less than 20 years, Nazaré, Portugal, was the stuff of legends, the secret location of the world's most gigantic waves. Heck, big wave legend Garrett McNamara didn't even know about it until a chance email about the swell appeared in his inbox more than a decade ago. Since then, he's broken world records twice surfing the massive waves of Nazaré that live up to the show's title. But now the secret's out.

After the first season of the Emmy-winning HBO docuseries 100 Foot Wave, which told of McNamara's legendary ride, locals have lost the beach. The once elusive destination is overrun with kooks trying to shred, making the waters even more treacherous for those looking to break McNamara's record—including McNamara. So in the trailer for the second season of 100 Foot Wave—somehow not called 200 Foot Wave, but whatever—the blue crush is deadlier than ever, and we're not even talking about the massive swells.

Why Robert Rodriguez still loves "Spy Kids"
The new season brings McNamara a little closer to the present. After calling attention to the town as a big-wave mecca, McNamara is still looking for bigger ones. This series will span the last four years of big-wave sessions, beginning with the "uncertainties of life under COVID-19" and ending "with some of the largest swells of the surfers' careers."
Here's the synopsis:
A decade after McNamara conquered his first record-breaking wave in 2011, the small coastal town of Nazaré, with its dramatic cliffs and epic offshore breaks, continues to attract the best big wave surfers in the world, who rely on the powerful but indifferent ocean to help them realize their dreams while avoiding mortal injury. McNamara, expecting the birth of his third child with wife Nicole — which proves to be its own unexpected challenge — embraces a new direction in his career while still heeding the pull of the ocean. The season reunites us with the charismatic surfers we've come to know from season one, including Andrew "Cotty" Cotton, Justine Dupont, and CJ Macias, and introduces us to dynamic new players, such as local teenager Tony Laureano who tries to break into the upper echelons of the sport. United in their passion to push past near-death experiences and self-doubt in pursuit of the elusive transcendence, the surfers feel at the height of their achievement.
100 Foot Wave surfs into that Succession lead-in spot, airing Sundays at 8 P.M. on HBO.