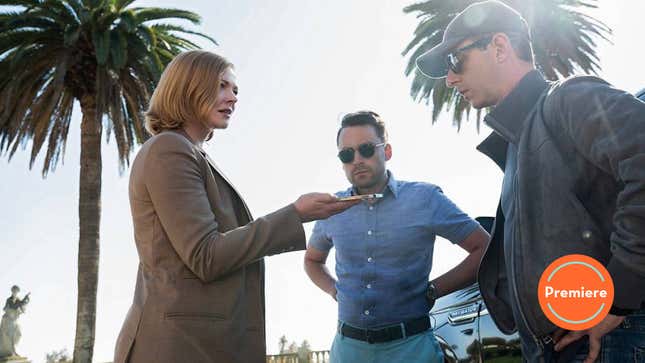 The world is upside down as we return, at long last, to Succession Land tonight. The Roy kids are moving in harmony. Tom Wambsgans is being bullied by Greg The Egg. Roman Roy is suddenly the cautious voice of reason. And Logan Roy?
Judy Garland's previously missing Wizard of Oz dress to be auctioned off
Tonight, Logan Roy loses.
Succession—and yes, hello, we're back! Succession! Season four! It feels so good!—has always been careful to contrast Logan's power, his savvy, his capacity for world-shaping rage, against his frailties. Way back when, before we'd gotten a single all-powerful "Fuck off!" out of Brian Cox's mouth, the show's first two minutes made it clear: The Great Man is fumbling, confused in the dark, barely in control of his own body. And we've returned to that idea again and again over the last five years: The king in decline. The flesh weak…and the spirit starting to seem a little less than willing.

And yet somehow, Logan's never seemed smaller—or maybe just lesser—than he did tonight, sitting incognito in a crowded restaurant on his birthday, telling his body man Colin, with apparent and awful sincerity, that he's his "best pal." (It's amazing to see Scott Nicholson, who's been playing Colin with the practiced dead eyes of a predator for four seasons now, project real panic as Logan attempts to engage with him as a human being.) Logan's not looking for real friendship, of course—wouldn't know what to do with it if it was offered, slapping down Colin's single attempt to follow orders and open up about his life to his boss with a quickness. But who else can he turn to? No kids*. No Marcia. In the aftermath of last season's destructive finale, Logan has finally kicked every dog he doesn't literally own hard enough to send them out of his orbit for good. And now there's No Real Person left, in Waystar Royco terminology, and "The Munsters" are closing in.
*(Except Connor.)
Things are both literally, and figuratively, much sunnier over in Los Angeles, where—against all odds, and in defiance of their various raging attachment disorders—Kendall, Shiv, and Roman are making a genuine go at the alliance they forged with the Tuscan sand (and their dad's boot) on their asses all the way back in December of 2021. (Which, in the show's timeline, appears to have now been a couple of months ago.) It wouldn't be a Roy family meeting without some light accusations of treason, betrayal, and double-dealing, but all factors considered, The Kids are working together shockingly well as they try to chart a Logan-less course into the future. Even if that path inevitably drags them right back into conflict with the old bear, once the roiling estrangement between Shiv and a still-Logan-loyal Tom lets slip that Pops is, once again, angling to buy his old rivals over at Pierce Global Media—hoping to take the news giant with him once the sale of Waystar to GoJo goes through in 48 hours. The kids might not be calling their dad on his birthday, but stymie-ing his decades-long obsession with buying Pierce? That's the kind of intrafamily communication they can get behind.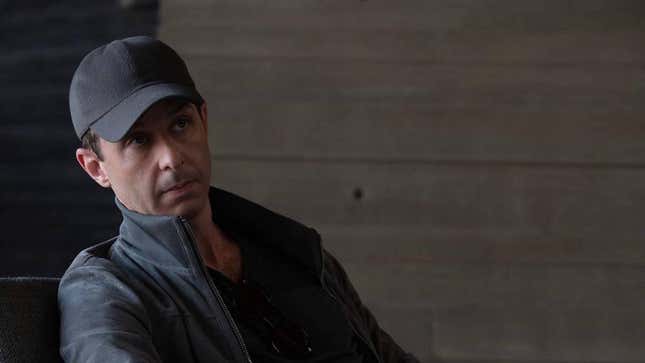 Let's take each kid in turn, then, starting with Kendall—who is, for once, arguably the least in-turmoil out of all his siblings. Not that he's not still running manic, and making casual references to heroin use. But for the first time since Shiv's wedding, we're seeing a Kendall who is not, meaningfully, alone. We see him wobble a bit when he's forced to talk to his now-ex Naomi, and he's mostly transparent about seeing the kids' own stab at a Pierce acquisition as an (insanely expensive) way to fuck over their dad. But after Tuscany, and finally revealing the details of Andrew Dodds' death to people who then did not immediately use it as leverage against him, Jeremy Strong is no longer playing Kendall as a man with a poison burning him from the inside out. No idea how long it'll hold—there's no way the Kids Alliance stays solid through this whole season, and god, but how ugly it could get once it starts to crack. But for now, Kendall is in as good a shape as we've seen him in years.
Ditto Roman, albeit in a more subdued direction. Rome has always been the Roy kid stuck most firmly in Logan's Persistent Disrespect Field—and now, it becomes even clearer, the one most consistently harmed by it. Tonight, for pretty much the first time, we're seeing a Roman Roy who is not devoting 40 percent of his mental resources to worrying about what Daddy is thinking, and it's a good look: Kieran Culkin drops much of the sweaty energy that's characterized so much of his performance in past seasons, presenting a Roman who is calmer, more focused, and, god help us…mature. Not that he's not still a snarky little piece of shit, barely stomaching the potential Pierce deal, and needling the kids' new money guy (Kevin Changaris) at every turn. But after years of different people (with varying levels of self-interest/manipulation) asserting that Roman has the instincts to play in the big leagues, buried under those mountains of dad-inflicted insecurity and cum jokes, it's heartening to see that guy finally starting to emerge.
The wild card, for once, is Shiv, who is still scared-rabbit skittish at the idea of placing her future fully in the hands of her two brothers. That's understandable, in so far as, have you met those guys? But also as a reflection of her relationship with Tom, which has now fully splintered in the aftermath of his betrayal at the end of the last season. And so she's doing the Shiv Thing—keeping options open (in this case, by fielding calls from the transition team from the Democratic candidate in the apparently incredibly nasty presidential election running in the background of tonight's premiere), and impulsively speaking reality into existence, telling Nan Pierce that she and Tom are getting a divorce before anyone, including maybe herself, even knows it.
And Tom? Tom's sad, y'all. Not the dead-eyed "Woe is me" sad from when he thought he was going to prison last season; this is something deeper and more human, paradoxically making the character as appealingly vulnerable as he's ever been, despite it coming in the direct aftermath of maybe the worst thing he's ever done. We get some flashes of the old Tom—spiraling for position as he tries to coax a promise out of Logan that their alliance will hold even if he's no longer his son-in-law, working up some classic Greg-bashing after the latter faux pas himself and his new girlfriend to completion (possibly) in one of Logan's guest beds. But there's no glee left here at being in the inner circle at long last, or of getting a "Tommy" out of the old man. And the less said about his new status as the junior partner in "The Disgusting Brothers"—Greg's nickname for the pair of them as, like, two swinging singles on the town—the better.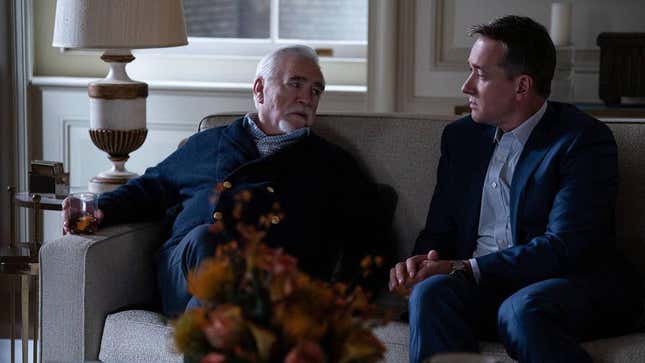 Except not, since that little nickname is Shiv's opening salvo once the two finally end up in the same room together, after the dust has settled from the Pierce acquisition. (The kids win, although at $10 billion, the victory sounds pretty goddamn Pyrrhic.) The resulting conversation is about as raw as we've ever seen these two get, for all that Shiv declines to listen to Tom explain his conduct surrounding last season's climactic drama. It's a fantastic scene from both Sarah Snook and Matthew Macfadyen; Shiv tries to keep it in that glib, comedy-writer dream-dialogue space that the Roy kids always try to channel their most wounded feelings into. But Tom's hurt is just too damn big: "Do you really want to get into a full accounting of all the pain in our marriage, Shiv?" he asks, Macfadyen resisting the urge to go big or cruel.
As the two wander around the beige-brown hell of their shared apartment, it becomes clear that Shiv is there to formalize that divorce she conjured into existence just a few hours earlier. Snook, working as always from within the 8,000 layers of Shiv's emotional armor, lets the cracks show, even as she tries to keep the conversation in the realm of what's emotionally "profitable." Her face is most heartbreaking in those frames when she knows Tom can't see it, flinching repeatedly as he decides to finally take her numerous "no"s as an answer. The final shot of the scene is almost shockingly tender: two survivors of something big and tumultuous and mostly awful, holding hands as they contemplate the weight of what comes next.
But we don't end there, of course. We end on Logan Roy, who—for all his wealth and power and anger and all that other bullshit—is somehow still reduced to being just another senior citizen, unable to sleep, staying up to watch shitty cable news. Despite giving one of the single biggest laugh moments of the whole premiere—i.e., the cut from Logan complaining about "this fucking lunk" on his network, to the image of the poor anchor in question, who doesn't not look like "a scrotum in a toupee"—this whole closing sequence is also just brutally sad. "People watch at night," Logan plaintively reminds ATN head Cyd, who he's dragged out of a dead sleep to field his complaints. "I watch at night." And when he asks her if she's "fucking losing it," it's clear she's not really who he's asking it about.
"The Munsters" isn't one of those big, seismic episodes of Succession that come along every once in a while; we're setting tables here, not smashing them to pieces. Despite the Pierce maneuverings—and a great return performance from Cherry Jones as family matriarch Nan, aw-shucksing her way into an extremely lucrative bidding war that makes the Pierces the real "winners" of the episode—it functions mostly as a character study into what kind of awful people our awful people are at present. The status quo it sets is ominous, despite the bright settings: the kids, unable to resist the urge to define themselves in opposition to their dad; Shiv and Tom smashed; Logan, desperately searching for any meaning whatsoever to his grand sprawl of a life. Kendall, in his new state of semi-clarity, maybe says it best: "I need something super-fucking absorbing in my life," he tells his brother and sister…just before blatantly taking a move that could recommit himself to the seasons-long blood-feud that's totally defined his life to date. What do the Roys even look like when they're not spending their considerable energy and resources on destroying each other? It's not clear if we'll ever really find out.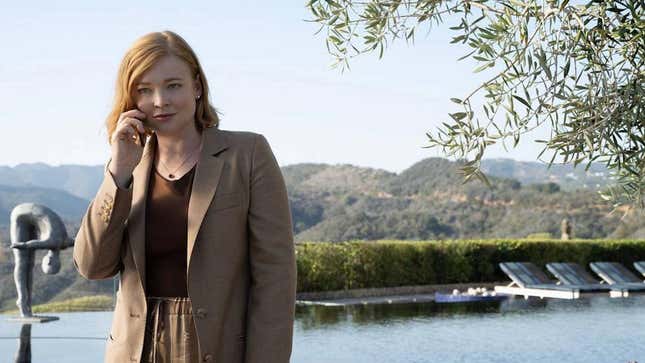 Stray observations
Welcome to our season 4 coverage of Succession here at The A.V. Club! This might be the most nervous I've ever been to take on a show for review; Succession is so dense, and so well-executed, that I know I'll drop a few balls here or there. (It doesn't help that I'm operating in the shadow of some great writers who've worked this beat before.) But I'm also incredibly excited to dig into the series' final season with all of you, as the show lays the breadcrumbs for its obvious endgame: Greg Hirsch as the last man standing, king of the known universe.
Speaking of Greg: He continues to be the master of failing upward, earning some pervy kudos from Logan for getting to third base with his new girlfriend. For half a second, it feels like he might've crossed a line when he meets Logan's pathetic, insistent demands that one of his cronies "roast him" by aiming for something real, with "Where's your kids, Uncle Logan?" But Logan's just happy to have something he can hit, instantly firing back a jab at Greg's never-seen dad, and looking as happy as he does all night.
Great news, Conheads: Connor's still holding tight-ish at one percent of the vote in the upcoming election, where he's apparently running as an independent. (Also, his and Willa's President and First Lady cosplays are both on point.) But he's worried about being "squeezed," which leads him to ask her if they can include some "bum fights" at their upcoming wedding, to pick up some viral heat. It's always fascinating to watch her realize that there's some new part of herself—in this case, her wedding dreams—that he's ultimately willing to sell.
I'm not sure if the whole bit with Greg's weird date—she asks Logan for a selfie, which, amazingly, is not the point where she gets kicked out of the birthday party—is set-up for future corporate shenanigans, or just Succession cringe comedy; either way, it's one of the less successful runners of the episode.
Actually, can I put on my conspiracy hat for a second here? The ways the kids get wind of Logan's attempted Pierce acquisition are incredibly sketchy—first, with Tom blurting out his non-date with Naomi to Shiv, and then with Greg's date tagging one of the Pierces at Logan's party. I wouldn't be surprised if we later find out Nan was pulling the strings even harder to induce the bidding war.
New season, new intro: The biggest change from season three is the inclusion of Waystar's hated, literally pissed-on StarGo streaming app.
No mention of the pregnancy plotting that was happening in last year's finale, although Kerry (Zoe Winters) is still right at Logan's side as his "friend-assistant-advisor" and catching the usual array of nasty jokes from the kids. That being said, she does get a couple of the best lines of the evening, all directed at Greg: "We're not a fucking Shake Shack, Greg. This isn't a pre-fuck party. It's a birthday party."
Where's Marcia? "Marcia's in Milan, shopping. Forever."
As always, every actual business idea the Roy kids come up with is the worst business idea you've ever heard: Their quickly abandoned The Hundred is "Substack meets Masterclass meets The Economist meets The New Yorker"; later, one of their slides suggests it might also be a dating site. Kendall says it'll deliver "high-value info snacks." These fucking kids.
Roman, after Kendall talks about "smoking horse": "He's scared of needles. He's not a real junkie."
Jess Watch: Jess is in this one! Always nice to see Jess.
I only had to turn the episode off once due to overwhelming cringe, when Logan was asking poor Colin about whether he thinks there's an afterlife. Colin is, as far as we know, a tremendously awful person, but nobody deserves having to face down that.
Nice use of the time difference between New York and the Pierce estate to keep cutting between gentle sunlight and Logan's increasingly cramped and awful night-time bunker. We don't get much of Gerri, Frank, and Karl tonight (although we do get a quick check-in with ol' piss-bucket Ray) but even they seem fazed by the godawful atmosphere Logan's throwing out without his kids around.
Seriously, though: Greg's going to kill them all.