You don't want to write about Vince Staples. Few modern musicians have made playing with the press such an essential part of their appeal. There is, on the one hand, his endless trolling: sardonic tweets about American Apparel and 3 Ninjas; his sarcastic sponsorship of Sprite, which is almost long-form performance art at this point; his participation in what has to be one of the least illuminating Reddit AMAs ever conducted. When a journalist does get some face time with him, he refuses to play along, defying their attempts to narrativize his role in hip-hop or analyze his music. And even if he gives you a good quote, you still have to stay on guard. He told L.A. Weekly that his new album, Big Fish Theory, was "Afro-futurism"; a few days later, he told The Daily Show's Trevor Noah he was just fucking around with all that. "I like saying stuff about black people to white people," he said. "Got a lot of headlines, happened every day this week." Even in that interview, he was five steps ahead of Noah, setting up most of the jokes so the host could get easy dunks.
The primary lesson learned from all of these interactions is this: Vince Staples is smarter than you. It's tempting to carry this disaffection over to the music itself, which occasionally describes acts of violence with a bracing, Mobb Deep-like remorselessness, refusing to moralize or pander to people looking for more solutions-based rap music. It can scan as nihilism when he's dreaming of a clip that's long enough to shoot until he's dead, or engaging in territorial chest-thumping in "Norf Norf," but there's something about his terse phrasings that suggests an embedded morality. From his earliest works, he's sketched out an almost Cormac McCarthy-esque power structure: a racially hierarchical world in which men clamber over each other like crabs in a bucket, the ones on the bottom dulling themselves with drugs, and everyone else fighting upward toward money and sex, the ultimate arbiters of power. A few might dupe themselves into thinking that turning to God will suffice. On last year's Prima Donna EP, Staples found himself far from the bucket, drinking wine with women in Dubai. But the larger power structure remained the same, and that rarest thing—love, glimpsed only in flashes—stayed elusive. He compared himself to Da Vinci and Joyce, called himself "Gatsby gone gangsta," then dreamed of painting his new kitchen with his own blood. God went largely unmentioned.
On the new Big Fish Theory, he's richer but no happier, and so he goes looking for both God and love where people always have since time immemorial: on the dance floor. Don't call the result Afro-futurist, lest you attract the Sauron-like gaze of Staples' derision—but then again, maybe do, because the term's apt. He corrals producers like Australian EDM star Flume, PC Music mainstay Sophie, Miami house duo GTA, and Southern California beat scene newcomer Zack Sekoff to create cavernous sonic spaces, full of pneumatic drums and phasing synthesizers, in which formal emceeing is treated as an almost stylistic punctuation. He's name-checked Grace Jones as an influence on the record, and in her image he acts as more of a dance-floor maven than solipsistic rap star.
This isn't the densely lyrical autobiography of Summertime '06—even if Staples remains one of our preeminent rap stylists, with an ability to skip his voice high over the beat like some bastard fusion of Eazy-E and André 3000. Big Fish Theory veers off the course set by its predecessor, bucking the sophomore slump by ditching the vast majority of his old collaborators and peers in favor of the sort of whole-cloth artistic reinvention generally associated with canonical greats like Kanye or Bowie. What's even crazier is that he sticks the landing. It's his second classic LP in a row.
G/O Media may get a commission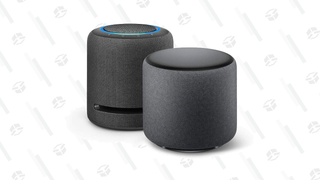 25% off - Prime Exclusive
Echo Studio + Echo Sub Bundle
The album starts with windswept synthesizers and the familiar sound of gulls circling the horizon, but soon heavily modified vocals and skittering drums come in, sounding more like Burial than the boom-bap of yore. Turns out Clams Casino's "Norf Norf" fit him too well: While a lot of the drums here would sound at home during the fever pitch of a big-tent EDM set or blaring out of a South Beach sports car, the tracks here trade far more in the horror-flick synths ("745," "SAMO") and esoteric compositions of the experimental beat scene. They surge to life, evolve, and fade out, like a Nosaj Thing instrumental. It's an enveloping new setting for Staples, whose Prima Donna now looks like the jettisoning of his final DJ Dahi and No I.D. work in favor of a cohesive new aesthetic.
Lyrically, however, that EP's tableau of panic attacks in expensive hotel rooms remains. Staples is still obsessing over the ladder of power: He's finally got the waves at his front door and women waiting for him in Paris, breathing easy and enjoying life as much as his constitution allows on the careening title track. But he's much more focused on a loveless drive to an expensive restaurant, still smarting as his date heads wordlessly to the oyster bar, and worrying about paparazzi snapshots accidentally revealing how much pain he's in. On the queazy, rattling "SAMO," nestled between a bunch of paranoid musings on backstage grifters and his own envisioned last supper, he asks, "If I wrote your ass a love song could I make it bang?"
The answer, 12 times over, is yes. You never get a picture of who that love song's for, and maybe it's no one. This isn't so much a breakup album as it is a richly robed portrait of loneliness. One of Staples' long-running concerns is the failure of language to truly connect people, and it's the thing he still can't shake, no matter what he can buy or who he can fuck. It's partly why he refuses to analyze his lyrics, explain his references, or play nice with the press, and it's partly why he doesn't cast judgment on the womanizing, violence, feckless commercialism, and existential despair that fill his verses. But there's a glimmer of hope in the fact that he keeps trying. He keeps stacking his words in flamboyant arrays and using them to venomously describe the systems that created that bucket, as well as to remember the fury he felt within it.
On Big Fish Theory, an album about the guilt that comes with transcending one's home, Staples finds a better language still. He concludes with the imagistic "Rain Come Down," a jet-setting fever dream of regret and yearning, concluding, "Don't drown in the brown, just drown in the sound"—a straight-edge paean to the transportive power of music. He may not have found God or love on the dance floor, but he found music, and that's good enough for now.

---
Purchase Big Fish Theory here, which helps support The A.V. Club.