‪QUOTES‬
"Google '900-pound man petting turtle,' and you will see me."
"Is that the one, I think I've seen it, '900 pound man squashes turtle?'" —Eddie Pepitone and Scott Aukerman, Comedy Bang Bang

"One of the reasons I'm a fan of your show is you seem like a person who examines their own life and comes up with miserable conclusions. I find a kinship in that." —Bob Ducca (Seth Morris), WTF With Marc Maron

"Sometimes this show gets off track, like this, where someone ostensibly interesting will walk in and we'll talk to them for a while, but I can never judge whether it's interesting or even comedic." —Scott Aukerman, Comedy Bang Bang

"Acid stopped having names and chips became flavored. That's progress?" —Bruce McCulloch in "Grade 8," The Sound Of Young America
"Do you think trees are the new birds? Don't answer that right away." —Julie Klausner, How Was Your Week?

"[AMC] went from a network that basically could do no wrong to a network that has done a lot of wrong." —Alan Sepinwall, Firewall & Iceberg

"Your spirit animal is fear." —Greg Behrendt to Dave Anthony, preparing for a manly camping adventure, Walking The Room

"You kinda can't go nine albums deep with that name." —Tom Scharpling on the band Cerebral Ballzy (as seen in our yearly band names feature), The Best Show On WFMU
NEW (TO US)
Girl On Guy
With only five episodes under its belt, Girl On Guy still has plenty of room to grow—and audio issues to reconcile—but host Aisha Tyler, of comedy in general and Archer in particular, has laid a solid foundation at the middle ground of WTF With Marc Maron and Nerdist. GOG has yet to delve very deep into the "stuff guys love" promised by the show's description—"video games, action movies, comic books, home brewing, sex, small batch spirits, bar fights, and blowing sh*t up"—instead sticking mostly to affable discussions between Tyler and her guests about whatever comes to mind. So far, that means a lot of tripping down memory lane à la WTF, but with less interpersonal tension and psychological inventory (and an end-of-episode "apologia" from Tyler addressing potentially offensive statements), and a lot of Nerdist-type enthusiasm over comedy and pop culture. Tyler is a genial and funny host, quick with an infectious laugh, though that geniality sometimes translates to long-windedness on both her and her guests' part: Episodes generally clock in at 90 minutes or more.
The première episode of Girl On Guy featured a diarrhea story from guest Jon Benjamin so explosive that the podcast is going to be hard-pressed to live up to its standard, but this week's chat with Adam Carolla is almost as engrossing, if not quite as scatological in nature. Carolla dials back on his signature ranting, instead weaving through his past as a mostly illiterate construction worker turned boxing instructor turned talk-radio maven. It's a fascinating tale to those unfamiliar with Carolla's origin story, and his clear affection for Tyler counteracts some of his more grating tendencies. His contribution to the episode-ending "self-inflicted wounds" segment is surprisingly tame—but compared to Benjamin's inaugural entry, what wouldn't be?
---
THE BEST
G/O Media may get a commission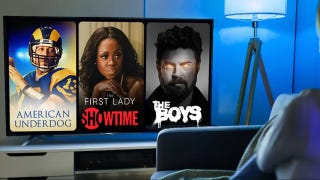 UNDER $1
99¢ Prime Video Channels
The Apple Sisters #12: Whoops Daddy!
The ladies take on venereal disease by writing and performing three anti-VD PSAs with the help of the VD Players (Jason Ritter and the always-welcome Brian Huskey, a.k.a. the ambulance driver from Childrens Hospital and a regular on the Onion News Network). The results predictably reflect the author, with Seedy going all religious, Candy turning hers into lesbian softcore porn, and Cora arguing VD isn't a big deal. The farty Mail Room segment finds the ladies giggling and breaking character like Jimmy Fallon, giving the show a more off-the-cuff feel than usual.
Comedy Bang Bang #118: Hologram Toes: Patton Oswalt, Eddie Pepitone
Patton Oswalt and Eddie Pepitone are as close to a sure thing as Comedy Bang Bang gets (aside from a Paul F. Tompkins/Andy Daly pairing). Oswalt is always a welcome presence, and comic's comic Pepitone is hilarious as an obese "diner marshal," one of a few law-enforcement agents assigned to protect our nation's diners from terrorists. The job creates a lot of comic possibilities, but it's Pepitone's constant groaning, burping, and snorting into the mic that seals it. The conceit of the episode is that Aukerman is going to do an in-depth career-retrospective interview with Oswalt, only to be interrupted by Pepitone after Oswalt talks about his upcoming Showtime special. That it all works so well should be no surprise, considering the people involved. (The postscript about a CAA agent saying Pepitone's "bookable years" have passed but that the comic "gets to be cool and obscure" is sad/hilarious.)
Culture Gabfest: "Yammering Yobs" Edition
The film adaptation of Kathryn Stockett's bestseller The Help opened to mostly polite notices and sizable box office, but its success, just like the book's, has been dogged by controversy. For the most part, no one on the Culture Gabfest crew can bring themselves to endorse it, but they bring on Boston Globe critic Wesley Morris (whose review was mixed but caustic) for a fine, wide-ranging discussion of the film's dubious racial politics and how it reflects the national conversation on race. From there, the second segment offers a palate-cleanser on summer reading practices—all three hosts reject the notion that summer reading must be airy, God bless 'em—before welcoming resident Brit June Thomas to reflect on the London riots. Thomas' complicated response to the riots has her oscillating between her "inner Daily Mail editorial page" and her "inner Guardian editorial page," with disgust as the common denominator.
Hang Up And Listen: The Aggie Succession Edition
With Josh Levin storming the tiny countries of Europe and Stefan Fatsis jet-setting from the Women's World Cup in Germany to the National Scrabble Championship, it's been a while since the entire Hang Up And Listen crew has recorded together. This week's episode finds them back in good form while still bringing in specialists to enhance specific segments. PGA stats guy Alex Turnbull comes on to discuss the dramatic conclusion to last weekend's PGA Championship, and the utility of helpful new metrics in golf, which could stand to revolutionize the sport as Sabermetrics did baseball. A segment on Texas A&M's impending defection from the Big 12 to the SEC finds the gang a little punch-drunk over the intricacies of college football realignment, but they hit on an intriguing political angle for Texas governor turned presidential candidate Rick Perry, who could use the issue to shore up votes in Southern primaries. And finally, ESPN The Magazine's bombshell allegations of sign-stealing at the Rogers Centre, the home park of the Toronto Blue Jays, are addressed with a mix of ire and skepticism.
How Was Your Week #23: "America's Jelly": Laraine Newman & Lisa F. Jackson
Julie Klausner finally addresses what we've all been wondering: What's up with those K-Y Jelly ads that force you to imagine the couples in them boning? Klausner similarly ruins Fun Dip by referencing it when discussing the lady who eats her husband's ashes on My Strange Addiction. The podcast also features an interview with Sex Crimes Unit documentarian Lisa F. Jackson (which should appeal to the odd demographic of doc lovers who are also sex-crime buffs) and a chat with original SNL cast member Laraine Newman about her worst audition ever. Also: more posts from the JC Penney Facebook wall.
The Mental Illness Happy Hour #21: Frank Coniff
When asked how he's doing, Mystery Science Theater's Frank Coniff's stock answer is that he's doing fine, except for his crippling depression. That makes him a perfect guest for The Mental Illness Happy Hour, which has historically found both the humor and meaning in crippling depression. Coniff opens up to host Paul Gilmartin about his hectic upbringing as the son of a glamorous father who'd rather pound scotch with famous New York bon vivant Toots Shor and stay out all night than bother with his children or terminally depressed wife, whose prescription pills rocked young Frank's world. As is often the case, the conversation digresses, like an extended, very funny tangent involving Gilmartin's Star Search wins and Ed McMahon's cock, but the conversation invariably returns to Gilmartin's comfort zone of what Coniff eloquently describes as "trying to turn the darkness of depression and mental illness into the light of comedy and entertainment."
Mike And Tom Eat Snacks #30: Starburst
Michael Ian Black and Tom Cavanagh reflect this week how Combos and Starburst both began life as cool snacks, then flaunted their success by trying too many weird flavors. Black nails what many people have thought about Starburst's strange, indeterminate texture over the years: "I feel like you just poured Elmers glue into my mouth and said, 'Chew it up, boy!'" (The pair's gruesome chewing into the mic backs up that statement.) Also, lemon Starburst "tastes like Pledge." That's one of the purposes Mike And Tom Eat Snacks serves well, or can when it wants to: reminding people how weird and chemically baffling some of the most common snack foods really are.
The Moth: Sherman "O.T." Powell: Cocktails In Attica
Measured and self-deprecating is the prevailing tone on The Moth, but Sherman Powell delivers his story like it's itching to get out of him, even if an abundance of profanity escapes along with it. Sent to Attica on a drug conviction, Powell began whipping up bootleg wine to fund his habits of smoking a pack a day and "eatin' Snickers like a motherfucker." Had it not been for a couple of sympathetic prison guards turning a blind eye, Powell could've faced a longer sentence in a tougher prison, but he covers up those high stakes with mischievous humor here. Powell might at first sound a little rough and unprepared for a storytelling performance, but it turns out he and his material are more than good enough. The Moth is a consistently great podcast, and even better when it leaps out of its comfort zone.
Never Not Funny #911: Tom Wilson
Jimmy Pardo has been trying to book Tom Wilson on Never Not Funny for nearly four years, a testament to both Pardo's admiration for the actor/comedian and his full schedule of stand-up and convention appearances. Wilson, mostly known for his role as Biff in the Back To The Future trilogy, details the convention circuits, specifically how he tries to remain cheery and social in the face of jaded has-beens and greedy autograph-hounds. Upon request, Wilson performs his "The Question Song," a reply to the endless, identical questions he gets for people who only know him as Biff. The first half of the episode plays more like a stream-of-conscious monologue than a conversation ("Jimmy Pardo telling me I didn't take a breath?"), at least until Pardo and Wilson realize their shared love of Mandy Patinkin, launching long (but funny) improvised stretches of "Dueling Patinkins." Pardo then questions him on his early stand-up days, which leads to some enlightening stories on his then-roommates Yakov Smirnoff and pre-Dice Andy Clay.
Uhh Yeah Dude #284
Seth Romatelli and Jonathan Larroquette dig up a few funnier-than-average moments in this week's travels through Parade magazine, newspapers, and "according to a new study" articles. In one, they find that a number of young people call their parents their "sexual role models." (As our hosts say, "I want to fuck like my dad when I grow up.") They're at their disturbed best when predicting the next "planking"-type Internet trend, "killed-ing," and meditating on homeless men's apparently misguided approach to safe sex. UYD is always a long, rambling affair, but this episode strikes the right balance of curiosity and comic aloofness.
Walking The Room #64: Man Camp And The Folk Cast
Even for a podcast that always milks its subject matter for all the absurdity it's worth, this week's Walking The Room has a heightened sense of silliness and surprise. Greg Behrendt begins this episode telling Dave Anthony about his apparently wild weekend out with his friend Ben Stiller. This leads to the pair riffing on a Craigslist ad recruiting men for a "manhood" camping weekend involving Nickelback tunes, a "J.O. circle," and Ed Hardy camping gear, because "What dude doesn't want to be with another dude in a bedazzled tiger tent?"
Who Charted? #37: Guest Vocalist: Ben Garant
The State/Reno 911! alum and screenwriter Ben Garant offers surprising revelations this week, starting with his mohawked punk-rocker past. That's probably why it's particularly entertaining to hear him so utterly confounded by the concept of math rock and ultimately declare it "nerd rock to the extreme." Another surprise concerns Garant's collection of Smurfs figurines, purportedly the world's largest—which sounds a lot less creepy when he explains he collected them from ages of 5 to 12. He even exhibited his Smurf army at a World's Fair back in the '80s. However, the undeniable highlight of Garant's appearance arrives when he recounts his stint in a touring company of Teenage Mutant Ninja Turtles. (There are certainly worse reasons to drop out of NYU.) Other bright spots include some snippets of Kremer's ridiculous "Beachcomber" song recorded under his Dragon Boy Suede moniker, as well as another appearance by his ornery brother Lee.
WTF With Marc Maron #200: Marc Maron (as told to Mike Birbiglia)
It might seem self-indulgent, even for Marc Maron, to make himself the guest on the 200th installment of WTF, but it comes off more like the sort of rigorous, unflinching self-examination that has become the podcast's signature. With Maron sliding over into the guest's chair, the interview seat falls to Mike Birbiglia, a stand-up comedian who traffics in a much different, more buttoned-down form of autobiographical stand-up than Maron, though the two men clearly hold each other in high regard. Birbiglia proves an unlikely but inspired choice to grill Maron, though he has plenty of backup in the form of questions from a murderer's row of former guests, many of whom seem to have devoted a lot of time to analyzing Maron's famously tortured psyche. Maron has never been a traditional interviewer; he's always followed Jack Paar's old commandment to make every sit-down a conversation rather than an interview. Accordingly, WTF podcasts are often 75 percent guest, 25 percent Maron. That equation is reversed here, as Maron speaks candidly and compellingly about his romantic failures and compulsions, career, jealousy, and how WTF has resurrected his career. At this point, Maron has earned the right to a victory lap or two, especially when they're this entertaining and revealing. If nothing else, Maron has a terrific potential guest host in Birbiglia should he ever need one.
WTF With Marc Maron #201: Rob Huebel, Joe Lo Truglio, Aparna Nancherla, Bob Ducca, Jim Earl, and Eddie Pepitone
Despite the obvious hindrance of being a fictional character, Seth Morris' Bob Ducca is so consumed with neuroses and riddled with "health opportunities" that he's an ideal guest for WTF. The fact that those ailments are being made up in the moment by Morris gives Marc Maron plenty of deep, dark, disgusting depths to trawl through in this live episode; for once, that exploration is played for laughs. In their brief one-on-one conversation, Maron and Morris revisit and build upon Ducca's tragicomic backstory, which is nothing new to regular Comedy Bang Bang listeners. Nonetheless, it's fascinating and bizarre to hear Maron lend Ducca a sympathetic ear, while simultaneously providing the man behind the persona with chances to espouse Ducca's various new age-y methods for rising above his lengthy catalog of maladies. (A new classic from the "list of ailments": Dickey Betts Tourette's.) The rest of the panel is game to interact with Ducca during their spotlight moments (unfortunately, he's not around to out-sad-sack Jim Earl's fake obituaries or lend some anger-management tips to Eddie Pepitone), providing the 'cast with a degree of cohesion. For once, Ducca brings people together, rather than driving them away.
---
THE REST
The Adam Carolla Show
The week in Ace, in order of descending interest: Documentarian Morgan Spurlock returns for a no-filler, one-on-one conversation about docs, Spurlock's failed pitch for an ESPN 30 For 30, and his new Hulu series A Day In The Life. Download writer and Ace pal Jordan Rubin recalls their Man Show days and dishes on writing for the disastrous James Franco-Anne Hathaway Academy Awards. Other bits include Ask Dr. Spaz and a discussion of the death of former Warrant singer Jani Lane. Author Ben Shapiro laments about how Hollywood treats conservatives, what phonies Sean Penn and Bruce Springsteen are, and how Tinseltown's casual dress code is simply deplorable. (Lesson learned? If Hollywood people don't like Shapiro, it's not because he's conservative.) After a long story about Jimmy Kimmel's toxic farts, Ace launches into some cavalier racial humor, prompting regular Greg Fitzsimmons to share his experiences in interracial romance. The Jon Lovitz Theater episode features Q&Ace audience questions and a revealing segment in which Carolla discusses the ethical considerations behind his product endorsements.
The Best Show On WFMU
It's week one of the Regular Caller Ban on The Best Show, though the rule isn't strictly enforced, because Julie from Cincinnati is actually in the studio to tell a good story about what landed her in prison. Calls from non-regulars include a person who was once mistaken for Wayne Knight and another whose father was beaten up at a hardcore festival. Tom Scharpling goes on several extended riffs on the banes of his existence (buffet hogs, his high-school bullies, and lists of the best comedian tweeters), but the highlight of the episode is a call from Philly Boy Roy, who discusses all the surprise indie guests at this year's Gathering Of The Juggalos. That said, without a guest, this week's episode misses some of the usual magic.
Doug Loves Movies: James Gunn, Steve Agee and a surprise guest
The disappointment of scheduled guest Jeff Garlin's non-appearance this week is almost negated by the delightful surprise of who replaces him. (Hint: He's known for having a baseball.) Almost. The surprise guest is (understandably) about .05 percent as talkative as the loquacious Garlin, and not particularly skilled at the Leonard Maltin game, leaving guests James Gunn and Steve Agee to pick up the slack in a short, anti-climactic game. It's a solid outing, but it pales in comparison to the thought of what might have been if Garlin hadn't been detained by an overturned RV on the expressway.
Firewall And Iceberg #89: Listener Mail & Breaking Bad
Dan Fienberg and Alan Sepinwall keep their streak of episodes discussing Breaking Bad alive this week, extending it to seven (while their beard-talk streak now stands at two). But most of this week's show is listener mail. They apply their expert insights to AMC's internal fiascos, Kurt Sutter's Twitter non-troversies, and Friday Night Lights (from its pilot to their thoughts on a potential movie continuation). If you ever wondered how and why the polarizing critics write their reviews, they reveal how the sausage is made here.
Nerdist #115: The Walking Dead Panel SDCC '11
Forget the fact that the 2011 San Diego Comic Con wrapped almost a month ago; showrunner Frank Darabont's subsequent firing from The Walking Dead adds some retroactive poignancy to this recording of the convention's panel about the show. In light of recent events, it's bittersweet to hear Darabont discuss the series' second season with such excitement and enthusiasm. If you're looking for hints that Darabont saw his firing coming, they're not here—nor are there any hints about anything regarding the next set of zombie-slaughterin', flesh-eatin' episodes, as Darabont, the cast, and crew play mum about plot details while indulging in scattered fits of fan service.
Pop Culture Happy Hour: How To Act When The World Is Ending
The London riots and the stock-market craziness prompt this week's conversation about what pop culture says about behavior in hard times, but weirdly, the conversation (sans Glen Weldon and Linda Holmes this week) starts with apocalyptic examples like World War Z, then gets tempered toward blander fare like It's A Wonderful Life. The participants also discuss fast food, and wind up defending McDonald's and its ilk, with a "Hey, whatever, it's tasty" attitude.
Sklarbro Country #55: Rated J For Juggalo: Brian Posehn, Chris Cox
Like many guests of Sklarbro Country, Brian Posehn isn't much of a sports buff, but that doesn't prove too much of an impediment as he talks with the Brothers Sklar about Mr. Show, his abiding affection for dick jokes, and his headlining gig at Insane Clown Posse's infamous Gathering Of The Juggalos. Although solid, this doesn't quite rise to the level of previous episodes due to a semi-embarrassing turn from the usually dependable Chris Cox as a rapping Al Gore.
The Sound Of Young America: Tig Notaro
TSOYA loyalists may remember Tig Notaro for her prickly first appearance on Jordan, Jesse, Go! (and then semi-apologetic return). Guest host Dave Holmes interviews her this week on TSOYA, and though Notaro is perfectly pleasant, she's a laconic guest. Holmes chats with her about her live show, Tig Notaro & Friends, boring people, and her unique way of displaying sheer terror and stage fright.
The Sound Of Young America: Bruce McCulloch
Rare is the Kids In The Hall fan who would like to hear Bruce McCulloch talk about music, but TSOYA guest host Janet Varney leads the Canadian writer and performer on a pleasantly meandering discussion that starts with Cabbage Head's love of music. From there it covers the types of stand-up comics he loves and the unpleasant shock of working for Saturday Night Live—but most important, he discusses his most relevant work: a small role on Anne Of Avonlea.
Sound Opinions: Damon & Naomi
For the past 20 years, Damon & Naomi have made pretty, slowed-down indie rock in a similar vein to the duo's previous group, Galaxie 500. D&N's records are consistently solid affairs, but the group doesn't seem worthy of a lengthy interview taking up most of this episode of Sound Opinions. As interview subjects, Damon Krukowski and Naomi Yang are similarly solid if unspectacular, discussing their long partnership in music and as a married couple.
This American Life #443: Amusement Park
This week's episode of This American Life feature stories around amusement parks, to a somewhat unamusing end. Ira Glass profiles Cole Lindbergh, a die-hard amusement-park manager who amps up his teenaged staff with goofy songs and competitions. Lindbergh's a fascinating, Michael Scott-type character (a comparison not lost on Glass or Lindbergh) well-deserving of a profile, but the piece loses focus toward the middle and really drags as it approaches 30 minutes. The following quick acts almost turn it around: The team combs through submitted voicemail anecdotes about amusement-park disasters (vomit, lost children), and Jonathan Goldstein returns to the debaucherous boardwalk where he worked as a teenager.