Every Labor Day weekend, Diddy, of generic shout-outs to dead famous people and searching for an assistant via YouTube fame, throws a giant party with a strict all-white dress code. It's called, naturally, The White Party.
According to Newsday, here's what this year's White Party was like:

1. A place for people from all walks of life to come together and commiserate–provided, of course, that those people are equal parts famous, wealthy, and more than eager to bend to the will of a Proactiv Solutions pitchman who demands that they only wear the purest of pure white, lest they defile his impeccable whitewash party:


"This is the first house I bought when I came into success," he said. "This is the first party I threw. Our party was to give back to people and have all my friends from all walks of life get together."

Tommy Lee and his crew wore white, Lee with a fat silver chain dangling from his short pants…

White was de rigueur. Standing on a railed walkway next to his house, Combs sent home a guest wearing a cream-colored dress, and the Piano Man's wife, Katie Lee Joel, opted to return home when her dress, also a shade of cream, did not meet the expectations of fashion police out front. Even a Rolls-Royce parked in the driveway was white.


2. An atmosphere where guests dine on the finest food, where they listen to the softest live jazz, and where they are subjected to the classiest fragrance ads imaginable:


The elegant scene at Combs' house included many details similar to previous White Parties — steak and lobster, a live jazz band and two large balloons with lights floating inside, according to guests. Ads for Unforgivable, a Combs fragrance, were projected onto the balloons…
G/O Media may get a commission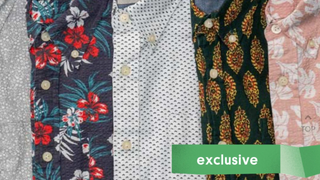 Grab three styles!
JACHS NY Summer Pack


3. Unfortunately, though, insecurity about the precise level of the party's legendary status hung in the air like so many balloons with Diddy's "duh" face projected onto them:


On the white carpet in front of his residence, Combs wore white sneakers with silver detailing, a white shirt and pants and a gold medallion.

"This party is up there with the top three that I've thrown," Combs said. "It's a party that has legendary status. It's hard to throw a party that lives up to its legend."


4. Still, it was an adult affair, very for grown-ups by grown-ups (FGUBGU)–kind of like a hip-hop version of Cirque Du Soleil:


After 8 p.m., children were told to clear out…Guests said there were also fire eaters and a trapeze artist. Doug E. Fresh was the DJ, but Combs asked for the music to be turned down at one point so the party could be "grown and sexy."


5. In short, the party was like a costume party in hell, with the damned dressing up like angels, and the screams of the tortured echoing in everyone's minds:


Sean "Diddy" Combs' White Party was back in East Hampton for the first time since 2003, with guests such as Lil' Kim, Star Jones and Tommy Lee. Combs' famous shindig returned to his house after a stint in St. Tropez…
Combs explained the difference between throwing his famous White Party on the Riviera versus at his first fabulous home. "In St. Tropez, people were so excited, they couldn't stop screaming. They screamed for six hours," he said.