Welcome back to AVQ&A, where we throw out a question for discussion among the staff and readers. Consider this a prompt to compare notes on your interface with pop culture, to reveal your embarrassing tastes and experiences, and to ponder how our diverse lives all led us to convene here together. Got a question you'd like us and the readers to answer? Email us at avcqa@theonion.com.
This week's question: What's your favorite song of the year so far?
Marah Eakin
You're going to have to believe that I'm not biased on this one because my husband books the guy, but I'm really into Strand Of Oaks' "Goshen '97." It's off the excellent Heal, and while it's poppier than most of the other tracks on the record, it's still deeply personal and supremely satisfying. Detailing frontman Timothy Showalter's introduction into the world of music, the track rings true to me as a similarly nerdy music fan who came to indie rock around the same time. There's also a Touch And Go-style vibe to this track that I can't quite put my finger on but that still hits me in all the right places. Plus the chorus is about being lonely and having fun, and as someone who occasionally revels in some deeply selfish alone time, I can definitely get down with that.
Becca James
I have a soft spot for '80s pop. It's the first music I remember actively listening to. Born in '89, I can only assume this was a natural progression from the '60s and '70s tunes my baby boomer parents provided me with early on. And although my listening habits have evolved, I still get excited by anything fit for a bitchin' movie montage. Cue Twin Shadow's synth-laden "To The Top." This song can make typing an Inventory entry seem like writing the great American novel. It makes taking a shower before work feel like the start to the rest of your life. Add it to a car ride and nothing can stop you, breeze in your hair and a swell in your speakers. And you best believe that when the music fades and the clapping starts, I'm right there clapping along, making a difference in the world… or at least feeling like I am. Isn't it great how music can do that?
David Anthony
As much as I enjoyed Speedy Ortiz's debut album, Major Arcana, last year, it was the opening track to this year's Real Hair EP that transformed me from a casual fan of the band to a full-on evangelist. The fretboard shuffles that open "American Horror" are irresistible, as Sadie Dupuis and Matt Robidoux overlap their fuzziest lead lines at the song's onset, abandon them in the verses, only to sideswipe the listener when they come crashing back in the chorus. The true majesty of "American Horror" comes in its back half, when Dupuis and Robidoux turn the riffs around and give it the feel of a stoner-pop song before resolving it all with a final, uproarious sing-along. Every time I start Real Hair I can't help but play "American Horror" a handful of times before finishing out the EP, making it the song I've listened to most this year, while also convincing me that being institutionalized isn't as bad as Suicidal Tendencies made it out to be.
A.A. Dowd
Every Hold Steady record goes out on a glorious high note, and the band's latest, Teeth Dreams, is no exception. "Oaks," its closing track, is the longest song Craig Finn and company have ever recorded—and also one of their most nakedly emotional, an epic lament for a pair of ex-junkies struggling (and possibly failing) to stay clean. Over nine melancholic minutes, and through his usual gift for evocative scene-setting, Finn slips into character, bemoaning the long days spent itching for a fix and the money wasted on "things that didn't stay." Does this lost soul relapse? "Oaks" ends in triumphant ambiguity, slipping into the (high? sober?) reverie of its protagonist, before the instruments return to bid him adieu. By the end, you feel like you know the guy and feel his ache; provoking that kind of empathy through a guitar solo and a couple of carefully penned verses is a major achievement.
Sean O'Neal
I'm not sure how Michael Gira only seems to get stronger and surer of himself the older he gets, but the newest Swans record gives me hope that the best/worst years are still to come. Titled To Be Kind, it's anything but; it takes off from the billowing industrial drones of 2012's outstanding The Seer and shears that shimmering ugliness down to cruel, jagged shards like "A Little God In My Hands." The song is a lurching groove I can only describe as "sarcastic funk," with Gira sneering about the yin and yang—the love and the shit—of the universe, answered by blasts of corroded horns. And spitting into the abyss, the 60-year-old Gira has never sounded more powerful, more filled with the piss and vinegar of life. He sounds like he could go on marching, scrapping, and screaming like this forever.
Sonia Saraiya
I am hopelessly behind the times when it comes to music, so I only became aware of Wye Oak when they came into The A.V. Club studio for their latest Undercover video, covering Kate Bush's "Running Up That Hill." That cover might be my favorite song of 2014, but in the interest of choosing something that was actually released on a record, I'll go with "Glory," off of Shriek. I'm late to the game, as I said, so those of you who are already into Wye Oak know their charms. But this song wormed its way into my heart pretty fast, combining Jenn Wasner's dreamy, dirge-like vocals with the keyboard synth and upbeat drums of a pop song. Also, dude, this music video!
Josh Modell
I've already written Hear This entries on what are probably my two favorite songs of 2014—Sylvan Esso's "Coffee" and SOHN's "Lessons"—so I'm going to go with the title track to Jack White's recent solo album Lazaretto. It's a grand, snarly beast of a song that somehow manages to blend a brutally fuzzed-out bass with a violin solo, not to mention one of White's best guitar solos in ages, an unashamedly blissed and blues-y move. (It's not the direct Hendrix homage he brings to "High Ball Stepper," but it's close.) And the lyrics are weird and wonderful: A lazaretto is a place to quarantine world travelers, and White uses his narrator's time in the hellish prison to make models of people he used to know and shake God's hand. Eventually, for some reason, he's "so Detroit," which sounds amazing whether it means something or not.
Andrea Battleground
Turns out my original answer to this question, Son Little's "Cross My Heart," was released a few weeks too early to qualify as a 2014 song, so I'll go with another track from the same artist that I've played almost as much. "Your Love Will Blow Me Away When My Heart Aches" is stuck with a title that's probably a bit too on the nose for its own good—I may have opted to call it "Runaway"—but that shouldn't deter new curious listeners. Son Little isn't exactly a brand new artist; he's performed with a bunch of acts (RJD2, The Roots). But he's got a new deal with ANTI and a new musical moniker to boot. Whenever I'm asked to assign a genre to new music I'm falling in love with, I balk ("It's just good. Shit, I don't know. Go listen to it."), but twist my arm, and I guess I'd call it meditative blues soul. In this overly produced and perfected recording landscape, perhaps what I like most about "Your Love Will Blow Me Away" is Son Little's raspy delivery, so I hope he hangs on to that. Considering the number of plays this artist has gotten from me already with just two songs out and no announced LP release date, I'm on the lookout for great things from Son Little.
Erik Adams
Recent YouTube data suggests that my pick is everyone's song-of-the-summer runner-up, "Problem," but the '90s pastiche that's truly stolen my heart this year is White Hinterland's "Ring The Bell." With glitchy drum programing, foghorn saxophones, and the powerhouse voice of Casey Dienel, "Ring The Bell" pretty much plays like an alternate-universe "Problem" anyway. It's much more hopeful about the relationship at its center, though, with Dienel detailing a romance that's seemingly at an end, but not beyond salvation. All it takes is a little more effort, a small kindness, or those wordless birdcall vocables that enchantingly flit across the mix at the start of the song.
Jason Heller
My soft spot for punky Irish power-pop goes all the way back to a misspent youth obsessed with late-'70s bands like Rudi, Protex, and The Undertones. I'm not saying that "Heartsmash," the lead single from the self-titled debut by Dublin's The #1s, is on par with The Undertones' 1978 classic "Teenage Kicks." But it sweats its ass off in the valiant attempt—and it doesn't fall very far short. The song twitches, shudders, and jangles in a paroxysm of adolescent longing while holding tight to starry-eyed romanticism. The album doesn't come out until August 5, so you have a month to warm up to the warbly pop charm of "Heartsmash." Not that it'll take more than a click or two. As for me: I'm already smitten.
G/O Media may get a commission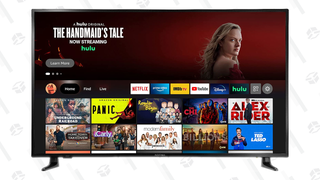 38% Off
Insignia 50" 4K UHD Smart TV
Jesse Hassenger
I'm grateful for Marah for taking one of my contenders out so I can just go ahead and say Slow Club's "Complete Surrender." The album of the same name just came out, but the title track has been kicking around the Internet for a few months. Slow Club began as a crazy-adorable folk-pop duo, but they've been leaping forward with each new release. "Complete Surrender" is probably their danciest song so far, but it's not the sound of an indie band going predictably disco. Instead, it has a cleanly retro sound, with percussive, orchestral beat that recalls '60s girl groups, and lovely guy-gal vocal tradeoffs. I am a total sucker for guy-gal vocal tradeoffs. Speaking of which: Slow Club is the rare mixed-gender group where the powerhouse female singer hasn't (so far) overshadowed the rest of the band with the force of a million crushes—maybe because the band hasn't really caught on in America yet (I'm conducting an ongoing long-term investigation of their popularity in their native England, but it must be greater than it is here). That said, if you want to have a crush on a band, Slow Club will do the trick.
Evan Rytlewski
Drake's Nothing Was The Same fell somewhat short of the classic album it aspired to be, but as a repository for massive radio hits it was undeniable. "Started From The Bottom," "Hold On, We're Going Home," and their follow-ups towered over nearly everything else on rap radio last year, so much so that it's become hard to imagine what the format might sound like without a behemoth Drake single. Thankfully we don't have to, because this year he dropped another one: "Trophies," a leftover highlight from the Nothing Was The Same sessions released on a Young Money compilation, reportedly because he couldn't finish it in time to make the album. Though his image as a sniveling sentimentalist has been well cemented, "Trophies" is Drake in pure triumph mode, a victory anthem designed to be blared out of car windows and baseball stadiums as your favorite slugger's entrance music. Forget the weepy stuff; this is the kind of five-alarm event rap that Drake is doing better than anybody else right now.
Eric Thurm
When I saw Isaiah Rashad perform with Vince Staples and Schoolboy Q, I only really liked the singles off Cilvia Demo, his debut album. But the Tennessee rapper's raw, hungry live energy not only blew his elder and better-known Top Dawg labelmate out of the water, it inspired me to dive back into the record and discover its depth, smoky soul, and the skill with which it reframes the Southern rap canon (there's literally a whole track about Rashad trying to be Scarface). Cilvia's highlight, however, is "Heavenly Father," which perfectly balances Rashad's desire for uncomfortable levels of intimacy with his slow-rolling, crowd-pleasing instinct. It's simultaneously contemplative and propulsive, capturing the sad contradiction of being a world-weary 23-year-old while evoking the bittersweet joy of waking up on a Sunday morning after a too-long Saturday night. Hundreds of listens in my car haven't made it any less moving—they've given the pleas for guidance on "Heavenly Father" a near-spiritual significance (which might explain why I constantly, evangelically play it for my friends). It's true that I'm particularly primed to respond to his "problems of a twentysomething," but mark my words: Isaiah Rashad is going to be a star. "Heavenly Father" is just the best reason to get in on the ground floor.
Mike Vago
When soul revivalist Sharon Jones was diagnosed with pancreatic cancer last year, like many fans I feared for the worst. I hoped for a speedy recovery for Jones, but I'm not sure anyone expected a recovery this speedy. Within a year, Jones had gone through chemo, launched a new tour, and recorded an album with her band, The Dap-Kings. On "Give The People What They Want," she does just that, recapturing the '60s Stax sound as effortlessly and joyously as ever. I'm sure there are newer, more exciting releases in 2014, but none of them beat hearing a rejuvenated Jones belt out the rollicking "Stranger To My Happiness" while the horns blast away behind her.
David Brusie
The War On Drugs has always mined '80s rock for inspiration, but the band aims more for our collective memory of Dire Straits, Bruce Springsteen, and Tom Petty than the sounds themselves. Lost In The Dream is a hazy, abstract indie record that uses the vocabulary of FM radio to channel nostalgia and loss, and "Burning" is its most potent song. "Wide awake," sings Adam Granduciel as warm, Born In The U.S.A.-synths drift in like fog. "I rearrange the way I listen in the dark." He seems to be singing about a soured relationship, but by the end of the track, when that line's pronoun changes from "I" to "you," "Burning" is about the thin line between artist and fan, song and listener. It's the sleeper hit on a record about the way we're shaped by sleeper hits.
Kenneth Partridge
It's fitting: In this, the year Nirvana became a girl band, most of the best rock 'n' roll records have come compliments of female-fronted groups. White Lung's Deep Fantasy is an absolute monster. Perfect Pussy's Say Yes To Love is even fiercer. Bleeding Rainbow's Interrupt and Nona's forthcoming Through The Head suggest it's always grungy in Philadelphia. But the she-basher I keep coming back to is St. Vincent, one of those awesome Cobain stand-ins at the 2014 Rock And Roll Hall Of Fame induction ceremony. "Digital Witness," the second single from her recent self-titled album, is a robo-funk reaction to our loss of privacy, and yet for some reason, it always makes me think of Madonna's "Vogue." Maybe it's because both videos function as dance tutorials. Of the two, I prefer St. Vincent's. Lockstep marching is way easier than voguing.
Noah Cruickshank
After last year's stellar slew of albums, I'm having trouble falling in love with what's appeared in the first six months of 2014. But I do find myself playing "Heavy Seas Of Love" by Damon Albarn over and over, to the point where I was seriously considering using it in my upcoming wedding. Only Albarn would take a musical genius like Brian Eno and ask him to simply provide lead vocals on a song. It's a gambit, but it works. Eno's baritone sounds like he's in the middle of a lullaby, and Albarn's vocals on the more-energetic chorus makes sure the proceedings don't turn into a snooze fest. In many ways, the song is archetypal Albarn: using a guest vocalist, coming in for a catchy chorus, and tiptoeing the boundaries between sarcasm, cynicism, and sincerity perfectly.
Annie Zaleski
I've never been a huge fan of Beck's heartbroken side (in fact, I think I'm the only person on Earth who's lukewarm about Sea Change), but I cannot get enough of this year's Morning Phase—and, specifically, the song "Blue Moon." On some level, I think it's because the song's acoustic guitars and reverb-coated vocals remind me a lot of Death Cab For Cutie's "Soul Meets Body," which I love. But I also gravitate toward the contradictions within the song—the juxtaposition of the desperate lyrics ("I'm so tired of being alone," "Don't leave me on my own"), Beck's uber-confident bellow, and the Beach Boys-esque chorus harmonies. It's a weirdly celebratory tune despite being a thematic bummer, and that's resonated with me deeply.
Josh Terry
When I first heard Future Islands' "Seasons (Waiting On You)" in February, I thought it was a good song, more than enough to get me excited for their upcoming fourth album Singles. But it wasn't until I saw the Baltimore band's disarming Late Night With David Letterman performance that the song really clicked. Frontman Samuel T. Herring completely sells it: His crouched dance moves are both goofy and mesmerizing while his dramatic, Tom Waits-style croaks are both alarming and make perfect sense. Paired with the song's pulsating bassline and opening synth chords that recall Underworld's "Born Slippy," I'll echo Letterman's jazzed review of the band by saying, "I'll take all of that you got."
Will Harris
All right, fine, I'll say it: Because I only listen to it at the times of my choosing (as opposed to having radio shove it down my throat), I still love "Everything Is Awesome," by Tegan And Sara featuring The Lonely Island. It's an earworm of the highest order—I like to attribute at least part of that to Mark Mothersbaugh participating in the production—and the lyrics appeal to my inherent desire to find the best in even the shittiest of situations. Is it the best song of 2014 so far? I would not begin to claim so. But it's been stuck in my brain longer than anything else I've heard this year, and I'm still not sick of it yet. That's good enough for me to call it my favorite.
Alasdair Wilkins
I'm just terrible at staying up to date on music, but there is one song this year that has provided me endless if deeply baffling joy: Lil B's "Fuck KD (Kevin Durant Diss)," in which the rapper's one-man war with Kevin Durant, the NBA's reigning MVP, reaches its latest insane crescendo. For those not familiar, Durant is quite possibly the least hateable superstar in the league's history, a consummately nice and uncontroversial guy who really should be the last person embroiled in a years-long feud. But Lil B moves in mysterious ways, initially laying down "the Based God's curse" after Durant tweeted that Lil B's music didn't do much for him. (In fairness to Lil B, the Oklahoma City Thunder still haven't won a championship since the curse went into effect, so…) The song itself isn't flawless, unnecessarily straying from its core "Fuck Kevin Durant" thesis to throw in some coarse slams on WNBA players. But it's just so damn catchy, and there's just something endlessly fascinating about a song that is simultaneously a complete joke and deadly serious. If nothing else, I know I will never care about anything as deeply or as passionately as Lil B cares about hating Kevin Durant, and that's kind of wondrous.