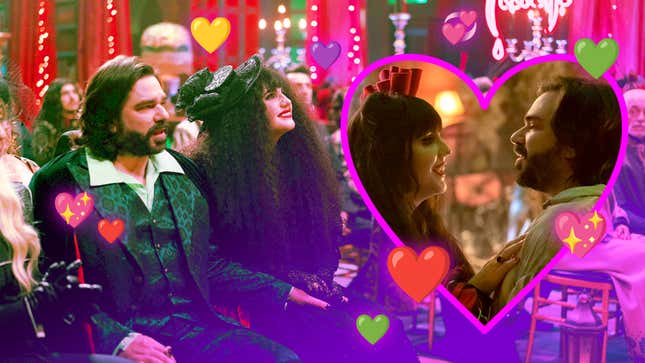 Love has, for centuries now, proven itself to be an endless source of inspiration when it comes to storytelling. Except … well, except has it really?
The feud between Howard Stern and the world's smuggest man, Bill Maher, has come to a tentative ceasefire
Think about it: William Shakespeare may have given us the first-ever love triangle, but we're still obsessing over the time-honored trope in The Summer I Turned Pretty. Jane Austen's blueprint for the perennially single woman looking for [checks notes] "ridiculous, inconvenient, consuming, can't-live-without-each-other love" is still going strong in And Just Like That.... And fairytales have long taught us, too, that every good romance should end with a first kiss, a proposal, or—at the very latest—a wedding. See every Netflix rom-com ever made if you need an example.

When it comes to fictional love, we crave one thing and one thing only: nonstop drama. And so we seek out the dizzying highs and lows that come at the beginning and end of a relationship. The stolen glances, the first kisses, the breakups, the hot steamy makeups. We want our lovers to be as tortured as feasibly possible, dammit. We want them to hate each other's guts before they even lock lips (hey there, Red, White & Royal Blue). We want them to bitterly fall out over some small and poorly communicated misunderstanding (Grey's Anatomy, we see you). And we want to lose ourselves in stories of young love, first love, and lost love—even if it means we wind up watching something wholly unrelatable as a result.

Because here's the thing: Our TV screens have, due to all this drama, been rendered utterly devoid of any healthily functioning couples in long-term relationships. So much so, in fact, that What We Do In The Shadows, a mockumentary about literal vampires living in New York City, has actually done the impossible and given us a married couple well worth aspiring to.

We are talking, of course, about Laszlo (Matt Berry) and Nadja (Natasia Demetriou). Which, while it certainly began as a case of love at first bite—she hypnotized him, turned herself into a "hideous leathery bat thing," and transformed him into a member of the fanged undead back in the 18th century—has since become heralded as a prime example of long-term #goals. Which, if we know our hashtags, is a seriously hefty honor.

While countless sitcoms have, over the years, presented marriage as the antithesis to love (think sexless relationships, nagging wives, and boorish husbands), What We Do In The Shadows has dished up a very special depiction of everlasting affection in Laszlo and Nadja. Oh sure, they argue and bicker and niggle at one another, but they always treat one another with respect, too. They have a lot of sex (usually with each other, often in human form). They know each other inside and out (quite possibly literally). And they have managed, too, to forge the kind of relationship that can and will endure: a.) hundreds of years together, b.) a treacherous sea voyage from Europe to America, and c.) the oh-so-draining presence of energy vampire Colin Robinson (Mark Proksch).

It's a testament to their strong connection that, despite making the very most of their oh-so-open marriage, Nadja and Laszlo always come back to one another. Why? Well, as amateur filmmaker Laszlo himself puts it: "Recently, I was watching all of my porno films, which are sexy and a turn-on. But they lack one thing and one important thing. And that one thing is love. The love I share for my good lady wife Nadja. What say we conduct our own orgy upstairs? A two-person orgy."

He's a diehard fan of her "firm—but ample—backside"; she adores him for being her "big crazy wide bear." He supports and empowers her to follow her dreams of leading the vampiric council; she knows his darkest desires and never shames him for them. (Hell, when she puts on the Cloak of Duplication and transforms into Kayvan Novak's Nandor, it is she who suggests to Laszlo they try "that thing you've always wanted to try.")

It's easy to assume that the very best thing about Laszlo and Nadja, though, is the fact that they are forever rescuing one another, whether that's from a coven of witches, a broken heart, a cursed chain email, or a "fucking bitch" owl. Because, hey, all of the stories we've been served up over the years have made it abundantly clear that true love is nothing, nothing, without an impossibly attractive hero swooping in to save a damsel in distress.

However, all of Laszlo and Nadja's "rescue scenarios" are usually carried out quickly and with very little fuss. All of their arguments—of which there are many (hey, you're bound to get on each other's nerves after several hundred years together)—are resolved, too, before the credits ever begin rolling on an episode. Even the show's biggest cliffhanger to date—Laszlo seemingly abandoning Nadja ahead of her journey to London at the end of season three—was sorted early on in the season-four premiere, when Nadja arrives home to "peel [her husband] like a potato and smash [his] insides". In a sexy way, we mean. Not a vengeful one.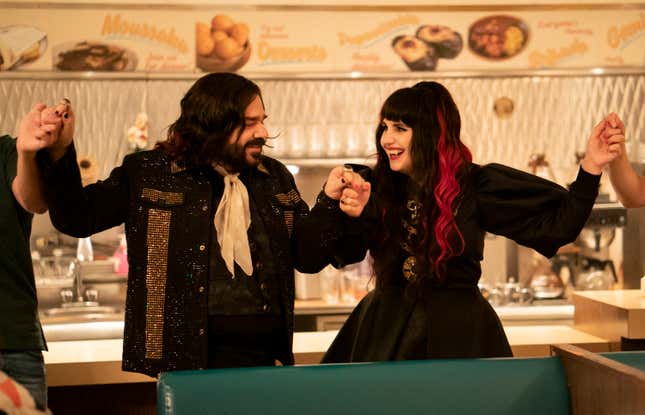 All of the above serves as a beautiful reminder that these two will forever have one another's backs. Quite literally forever. Because, much like Alison (Charlotte Ritchie) and Mike Cooper (Kiell Smith-Bynoe) in the BBC One sitcom Ghosts, Laszlo and Nadja are hellbent on forging the sort of partnership that is forever unrattled by life and undeath's many ups and downs. That's no small thing, especially as they have witnessed some major historic events over the centuries they've been together—and endured the upheaval of many a reincarnated ex, too.
Now, you may argue that Laszlo and Nadja will never be able to compete with the likes of Friends' Ross and Rachel, or Bridgerton's Kate and Anthony, or even Buffy The Vampire Slayer's Buffy and Angel/Buffy and Spike (delete whichever feels most appropriate to you). And, sure, their cult series may not have yet launched them into the Top 10 rankings of TV's most famous couples. But that doesn't take away from the fact that Laszlo and Nadja should be upheld as one of the best and healthiest onscreen depictions of long-term love.
They aren't constantly on a break. They aren't forever questioning whether or not their love can go the distance. And they aren't doggedly attempting to convince us that an overwhelming power imbalance is romantic, either.

Instead, Laszlo and Nadja give us something wonderfully rare: a couple that wakes up (albeit from their coffins) every morning and makes the decision to love one another. To sit down and talk about their problems, so that they can find the solutions together. To see things from one another's perspective. To meet each other halfway. To grow and develop not just as a couple, but as individuals, too. To prioritize one another and stay committed. To be one another's champion, always.

Above all else, they teach us that love is hard and that there are no shortcuts. Hell, Laszlo and Nadja have spent hundreds of bloodied years together, and they still don't know one another fully: like so many IRL couples, they are constantly evolving. And they choose to remain curious. Even if that means experiencing the unique devastation of "finding out your husband has made porn...and it's so bloody boring." And if that ain't love, we don't know what is.