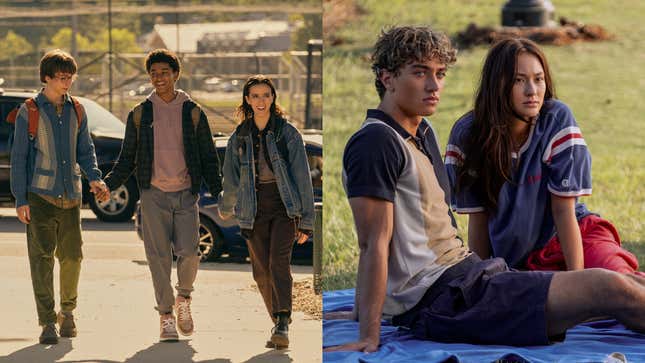 Welcome to the weekend edition of What's On. Here are the big things happening on TV from Friday, August 18 to Sunday, August 20. All times are Eastern. [Note: The weekly What's On will publish on Sundays.]

Mick Jagger says The Rolling Stones could give $500 million to charity
---
1. Get ready for YA thriller Harlan Corben's Shelter
Prime Video, Friday, 12:01 a.m.: Based on his book of the same name, Harlan Coben's Shelter is a YA thriller centering on Mickey Bolitar (Jaden Michael) and his mother, who move to a New Jersey suburb for a fresh start. But Mickey soon becomes entangled in the mysterious disappearance of a student and tries to solve the case with the help of two friends. Here's a bit from The A.V. Club's review:
With a cast of accomplished young actors, Harlan Coben's Shelter ticks a lot of boxes—not least of all its bevy of incredibly likable and diverse characters. In fact, the magic of this one truly kicks in when our trio of misfits gets together. They are the Gen Z equivalent of Harry, Ron, and Hermione that 2023 has been missing (minus the wands and with far darker villains than Voldemort to take on).
---
2. The Summer I Turned Pretty gives us a break from its angsty love triangle
Prime Video, 12:01 a.m.: In The Summer I Turned Pretty's season-two finale, literally titled "Love Triangle," Belly (Lola Tung) finally picks a partner. Will it be Conrad (Chris Briney), who broke up with her a few weeks ago, or his brother, Jeremiah (Gavin Casalegno), whom Belly made out with at the end of episode seven? Read The A.V. Club's review of this season and look out for additional coverage after the finale drops.
---
3. Your sci-fi film of the week is The Monkey King
Netflix, Friday, 3:01 a.m.: In Anthony Stacchi's The Monkey King, Jimmy O. Yang voices the titular trickster who battles The Dragon King (SNL's Bowen Yang). The animated sci-fi drama is based on Chinese mythology dating back to the 1600s and the film's voice cast includes BD Wong, Jo Koy, Jolie Hoang-Rappaport, and Stephanie Hsu.
---
4. Puppy Love proves rom-com creators are really having fun right now
Freevee, Friday, 12:01 a.m.: Nothing brings two people together like the love of a dog. Witness the rom-com Puppy Love, which stars Lucy Hale and Grant Gustin as Nicole and Max, who go on a disastrous first date. Their plan to forget about each other is thrown for a loop when their pet dogs fall in love. (Yes, they're expecting puppies.) They're forced to become co-grandparents and, along the way, predictably fall for each other.

---
5. Chris Fleming drops a new standup special
Peacock, Friday, 3:01 a.m.: In his new comedy special HELL, Chris Fleming takes over L.A.'s Dynasty Typewriter theater to talk about anxiety and musicals, share Phil Collins anecdotes, and offer his surreal takes on being a live performer. Here's a bit from The A.V. Club's review:
HELL caps the alt-comedian's deserved climb to the next echelon—and luckily, Fleming has not jettisoned any of the flair that has made him a star among, as he says, "theater people who don't get cast."
---
6. Netflix streams a fun, moody thriller
Netflix, Friday, 3:01 a.m.: India's prolific directing duo Raj & DK turns its sights on Netflix after producing hits like The Family Man and Farzi for Prime Video. Their latest is the darkly comedic thriller Guns & Gulaabs, which is set in the world of crime in '90s Northern India and follows four people whose lives intersect as they become players in an opium deal.