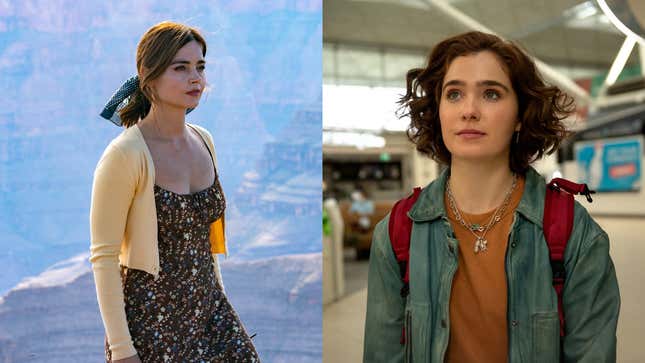 Welcome to the weekend edition of What's On. Here are the big things happening on TV from Friday, September 15 to Sunday, September 17. All times are Eastern. [Note: The weekly What's On will be published on Sundays.]

Rachel Bilson on "Accused," "The O.C.," and more
---
1. Get your psychological-thriller fix with Wilderness
Prime Video, Friday, 12:01 a.m.: Wilderness will fill the void for anyone looking to binge a psychological thriller involving a doomed love story. Based on B.E. Jones' novel, the six-episode series follows Liv (Jenna Coleman), who's on a mission to seek revenge after learning that her husband, Will (Oliver Jackson-Cohen), is basically a serial cheater. She plans to kill him during their dream holiday, but she starts to question everything when the coworker Will slept with crashes their trip. Here's an excerpt from The A.V. Club's review:
Wilderness evokes a narrative cliché: the wronged woman on a path of revenge. It clearly references hits like Fatal Attraction and Gone Girl, even using the phrase "bunny-boiler" at some point. Despite these classics looming in the background, the TV drama gets brownie points for trying something different with the topic. It doesn't subvert the genre as much as embrace it for all it's worth.
---
2. Fall for Love At First Sight
Netflix, Friday, 3:01 a.m.: Haley Lu Richardson follows up her successful run on The White Lotus with this Netflix rom-com. She and Bohemian Rhapsody's Ben Hardy play Hadley and Oliver, respectively, two travelers united by a missed flight—or by fate, if you want to look at it that way—while traveling to London. The cast includes Jameela Jamil, Rob Delaney, and Sally Phillips.
---
3. All Rise returns for its final episodes
OWN, Saturday, 9 p.m.: After its network-jumping journey from CBS to OWN, where it moved for season three, legal drama All Rise will air its final batch of episodes. The show chronicles highly regarded Judge Lola Carmichael (Simone Missick), who pushes the boundaries of her job. The last 10 episodes of season three start airing on September 16, with the series finale set for November 18.
---
4. Dig into two big true-crime cases with 48 Hours
CBS, Saturday, 9 p.m.: 48 Hours dives into two of the biggest ongoing true-crime obsessions in the country right now: the Long Island Serial Killer, who was apprehended earlier this year, and last year's Idaho student murders. In the two-hour special, reporters Erin Moriarty and Peter Van Sant conduct exclusive interviews with people involved in both cases, including investigators and family members of the victims.
---
5. Bid farewell to Winning Time's second season
HBO, Sunday, 3:01 a.m.: The star-studded sports drama Winning Time: The Rise Of The Lakers Dynasty ends its shorter second season on Sunday. Look for The A.V. Club's recap of the hour, titled "What Is And What Should Never Be," after it airs. As of yet, the show hasn't been renewed for a third season.