Every December, there seems to be only a handful of holiday songs, but a multitude of versions of each. This year, we're throwing down in a Christmas Carol Cage Match to decide the definitive version of some of the most common seasonal cuts. Two of our writers will make a case for either side, but we're leaving it up to you to decide the winner in our online poll. Check Twitter tomorrow for the results.
The carol: "Have Yourself A Merry Little Christmas"
Contender: Judy Garland
Forget, for a moment, the fact that dear Miss Judy gave birth to this song, in the film Meet Me In St. Louis, back in 1944. Forget the context of a deeply sad Christmas, when her family is set to move to New York and leave behind their home, with Garland singing in a melancholic effort to cheer up a despondent young girl. Forget that she sings the hell out of it, and in only two-and-a-half minutes manages to capture both the optimistic highs and the achingly sad lows of the holiday season. Even forget, please, the fact that her vibrato on this tune is a thing of untouchable beauty, and that when she holds that "a-wayyyyyy…" near the end, it should be the yardstick by which every contemporary pop starlet measures their own over-the-top efforts.
No, let's just focus instead on one simple detail. This is how the song should be performed. Sinatra, in his effort to jolly up the tune, changed one of the most potent and evocative lines to a hacky platitude. "Until then we'll have to muddle through somehow," a line that best captures the spirit of the whole damn thing, gets reworked by Ol' Blue Eyes into "Hang a shining star upon the highest bough." Barf. Talk about sucking the soul out of a song. Sure, Sinatra sings the hell out of his version, but it'll never feel like anything more than an also-ran. For the real thing, arguably the most classic Christmas song of all time, you need to conjure up a mood that conveys both the good and the bad, in one complete package. And for that, you need Judy Garland. [Alex McCown]
Contender: Frank Sinatra
Recently, my esteemed colleague Caitlin PenzeyMoog stated that she didn't like Frank Sinatra. The resulting vitriol in the comments suggested that she was slaughtering puppies and kittens while making this statement. I'm a Sinatra fan, but I get where she's coming from. The latter-day Sinatra, "The Chairman" more than "The Voice," has a tendency to sound too varnished, too sure of himself, losing that vulnerability that made him so popular to begin with, turning him into a easily parodied caricature like Phil Hartman's brilliant "Sinatra Group."
G/O Media may get a commission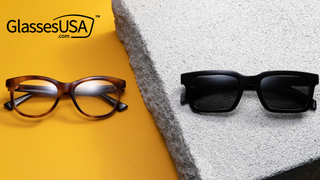 60% off frames
GlassesUSA.com Back to School Sales
I prefer the younger Frank, especially in his early radio days, when he wore those bow ties and Bob Hope made cracks about his startling skinniness. Judy Garland was around then too, and these singing greats of radio lent their ethereal voices to shows like Command Performance during the WWII war effort. The bobby-soxers were in full force then, and every time Frank shrugged or giggled, the crowd would scream like The Beatles were in the wings (which they were, figuratively).
It's not hard to understand why: Sinatra had the quality of making it feel like he was singing directly to you. As he grew a bit older, he tapped more into that emotionality on an achingly vulnerable album like In The Wee Small Hours (a.k.a., The Ava Gardner Breakup Album). Even the cheeriest listener might be pondering that last track, "Y'know, maybe it's time to give the brown liquor a try." Sinatra's voice didn't hold anything back: He wasn't the Chairman yet, just a guy as much in pain as you were, but with a much more beautiful way of expressing it.
And that's my long-winded explanation for why I love Sinatra's "Have Yourself A Merry Little Christmas" most of all. As you rightly point out, Alex, it's a sad song, a wistful longing for a better Christmas than this one. In his pared-down version, Sinatra's not in Vegas, he's not headlining with Dino: He's slumped over at the end of the bar, trying desperately to cheer someone as lonesome as he is. I don't why he did what he did to the lyrics: Maybe he needed the hope the "shining star" offered more than muddling through. But even Judy agreed: When she sang the song to her kids on her Christmas special, she used the lyrics from the Sinatra version. [Gwen Ihnat]