It's too bad The Twilight Zone didn't debut last week with "Replay"… or didn't at least choose it over "Nightmare At 30,000 Feet" as the episode to pair with "The Comedian." (The CBS All Access honchos and/or the show's producers unaccountably chose to make "The Comedian" available to non-subscribers last week, as an… enticement?). I don't want to rehash my beefs with "The Comedian," but one thing I failed to mention in last week's review was my frustration that the episode almost has something to say about how entertainers of color—moreso than just comedians in general—have to relinquish something essential about themselves and their culture to succeed in showbiz. But that point never quite comes through, despite how tediously overlong the episode is.
"Replay," on the other hand, is more tautly constructed (it's just 44 minutes!) and more intensely focused on what it has to say about identity and erasure. It even gets to Jordan Peele's Rod Serling intro in record time.

Sanaa Lathan stars in "Replay" as Nina Harrison, a lawyer who's driving her son Dorian (Damson Idris) to his first year of college at an HBCU, in a rural community not far from where Nina grew up. While they're sitting in a diner, goofing around with an old analog video camera that Nina's dad once owned, Dorian squirts some ketchup on his shirt. While scrambling to help him clean up, Nina accidentally presses the camera's rewind button… and reverses time! (Cue Peele.)

That particular magic trick quickly comes in handy later when the Harrisons are stopped on the road by Officer Lasky (Glenn Fleshler), who ignores the family's well-practiced "no attitude… be respectful" approach to cops, and instead immediately makes with the micro-aggressions. He asks if Dorian's headed to "the black school," and he demands they turn off their camera. The encounter goes south from there, until all Nina can do is push rewind again, and zip back to the diner.

G/O Media may get a commission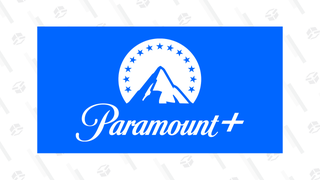 One month free
Paramount+ One-month Free Trial
Selwyn Seyfu Hinds' script for "Replay" functions as a barbed critique of one of the common responses to police shootings of unarmed black men and woman: What could the victims have done differently? Over and over in this episode, Nina goes back and tries to "fix" their encounters with Officer Lasky—up to and including sitting down with him at the diner over pie to get to know more about him, and to tell him more about her and Dorian. Nothing works. He's determined to pick a fight. He calls Dorian "boy." He asks Nina for proof of ownership of her car. He comes up with nitpicky traffic violations. He's just the worst.

What's especially frustrating for Nina is that she's done everything leading up to this moment in her life "right." She turned her back on her working-class country family and went to law school, where in her own (only half-facetious) words, she "got too fancy." She raised her son to be a good student and a sweet kid, who teases her about her love of old-school R&B. But if the universe—or the social conditions within a corner of that universe that happens to be hostile to black folks—has determined that Nina and Dorian are going to have their lives ruined by one thickheaded patrolman's bad day, then what can she do?

Hinds actually has an interesting, unexpected answer to this. During one of the rewinds, the Harrisons pay a visit to Nina's brother Neil (Steve Harris), who's still living out in the sticks. Neil connects them to the secret African-American history of the area, leading them through all the tunnels and alleys that "the man" doesn't know about. Soon, by reconnecting with their roots, they're at the gates of Tennyson University.

And it's here where "Replay," in my opinion, makes a misstep that bumps it down from being a new Twilight Zone classic. Officer Lasky corners Nina, Neil and Dorian outside Tennyson. This makes narrative sense: bringing some closure to the story. The other students and parents pull out their phones to start recording the encounter. That's also a nice touch: a reminder that the Harrisons' "magic camera" is a powerful metaphor, and really not that far-fetched (time-travel aside). But then Nina confronts Lasky with a lecture and… frankly, the episode doesn't need it. The meaning's already clear. Explaining it so bluntly sounds a discordant note.

To be fair, Serling did the same kind of thing with his Twilight Zone episodes. (Also, I'm aware that up at the top of this review I complained that "The Comedian" isn't explicit enough… at least about its slyer themes.) But so much that's great about "Replay" is in a lower key: It's in the performances of Idris (so good on FX's Snowfall, and just as likable here as a genial kid who has no idea what's happening with his mom and her resets) and Lathan (who so rarely gets to play a role so suited to her full range, moving from "pleasant" to "anxious" to "raw existential despair").

When Nina tries to disguise her scrambling to avoid Officer Lasky by brightly suggesting to Dorian that they just get a motel room for the night, eat some junk food, and watch some bad reality TV, both the love between mother and son and the reasonable appeal of that specific request is so relatable. Don't we all just want to be left alone to pursue happiness in our own way—be it advancing our professional ambitions or just vegging out with room service? There's no need to steamroll those kinds of subtle, natural expressions of human desire with a big speech.

"Replay" does end well though, with the first coda so far in this new Twilight Zone that actually makes the episode better. Jumping into the future, after Dorian has graduated and started a life and family of his own, Nina watches her granddaughter break the enchanted video-cam, then watches her son go out to run an errand, knowing she no longer has her magic reset button. The look on her face as "Replay" ends—so uncertain, so nervous—is a sublime example of how a great Twilight Zone can send a chill down the spine, and a shock to the mind.

---
Stray observations
There's a real Russian Doll/Groundhog Day feeling to the way Nina keeps snapping back to the diner in the middle of Brenton Wood's "The Oogum Boogum Song"—one of those catchy novelty numbers that's been a persistent part of American popular culture for over 50 years, but goes largely unnoticed until suddenly it's hard to escape. Odds are if you've listened to an oldies radio station for any extended period of time at any point in your life, you've head that one, and have also heard Wood's other significant hit, "Gimme Little Sign." These are songs everyone just sort of knows, whether or not they recall their names, or who sings them.

Prestige TV fans will recognize Glenn Fleshler from: Boardwalk Empire, where he played third-person-loving bootlegger George Remus; Barry, where he's criminal boss Goran Pazar; and Billions, as Axe's aggressive lawyer Orrin Bach. He's scarily good at playing aggressive creeps.

Some striking compositions throughout this episode. Director Gerard McMurray (a youngish director, whose most recent feature film is The First Purge) emphasizes the comforts of community and belonging, especially in a nice shot of the Harrisons in Neil's house, framed by the entryway to a room filled with books and family lore.

For more freaky camera fun on The Twilight Zone, watch the season two episode "A Most Unusual Camera," where a couple of crooks end up with a device that spits out pictures depicting the world of the future ! (Well, just five minutes into the future, but still pretty eerie!)

Did anyone else expect that Nina might try using her knowledge of that night's lottery numbers to, y'know, win the lottery? I'm guessing the drawing happened something like an hour or two after she and Dorian ate in the diner. That's plenty of time to drop by a gas station! This probably would've side-tracked what "Replay" is about. But then introducing the lottery in the first place was a bit of a distraction — even if it did extend the episode's motifs of fate and fortune.