Stuff Like That There roughly simulates the second encore of a marathon Yo La Tengo show, when the casual fans and out-past-their-bedtime parents have gone home and the band indulges in affectionate covers and acoustic rarities. There's a late-night looseness to the project that's appealing, if not necessarily consummated by revelatory performances.
The album is the 14th full-length from Hoboken's finest, though the jury might still be out on whether it marks the proper follow-up to 2013's Fade. Stuff combines three familiar late-career album categories into one nifty, 46-minute set: the old-timey covers record (see: Neil Young's A Letter Home), the strip-down-your-own-songs set (see: Everclear's In A Different Light, Bon Jovi's This Left Feels Right—hardly a high bar to meet), and the acoustic set.
This scattershot approach has a precedent in the Yo La Tengo catalog with the 1990 Fakebook album, whose 25th birthday the band seems to be marking. Like Fakebook, Stuff Like That There is folk-oriented, both in tone and cover selection. Unlike Fakebook, Stuff is almost unanimously downbeat, swapping out the amps and feedback lurches for hushed, acoustic tones. The covers selection is eclectic, if a little less obscure-minded: The Cure's classic "Friday I'm In Love" is reimagined as a sweetly sung, Velvet Underground-style ditty, while oldies like Hank Williams' "I'm So Lonesome I Could Cry" and Darlene McCrea's "My Heart's Not In It" are slowed substantially and rendered in delicate, two-part harmony between Georgia Hubley and Ira Kaplan.
There's a doo-wop feel here that's not entirely new for Yo La Tengo but has never been so pronounced. It rises to the fore on the gorgeous three-part "Somebody's In Love," the forgotten Sun Ra/Cosmic Rays tune that served as frequent set-closer during the Fade tour. But elsewhere, Stuff's approach is so singular and sleepy-sounding—half-whispered vocals, brush percussion, muted pedal steel whines—that it's easy to confuse the covers with the originals. The new tracks ("Awhileaway," "Rickety") are pretty if slight, and reveal little of the dynamic range that made Fade such a latter-period highlight.
G/O Media may get a commission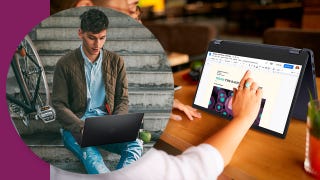 Ends August 15
Best Buy Anniversary Sale 2022
Ends August 15
Best Buy has a number of different promotions happening all for its Anniversary Sales Event. Laptops, tablets, TVs, you names it. Whether you're heading back to school or just trying to fill your home with some new tech, there is something here on sale that you've likely been waiting for.
Better are the new-old YLT tunes, even if the selections are occasionally baffling—"All Your Secrets" (from 2009's Popular Songs) and "The Ballad Of Red Buckets" (from 1995's Electr-O-Pura) were mellow to begin with, leaving little room for reinvention or surprise in the band's updates. "Deeper Into Movies" is the highlight. Once buried under voluminous shards of guitar noise, the song's warm, reflective melody gets new life in a harmony-heavy arrangement. It's easy to miss the fuzz. But every YLT set needs an encore.