Hollywood is soulless. Everyone knows that. A24, a relatively new entertainment company, isn't, though. That's not just because it's based in New York, but because it seems to genuinely care about the movies it's putting out. Even if you don't know the name, you've likely seen one of the movies the independent studio has ushered into cinemas: Cult hits like Spring Breakers and Swiss Army Man; Oscar contenders and winners like Moonlight, Room, and Amy; and even bombs like Sea Of Trees and A Glimpse Inside The Mind Of Charles Swan III.
It was that last film, actually—a forgotten, ill-timed comedy starring a post-meltdown Charlie Sheen—that was A24's first big get. A new, comprehensive oral history from GQ outlines both this amusing story—Sheen didn't even show up to the premiere—and the swift rise of the distribution company in its aftermath.
"It's crazy that there is an article about a distribution company," Robert Pattinson says early on. "That's completely nuts." He's right, but the assemblage of talent talking about the studio justifies it, including all of A24's key players in addition to industry luminaries and celebrities like Harvey Weinstein, James Franco, Barry Jenkins, Brie Larson, Denis Villeneuve, Sofia Coppola, and many more.
Undoubtedly, it was the runaway success of Harmony Korine's Spring Breakers that launched the company, and the story of its mad dash to acquire the film is one of the article's many highlights.
[Nicolette] Aizenberg: When I started, we didn't have Spring Breakers yet, but the whole focus of that very first meeting I went to was like, "How do we get Spring Breakers? How do we get Spring Breakers?" And then Noah got Spring Breakers.
[Noah] Sacco: I wouldn't say I got it. I… I was tasked. I woke up one morning to an email from Daniel that was sent at three in the morning: "Can you go to Pittsburgh?" I come into the office, and there are interns running around like in some crazy factory. Daniel's like, "Okay. We're putting together a gift basket of glass guns and a gift basket with munchies…"

[David] Fenkel: We made bongs.

Sacco: Gun bongs. And the interns are running around trying to find a glassblower.

Fenkel: An engraver, too.

Sacco: To engrave the Spring Breakers logo onto the glass-gun bong. So everyone's wrapping up this gift basket that I'm supposed to deliver to Megan [Ellison, one of the producers of Spring Breakers, who was on location in Pittsburgh] and say, like, "This is why you should go with us. We're passionate. We get movies." And the only thing we could put it in was a cardboard box with duct tape. So I'm showing up to the airport with no luggage and a cardboard box with duct tape wrapped around it.

Fenkel: It looked like a bomb.

Sacco: I show up at the airport. And the guy asked me, "Is there anything we might find suspicious in there?" I said, "There's an art piece inside in the shape of a gun." And literally the entire security department was like, "What is wrong with you?" Long story short, it made it through.

Aizenberg: And we got the movie.
From there, the oral history details A24's rise from that point on, its dubious (and desperate) early marketing strategies, and its journey with Moonlight, the surprise Best Picture winner of this year's Academy Awards.
G/O Media may get a commission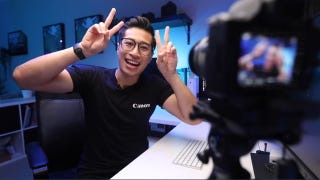 Up to 33% off
Canon Camera National Promotion
Webcam kits, lenses, & more
Since many of us adopted working from home, we've become accustomed to the crappy video quality output of our laptops' built-in webcams. Present yourself professionally with the help of a professional quality camera. Dress to impress now means set dressing and picture definition. Canon has made it easy to take your EOS camera and convert it to a webcam with the help of a variety of kits.
As Daniel Radcliffe puts it: "When you can get a distribution company that likes the film for the same reasons that people that made it like the film—I've found that rare. They're one of the few companies that have shown that indie films can still be viable."
Read the whole oral history at GQ.