Every day, Watch This offers staff recommendations inspired by a new movie coming out that week. This week: With March Madness in full swing, and a Criterion Blu-ray upgrade of Hoop Dreams dropping in a week, we highlight some of the best movies about basketball.
Inside Moves (1980)
With the Golden State Warriors cruising toward what looks like is going to be a deep playoff run, the time is nigh to discover (or rediscover) Inside Moves, in which an Oakland bartender with a bum wheel gets a second chance at hardwood glory when one of the Warriors' star players pays for him to have a restorative leg operation. It's a ridiculous plot twist, but director Richard Donner does his best to sell it as high drama. Following the success of his previous film, Superman, which had the tagline "you will believe a man can fly," was it really asking too much of audiences to believe that David Morse could take it to the hoop?
As an attempt to cash in on the inspirational-underdog-sports-movie model popularized a few years earlier by Rocky, Inside Moves is rather transparent: Morse's Jerry Maxwell is an even longer shot for stardom than the Italian Stallion. But what's affecting here is the relationship between Jerry and Roary (John Savage), who is the film's true protagonist—a depressed loner (he was a Vietnam veteran in Todd Walton's source novel) whose failed suicide attempt opens the film and creates a context for an overall theme of regeneration. Roary meets Jerry at a run-down bar called Max's, the clients of which are mostly physically disabled, including Wings, a old duffer without hands played by Harold Russell from The Best Years Of Our Lives. Roary's response to being surrounded by so many damaged people is to try to help Jerry rebuild his life in a more triumphant image—and to exorcise his own demons in the process.
The generous NBA star in Inside Moves is played by character actor Harold Sylvester, who was at that point only a few years removed from being the first black person ever to receive an athletic scholarship from Tulane University, where he starred on the school's basketball team. As athletes-turned-actors go, Sylvester is a natural, imbuing his character Alvin Martin—a flashy guard in the Earl Monroe mold—with an appealing cockiness that bleeds over into humility when he's very nearly beaten by Jerry in a game of one-on-one. Like many things in Inside Moves, this scene is more enjoyable than it is believable, but then the best sports movies are always about impossible dreams. In this one, it's the idea that a combination of surgery and good vibes can overcome even the most debilitating of injuries. Somebody should get Derrick Rose a copy on DVD, stat.
G/O Media may get a commission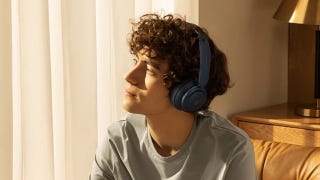 30% off
Soundcore Headphones and Earbuds
Availability: Inside Moves is available on DVD from Netflix or possibly your local video store/library. It can also be rented or purchased through the major digital services.