Comics can be a scary, intimidating medium to an outsider. The breadth and depth of history, brands, universes, events, and movie and TV adaptations make getting into comics seem like more trouble than it's worth. But take it from us, comics are well worth diving into, and you don't need spend hours reading background and history to enjoy yourself. Here we recommend some comics that make for good starting points within the DC, Marvel, independent, and classic worlds, providing an easy introduction that will whet your appetite for more.
Where to get started with: Marvel Comics
1. Hawkeye (2012-present)
G/O Media may get a commission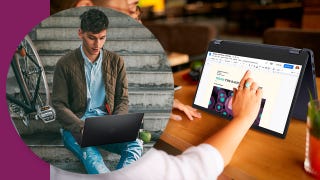 Ends August 15
Best Buy Anniversary Sale 2022
Ends August 15
Best Buy has a number of different promotions happening all for its Anniversary Sales Event. Laptops, tablets, TVs, you names it. Whether you're heading back to school or just trying to fill your home with some new tech, there is something here on sale that you've likely been waiting for.
When Matt Fraction set out to explore what Clint Barton, a.k.a. Hawkeye, does when he's away from the Avengers, few could have known that he'd turn the oft-misused character into one of the most compelling heroes in the Marvel bullpen. Doubling down on Hawkeye's everyman appeal—he doesn't have any superpowers, just a facility with a bow and arrow and a world-weary sense of humor—the comic brings a sense of relatability to the guy that past efforts missed. Plus, he's got a nagging need to stick up for the oppressed, no matter what it may cost him, a quality that never goes out of style. Plus, the final issue of Fraction's run on this title just came out, so now you can binge-read from start to finish. (Not to be confused with All-New Hawkeye, which launched just this year, but which The A.V. Club's Oliver Sava heartily endorses as well. [Alex McCown]
2. Ms. Marvel (2014-present)
Sure, Ms. Marvel got a lot of hype around its launch, given that Marvel was creating a book around its first female Muslim Pakistani-American superhero. But what no one could've known at the time is that writer G. Willow Wilson would simultaneously craft one of the richest, most nuanced teenage characters in the Marvel universe. Kamala Khan is funny and smart, but also impetuous and stupid—in short, she's a young person trying to figure her shit out. But on top of that, she's Ms. Marvel, New Jersey's newest residential superhero. Not since Brian K. Vaughan's Runaways has there been such an addictive title centered around what is normally the most irritating age a human can be: an adolescent. [Alex McCown]
3. Daredevil Vol. 2 #26-81 (2001-2006)
What's so great about Brian Michael Bendis' run on Daredevil is that it's the perfect way in to the character in comic form, especially for people who may have seen the recent Netflix series and are debating dabbling their toes into the comics as a result. Daredevil as written by Bendis is a more harsh and troubled antihero, someone who constantly grapples with the desire to hurt bad guys simply because he can. Not only that, the comic creates a fully realized world as richly textured as Game Of Thrones or Boardwalk Empire. It's an ideal comic for people wary of comics because they fear the medium is too juvenile. [Alex McCown]
Where to get started with: DC Comics
4. Batman: Year 100 (2006)

Ask for a a Batman one-shot and you're likely to hear the name Frank Miller or his infamous The Dark Knight Returns. But Batman: Year 100, written and drawn by Battling Boy's talented creator Paul Pope, is a far better dystopian exploration of the character and his most common themes. Pope's art style is gritty and kinetic, familiar to fans of the Christopher Nolan version of Batman. Published in 2006 in four issues, this story is just as much about Gotham as it is about (this version of) Batman, and makes no qualms about the fact that the Dark Knight has never been able to operate alone well. Jim Gordon is there, as is Robin, and other allies; though Batman may protest their presence, it's clear just how much he needs them. Pope skillfully navigates the tenuous relationship Batman has with the people he relies on and the citizens of the city he's spent his life protecting, making it clear that no matter the year, Batman is a hero for the ages. Batman: Year One, as well as Robin: Year One, and Batgirl: Year One, while not in the same exact vein as Batman: Year 100, are great books to read next, focusing on the origin stories of each character with beautiful, slightly retro art. [Caitlin Rosberg]
5. Kingdom Come (1996)
Alex Ross is one of the most infamous modern comic book artists, and combining his immeasurable skill with the steady hand of Mark Waid results in unsurprising success. Kingdom Come is part of DC's "Elseworlds" line, where familiar characters are put into entirely new settings, a sort of publisher-endorsed alternate universe. Set in the future, the book imagines a time when the most familiar names in the DC roster have aged and are retiring in the face of a new generation of heroes who don't stand for the same things and don't hold themselves to the same codes of conduct. One of many times that Batman and Superman find themselves on different sides of a conflict, Kingdom Come's influence on how the characters interact is still felt. The book embraces not just the big names of the Justice League but also explores their relationships with their wards and heirs, investigating the long-term ramifications of just how different each of the biggest names in superherodom are. Events like this summer's Convergence are absolutely the intellectual successors of Kingdom Come and it's a great place to familiarize yourself with a slew of underused and recently rediscovered B- and C-listers like the Spectre and Shazam. [Caitlin Rosberg]
6. Batgirl Vol. 1: The Batgirl Of Burnside (2014-2015)
After years of putting out books that focused too much on gritty origin stories, DC began to turn away from its grim, dark past and embrace a lighter style of story-telling, more friendly for new readers. Leading the charge in this new initiative was the Batgirl Of Burnside and her creative team: Brenden Fletcher, Cameron Stewart, and Babs Tarr. Batgirl Vol. 1: Batgirl Of Burnside is not an all-ages book, and Barbara Gordon's actions most certainly have consequences for herself and the people she cares about, but this new version of the character is more youthful and optimistic, approaching problems differently. The art is bright and vibrant, Babs is surrounded by a fairly diverse supporting cast, and the creative team has earned a reputation for understanding its responsibilities as creators and embracing its fans with love and respect. If you like this more light-hearted take on one of Gotham's finest, you will probably also enjoy Gotham Academy, which is like Harry Potter in Gotham, and Sensation Comics Featuring Wonder Woman. A digital-first release, Sensation Comics boasts a slew of different writers and artists telling a wide variety of stories about everyone's favorite Amazonian princess, with a lower digital price than most print books. [Caitlin Rosberg]
7. Superman: Red Son (2003)
One of the most common complaints about Superman, and other heroes like him, is that he's boring. When in the hands of a writer who doesn't understand the draw of a character whose most facile definition is "Boy Scout," he certainly is, particularly in the face of more mysterious and emotionally raw characters just as famous as him. Superman: Red Son is another of the Elseworlds stories that often prove to be so intriguing. In a three-issue run, writer Mark Millar, along with artists Dave Johnson and Kilian Plunkett, explore how Kal-El would have been different if, instead of crash-landing in middle America, he'd arrived on Earth in the Soviet Union. It's an intriguing thought experiment and expertly written. For those who complain about Superman's tediousness, it's also a great way to reframe his story. What makes Superman great isn't his status as the last of his kind, or his even his superpowers. What makes Superman great is Clark Kent and the way he was raised. Without the solid foundation that Martha and Jonathan Kent provided for a very lost and frightened young man, Kal-El could have easily become a very different sort of man, and Red Son is the perfect exploration of just how badly that could have gone. Back in normal continuity, Superman: Birthright by Mark Waid with Leinil Francis Yu's incredible art is a great place to start, and All-Star Superman by Grant Morrison and Frank Quitely is a perfect follow-up. [Caitlin Rosberg]
8. Planetary: Crossing Worlds (2004)
Warren Ellis is one of the curmudgeonly great uncles of modern comic books. His talents have brought readers a massive variety of intriguing stories, ranging from the intense gonzo journalism of Transmetropolitan to a desolate future where Doctor Doom runs the United States. But his work for the DC imprint Wildstorm is some of his best, questioning the very definition of what it means to be a superhero. Planetary is the tale of a team that calls themselves "Archaeologists of the impossible" and Ellis, along with main artist John Cassaday, walk them through fantastic adventures all over time and space. Three very different stories are collected in Planetary: Crossing Worlds, each of them a prime entry point into DC and Wildstorm mythology. The first is a Planetary/Authority story, a great opportunity to check out recently revived Midnighter and his then-team. The second has the Planetary crew interacting with a version of the Justice League Of America. It's the third, though, that really shines: Switching rapidly between settings, the Planetary team traces the origins and evolutions of Batman across the decades. It's an enchanting and immensely fun way to get a history lesson about one of the most famous and long-running characters in the industry, and Ellis' sense of humor gives it just the right amount of bite. [Caitlin Rosberg]
Where to get started with: Independent comics
9. Blankets (2003)
Comics books are an outstanding medium for autobiographical material, allowing cartoonists to write about and visualize their personal experiences in a way that is distinctly their own. Craig Thompson's Blankets (Top Shelf) is a heart-wrenching look at the crisis of faith Thompson experienced as a teenager becoming increasingly jaded with his conservative Christian upbringing, rendered in a lush, expressive art style that captures both the beauty and horror of his adolescent emotional roller coaster. His falling out with the church coincides with the birth of his relationship with his first love, Raina, and these two threads weave together to form a deeply moving piece about what we choose to believe and the ways those beliefs can both heal and hurt. [Oliver Sava]
10. Saga (2012-present)
Brian K. Vaughan is one of the best writers when it comes to gateway comics, with his work on Runaways, Y: The Last Man, and Ex Machina providing easy entryways into the world of sequential graphic storytelling. Saga (Image Comics), his ongoing series with artist Fiona Staples, is a sprawling sci-fi tale featuring stunningly imaginative characters and environments, but it's all just a big metaphor for falling in love, becoming a parent, and dealing with the stress of sustaining a healthy, happy family. The writing is full of wit, heart, and suspense (Vaughan can write one hell of a cliffhanger), and Staples' artwork grounds all the emotional storytelling in reality while providing visuals that are as weird as they are beautiful. It's an immensely inviting series, and it will scratch an itch for anyone who wants a stylish action adventure with a captivating ensemble. [Oliver Sava]
11. This One Summer (2014)
There's been a surge of comics aimed at younger female readers in the last few years as publishers realize there's a thirsty, untapped market there, and cousins Mariko and Jillian Tamaki have done exceptional work telling stories about girls entering the chaos of adolescence. Their graphic novel This One Summer (First Second) is the only graphic novel to ever be recognized for a Caldecott Honor, and it's an award that is rightfully deserved. Jillian Tamaki's illustrations render Rose's summer experience with rich detail and intense emotion, pulling the reader into a time when everything is especially vivid and stimulating because hormones are racing. Teens are the target audience, but it's the perfect graphic novel for anyone who wants an immersive, character-driven read with gorgeous visuals. [Oliver Sava]
12. Scott Pilgrim (2004-2010)
Even before Edgar Wright turned Bryan Lee O'Malley's Scott Pilgrim (Oni Press) graphic novels into an idiosyncratic action movie, they made great gateways because of the way they incorporated bombastic fantasy elements into an intimate slice-of-life story, balancing different aspects of the mainstream and alternative comic worlds. As Scott Pilgrim fights Ramona Flowers' seven evil exes to prove his love and win her heart, he grows up and starts to get his life together, coming to terms with his past mistakes to become a better person. With six graphic novels, the comic has the opportunity to go much more in-depth with the character development than the movie, adding substance to go with the energy and style of those exhilarating action sequences. [Oliver Sava]
13. Sex Criminals (2013-present)
Feminist, sex positive, and splendidly funny, Sex Criminals (Image Comics) follows a couple who stops time when they orgasm, so they rob a bank. Matt Fraction has a history of penning compelling characters and quick action with his Uncanny X-Men and Hawkeye, and he's created two immensely likable characters in time-halting Suzie and Jon, and a surprising amount of action and suspense-building for a book that's mostly about their relationship. There's plenty of sex, but it's respectfully done and never gratuitous (that being said, maybe don't read this one on the train). And all the action and erotism are really just the cherries on top of a story that's an intimate examination of mental health, falling in love, and commitment. [Caitlin PenzeyMoog]
Where to get started with: Classic comics
First, a short explanation of a long history
What we now consider comics started all the way back in the 1930s. There were some faint early peeks at what the genre would eventually turn into: Superman showed up in Action Comics #1 (1938), Batman in Detective Comics #27 (1939), Spider-Man in Amazing Fantasy #15 (1962). But these decades also hosted vast comics lines in romance, crime, and horror, the latter two becoming so gruesome that psychologist Fredric Wertham released his famous volume Seduction Of The Innocent in 1954, resulting in the creation of the Comics Code. Although few would classify Wertham as a fun guy, he had a point. A look back at some of these pre-Code issues show murderous cannibalistic families and gun molls about to get stabbed in the eye with a hypodermic needles, murder victims getting buried alive, or more likely, rising from the dead. We can also find any number of beautiful heroines pining for their lantern-jawed romantic heroes, an iconic teenager, fun kids pages, and a few legendary storylines that help set up the superheroes we know and love today. Although some DC and Marvel titles are listed above, if you want to go even farther back, both of these comic companies have made available nostalgic collections that offer even more perspective on your beloved superheroes. To journey back into comics' vast history, here are a few places to start.
14. Dark Phoenix saga (1980)
An amazing Marvel story that hasn't really resonated yet in the movies is the Dark Phoenix saga, now helpfully available in paperback collection form. Jean Grey's transformation as her tremendous power begins to take over, aided by the machinations of the Hellfire Club, stands as the favorite Marvel storyline ever for many. Jean's sacrifice left her as the ultimate heroic martyr for a few fine years (until she was brought back in X-Factor), and the buildup to her own destruction clearly outlines that Jean had no other option. There's even a great What If? issue that depicts what would have happened if Jean hadn't died: The entire universe would be absorbed by a giant, energy-propelled Phoenix. But even The Watcher can't say whether this result is good or bad, as he is only The Watcher. [Gwen Ihnat]
15. Origins Of Marvel Comics (1974)
Stan Lee is mainly known now for his continued cameos in Marvel movies, but comics fans know that he deserves every second of screen time he gets. Spider-Man's creator shows where all that snappy dialogue comes from in his 1974 volume: Origins Of Marvel Comics (#1). In Lee's own words, this book tells not just how Stan Lee became Stan Lee, but Marvel became Marvel, and the backstories behind his first famous superheroes, as well as early comics stories about each: Fantastic Four, Hulk, Spider-Man, Thor, and Doctor Strange. And yes, Hulk was gray at first. [Gwen Ihnat]
16. DC Archive Collection volumes
DC also plays to the strengths of its previous decades, offering a few fun collections perfect for getting kids into comics (in a post-Code world). The recent compilation Batman: The TV Stories references the campy TV show, with a relatively tame Batman and Robin, and offers early looks at now-familiar villains like The Riddler and Mad Hatter. And with Wonder Woman currently experiencing a resurgence as she heads for the big screen, the DC Archive Collection volumes of her first issues (starting in Sensation Comics) are absolutely fascinating. Wonder Woman was created by William Moulton Marston, who wanted a female superhero for his daughter to look up to, resulting in a fabulous mix of Greek mythology and pro-America WWII-era propaganda. And if you're wondering why Diana's golden lasso compels those who are trapped in it to tell the truth, you might be interested to learn that Marston also invented the lie detector. Learn more in the recent biography, The Secret History Of Wonder Woman by Jill Lepore. [Gwen Ihnat]
17. Archie
Archie has recently undergone a modern upgrade after many years. You may wonder why the character still resonates, but that red-headed teen has always been a cultural touchstone for young pop-culture trends and fashions. Dark Horse has started releasing volumes of early Archies in the Archie Archives, where we see why the Archie-Betty-Veronica romantic triangle has been stewing for decades now. The series offers always an adept mirror of youth in pop culture, so these early Archies give us an entertaining nostalgic glimpse into a simpler time of letterman sweaters, saddle shoes, and malt-shop dates. [Gwen Ihnat]
18. Harvey
For the even younger set, Dark Horse offers early comic compilations of Harvey comics, which were standard kids'-reading fare for decades: Casper (the friendly ghost), Richie Rich (the richest kid in the world), and Hot Stuff (that little devil) are all available, even a Harvey Girls compilation with the "littles": Little Dot, Little Lotta, and Little Audrey. Again, for kids just getting into comics, these are short, sweet stories that make for fun reading without being tied to mounds and mounds of merchandising for the latest 4-D blockbuster. [Gwen Ihnat]
19. Crime Does Not Pay
As mentioned above, pre-Code true crime comics could get completely dark and twisted, but they also make for an awfully compelling read if you're into that sort of thing (just admit it). The current collection anthology Crime Does Not Pay offers compilations of some of the greats. Its gruesome, true-life stories about rampant juvenile delinquents and real-life criminals like John Dillinger may even appear tame by today's comic standards. Still, they're worth a look back to spot the Golden Age artists who learned their craft in crime, and also for a unique collection of the societal ills of the 1940s. [Gwen Ihnat]
20. EC Comics
Similarly, Dark Horse is currently releasing compilations of EC comics, a company that specialized in twisted tales of horror many decades ago. You will likely spy the impetus for many of today's horror films and series in titles like Tales From the Crypt, Weird Science, and The Vault Of Horror. The "E" in the company title eventually stood for "Entertaining" (after the less-engaging "Educational") and the company churned out the most engrossing titles imaginable for years, although younger readers would be inclined to leave the lights on afterward. [Gwen Ihnat]
21. Jack Kirby and Joe Simon
On the lighter side, who knew that the creators of Captain America would also be the forces behind one of comics' strongest genres for decades? Jack Kirby and Joe Simon brought their considerable comics-creating skills to romance comics, now helpfully collected by Fantagraphics in Young Romance: The Best Of Simon & Kirby's Romance Comics. Kirby uses his lifelike pencils to depict Lichtenstein-worthy heroines pining over these strong-shouldered men who love them. Although both men left romance for greener pastures, the romance genre continued into the '70s, offering fun crush-based perils for years with melodramatic headlines like "Love On The Rebound!" You can also find romance titles in the Digital Comics Museum, along with a number of other vintage titles worth exploring. [Gwen Ihnat]