Every year, San Diego Comic-Con takes a break from promoting movies and TV shows for the Eisner Awards, a ceremony dedicated to highlighting greatness in the world of comics. Now, the nominees for the 2016 Eisners have been announced, and it's a predictably impressive collection of books. As is usual for the Eisners, the big guys at Marvel and DC only grabbed a handful of nominations, including Silver Surfer and The Unbeatable Squirrel Girl at Marvel, and The Legend Of Wonder Woman at DC.
High-profile books that aren't about superheroes grabbed nominations as well, like Kelly Sue DeConnick and Valentine De Landro's Bitch Planet, Mark Millar and Sean Murphy's Chrononauts, as well as Simon Spurrier and Jeff Stokely's The Spire. Jason Aaron, Ed Brubaker, and G. Willow Wilson got nominations for Best Writer, while Laura Allred, John Rauch, and Dave Stewart are among the nominees for Best Coloring and Michael Allred, Erica Henderson, and Joëlle Jones picked up some of the Best Penciler/Inker noms.
You can see a select list of nominees below, and the full list is available at this link.
2016 Eisner Nominees
Best Short Story

"Black Death in America," by Tom King and John Paul Leon, in Vertigo Quarterly: Black (Vertigo/DC)
"Hand Me Down," by Kristyna Baczynski, in24 x 7 (Fanfare Presents)
"It's Going to Be Okay," by Matthew Inman, in The Oatmeal
G/O Media may get a commission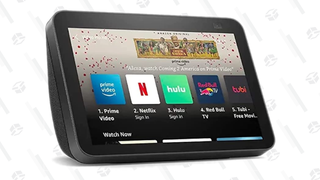 "Killing and Dying," by Adrian Tomine, in Optic Nerve #14 (Drawn & Quarterly)
"Lion and Mouse," by R. Sikoryak, in Fable Comics (First Second)

Best Single Issue/One-Shot
A Blanket of Butterflies, by Richard Van Camp and Scott B. Henderson (HighWater Press)
I Love This Part, by Tillie Walden (Avery Hill)
Mowgli's Mirror, by Olivier Schrauwen (Retrofit/Big Planet)
Pope Hats #4, by Ethan Rilly (AdHouse)
Silver Surfer #11: "Never After," by Dan Slott and Michael Allred (Marvel)

Best Continuing Series
Bandette, by Paul Tobin and Colleen Coover (Monkeybrain)
Giant Days, by John Allison, Lissa Treiman, and Max Sarin (BOOM! Studios/BOOM! Box)
Invincible, by Robert Kirkman, Ryan Ottley, and Cliff Rathburn (Image/Skybound)
Silver Surfer, by Dan Slott and Michael Allred (Marvel)
Southern Bastards, by Jason Aaron and Jason Latour (Image)

Best Limited Series
Chrononauts, by Mark Millar and Sean Murphy (Image)
The Fade Out, by Ed Brubaker and Sean Phillips (Image)
Lady Killer, by Joëlle Jones and Jamie S. Rich (Dark Horse)
Minimum Wage: So Many Bad Decisions, by Bob Fingerman (Image)
The Spire, by Simon Spurrier and Jeff Stokely (BOOM! Studios)

Best New Series
Bitch Planet, by Kelly Sue DeConnick and Valentine De Landro (Image)
Harrow County, by Cullen Bunn and Tyler Crook (Dark Horse)
Kaijumax, by Zander Cannon (Oni)
Monstress, by Marjorie Liu and Sana Takeda (Image)
Paper Girls, by Brian K. Vaughan and Cliff Chiang (Image)
The Unbeatable Squirrel Girl, by Ryan North and Erica Henderson (Marvel)
Best Humor Publication
Cyanide & Happiness: Stab Factory, by Kris Wilson, Rob DenBleyker, and Dave McElfatrick (BOOM! Studios/BOOM! Box)
Deep Dark Fears, by Fran Krause (Ten Speed Press)
Sexcastle, by Kyle Starks (Image)
Step Aside, Pops: A Hark! A Vagrant Collection, by Kate Beaton (Drawn & Quarterly)
UR, by Eric Haven (AdHouse)
Best Digital/Webcomic
Bandette, by Paul Tobin and Colleen Coover (Monkeybrain/comiXology)
Fresh Romance, edited by Janelle Asselin (Rosy Press/comiXology)
The Legend of Wonder Woman, by Renae De Liz (DC Digital)
Lighten Up, by Ronald Wimberly (The Nib)
These Memories Won't Last, by Stu Campbe
Best Anthology
Drawn & Quarterly, Twenty-Five Years of Contemporary, Cartooning, Comics, and Graphic Novels, edited by Tom Devlin (Drawn & Quarterly)
Eat More Comics: The Best of the Nib, edited by Matt Bors (The Nib)
24 x 7, edited by Dan Berry (Fanfare Presents)
Mouse Guard: Legends of the Guard, vol. 3, edited by David Petersen (BOOM! Studios/Archaia)
Peanuts: A Tribute to Charles M. Schulz, edited by Shannon Watters (BOOM! Studios/KaBOOM!)

Best Writer
Jason Aaron, Southern Bastards (Image), Men of Wrath (Marvel Icon),Doctor Strange, Star Wars, Thor (Marvel)
John Allison, Giant Days (BOOM Studios!/BOOM! Box)
Ed Brubaker, The Fade Out, Velvet, Criminal Special Edition (Image)
Marjorie Liu, Monstress (Image)
G. Willow Wilson, Ms. Marvel (Marvel)
Best Writer/Artist
Bill Griffith, Invisible Ink: My Mother's Secret Love Affair with a Famous Cartoonist (Fantagraphics)
Nathan Hale, Nathan Hale's Hazardous Tales: The Underground Abductor(Abrams)
Sydney Padua, The Thrilling Adventures of Lovelace and Babbage(Pantheon)
Ed Piskor, Hip-Hop Family Tree, vol. 3 (Fantagraphics)
Noah Van Sciver, Fante Bukowski, Saint Cole (Fantagraphics)
Best Penciller/Inker or Penciller/Inker Team
Michael Allred, Silver Surfer (Marvel); Art Ops (Vertigo/DC)
Cliff Chiang, Paper Girls (Image)
Erica Henderson, Jughead (Archie), Unbeatable Squirrel Girl (Marvel)
Joëlle Jones, Lady Killer (Dark Horse), Brides of Helheim (Oni)
Nate Powell, March, Book Two (Top Shelf/IDW)
Best Cover Artist
David Aja, Hawkeye, Karnak, Scarlet Witch (Marvel)
Rafael Albuquerque, Ei8ht (Dark Horse), Huck (Image)
Amanda Conner, Harley Quinn (DC)
Joëlle Jones, Lady Killer (Dark Horse), Brides of Helheim (Oni)
Ed Piskor, Hip-Hop Family Tree (Fantagraphics)
Best Coloring
Laura Allred, Lady Killer (Dark Horse); Silver Surfer (Marvel); Art OPS (Vertigo/DC)
Jordie Bellaire, The Autumnlands, Injection, Plutona, Pretty Deadly, The Surface, They're Not Like Us, Zero (Image); The X-Files (IDW); The Massive(Dark Horse); Magneto, Vision (Marvel)
Elizabeth Breitwiser, The Fade Out, Criminal Magazine, Outcast, Velvet(Image)
John Rauch, The Beauty (Image); Batman: Arkham Knight, Earth 2: Society(DC); Runaways (Marvel)
Dave Stewart, Abe Sapien, BPRD Hell on Earth, Fight Club 2, Frankenstein Underground, Hellboy in Hell, Hellboy and the BPRD, (Dark Horse);Sandman: Overture, Twilight Children (Vertigo/DC), Captain America: White(Marvel), Space Dumplins (Scholastic Graphix)

Best Lettering
Derf Backderf, Trashed (Abrams)
Steve Dutro, Blood-C, Midnight Society, Plants vs Zombies (Dark Horse)
Lucy Knisley, Displacement (Fantagraphics)
Troy Little, Hunter S. Thompson's Fear and Loathing in Las Vegas (Top Shelf/IDW)
Kevin McCloskey, We Dig Worms! (TOON Books)