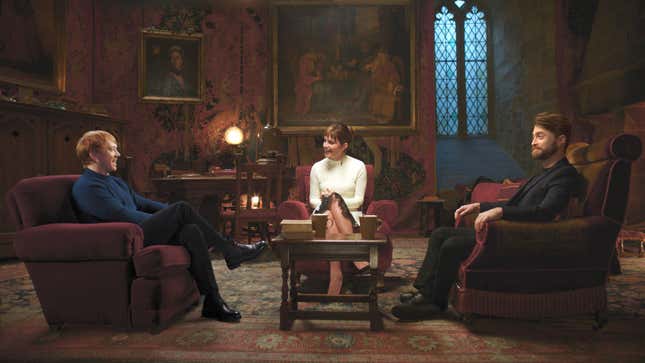 It's been over 20 years since Warner Bros. Pictures released Harry Potter And The Sorcerer's Stone, the first film based on the bestselling young adult fantasy novels revolving around the titular "boy who lived" and his classmates at Hogwarts School Of Witchcraft And Wizardry. Though the Potterhead fandom is no longer what it was when the final film, Harry Potter And The Deathly Hallows: Part 2, arrived in 2011, the Hogwarts Express was the next sensible stop for HBO Max's current run of hit reunion specials. Harry Potter 20th Anniversary: Return To Hogwarts is a reunion special billed as a "making-of" story. However, the reunion's selling point is the cast, and the first time the erstwhile Harry, Hermione, and Ron—Daniel Radcliffe, Emma Watson, and Rupert Grint, respectively—have shared the screen in 10 years.
Unlike HBO Max's other "let's gather everyone together" exercises, the Harry Potter reunion (which runs a feature-length hour and 43 minutes) leans into its cinematic roots. After a magical opening leading to Warner Bros. Studios London's recreated Harry Potter sets, viewers are treated to artfully staged mini-meetups in the various museum exhibits. The cast members reminisce about old times, and talking head interviews run through significant moments of all eight films.
Little here is new for the hardcore Potterhead. The difference is that it's the cast addressing the experience for the first time. Read on for five key takeaways from the special.