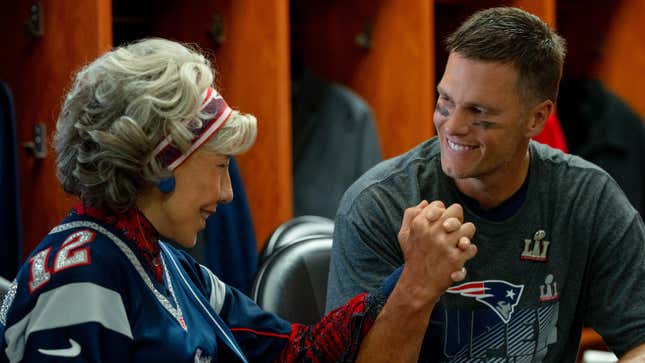 80 For Brady had plenty of time for stroking the ego of producer/co-star Tom Brady—one of the most acclaimed athletes in the world, and therefore someone who definitely needed the boost—but one thing it apparently did not have time for was a kiss between two gay characters played by M3GAN's Brian Jordan Alvarez and Olympic skier Gus Kenworthy. That's what Kenworthy told Variety, at least, saying his cameo in the film originally involved him "making out" with Alvarez, and that some of the takes "got raunchy" as the two of them started to ad-lib more.
Echo Kellum on "Grand Crew," "The Rehearsal," and more
None of the making-out made it into the film, but rather than blaming it on what we all assume about Tom Brady's politics, Kenworthy has a different (and more condescending) take: "They said they had to cut it for time, but I think they cut it for Middle America." This is just one little quote, and this is hardly Kenworthy's responsibility anyway, but maybe we could blame stuff like this on the executives who decide to cut kisses between two men rather than insisting that everyone who lives between New York and Los Angeles is some kind of aggressively ignorant slug monster. You're the ones who make movies! Stop acting like Tim Robinson in a hot dog suit asking who crashed the hot dog car into the gay kiss scene in your movie!
Also, if this is the justification we're going with, do we really think "Middle America" cares that much about Tom Brady in the first place? Many of these culture-free flyover states have their own football teams (And museums! And libraries! And arthouse movie theaters!), so maybe they should've cut out Tom Brady entirely, replaced him with some regionally appropriate football icon, and used CG to put different matching jerseys on Jane Fonda, Lily Tomlin, Rita Moreno, and Sally Field. If you don't want to offend anyone, that's the way to do it.