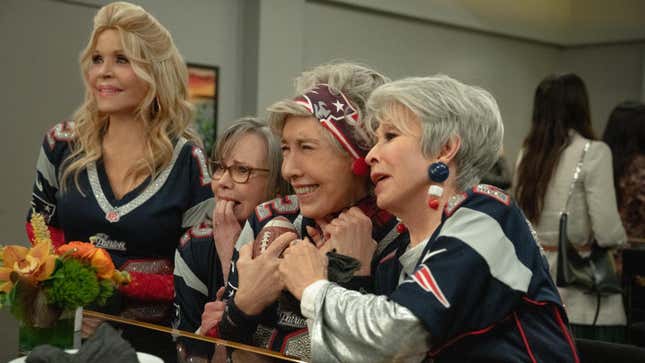 Avatar: The Way Of Water is done. Welcome to a new era of box office domination, one where Tom Brady and M. Night Shyamalan are the ones breaking records and rocketing up the list of biggest movies of all time… though, granted, neither of them have broken any records or made any impression on the all-time box office list the way Avatar has… and they almost certainly won't… but, at least for this weekend, they both managed to top The Way Of Water at the domestic box office!
For the first time in about two months, something new is the number one movie in America: Shyamalan's Knock At The Cabin, which opened to $14 million and was followed somewhat closely by 80 For Brady (the film that dares to ask: What if there was a popular athlete named Tom Brady?) with $12 million in its debut. Then we have the real stinky stinker, Avatar: The Way Of Water, which made a pathetic $10 million this week (and has made over $630 million in the U.S. alone after eight weeks).
Below that is Puss In Boots: The Last Wish, falling just short of Avatar once again (it made nearly $8 million), and then BTS: Yet To Come In Cinemas, which made a respectable $6 million from only 1,100 or so theaters (compared to Cabin's 3,600). The rest of the list largely follows a pattern from previous weeks, with the one standout being a rerelease of the first two episodes of Churchy show The Chosen's third season, which screened in theaters near the end of last year. They're back now, for some reason, and they made over $3 million (meanwhile, the similarly Churchy Left Behind: Rise Of The Antichrist dropped over 90 percent from its surprise debut in the top 10 last week, making less than $200,000).
The full top 10 list from Box Office Mojo is below.
Knock At The Cabin
80 For Brady
Avatar: The Way Of Water
Puss In Boots: The Last WIsh
BTS: Yet To Come In Cinemas
Missing
The Chosen Season 3: Episode 1 & 2