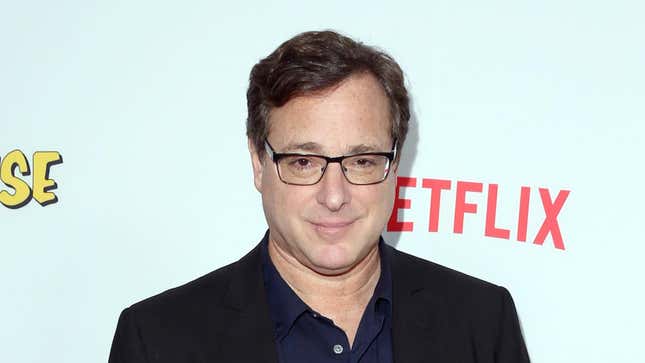 It's been a bit more than two months now since Bob Saget died, very suddenly, at the age of 65. Throughout that time, tributes to the veteran stand-up and Full House star have continued to pour out, as both fans and friends have expressed their love for a performer who could slide between wholesome and filthy at a moment's notice.
John Stamos wants you to give Lori Loughlin a break, ok?
Now Netflix is apparently getting in on the action, with Uproxx reporting that the streamer has picked up a stand-up and music special filmed by several of Saget's friends in the aftermath of his death. Specifically, this comes courtesy of podcast Dystopia Tonight With John Poveromo, where Saget's old friend Mike Binder came on to talk about his buddy—revealing the Netflix deal in the process.
Held on February 1 at the Comedy Store in West Hollywood, the show was a star-studded event, featuring appearances from folks like Chris Rock, Jim Carrey, John Mayer, and more, all paying tribute to Saget with the help of Binder and co-host John Stamos. The event was organized by Saget's widow, Kelly Rizzo, with proceeds going to the Scleroderma Research Foundation, a group Saget supported for years, after his sister died of the disease.
On the podcast, Binder stated that he ended up showing portions of the special to executives at Netflix, who purchased it pretty much on the spot.
Although no precise details have been released, Binder suggested the special would probably debut at Netflix's Netflix Is A Joke comedy festival before airing on the streamer. In addition to comedy, the special will also feature musical performances from Mayer and Jackson Brown—as well as a group rendition of Saget's song "My Dog Licked My Balls," the traditional closer for his stand-up sets.
Saget was found dead in a hotel room on January 9, 2022; his cause of death was later reported as being head trauma.