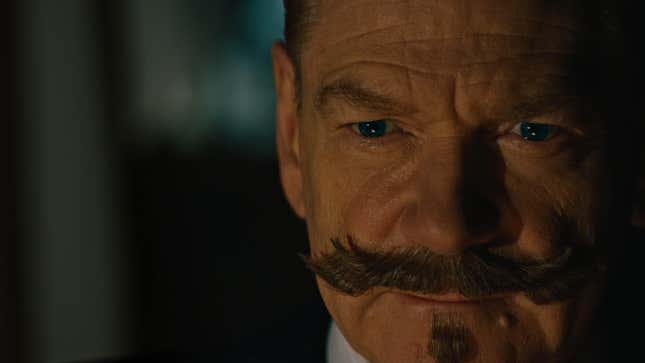 Agatha Christie adaptations continue to prove popular in several mediums so it's not surprising that Kenneth Branagh's version of Christie's Belgian sleuth, Hercule Poirot, is back for a third go-round. As with his previous two films, A Haunting In Venice is directed by Branagh who also stars as Poirot. And per usual, the ingredients remain the same; there's a mystery, someone dies, and a plethora of familiar faces from TV and film play the suspects. Familiarity can draw in audiences but sometimes it also can draw their contempt if it's not what was expected. No problem here; this is more or less exactly like its predecessors. Though it might have proven more successful if Branagh had offered a surprise or two instead of relying on a proven formula.
"Glass Onion" director Rian Johnson talks Agatha Christie
A Haunting In Venice is based on Christie's 1969 novel "Hallowe'en Party" and sees Hercule Poirot retired and struggling to fill his days despite being in one of the most beautiful cities in the world. Before long he's pulled back in by a frenemy, the novelist Ariadne Oliver (Tina Fey). A writer of mysteries clearly inspired by Christie herself, Oliver invites Poirot to uncover the ways of a medium (Michelle Yeoh) who claims to communicate with the dead. The pair are off to seance at a huge palace on the outskirts of Venice where the bulk of the story takes place. Witchcraft and spiritualism? Perhaps this is not the usual Poirot mystery. No fretting necessary, though. A Haunting In Venice sticks to the tried and true. There's an assortment of characters, each with a mysterious backstory and hidden motives. Of course someone is murdered and the rest become suspects. These include characters played by Kelly Reilly (TV's Yellowstone), Jamie Dornan (Fifty Shades Of Grey), Camille Cottin (TV's Call My Agent) and the kid from Branagh's Oscar winning Belfast, Jude Hill.
Part of the fun of these films is watching movie stars. Familiar faces with gestures and mannerisms audiences know so well they can tide over a weak script or an easily resolved mystery. The first of Branagh's movies had bold names like Michelle Pfeiffer, Penelope Cruz, and Willem Dafoe. Even the Christie adaptations of the 1970s featured golden age icons like Bette Davis and Lauren Bacall. But the star wattage has been diminishing with each new Branagh film. In this one, recent Oscar winner Yeoh gets the big star treatment —she's someone all the characters keep talking about before their grand entrance, then they come out shrouded in darkness with a bait and switch until the famous face appears from the shadows. But after that grand introduction, Yeoh's hardly in the movie. Fey has a juicier part as Poirot's nemesis but is only used as a quip-dropping machine, as if she wandered onto this 1940s set from an adjacent one of a contemporary comedy by mistake. And through no fault of theirs, actors like Reilly and Dornan just haven't yet formed a lasting bond with audiences that would make their mere appearance an event. They give credible performances but nothing that fills the screen with grandeur.
So it's left to Branagh himself to carry the weight of the film. The director certainly gives the actor lots of room with many close-ups. However with this being his third outing as the character, there's not that much that can be discovered anew. The script doesn't offer him—or any of the actors—enough to play with. The whodunnit is easily guessed and the characters are merely archetypes. So everyone resorts to histrionics and overacting as they try to infuse life into this dull affair. Additionally, the nature of such stories calls for long scenes in which characters explain what's happening, thus sagging the pace of the film. And since neither the characters nor the story are compelling, these scenes end up feeling much longer than they really are.
Visually uninspired, A Haunting In Venice doesn't take advantage of being set in the titular city with the gorgeous canals. The main setting is a big, dark house that could be anywhere; nothing about it is especially Venetian despite being billed as a "palazzo." There's nary an interesting shot. In fact some of the askew angles Branagh and his usual cinematographer, Haris Zambarloukos, use to add a foreboding effect end up being just puzzling. Even the usually reliable composer Hildur Guðnadóttir delivers an unmemorable score.
With mystical elements and a foray into gothic storytelling, A Haunting In Venice could have been much more intriguing. Instead, Branagh and screenwriter Michael Green do not vary much from what they delivered in the other two movies. Perhaps they think they are giving their audience exactly what they want. They should've gone for more. Bigger characters, more opulent settings, and a better story overall. That's what a third outing calls for. Keep serving the same tired old formula and the audience might just stop watching.