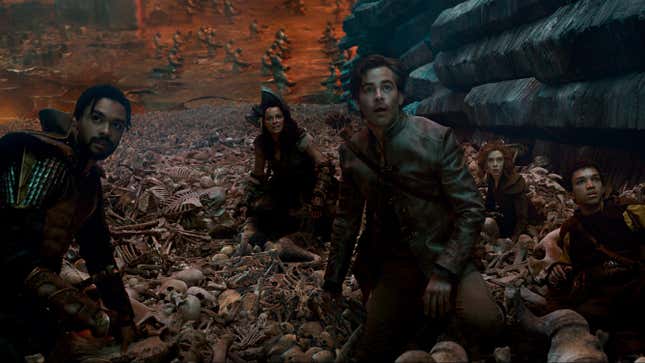 At some point in my youth I heard the old cliché that "beauty is in the eye of the beholder." For me—and probably for a great many other dorks—this was a moment of great clarity. You see, as a veteran of many noble campaigns in far-flung realms, I was already familiar with the concept of a Beholder—a giant, nefarious living eyeball (also known as an Eye Tyrant or Sphere of Many Eyes) from the original Monster Manual, Gary Gygax's hardbound collection of foes one might face in the world of (what was then called) Advanced Dungeons & Dragons. Lo! How this fiendish creature dwelled in my nightmares, ready to pounce should I ever let down my guard!

With great excitement, though, I proclaim that l'essence du Beholder is redolent in the thrilling and enjoyable Dungeons & Dragons: Honor Among Thieves. The entire picture exudes the wide-eyed (some might say immature) wonderment found around slobbering beasts and magic spells. No, you absolutely do not need to know a thing about D&D to like this. But if you have a familiarity with the Forgotten Realms, the 1980s D&D cartoon show, or if you're just a Led Zeppelin fan, there's something here for you. Otherwise, there's too much going on to ever feel left out.
Chris Pine, Hollywood's finest Chris, is in terrific form as the dopey bard-adventurer Edgin Darvis, leader of a clan of delightful thieves. At his side is Holga (Michelle Rodriguez) a kick-ass barbarian. We meet them already imprisoned after a botched robbery attempt. They aren't bad guys, per se, but they could use (and will get!) an ethical course-correction during the film. Along the way, they team up with a sorcerer (Justice Smith) and a druid (Sophia Lillis, who will make every young nerd's heart float), and encounter various rogues, wizards, paladins, undead warriors, obese dragons, displacer beasts, illithids, mimics, and lurkers.
What's key—and why this movie really gets it—is that the world is more important than the story itself. D&D has always been a case of the singer, not the song—the journey as much as the destination. It's a game system people have loved for decades, but without need of a board or a monitor. It's bullshitting with your friends. And this movie is two hours of glorious bullshit.

The film is written and directed by Jonathan Goldstein and John Francis Daly, whose previous enjoyable outings include the scripts for Cloudy With A Chance of Meatballs 2, Spider-Man: Homecoming, and writing-directing Game Night. One of the brilliant touches here is that our band keeps getting distracted by increasingly zany side quests. The primary goal is to rescue Edgin's daughter Kira (Chloe Coleman) from a castle tower. But to do that, they need a magic slate, which rests in a vault, but to get into the vault they need a charmed helmet, but to get the helmet they must engage in some necromancy, but to do that … well, it goes on and on.
Suffice to say, with this much buildup, the final battle needs to have some oomph, and it all comes together in clever and gratifying ways. Visually, Dungeons & Dragons: Honor Among Thieves is defiant in its determination to show action in daylight, and to maintain a buoyant color palette. (Even The Underdark isn't too dark!) When the effects-heavy sequences happen, you can actually see them, and that includes shots of a very entertaining fire-breathing winged creature who, like many of us, ought to renew his gym membership.
But the movie does have more to it than spells and beasts. Like every action-adventure property these days it's really about family. But the cast here is so charming that it's hard to roll your eyes too much. Indeed, the final scenes, in which our leader must make a difficult choice, are surprisingly effective. I won't go so far as to say tears were streaming down my eyes, but it all comes together in a way that, while you can still see it a mile away, doesn't feel too corny.
Since the release of the (spectacular) Star Trek Beyond in 2016 there's been talk of bringing Chris Pine back to the bridge of the USS Enterprise. With the release of Dungeons & Dragons: Honor Among Thieves, that's less of an issue now. He's found a new game to play.