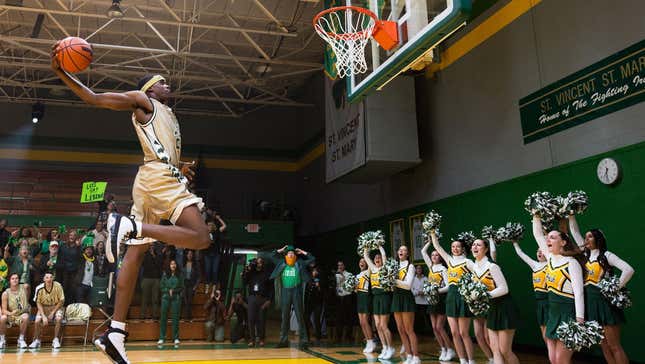 The best kings are benevolent; LeBron James (nicknamed King James from his time in the youth leagues of Akron, Ohio) displayed this trait from his earliest days, both on the court in real life and in fictional form in this movie, which isn't about LeBron James, per se, at all. Shooting Stars is based on the biographical book by James and Pulitzer Prize-winning author Buzz Bissinger (Friday Night Lights). Both book and movie make clear that the legacy of the basketball star began in his pre-teens and includes several folks who will not go without recognition if James has anything to say about it—and as the producer of Shooting Stars he did.
Caleb McLaughlin talks "Stranger Things" and "Shooting Stars"
In 2003, a teenage James (played here by an excellent Marquis "Mookie" Cook) and his teammates at St. Vincent-St. Mary High School in Akron, became the number-one high school basketball team in the nation. It was the culmination of James' stellar high school career, and it launched an astounding journey that led to James becoming a four-time NBA champion, the league's all-time leading scorer, and a two-time Olympic Gold Medalist. Not to mention a venerated civil and human rights activist, successful businessperson, and all-around good guy.

Shooting Stars isn't about any of that. Some parts of LeBron's professional career are told in truncated form with a few figures left out or combined for cinematic purposes, but that's it. And the film is better for focusing on relationships rather than on the easy highs of watching fast breaks and slam dunks.
Instead, the story of this movie is the story of how James' talent and tenacity were cultivated by his inner circle: his single mother, Gloria (Natalie Paul); his first real coach, Dru Joyce II (Wood Harris); his teammates, Lil Dru Joyce, (Stranger Things' Caleb McLaughlin), Willie McGee (Avery S. Wills, Jr.), Sian Cotton (Khalil Everage), Romeo Travis (Scoot Henderson); and his high school coach, Keith Dambrot (Dermot Mulroney). It's these relationships and circumstances that Shooting Stars is about, with the narratives of individuals not named LeBron James often at the center of the film. James, though, is the force around which all things gravitate.
The film follows James from age nine, when he and the boys who would become his extended family on the court and off were introduced to basketball. After winning at the pre-high school level, the four youngsters chose to attend the same high school and—for reasons that are quite moving and, in real life, controversial—picked St. Vincent–St. Mary High, a private Catholic school with a predominantly white student body.

The Fab Four—as they would call themselves—immediately stand out beyond their balling skills as they are African Americans from the hood in a school with few Black kids. They meet a few other Black kids on the basketball team who are not particularly happy about the new Black kids on the block, sparking an internecine rivalry for team dominance with the only other African American students in the school.

Shooting Stars is the oft-stirring tale of James' life during this period. LeBron is so clearly going to achieve his hoop dreams that the story becomes what will happen to everyone around him, including his teammates and coaches, and even his girlfriend and future wife. This plays out in several familiar scenes involving boys and sports. But beyond the games is a movie about young Black kids with basketball dreams—and dread—whose lives are not so certain. Lil Dru, at 5 feet 3 inches, is not seen as having NBA potential (even by his father) and he feels the need to prove that he can play with the big boys; Willie McGee knows that his once dominant skills aren't anymore, while James, even as he exceeds all expectations, laments a possible future without the only teammates he's ever known.

Some sports films are about wins and losses. Others are not about sports at all. You can tell the difference by how you feel when the movie ends and the team or player you're rooting for loses. If you're invested in the character as an individual and not as a sports figure, that sports film was not about sport. Rocky loses, and we love him all the more—because Rocky is ultimately not about boxing. King James, as it happens, mostly wins, but not always. Shooting Stars is about how he and his teammates react to losing games and losing faith in each other.

The basketball games in Shooting Stars are cheaply staged, played for maximum dramatic effect, and don't matter at all. They are merely the moments when these boys, who may or may not become basketball stars, establish their character and moral quality. Wisely and somewhat surprisingly, Shooting Stars is about that process and those people.

With the elimination of James and his Lakers in the 2023 Western Conference finals just before the release of Shooting Stars, LeBron's stoic acceptance of the loss is a lesson he learned as a young boy. The lesson is this; it's good to be the King, but it's better to remember that he got to be the King with the help and love of family, friends, and teammates. This is the story of Shooting Stars and it's a story told well.
---
Shooting Stars streams on Peacock starting on June 2