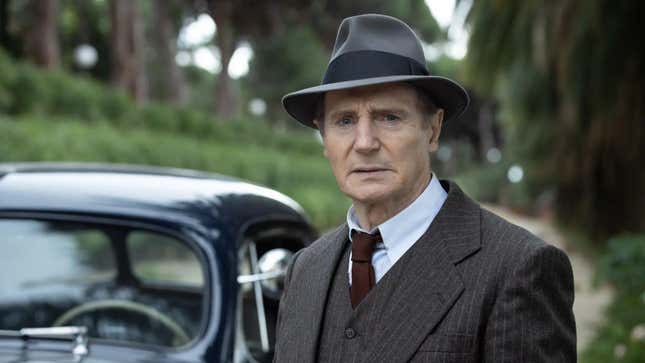 The dark and violent world of Raymond Chandler's durable hard-boiled private detective Philip Marlowe brings many descriptors to mind. Tough. Two-fisted. Cynical. "Elegant" comes far down that list. But a small elegance, expressed in decent production values, terse pacing and long lateral camera takes, is the main thing director Neil Jordan has to offer in the mostly misguided Marlowe, the latest of perhaps too many attempts to pour the old wine of Chandler's fiction into new bottles, and then sell the resulting concoction as vintage.

Christopher Walken joins "Dune: Part Two"
Marlowe is an odd duck of a movie. It features recognizable genre contours, including treacherous blondes; thrust-and-parry dialogue that plays as sexual flirtation even when it's straight exposition; and Philip Marlowe getting stomped on and (nearly) drugged. It's also very "meta." But at this point, so are Marvel movies; self-reflexivity might be the most "old school thing" Marlowe has to offer.
This is neo-noir written by chatbot, or an Edward Hopper painting reimagined by DALL-E 2. Here, Spain doubles wobbly for Los Angeles, and a 70-year-old Liam Neeson assays a character who is 38 in the original fictions. The bleariness of it all makes for a hazy memory of somebody's better movie. No wonder Jordan has called Marlowe something like a science-fiction flick, and cited as his main influence not Chandler but Ridley Scott.
G/O Media may get a commission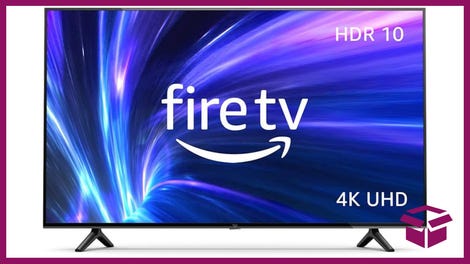 42% Off
Amazon Fire TV 50" 4K Smart TV
In this telling, Marlowe is chasing down a missing man who may have been murdered—a two-bit lothario and sometime movie prop master named Nico Peterson, ex-lover of Clare Cavendish (a brittle Diane Kruger, whose chemistry with Liam Neeson is daughterly at best). Clare was a perfume heiress in the source novel, but here she's the daughter of a former screen siren (Jessica Lange) whose life has been entangled for years with an Irish American movie mogul.

Working from a well-reviewed and estate-authorized 2014 Marlowe novel by John Banville, Jordan and script collaborator William Monahan toss Banville's traditionalist Bay City milieu for a Tinseltown frisson barely suggested in the source—often to bizarre effect. A black chauffeur is an unlikely fan of Nazi propagandist Leni Riefenstahl, and based on the billboard signage, in the era of Gone With the Wind, The Philadelphia Story and The Wizard of Oz, the hit of the season appears to be a Mexican Spitfire B-picture starring Lupe Velez. Danny Huston is cast as a heavy, one of many nods to John Huston's The Maltese Falcon, which somebody needs to tell Jordan is a movie about detective Sam Spade.
Perhaps grounding his noir homage in a world of vintage movie production is Jordan's attempt to exorcise or at least acknowledge the Hollywood ghosts of Humphrey Bogart, Dick Powell and Robert Mitchum. Bogie, Powell and Mitchum are cinema's triumvirate of Marlowe archetypes. Their trench-coated silhouettes from Murder My Sweet, The Big Sleep and Farewell My Lovely loom over everything—even the Marlowe novels that pre-dated them—the way Connery's sneer and Craig's pout now loom over everything James Bond.
If clearing the table of old icons is the point, it doesn't work. It can't. Because as Philip Marlowe, Liam Neeson is woefully—make that balefully—miscast, by any yardstick other than Chandler's description of Marlowe's excessive height. Give Liam credit for trying, though. Marlowe is reportedly his 100th movie, and he's not phoning it in exactly, but rather falling into an obvious acting trap.
Marlowe has seen it all—he's a voyeur of the very worst human behaviors, and he's world-weary to a fault. Liam is just plain weary—laconic, not iconic. Where Bogie and even a comparably aged Robert Mitchum were able to convey Marlowe as a man who at least remembers what caring felt like, Neeson is going through the motions of going through the motions. And the age thing doesn't help. The only time Neeson's Marlowe seems truly vulnerable is when he talks about the possibility of regaining his police pension. "I'm getting too old for this" he moans after a fistfight, tempting audience agreement with the very phrase.
It says something tiresome but perennial about the real Hollywood that Liam at 70 years old is still castable as something like a romantic lead, while his co-star Jessica Lange is depicted as a hag past her prime at age 73. As Dorothy Cavendish, Lange serves no discernible plot function in Marlowe, except to tell us how wicked she is and to provide a rhetorical focus for Clare's alleged mommy issues. But Lange does get off a few solid one-liners, as when she sums up Hollywood stardom by saying "All you need are regular features and the ability to read." Later she adds, "The key to Hollywood is knowing when the game is up," reflecting on her own faded glory. The makers of Marlowe and the Chandler estate that sanctioned it should reflect on that subject too.