There's a lot of music out there. To help you cut through all the noise, every week The A.V. Club is rounding up A-Sides, five recent releases we think are worth your time. You can listen to these and more on Spotify.

Note: We've started a new A-Sides playlist for the new year, so be sure to re-subscribe at the link above.
---
James Blake featuring André 3000, "Where's The Catch?"

[Republic, January 18]
James Blake's new Assume Form is about as quiet as an event album comes, the latest missive in an impressionistic, gentle-hearted career. As with anything so understated, it's possible to read a lot of narratives into the album, but one of the most fun is the way Blake continues to let high-profile guests tug his deeply internal music in new directions. To wit: The way André 3000 punctures the mid-album's effervescent, lovesick swoon with a four-on-the-floor verse about the quiet doubts that linger in any relationship. The happily semi-retired rapper's flow on "Where's The Catch?" isn't what it once was, but his writing is as sharp as ever, particularly a closing couplet reminding us that gold and dirt aren't too far apart. As ever, Blake's taste is immaculate: Who better to view a relationship's bittersweet totality than the man behind "Ms. Jackson"? [Clayton Purdom]
Editor's note: Advances of Assume Form were not made available to press, so we're just now hearing it today, too. Look for our featured review in the next few days.
---
[Jagjaguwar, January 18]
"Anyone looking for tidy narratives won't find them in Remind Me Tomorrow, as the album isn't concerned with backstories or motivations. Instead, its 10 songs are much more focused on how their protagonists are dealing right now, in the present, with triumphs, traumas, and new beginnings. This approach leads to rich songs with lyrics probing the liminal space where resolution isn't clear—but emotional reactions crackle on the surface like tingling electricity… One of [Sharon Van Etten]'s most focused efforts to date, 'Comeback Kid' is a Siouxsie And The Banshees-inspired synth-goth gem with comet-streaked Farfisa keyboard. The direction reflects a creative evolution of sorts for Van Etten, who composed music using keyboards because she needed a break from guitars after scoring the 2016 film Strange Weather. In fact, her guideposts for producer John Congleton included Nick Cave's Skeleton Tree, as well as Suicide and Portishead. Unsurprisingly, Remind Me Tomorrow ended up dusky and moody, and steeped in vibrant beats and layers of grayscale synths."
Read our featured review of Remind Me Tomorrow here.
G/O Media may get a commission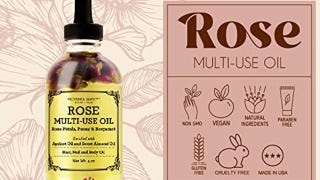 Provence Beauty Rose Multi-Use Oil
---
[Unseen Worlds, January 18]
Thanks to the Voyager Golden Record, Laurie Spiegel's music has been to outer space, but her sophomore album Unseen Worlds is a journey through interior chasms and voids that are nearly as infinite as the great beyond. The album was originally slated for release in 1991, eleven years following The Expanding Universe, a benchmark for early ambient electronic music, but label woes kept it virtually out of print until this week's reissue. This suite of songs was largely created using Music Mouse, an algorithmic software system Spiegel devised for her own compositions, and the spaces she conjures with it suggest a vastness that extends far beyond the range of your speakers. These are spacious, unpopulated worlds that beckon without begging, where sounds that seem to suggest stasis reveal themselves to be bustling nodes of activity, all of it balanced right on the precipice of sublime beauty. Despite all those years on the shelf, Unseen Worlds' warring microtones and hushed awe make it feel remarkably fresh. [Marty Sartini Garner]
---
We're collecting our A-Sides recommendations over on a Spotify playlist updated every Friday. Tune in and subscribe to the new 2019 list here.
---
[Carpark, January 18]
It's been a blast to witness Chaz Bear's evolution as Toro Y Moi over the last decade or so. His chameleonic forays into house, R&B, hip-hop, pop, and psych rock have consistently expanded his sound without ever feeling put-on, a seamlessness thanks in part to his skill behind the boards. His productions can feel astonishingly effortless, to the point that a breezy LP like Outer Peace might be dismissed as slight or superficial. But it's low-stakes by design: These are playful, gravity-defying tracks, ranging from Daft Punk-inspired disco ("Ordinary Pleasure") to progressive R&B (the swooning ABRA collab "Miss Me"), expressly intended to balance the weight of your everyday hustle. It's music to get you through work or traffic with a little more, well, peace, thoughtfully layered so that you can dip in and out of the details as you like. [Kelsey J. Waite]

---
Weyes Blood, "Andromeda"
[Sub Pop, January 17]
Whether you're bracing for a blizzard this weekend or you've never even seen snow in real life, Weyes Blood has you covered. "Andromeda," singer-songwriter Natalie Mering's first new solo material since 2016's Front Row To Earth, would be equally dreamy as the soundtrack to gently falling snow or cold desert stars. Opening with a warbling soft-rock melody cut with sharp drum machine, the track continues its blending of hard and soft by layering gauzy dream-pop organ and lonesome slide guitar, braiding them together with Mering's mellow vocals for an effect that's both retro and very of the moment. [Katie Rife]