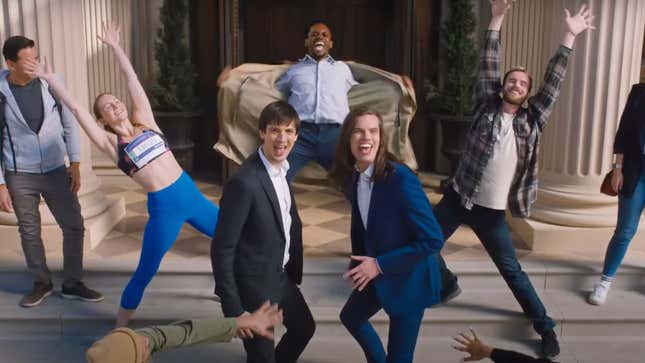 It's been a tough few years for the good ol' movie musical. Dear Evan Hansen was a maudlin, miscast mess. In The Heights was beset with accusations of colorism and misrepresentation. Cats was... Cats. What's a person with a song in their heart to do?
Judy Garland's previously missing Wizard of Oz dress to be auctioned off
Luckily for theater kids current and former, it looks like a new renaissance is on the horizon. Exciting casting keeps rolling out for the upcoming Mean Girls musical adaptation. Despite shut-down and scandal, hype has only grown for Jon M. Chu's massive, two-part Wicked adaptation. (Hey, Ariana Grande's showmance is fulfilling a time-honored theater tradition!) And now, a new player has arrived on the scene to shake things up—potentially recreating the infamous Wicked vs. Avenue Q Tony showdown of 2004?
Enter: Dicks: The Musical.
Yup! Dicks: The Musical. And—unsurprisingly—it's as chock full of not-so-innuendo as its spiritual, puppet-filled predecessor (or something like Book Of Mormon, if that's more your speed). "Life's a fucking handjob, and I only play to win," is a real lyric that scores a big, bright dance number (you can probably guess the choreography), so that's the energy we're playing with here. And—far more surprising than any of the dirty humor—it actually seems... good? And well-crafted? And fun? Theater kids really are winning.
It's clear that The Opposition alums Aaron Jackson and Josh Sharp—who penned the upcoming A24 feature based on their two-man stage show F***ing Identical Twins: The Musical—have done their homework. Take a shot from just the first few seconds of the trailer, which overflows with visual gags and in-jokes throughout. (We won't spoil any more of them for you.) As the pair sing their get-to-know-us song ("My cock is fucking massive..." of course), posters for new musicals "Time Share," "My Queer Lady," and "Lube" adorn the wall—blink-and-you'll-miss-it references to Rent, My Fair Lady, and Grease respectively. It's like if Bojack Horseman did a musical. It's great.
As for plot, it's really just The Parent Trap. But with grown men. And Bowen Yang as God. And Megan Mullally and Nathan Lane as a mismatched "couple." And two weird little puppets called the "Sewer Boys" for some reason. And Meghan Thee Stallion essentially just playing Meghan Thee Stallion. In other words, this might be the movie of the year. You'd better hold onto your crown, Wicked!
Dicks: The Musical premieres September 29.