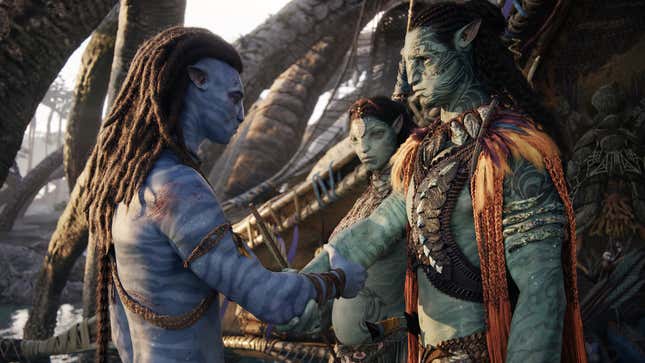 Everyone loves those Avatar movies, with the graceful and nature-loving Na'vi and the brave former-human Jake Sully, but at the same time… those nice Na'vi from the forest in the first movie and those water Na'vi in Avatar: The Way Of Water are very uncool. And Jake Sully? Pshaw! He's hardly as tough as Arnold Schwarzenegger in the Terminator movies. Well, good news: Avatar 3 is going to introduce some awesome fire-themed Na'vi who will make all the other Na'vi look like total assholes. (We're just having some fun, the other Na'vi and Jake Sully are all very cool.)
James Cameron shared that tease himself during an interview with French outlet 20 Minutes (via Total Film), saying that the third Avatar movie will feature what he calls the "Ash People," who represent a different part of Na'vi culture. "So far," he noted, "I have only shown their good sides," adding, "in the early films, there are very negative human examples and very positive Na'vi examples," and "in Avatar 3, we will do the opposite." Hell yeah, bad fire Na'vi! Watch your back, Jake Sully! You're gonna get roasted.
The implication seems to be that Avatar 3 will feature Na'vi fighting Na'vi for the first time, or at least regular non-Avatar Na'vi fighting regular non-Avatar Na'vi for the first time. That could be an interesting evolution of the (seemingly) straightforward themes of these Avatar movies—which, so far, has mostly been "the greedy, war-mongering humans are bad and the peaceful, nature-loving Na'vi are good." But what happens when some of the Na'vi are greedy or war-mongering? Or what if they've heard about this Jake Sully guy and they blame him for screwing up Pandora and stealing all of their Unobtanium and magic whale guts?
Avatar 3 is supposed to come out in 2024, so we won't have that long to wait.