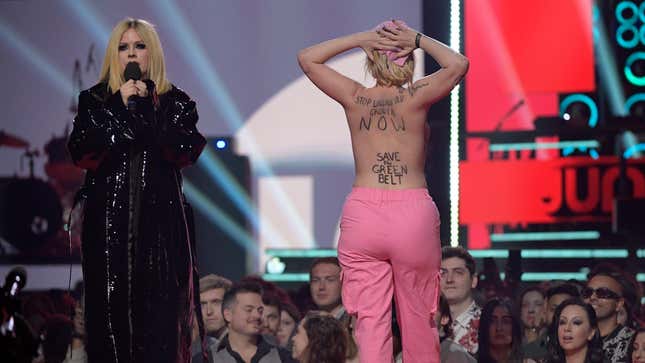 Why does attention-grabbing youth activism have to make things so complicated? Although Avril Lavigne likely wasn't imagining having to share stage time with a climate change protestor when she wrote her 2002 hit, a run-in during Monday night's Juno Awards in Edmonton, Canada, certainly brought to mind her enduring question.

Kenny Loggins on "Playing With The Boys" and "Danger Zone"
As Lavigne introduced fellow Canadian musician AP Dhillon as part of the country's premiere music awards, a protestor clad in pink pants, a pink bandana, and body paint spelling out phrases like "Land Back" and "Our Clock Is Ticking" upstaged her with what seemed to be a stint highlighting the urgency of climate change activism.

"Get the fuck off," Avril responded to the interruption. "Get the fuck off, bitch!"
G/O Media may get a commission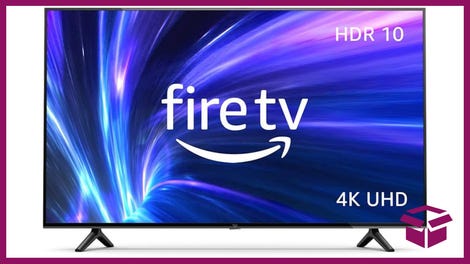 42% Off
Amazon Fire TV 50" 4K Smart TV
The phrases "Stop Logging Old Growth Now" and "Save the Green Belt" were emblazoned across the protestor's back. The latter slogan references a protected strip of Mississauga Ojibwa First Nation land located in Ontario—in December, the Mississaugas of the Credit First Nation publicly called on the Ontario government to repeal housing legislation that would affect the Green Belt. In the letter, the federation wrote that the government "has a legal obligation to consult with Aboriginal peoples" over decisions made surrounding the land, especially large-scale changes that would "adversely impact asserted or established Aboriginal or Treaty Rights."
Although the protestor's causes clearly deserve both awareness and action, the method they used to achieve those things didn't exactly land at the awards— especially not with Lavigne. As security escorted the still-unidentified protestor off the stage (and ostensibly off the premises), Lavigne also offered up a classically scrappy— if slightly head-scratching—threat: "Now nobody try anything this time or the Canadian's gonna come out of me and I'll fuck a bitch up." With all respect due to the angsty, mouthy mastermind behind "What The Hell:" since when are Canadians known for their angry volatility?