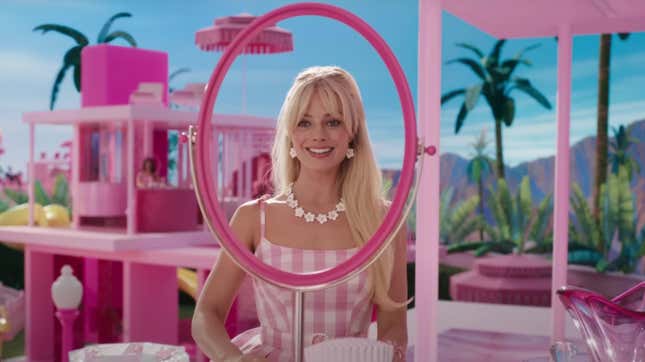 In 1959, a mere 64 years before the release of Greta Gerwig's Barbie, Mattel's signature doll hit store shelves for the first time and quickly became a Rorschach test for many girls and women as they transposed their own identity onto a plastic plaything. The small-scale doll was created by company co-founder Ruth Handler—pulling inspiration from Germany's Bild Lilli doll—as a way to empower girls like her daughter Barbara (the brand's namesake) to use their imagination in creating limitless worlds where they can be and do anything they want. It revolutionized play patterns for pint-sized consumers who weren't just seeking the pretend solace of motherhood and domesticity. Yet for some adults, this tiny wonder represented an unattainable, manufactured version of perfection, subsequently transforming her into a lightning rod for controversy and feminist critique.
You can now buy a Weird Barbie — but isn't that missing the point?
Nevertheless, Barbie persisted, blessedly changing with the increasingly enlightened times, diversifying her size and skin tone to become a more inclusive toy line. Co-writer and director Greta Gerwig repackages these goods in Barbie, her hilarious and heartfelt homage to the brand. By lovingly lampooning corporate missteps along with celebrating the successes, the film's self-effacing humor, out-of-the-box smarts, and emotional potency strike the right tone. Gerwig and her creative collaborators—including co-writer Noah Baumbach—not only give the formerly inanimate figure a sparkling personality and a pastel-shellacked pop-art playground, they also deliver genuinely meaningful sentiments surrounding the complexities of gender politics. It's the year's best tear-jerking, thought-provoking comedy.
Stereotypical Barbie (Margot Robbie) has always had the quintessential Best Day Ever. She's awakened each morning by a song (Lizzo's "Pink" provides her daily mojo), dines on perfect meals, wears the cutest fashions, and hangs out with her fellow Barbies (played by Issa Rae, Hari Nef, Emma Mackey, Alexandra Shipp, and Nicola Coughlan) and Kens (played by Ryan Gosling, Simu Liu, Kingsley Ben-Adir, and Scott Evans). There's also Ken's friend Allan (Michael Cera) and Barbie's pregnant friend Midge (Emerald Fennell), whose presence is purposeful even though their dolls were both discontinued. In the plastic fantastic Malibu-meets-Miami enclave of Barbie Land, all jobs are held by women while the men exist to frolic on the beach and the dance floor. It's a fantasy utopia without walls or negativity.
That is until Stereotypical Barbie begins suffering from the throes of an existential crisis manifested in the form of bad breath, too-cold showers, flat feet, and pervading thoughts of death. Hoping for a quick fix, she pays a visit to Weird Barbie (Kate McKinnon), a spiky-haired, shaman-like Barbie that's been "played with too hard." Weird Barbie advises her to go into the Real World to find the person playing with her in doll form and cheer them up so life can return to normal. However, when Stereotypical Barbie and a stowaway Ken (Gosling) arrive in Southern California, they face fish-out-of-water hijinks while dealing with humans' dysfunctional nature stemming from patriarchal toxicity, loss of adolescence, and adult disillusionment.

Since Gerwig and Baumbach are telling a story of a doll who has encapsulated all walks of womanhood over six decades, they find narrative weight in a multitude of supporting angles. In addition to Barbie's main odyssey, there's a mother-daughter story between surly tween Sasha (Ariana Greenblatt) and her deflated mom Gloria (America Ferrera) that's touching and empowering. There are also heady statements about artistic creation, both in the visuals (one recalls Michelangelo's Creation of Adam) and in Stereotypical Barbie's relationship with her god-like creator, Ruth Handler (Rhea Perlman), who receives her share of ribbing. Initially defining the tertiary Barbies by their profession speaks satirically to all the one-dimensional female characters we've seen before in cinema, only here they're given space to grow and acquire a richer sense of internality.
The filmmakers don't pull any punches when skewering the commercialist underbelly of the brand. They allot screen time to a few ill-advised creations, like Tanner the pooping dog and Growing Up Skipper ("The doll who grows breasts!"). They make the all-male Mattel brass (led by Will Ferrell's CEO) look like buffoons tripping over themselves and their faux-feminism to put Barbie and womankind back in a box—both physically and metaphorically. Still, at times it talks out of both sides of its mouth, celebrating what it also condemns. Crass commercialism is handled with a sly wink and a nod, playing to audiences' nostalgic memories while simultaneously encouraging them to purchase new dolls.
The world-building in Barbie is exceptional. Production designer Sarah Greenwood and set designer Katie Spencer have created a candy-colored confectionary dream for Barbie's environments, heightening the carefully constructed stylistic surrealism. They've coated it with vibrant pink paint, molded plastics, and tactile backdrops harkening back to classic Hollywood musicals. Mark Ronson and Andrew Wyatt's pop soundscape bolsters the synthetic atmosphere in Barbie Land, but they thread the needle perfectly in the Real World, blending musical themes from Billie Eilish's ballad "What Was I Made For?" to land the palpably moving moments.
Robbie nimbly handles the comedic rhythm of these worlds, igniting the spark of the dialogue and the slapstick as well as nailing the nuance and vulnerability of the grounded sequences. Her work sings in chorus with that of costume designer Jacqueline Durran, whose textures and tailoring augment the performance, and cinematographer Rodrigo Prieto, who illuminates the hidden facets within Barbie's evolving psyche. Gosling's portrait of Ken as a jealous, competitive himbo is absolutely divine, allowing him to show off his comedic chops, Gene Kelly-esque moves, and singing talents. (And abs!) Supporting cast members all shine, especially Rae, who plays President Barbie with crackling confidence, and Simu Liu, who plays Gosling's adversary Ken with vigor.
It's a tall order for Gerwig and company to deliver a feature that's reverent and revelatory while speaking directly to the pressures of living up to an impossible feminine ideal. And yet they did it with crafty aplomb. Though a tad overstuffed with too many good ideas, pulling from loads of subtly identifiable cinematic references (everything from Powell and Pressburger's 1946 drama A Matter Of Life And Death to the more recent The Truman Show), Barbie ultimately leaves us entertained, emotionally exhausted, and ready to play again soon.
Barbie opens in theaters on July 21