Our list of the 15 best albums of 2015 wasn't just a one-man decision. It's a committee call. Each regular music writer and A.V. Club staff member gets a chance to list their top 10 records, with their No. 1 record getting 10 points, their No. 2 getting nine, and so on. From there, we do a little math, and the list is finalized.
Below are everyone's individual ballots, arranged in alphabetical order by voter. Some voters also threw in their thoughts about what they voted for, what they hated, and what almost made their list. Enjoy, and don't forget to vote for your favorites of the year in our readers' poll.
J.J. Anselmi
1. Author & Punisher, Melk En Honing
2. War On Women, War On Women
3. Badbadnotgood & Ghostface, Sour Soul
4. Chelsea Wolfe, Abyss
5. High On Fire, Luminiferous
6. Sleater-Kinney, No Cities To Love
7. The Sword, High Country
8. A$AP Rocky, At. Long. Last. A$AP.
9. Sweet Cobra, Earth
10. Tempel, The Moon Lit Our Path
G/O Media may get a commission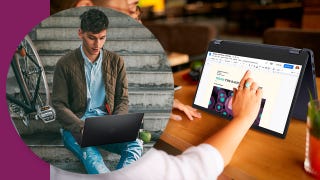 Ends August 15
Best Buy Anniversary Sale 2022
Ends August 15
Best Buy has a number of different promotions happening all for its Anniversary Sales Event. Laptops, tablets, TVs, you names it. Whether you're heading back to school or just trying to fill your home with some new tech, there is something here on sale that you've likely been waiting for.
Meanest albums of the year—top 10 metal and hardcore releases:
1. Author & Punisher, Melk En Honing
This is industrial metal in its most abrasive form. Tristan Shone creates an aural apocalypse with his horrific machines.
2. War On Women, War On Women
Riot Grrrl-inspired politics backed by some of the most aggressive and smartly arranged hardcore being played in America. This is what punk has always wanted to sound like.
3. Cult Leader, Lightless Walk
Simply put: metallic, grind-infused hardcore doesn't get any more acidic.
4. High On Fire, Luminiferous
Matt Pike once described his music as an attempt to make the listener feel like they're getting hit in the head with a battle-ax. This album does exactly that.
5. Tempel, The Moon Lit Our Path
The instrumental duo has created a blackened, spaghetti Western-tinged masterpiece. Tempel combines Pelican's penchant for epic arrangements with Altar Of Plagues' relentless version of modern black metal.
6. Yautja, Songs Of Lament
Propelled by one of the most intense drummers around, this prog-grind-sludge gem is an aural blender with rusty blades.
7. Recitation, Carrion
Consisting of one 30-plus minute song, Carrion crawls across the sonic canvas like a murderous slug.
8. Dope Body, Kunk
This grating LP is the closest thing to the shape of punk to come that came out this year. It's like Refused reinterpreting a Merzbow album.
9. Sweet Cobra, Earth
Earth provides a catchy-but-abrasive template for how a hardcore band can evolve without succumbing to mediocrity.
10. Nightfell, Darkness Evermore
Apparently, combining members of His Hero Is Gone and Aldebaran into one band results in some of the most crushing death metal-inspired doom in existence.
David Anthony
1. Julien Baker, Sprained Ankle

2. Kendrick Lamar, To Pimp A Butterfly
3. Tenement, Predatory Headlights
4. Meat Wave, Delusion Moon
5. High Dive, New Teeth
6. Hop Along, Painted Shut
7. Spraynard, Mable
8. Waxahatchee, Ivy Tripp
9. Grimes, Art Angels
10. Jeff Rosenstock, We Cool?
Honorable mentions, LPs:
All Dogs, Kicking Every Day
The Armed, Untitled
Bosse-De-Nage, All Fours
Cloakroom, Further Out
Cloud Rat, Qliphoth
Deafheaven, New Bermuda
Desaparecidos, Payola
Des Ark, Everything Dies
Destruction Unit, Negative Feedback Resistor
Dogs On Acid, Dogs On Acid
Envy, Atheist's Cornea
Eskimeaux, O.K.
False, Untitled
Joanna Gruesome, Peanut Butter
Laura Stevenson, Cocksure
Pet Symmetry, Pets Hounds
Pile, You're Better Than This
Shinobu, 10 Thermidor
The Sidekicks, Runners In The Nerved World
Sleater-Kinney, No Cities To Love
The World Is A Beautiful Place & I Am No Longer Afraid To Die, Harmlessness
Tomboy, Sweetie
Torres, Sprinter
Worriers, Imaginary Life
Honorable mentions, EPs, and 7-inches:
Diet Cig, Over Easy

Diet Cig, Sleep Talk
Dogs On Acid, Dogs On Acid
Dusk, Dusk
G.L.O.S.S., Demo
Super Unison, Super Unison
Year Of Glad, Year Of Glad
Ryan Bray
1. Chemical Brothers, Born In The Echoes

2. Wilco, Star Wars
3. Leon Bridges, Coming Home
4. Ryan Adams, 1989
5. Ceremony, The L Shaped Man
6. Blur, The Magic Whip
7. Sleater-Kinney, No Cities To Love
8. Fuzz, II
9. Courtney Barnett, Sometimes I Sit And Think, And Sometimes I Just Sit
10. Ought, Sun Coming Down
Randall Colburn
1. Sufjan Stevens, Carrie & Lowell
Sufjan always surprises. 2010's The Age Of Adz was as gargantuan as Illinois was wistful, but he somehow skirts both of those adjectives on the aching, skeletal Carrie & Lowell. I can't remember ever feeling so close to an artist.
2. Kendrick Lamar, To Pimp A Butterfly
I don't throw around words like "important," but To Pimp A Butterfly is important. It's also just good.
3. Waxahatchee, Ivy Tripp
Ivy Tripp is passionate, muscular, and caked in mud. The only thing more resonant than the riffs are Katie Crutchfield's soul-piercing vocals.
4. Majical Cloudz, Are You Alone?

Are You Alone? might be the most romantic music I've heard in a decade. Frontman Devon Welsh is striving so goddamned hard to separate fear from love and the fact that he can't makes it all the more heavenly. Love is hard. Love is blissful. Love is sad. Love is blissful. I'm obsessed with this record.
5. Grimes, Art Angels
Grimes makes breaking all the rules sound more fun than a season of Sailor Moon.
6. Godspeed You! Black Emperor, Asunder, Sweet And Other Distress
Lots of bands sound like Godspeed, but nobody does it like Godspeed. There's no music I'd rather get lost in.
7. Mountain Goats, Beat The Champ
My love for this record coincides with the fact that I got back into pro wrestling this year. "Heel Turn 2" is the best song I heard all year.
8. Turnover, Peripheral Vision
Turnover's a rock band but its tunes are dreamier than any dream-pop band I've ever heard. But maybe that's just my own nostalgia. It's somehow every indie band I loved in 2001 but better and more sincere. Catchy, but relaxed. Soothing, really. It's like valium.
9. John Carpenter, Lost Themes
Once-in-a-lifetime kind of record.
10. Advance Base, Nephew In The Wild
Owen Ashworth is one of America's best living songwriters. Listen to him now.
Ten great songs I liked in 2015:
1. Dan Deacon, "Meme Generator"
2. The Go! Team, "The Scene Between"
3. American Wrestlers, "There's No One Crying Over Me Either"
4. Hudson Mohawke, "Ryderz"
5. Iron Chic, "Subhumanoid Meltdown"
6. Cloud Nothings/Wavves, "No Life For Me"
7. Dave Monks, "The Rules"
8. Diet Cig, "Dinner Date"
9. Modern Baseball, "The Waterboy Returns"
10. Hop Along, "Texas Funeral"
Six great concerts I saw in 2015:
1. American Football at Lincoln Hall in Chicago (January 1)
2. Advance Base and Mike Adams At His Honest Weight at the Empty Bottle (January 8)
3. Swans at Thalia Hall in Chicago (February 21)
4. The Mountain Goats at the Vic Theater in Chicago (April 18)
5. Holychild at Lollapalooza in Chicago (August 1)
6. J. Geils Band at DTE Energy Music Theater in Clarkston, Michigan (September 11)
Rookie of the year:
Julien Baker
Sprained Ankle is a stunning debut, just absolutely shredding in its vulnerability.
Best film soundtrack that wasn't Disasterpeace's It Follows:
Dan Romer's Digging For Fire
I'm a huge fan of Joe Swanberg's oeuvre, but I wasn't swept away by his latest, the fitfully amusing Digging For Fire. Rather, I spent most of the film engrossed by Dan Romer's sweeping soundtrack, which oscillates between sparkling, melancholic synth patterns and aggressive percussion. It's astoundingly expressive, more so than the film sometimes, tapping into deep wells of longing, ennui, and, at times, a frantic urgency.
Best remixes of an already great album:
Inventions, Maze Of Woods
Inventions, the collaboration between Eluvium's Matthew Robert Cooper and Explosions In The Sky's Mark T. Smith, released the excellent Maze Of Woods earlier this year, but I probably spun the album's myriad remixes more than the album itself. The Field's Axel Willner layered his melancholy club beats into the ephemeral "Peregrine," for example, while ambient supergroup A Winged Victory For The Sullen fortified "Slow Breathing Circuit" with waves of reverb and the flourishes of Dustin O'Halloran's precise piano work.
Notable vinyl purchases that are not necessarily 2015 releases:
Eluvium, Life Through Bombardment Vol. 2

Stars Of The Lid, …And Their Refinement Of The Decline
William Basinski, Melancholia
The Get Up Kids, Something To Write Home About
Jónsi And Alex, Riceboy Sleeps
Philip Cosores
1. Sufjan Stevens, Carrie & Lowell
Just a stray memory here, but I went to see the Sufjan tour for this album at the Dorothy Chandler Pavilion, a venue in Los Angeles usually reserved for the ballet and the symphony. I took a date that I had a huge crush on and we were rewarded with these fourth row, center seats that are the single best press comps I've ever received. The show, like the album, was deeply emotional, almost overwhelmingly so, and right as "Blue Bucket Of Gold" hit this extended drone peak, the date reached over and grabbed my hand. We didn't work out in the end, but it was a really nice night with some really nice music.
2. Jamie xx, In Colour

I feel like most of the criticism about Jamie is people overthinking what he means for electronic music or whatever. This record is just great songwriting from someone with great taste, able to transcend genre from song to song. With omnivorous taste more and more common, it is about time that an artist is able to reflect that on record and still maintain a distinct identity.
3. Tame Impala, Currents
4. Kendrick Lamar, To Pimp A Butterfly
I like the meticulousness of both the Tame and the Kendrick albums, where you can tell the artist took the challenge of making a career best record.
5. Torres, Sprinter
6. Protomartyr, The Agent Intellect
7. Sleater-Kinney, No Cities To Love
8. Natalie Prass, Natalie Prass
Not a great year for debut albums, but early in the year, the Natalie Prass album seemingly came out of nowhere with an incredibly refined songwriting voice. More than any other new artist this year, I'm eagerly looking forward to what comes next.
9. Majical Cloudz, Are You Alone?
There is this beautiful bluntness to the Majical Cloudz lyrics and vocal melodies, where it is impossible for the listener to tune out what is being said and how it is being said. And this can be a turnoff for some people, but for me it feels incredibly brave and empowering to hear someone tackling very real universal emotions in this way.
10. Oneohtrix Point Never, Garden Of Delete

The rest of the best:
Holly Herndon, Platform

Vince Staples, Summertime '06
Kurt Vile, B'lieve I'm Goin Down
Deafheaven, New Bermuda
Beach House, Thank Your Lucky Stars
Arca, Mutant
Hop Along, Painted Shut
Dan Deacon, Gliss Riffer
Carly Rae Jepsen, Emotion
Tobias Jesso Jr., Goon
Desaparecidos, Payola
Grimes, Art Angels
Health, Death Magic
Rae Sremmurd, SremmLife
Ought, Sun Coming Down
Panda Bear, Panda Bear Meets The Grim Reaper
Joanna Newsom, Divers
Lower Dens, Escape From Evil
Low, Ones And Sixes
Björk, Vulnicura
Great songs from decent albums:
Mas Ysa, "Suffer"
Autre Ne Veut, "Age Of Transparency"
A$AP Rocky, "Everyday"
Chvrches, "Leave A Trace"
Chastity Belt, "Joke"
Unknown Mortal Orchestra, "Can't Keep Checking My Phone"
The Tallest Man On Earth, "Dark Bird Is Home"
American Wrestlers, "Kelly"
Passion Pit, "Lifted Up (1985)"
Hot Chip, "Huarache Lights"
Speedy Ortiz, "Raising The Skate"
Viet Cong, "March Of Progress"
Drake, "Energy"
Marah Eakin
1. Kacey Musgraves, Pageant Material
It's a crime that no one else voted for this. It's like you guys aren't even listening to crossover country music. Seriously, though, this record is fucking great. "Biscuits" forever.
2. Sleater-Kinney, No Cities To Love
Probably the best show I saw this year, as well. So glad they're back. The S-K box set is a must-own for any fans. The colored vinyl version—which I don't think Sub Pop has anymore—is stunning.
3. Kendrick Lamar, To Pimp A Butterfly
No. 1 record to play while I'm in the shower. Really gets your morning going.
4. Sufjan Stevens, Carrie & Lowell
No. 1 record to play on an airplane, especially if you're already depressed and want to freak out your seatmate by crying. Also one of this year's best live shows.
5. Protomartyr, The Agent Intellect
6. Kurt Vile, B'Lieve I'm Goin Down
Historically, I've not been a huge Kurt Vile fan, but this record changed my mind. I got it early, started spinning it, and never stopped. It's super catchy and rewards repeat listens.
7. Ashley Monroe, The Blade
Another country gal who's not getting her rock music due. This record is excellent.
8. Sleaford Mods, Key Markets
It's like The Streets, if The Streets weren't annoying.
9. Will Butler, Policy

"Anna" is one of my favorite songs of the year, and subsequently resulted in my favorite music video.
10. Destroyer, Poison Season
Dan Bejar's the best.
Records that probably could have made my list if I'd had more time to really sit with them:
Grimes, Art Angels
Adele, 25
Beach House, Thank Your Lucky Stars
Records I really wanted to like but could generally just take or leave:
Blur, The Magic Whip
Ryan Adams, 1989
Wilco, Star Wars
Mikal Cronin, MCIII
Thee Oh Sees, Mutilator Defeated At Last
Giorgio Moroder, Déjà Vu
John Everhart
1. Fred Thomas, All Are Saved

Saturday Looks Good To Me's Fred Thomas writes pop songs with a level of compassion, empathy, frustration, and hope few songwriters would deign to reveal. He's been doing it for well over a decade and keeps getting better and better, remarkably, and this solo outing is commensurate with his finest work.
2. Kurt Vile, B'Lieve I'm Goin Down
Kurt Vile's hit the roll of his life, and B'lieve is his pinnacle. And he has the guile to poke fun of badass characters from the works of legendary authors such as Flannery O'Connor and Cormac McCarthy.
3. Deerhunter, Fading Frontier
The smoldering anger of Monomania has been mitigated in favor of gloriously lush pop songs that fit Bradford Cox and company like a glove.
4. Sleater-Kinney, No Cities To Love
Perhaps the best and most invigorated comeback album after an extended hiatus since Mission Of Burma's ONoffON.
5. Low, Ones And Sixes
This exquisitely textured album is a distant cousin to 2007's Drums And Guns, and just as good.
6. Simon Joyner, Grass, Branch, & Bone
Joyner crafts flawed character sketches as moving as a Raymond Carver short story character, warbled with a non-judgmental perspective on par with the best works of Lou Reed.
7. Belle & Sebastian, Girls In Peacetime Want To Dance
Stuart Murdoch wrote one of his best songs ever in opener "Nobody's Empire," chronicling his battle with illness and setting the table for one of his band's finest albums. He's since relapsed and been forced to cancel shows. Get well soon, Stuart. And according to his Twitter account, he's begun in earnest writing the band's new album, which is an auspicious sign.
8. Julia Holter, Have You In My Wilderness
Fractured and frayed, Holter sublimates heartbreak into a grand catharsis on this superb collection of baroque numbers.
9. Tamaryn, Cranekiss
Tamaryn went for broke with the assistance of Violens' Jorge Elbrecht and Weekend's Shaun Durkan, fusing her doomgaze proclivities with a pop acumen, succeeding spectacularly.
10. Car Seat Headrest, Teens Of Style
They vividly capture the imagination of youth on this terrific album of nutmeg sweet pop nuggets, and this is just the tip of the iceberg, as their second proper album is due out in early 2016.
The next 10:
11. Beach House, Depression Cherry
12. Tame Impala, Currents
13. John Grant, Grey Tickles, Black Pressure
14. Unknown Mortal Orchestra, Multi-Love
15. Mew, +/-
16. Sufjan Stevens, Carrie & Lowell
17. The Decemberists, What A Terrible World, What A Beautiful World
18. Telekinesis, Ad Infinitum
19. Royal Headache, High
20. Swervedriver, I Wasn't Born To Lose You
Best compilations:
Mogwai, Central Belters
Anointed by Stephen Malkmus in 1997 as the "first band of the 21st century," Belters proves Malkmus to be eerily prophetic. Fifteen years in and Mogwai continues to astound, as exhibited on this best-of collection of its staggering discography.
Beat Happening, Look Around
Jon Fine's excellent memoir Your Band Sucks: What I Saw At Indie Rock's Failed Revolution (But Can No Longer Hear) excoriated Beat Happening for spearheading the twee movement. But he missed the point. Unlike many of its peers, Beat Happening exuded danger in its ramshackle gigs and inclusive outsider ethos. Look Around provides a fine entry point to one of the finest discographies of the past 25 years.
Most anticipated album of 2016:
Blaue Blume, Sky
Already available outside North America and due for release in the U.S. in January, Sky seems primed to deliver on the promise of the Danish act's gorgeously impressionistic dreamscapes from its 2014 EP, Beau And Laurette.
Jason Heller
1. Locrian, Infinite Dissolution
2. Garden Of Worm, Idle Stones
3. Dead To A Dying World, Litany
4. Prurient, Frozen Niagara Falls
5. Wax Idols, American Tragic
6. Titus Andronicus, The Most Lamentable Tragedy
7. Mount Eerie, Sauna
8. Beach Slang, The Things We Do To Find People Like Us
9. Cloakroom, Further Out
10. Deafheaven, New Bermuda
Best new albums by old* bands in 2015:
*Defined as having been around and releasing music for at least 25 years.
Björk, Vulnicura
Throughout her long and storied career, Björk has never been short on big ideas. But sometimes she's bigger when she burrows inward—as she does brilliantly on the lush, heart-worn Vulnicura, a breakup album that feels as starkly intimate as it does quietly seismic.
Iron Maiden, The Book Of Souls

Bruce Dickinson has been at the mythic-metal thing for four decades now, and he's still at the top of his considerable game on Iron Maiden's The Book Of Souls. If anything, his voice sounds fuller and more powerful than ever, and his longtime band holds the fort with a conceptual double album that sprawls, slashes, and soars.
Pops Staples, Don't Lose This
Following Pop Staples' death in 2000 at the age of 85, the patriarch of The Staple Singers left behind a handful of unfinished recordings from two years prior; fleshed out by daughter Mavis and Wilco's Jeff Tweedy, the resultant album Don't Lose This is a ghostly, gripping monument to a gospel and R&B giant.
New Order, Music Complete
Peter Hook's churning, ringing bass lines may be gone from New Order after his departure in 2007, but the group's first album since, Music Complete, is a lush and full-blooded affair that doesn't just overcome Hook's absence—it reinstalls the crystalline melancholy that's defined New Order's post-punk pop for decades.
The Sonics, This Is The Sonics
Gerry Roslie is in his 70s, and that hasn't stopped him from using This Is The Sonics, the first album of all-new studio material in 49 years, to put most of his modern garage-rock offspring to shame. Raw, raucous, and slathered in sweat and spilled beer, it's a tribute to the elemental insanity—and eternal youth—of rock 'n' roll.
The Chills, Silver Bullets
Nineteen years is a long enough gap between albums for a band to completely lose the thread—but not so with The Chills. The veteran New Zealand indie-pop act resurfaced this year with Silver Bullets, and in it, frontman Martin Phillipps once again flaunts his knack for hushed, delicate melody and chiming charm.
Napalm Death, Apex Predator—Easy Meat
Napalm Death has taken plenty of twists and turns throughout its 34-year existence, and Apex Predator—Easy Meat is no different in that regard. The album veers from chanted experimental metal to exquisitely sadistic grindcore, all while retaining the band's winning spirit of feral cunning and dark humor.
Faith No More, Sol Invictus
There was plenty of reason to believe Faith No More would never make another album. Thankfully Sol Invictus finally arrived; not only does it reestablish Mike Patton and crew's lust for perverse, brainy art-rock, it stretches their atmospheric bombast to wondrously weird new heights.
The Selecter, Subculture
Like so many of its 2-Tone ska contemporaries, The Selecter broke up in the '80s and reformed in the '90s—which makes the band's latest album, Subculture, less of a comeback and more of a return to form, packed sinewy rhythms, buoyant hooks, and lead singer Pauline Black's tuneful, immaculate attack.
The Fall, Sub-Lingual Tablet
The Fall's 31st studio album since 1979, Sub-Lingual Tablet, bears zero surprises. That said, its mix of avant-garage acidity and iconic frontman Mark E. Smith's superhuman crankiness make for one of the group's strongest efforts in recent years. Smith is a post-punk institution, and it's good to hear he's preserving himself well.
William Hughes
1. Sufjan Stevens, Carrie & Lowell
2. The Mountain Goats, Beat The Champ
3. Ratatat, Magnifique
4. Run The Jewels, Meow The Jewels
5. Beirut, No No No
Alex McCown
1. The Go! Team, The Scene Between
2. Chvrches, Every Open Eye
3. Sleater-Kinney, No Cities To Love
4. Veruca Salt, Ghost Notes
5. Metric, Pagans In Vegas
6. Chelsea Wolfe, Abyss
7. Godspeed You! Black Emperor, Asunder, Sweet And Other Distress
8. Waxahatchee, Ivy Tripp
9. Speedy Ortiz, Foil Deer
10. Screaming Females, Rose Mountain
Best 2015 band that doesn't have an album out yet:
Charly Bliss
I was lucky enough to randomly catch this band in an opening spot on a bill this summer, as they passed through Chicago on tour. A hyperkinetic pop rock group, the band mines '90s alt-rock with abandon, fusing bubblegum pop tendencies with guitars forged in the fires of grunge-rock sludge. But their best weapon is Eva Hendricks, a singer equally at home screaming like Courtney Love and purring like Kim Deal, and who exudes joyful rock charisma as though she were the result of a laboratory fusion of Eddie Vedder and a punk-rock cheerleader. They've only got a handful of songs released thus far, but with any luck, an album in 2016 will put them on a much bigger stage—which they might just seize if it's not given to them.
Christopher Mincher
1. Kendrick Lamar, To Pimp A Butterfly
2. Xavier Rudd And The United Nations, Nanna

Australian folkie Xavier Rudd shows off his versatility on Nanna, a full-fledged, good-timin' reggae album backed by a multinational backing band that's interested in much more than simple Marley-aping. Though the record's tracks are spurred on by bouncy, lively dub underpinnings, flourishes of thick rock guitar, piano and organ solos, jittery synths, warm R&B horn harmonies, and breezy flute take the genre in multiple fresh directions.
3. Sufjan Stevens, Carrie & Lowell
4. Jamie xx, In Colour
Jamie xx's debut In Colour is part experimentation in electronic R&B, part straightforward tribute to the old-school U.K. rave scene—and fully captivating throughout. Drifting from high-energy dance bangers to reflective, ethereal soundscapes, the album covers a surprising and impressive amount of musical territory while sticking to a minimalist mindset.
5. Father John Misty, I Love You, Honeybear
6. Indigo Girls, One Lost Day
Expectations for Indigo Girls at this point in their career don't extend much further than appearances at community art centers and daytime arts festivals, perhaps an unexpected C-list celebrity cameo in a pharmaceutical commercial or something. So it's unclear where they got the focus—especially while handling death in the family, marriage, and new parenthood—for One Lost Day, a richly textured and expansively sophisticated update on their classic sound. Best, it's as thoroughly catchy and memorable as those early cuts that helped define the '90s folk scene.
7. Des Ark, Everything Dies

Des Ark's music has always seemed to fit squarely into "loud" or "soft" categories, but Everything Dies finally finds, and maintains, a satisfying middle ground. Guitars, drums, and vocals swell and wane from track to track, adding compelling weight without losing control. It's a powerful album from an artist who has finally found her songwriting sweet spot.
8. The Oh Hellos, Dear Wormwood

Campground shout-along ensemble-folk brother-and-sister duo The Oh Hellos dial up the exuberance and high drama to pounding levels on Dear Wormwood, a musical take on C.S. Lewis' The Screwtape Letters and Patrick Rothfuss' The Name Of The Wind. Between the peaks of unbridled energy and flair lie quiet passages of contemplation and soaring grandeur, a visceral aural journey with theatrical structure and effect. Projects of such ambition and complexity abound with potentially disastrous missteps, but The Oh Hellos pull it off without a hitch.
9. Deerhunter, Fading Frontier
Deerhunter has adopted a few different identities throughout its existence, and—after frontman Bradford Cox's recovery from being hit by a car last year—opted to cram all of them into Fading Frontier. Jangly and loose pop band; airy, introspective navel-gazers; shimmering electro-soundscape craftsmen; new-age synth devotees; slick disco icons… the list lengthens with each track. Luckily, the dynamic shifts enchant rather than exasperate.
10. The Weepies, Sirens
In the five years since their last record, husband-and-wife duo Deb Talan and Steve Tannen of The Weepies happily welcomed a baby to the family… and unhappily battled with Talan's breast cancer. As her illness left her too weak to travel or record consistently, Sirens was assembled in fits and starts during and after her treatment, and its songs run the gamut of emotions: some pained and sentimental, others optimistic and life-affirming. It's an affecting listen from start to finish.
Josh Modell
1. Sufjan Stevens, Carrie & Lowell
2. El Vy, Return To The Moon
3. The Decemberists, What A Terrible World, What A Beautiful World
4. Low, Ones And Sixes
5. Courtney Barnett, Sometimes I Sit And Think, And Sometimes I Just Sit
6. Kendrick Lamar, To Pimp A Butterfly
7. Faith No More, Sol Invictus
8. Death Cab For Cutie, Kintsugi
9. Soak, Before We Forgot How To Dream
10. Ryan Adams, 1989
Sean O'Neal
1. Blanck Mass, Dumb Flesh
2. Rival Consoles, Howl
3. Oneohtrix Point Never, Garden Of Delete
4. Floating Points, Elaenia
5. Lakker, Tundra
6. Max Richter, Sleep
7. Holly Herndon, Platform
8. Shlohmo, Dark Red
9. Dave DK, Val Maira
10. The Soft Moon, Deeper

The Next 30:

Ekoplekz, Reflekzionz
Fis, The Blue Quicksand Is Going Now
Helm, Olympic Mess
Fort Romeau, Insides
Deerhunter, Fading Frontier
Barnett & Coloccia, Weld
Basic House, VISA Prick
Internazionale, Elegy For The Victors
Inventions, Maze Of Woods
Prurient, Frozen Niagara Falls
Not Waving, Voices
Alessandro Cortini, Forse 3
Alva Noto, Xerrox Vol. 3
Pazes, Induced
William Basinski, The Deluge
William Basinski/Richard Chartier, Divertissement
Offthesky, The Serpent Phase
Ancient Ocean, Blood Moon
James Place, Living On Superstition
Ricardo Donoso, Machine To Machine
Steve Hauschildt, Where All Is Fled
Sean McCann, Ten Impressions For Strings And Piano
Dept. Of Harmonic Integrity, In Deck And Depth
Four Tet, Morning/Evening
Kangding Ray, Cory Arcane
Princess Century, Progress
Rabit, Communion
Matrixxman, Homesick
Noveller, Fantastic Planet
Rrose, Having Never Written A Note For Percussion
Kenneth Partridge*
*Reviewed in the style of a movie voice-over guy.
1. Miguel, Wildheart
In a world where R&B means "repetitive and bland," one man rode his own wave and dared to ask, "What's normal, anyway?"
2. Kendrick Lamar, To Pimp A Butterfly
He was conflicted, misusing his influence, on the verge of self-destruction. Then, he found his way home. This is the story of a man whose rhymes are rich, whose wisdom is profound, and whose dick ain't free.
3. Neon Indian, VEGA Intl. Night School
When everyone expected him to chill, Alan Palomo turned up the heat.
4. Dr. Dre, Compton
He just bought California. Now, Dr. Dre is reminding us why he owned it all along.
5. Twin Shadow, Eclipse
For this New Wave rocker, the only way out of the '80s was going deeper into the soul.
6. Shamir, Ratchet
He came from Sin City with a strange voice and a simple mission: To make a scene. This is him on the regular. Now you know.
7. Belle And Sebastian, Girls In Peacetime Want To Dance
They live by books. They live by hope. Hold their cardigans—they also live to dance.
8. Sleater-Kinney, No Cities To Love
It's not a new wave. It's just three ladies who rock. Watch them destroy a room with their love.
9. Disclosure, Caracal
Two brothers, a dozen singers, one noble quest: To make EDM as non-douchey as possible.
10. The Weeknd, Beauty Behind The Madness

Pack your toothbrush and a change of clothes. The Weeknd is coming, and you won't be in Monday morning.
Ten albums I'd totally be evangelical about if only I had more energy:
Palmas, To The Valley
RIYL: The idea of surfing in a skinny tie
Club 8, Pleasure
RIYL: The Human League; the idea of dancing in an anorak
Pure Bathing Culture, Pray For Rain
RIYL: Bubble baths
Keep Shelly In Athens, Now I'm Ready
RIYL: Dreaming about what Greek people dream about when they're making dream-pop
Gardens & Villa, Music For Dogs
RIYL: Music "frequently beautiful but veined with a sense of menace and loss," as Noel Murray so perfectly wrote
Pale Blue, The Past We Leave Behind
RIYL: Not waiting around for the next Chromatics record
The Bird And The Bee, Recreational Love
RIYL: Occasionally shopping for jeans in places that look like art galleries
The Crookes, Lucky Ones
RIYL: Anything Oasis and/or The Cure were doing in the '90s
British Sea Power, Sea Of Brass
RIYL: Playing Risk while dressed like a WWI soldier
Blackalicious, Imani, Vol. 1
RIYL: Old-school hip-hop, making sure people know you like old-school hip-hop
Corbin Reiff
1. Father John Misty, I Love You, Honeybear
I get that Father John Misty's whole act as a would-be, modern day Dionysus rubs a lot of people the wrong way, but I'm sorry, I Love You, Honeybear is the best record of 2015. Few albums have ever captured the real feelings of what it's like to be in love and then couched that overwhelming emotion in a more absurd manner than this one. It also sounds gorgeous. "Strange Encounter" in particular.
2. Kendrick Lamar, To Pimp A Butterfly
To Pimp A Butterfly is the sound of Kendrick Lamar questioning everything. He questions society, his race, his hometown, his growing audience, but more than anything else, he questions himself. It's obviously dense in content, but it is also frenetic in execution. The tone of the music shifts almost as often as Lamar's own vocal identity. It's a record that begs to be revisited, and one that rewards greater attention with a seemingly inexhaustible well of stunning personal and macro realizations.
3. Vince Staples, Summertime '06
One of the most refreshing hallmarks of Summertime '06 is the fact that there are no sacred cows. There is no subject matter, no preconceived notion, no media construct that Staples isn't willing to tear down in his own imitable style. He's a provocateur in the best sense and brings a much-needed new outlook to a genre that's entering its fourth decade.
4. Sufjan Stevens, Carrie & Lowell
On both a musical and emotional level, Carrie & Lowell is a devastating and draining listen. Stevens goes beyond artifice, ripping his heart out of his chest to use it as a guitar pick. Varying themes of loss and death permeate throughout, but the very heart of this record is Stevens coming to grips with the demise of his mother. The song "Fourth Of July," styled as a conversation between the two of them, really drives the whole thing home in the most awful and beautiful way imaginable.
5. Future, Dirty Sprite 2
No one outside of maybe Drake captured the rap zeitgeist this year quite like Future. Dirty Sprite 2 capped off an incredible run of incredible mixtape releases and helped push the King Of Trap to the forefront of the genre. There's a reason that Gucci flip-flops, commas, and codeine became some of the biggest watchwords of 2015.
6. Kurt Vile, B'Lieve I'm Goin Down
B'Lieve I'm Goin Down is a record that walks a very fine line between overt and inscrutable. It's not too difficult to figure out the kinds of questions Vile is asking in his songs, but they are also almost impossible to answer. It doesn't help that the music itself is day-dream-inducingly hazy. Officially, it's got a 61-minute runtime, but it may just be forever.
7. Chris Stapleton, Traveller

Traveller is the best country record of 2015 and it's not even a competition. At its core, country is a roots genre, and Stapleton digs deep into the soil, tapping into a variety of blues flavors to bring to the fore a stunning rejection of the 21st century Nashville bro-country movement. The album closer "Sometimes I Cry" in particular is a revelation of unbridled raw emotion.
8. Tame Impala, Currents
Conventional wisdom states that it's almost always to an artist's benefit to have another voice in the room to bounce ideas off of when creating music. It's why we have producers. No one seems to reject this notion more violently than Kevin Parker, who holes himself away every few years and pops back out again with a new masterpiece. Currents doesn't really deviate too far from the same psychedelic outlook that defined Tame Impala's earlier work, but its push into new synth-inflected realms gives it a welcome, contemporized feel.
9. Sleater-Kinney, No Cities To Love
When they decided to call it a day in 2007, Sleater-Kinney went out as one of the best groups in all of rock. Eight years later and not much has changed except that maybe they've gotten even better. Corin Tucker has never sounded more like a force of nature as she does on "No Anthems."
10. Dr. Dre, Compton
That Dr. Dre's first record in 16 years didn't turn out to be the rap equivalent of Guns N' Roses' Chinese Democracy is a minor miracle. Leaning heavily on the contributions of artists both old—Ice T, Eminem, Snoop Dogg, and Xzibit—and new—Kendrick Lamar, Anderson Paak, and King Mez—Dre puts together a collection of music that is both exhilarating and emblematic of his signature grandiose style.
The next 10:
11. Drake, If You're Reading This It's Too Late
Drake dropped a mixtape and charged money for it like an album. Was If You're Reading This It's Too Late a deft move at ticking off album commitments to his label Cash Money? Probably. But we all got "Energy," "10 Bands," and "You & The 6" out of the deal so who really cares?
12. Beach House, Depression Cherry
Paradoxically, Depression Cherry is actually a highly uplifting collection of songs that stand in stark contrast to the group's other 2015 release Thank Your Lucky Stars. "Space Song" and "Levitation" in particular sound almost life affirming.
13. Hop Along, Painted Shut
Score another one for the great Philadelphia rock renaissance of 2014-15. Painted Shut sounds like the closest thing to a Siamese Dream-era Smashing Pumpkins revival crossed with the doe-eyed freak-folk sensibilities of Neutral Milk Hotel's In The Aeroplane Over The Sea. Yes, it's that good.
14. Deerhunter, Fading Frontier
Fading Frontier is the best Deerhunter record in some years and that is really saying something. It's light, mature, and wholly psychedelic in feel and expression. A solid outing from one of the most dependable indie rock bands of the last decade.
15. Sports, All Of Something
Punk rock isn't gone, but it's becoming increasingly difficult to find. All Of Something is 23 minutes of the best power-punk that you're liable to stumble across this year. It's a real shame that geographical constraints essentially forced the end of this band before they even had a chance to get things going.
16. Miguel, Wildheart
Wildheart is 16 exquisitely produced, beautifully sung songs about sex. Miguel doesn't really seem to get the whole subtle thing, but that's perfectly okay, as long as he's willing to make the coffee in the morning.
17. Courtney Barnett, Sometimes I Sit And Think And Sometimes I Just Sit
It's hard to pinpoint the exact moment in your life at which you stop pretending you're an adult and actually become one. Hardly anyone, anywhere, at anytime has captured that discomfiting transition better than Barnett on the song "Depreston." My wanderings through Homes.com became a whole bunch more self-reflective after listening to that song.
18. Alabama Shakes, Sound & Color
Let it never be forgotten that Brittany Howard is a goddamn rock star. There is hardly anyone on the scene today that sounds as naturally tremendous and soulful as the Alabama Shakes frontwoman. Who else can sing with the kind of power that she exudes on a song like "Gimme All Your Love"? The list is very short.
19. Public Enemy, Man Plans, God Laughs
We've officially entered the era where classic rap radio stations aren't just a thing, but a very profitable thing. So while it seems that many of the genre's earliest progenitors seem content to rest on their laurels and hit the oldies circuit, it's exhilarating to hear Chuck D and company are still swinging for the fences. "Give Peace A Damn" is a legitimate banger.
20. Gary Clark Jr., The Story Of Sonny Boy Slim

The death this year of B.B. King didn't necessarily throw the future of the blues in doubt, but it did make you wonder who might be able to carry the torch going forward. While it's probably too early to anoint Gary Clark Jr. as any kind of savior, with The Story Of Sonny Boy Slim he made a compelling argument for the cause.
Kyle Ryan
1. Sleater-Kinney, No Cities To Love
2. Waxahatchee, Ivy Tripp
3. Beach Slang, The Things We Do To Find People Who Feel Like Us
4. Chvrches, Every Open Eye
5. A$AP Rocky, At.Long.Last.A$AP

I'm shocked this didn't get more attention here. A$AP Rocky had a big 2015, and this album should be mentioned along with To Pimp A Butterfly with the year's best hip-hop albums.
6. Kendrick Lamar, To Pimp A Butterfly
7. Desaparecidos, Payola
There's on the nose, and there's hitting the nose so hard it vaporizes the cartilage. The seething agit-rock of Payola couldn't be less subtle, but it still slays.
8. Grimes, Art Angels
9. Protomartyr, The Agent Intellect
The Detroit band's winning streak continues with its most accomplished post-punk yet.
10. The Weeknd, Beauty Behind The Madness
Speaking of people who had big years: The Weeknd was inescapable in 2015, and with good reason. If Beauty Behind The Madness is the shape of R&B to come, few people would complain.
The next 10:
11. The Front Bottoms, Back On Top
With its chorus "This is what I want, motherfucker / Make it happen for me," "Help" is one of the best songs of 2015. Those are the lyrics of the year.
12. Telekinesis, Ad Infinitum
Why isn't Michael Lerner playing huge venues? Telekinesis' great indie-pop albums keep getting better.
13. Silversun Pickups, Better Nature
A nice return to form following its lackluster predecessor, Better Nature embraces the band's guitar-driven sound without the conspicuous Smashing Pumpkins-isms of its earlier albums.
14. Metric, Pagans In Vegas
Hooky, Anxious, And Cool: The Metric Story
15. Titus Andronicus, The Most Lamentable Tragedy
With 29 tracks on its latest, Titus Andronicus continues to offer too much of a good thing, but when the band nails it, it's great.
16. Cheatahs, Mythologies
The allusions to shoegaze forefathers are less direct this time around as the band comes into its own on its sophomore album.
17. Meat Wave, Delusion Moon
Acerbic post-hardcore from Chicago named after an Onion headline. All win.
18. Passion Pit, Kindred
This is probably driven by my fondness for album opener "Lifted Up (1985)," which is an ebullient party-starter.
19. Mates Of State, You're Going To Make It
A quick EP from indie-pop's most adorable family bodes well for a full-length.
20. Raekwon, Fly International Luxurious Art
Raekwon could be settled in "hip-hop legend" complacency, but he turns out a shockingly great album.
Disappointments:
Fall Out Boy, American Beauty/American Psycho
My resolute enthusiasm for Fall Out Boy is an A.V. Club cliché, but the overproduced, hyperactive American Beauty/American Psycho missed the mark. The grating title track best exemplifies the album's unfortunate "more is better" approach, as do the samples of Suzanne Vega ("Centuries") and the Munsters theme ("Uma Thurman"). 2013's Save Rock And Roll was a career high point, but Fall Out Boy took that album's most excessive elements and built on them. American Beauty/American Psycho has good moments, but not enough to overcome its misfires.
Refused, Freedom
Another cautionary tale for bands considering a reunion, Freedom feels like Michael Jordan coming out of retirement to play for the Wizards. I'm not a zealot about Refused's landmark The Shape Of Punk To Come, but I liked it enough to be disappointed by this lackluster follow-up. Who would have guessed Refused could sound so toothless?
Evan Rytlewski
1. Vince Staples, Summertime '06
2. Julien Baker, Sprained Ankle
An album so profoundly, unrelentingly sad that I repeatedly had to turn it off during my first few listens until I built up a tolerance to it—and even now, dozens of spins later, it still makes me flinch. A singer-songwriter record hasn't hit me this hard in ages. It's like a great horror movie: I can't pull myself away from it, but I feel relieved when it's over.
3. Rae Sremmurd, SremmLife
Even in my skateboarding days I was never able to land a kick flip, but this record makes me want to try one anyway.
4. Susanne Sundfør, Ten Love Songs
Norwegian songwriter Susanne Sundfør is an honest-to-God savant, and she's never sounded more unabashedly savant-y than she does on this sterling pop record.
5. Donnie Trumpet And The Social Experiment, Surf
You get a hug; he gets a hug; she gets a hug. Everybody gets a hug.
6. Miguel, Wildheart
7. Kendrick Lamar, To Pimp A Butterfly
8. Young Thug, Barter 6
9. Tenement, Predatory Headlights
10. Cloud Nothings/Wavves, No Life For Me
More, please:
Sufjan Stevens, Carrie & Lowell
Courtney Barnett, Sometimes I Sit And Think, And Sometimes I Just Sit
Natalie Prass, Natalie Prass
Earl Sweatshirt, I Don't Like Shit, I Don't Go Outside
The World Is A Beautiful Place & I Am No Longer Afraid To Die, Harmlessness
Citizen, Everybody Is Going To Heaven Now
Colleen Green, I Want To Grow Up
Screaming Females, Rose Mountain
Desaparecidos, Payola
Bully, Feels Like
Torres, Sprinter
U.S. Girls, Half Free
Young Guv, Ripe 4 Luv
Des Ark, Everything Dies
YG, Blanco & DB Tha General, California Livin
JR & PH7 X Chuuwee, The South Sac Mack
Joanna Newsom, Divers
Cousin Stizz, Suffolk County
Songs:
Meek Mill featuring Big Sean and A$AP Ferg, "B-Boy"
Rich Homie Quan, "Flex"
Susanne Sundfør, "Accelerate"
Jidenna, "Classic Man"
Mike Will Made-It featuring Swae Lee and Future, "Drinks On Us"
Susanne Sundfør, "Fade Away"
Meek Mill, "Monster"
Janet Jackson, "No Sleeep"
Drake, "Know Yourself"
Cameron Scheetz
1. Kendrick Lamar, To Pimp A Butterfly
An astounding work of art. Feels both timeless and jaw-droppingly relevant.

2. Courtney Barnett, Sometimes I Sit And Think And Sometimes I Just Sit
Barnett is the Australian Sheryl Crow, and I mean that in the absolute best way possible.
3. Father John Misty, I Love You, Honeybear
An album about love for people who don't believe in it.
4. Grimes, Art Angels
This is the next evolution of Grimes the pop star, and I wouldn't have it any other way. Pure genius.
5. Sufjan Stevens, Carrie & Lowell
Sufjan Stevens has gone big, bombastic, and downright weird in the past, but he's at his best here, stripped down and spilling his guts.
6. Sleater-Kinney, No Cities To Love
Ashamed to say that this was my formal introduction to Sleater-Kinney, but it was the perfect gateway to the group's world of smart, edgy rock.
7. Natalie Prass, Natalie Prass
A beautiful throwback that only gets better with each listen. When Natalie Prass croons, I swoon.
8. Donnie Trumpet & The Social Experiment, Surf
Highlighted by the jubilant "Sunday Candy," Surf is an optimistic, heart-felt testament to the power of community.
9. Deerhunter, Fading Frontier
Deerhunter refines its sound, but doesn't lose its knack for crafting weird, charming rock.
10. Tame Impala, Currents

Though it wasn't the game-changer I anticipated, there's a lot to love about Currents, from its neurotic lyrics to the eight-minute bliss of "Let It Happen."
The next 10:
11. Beach House, Thank Your Lucky Stars
The more somber of the duo's 2015 albums, Thank Your Lucky Stars comes out on top due to its clearer vision.
12. Viet Cong, Viet Cong
With just seven songs, Viet Cong sets the course for an exciting career. Eagerly anticipating what's next.

13. Chvrches, Every Open Eye
Not quite the sophomore stunner I wanted it to be, but still a hell of a good time.
14. Bully, Feels Like
Grungy rock that goes down easy with catchy hooks and a hell of a live show.
15. Belle & Sebastian, Girls In Peacetime Want To Dance
An outwardly danceable album with an introspective indie heart.
16. Jamie xx, In Colour
Jamie xx makes a significant break from his fellow Xs with the "party album" of the year.
17. Beach House, Depression Cherry
Less focused than their latter effort this year (see above), but it does have "Sparks," which is a phenomenal song.
18. Vince Staples, Summertime '06
A staggeringly impressive hour of catchy, bracing, insightful hip-hop.
19. Carly Rae Jepsen, Emotion
Bless you, Carly Rae Jepsen. I'd say this album was my guilty pleasure of the year if I actually felt guilty for liking it so much.
20. Soak, Before We Forgot How To Dream
Basically the Pure Heroine of the year. Like Lorde, Soak somehow makes me feel nostalgic for the awkwardness of being a teenager.
Favorite single of the year:
Mas Ysa, "Margarita"
The way this track continues to build on top of itself makes it irresistible, and then it reaches its sax-looping, beat-thumping climax and its pure catharsis. Mas Ysa's full album, Seraph, may have let me down, but this song never will.
Best song to dance to:
D.R.A.M., "Cha Cha"
I do love you, "Hotline Bling," but you'd be nothing without "Cha Cha."
I will never apologize for being in love with this song:
Justin Bieber, "Sorry"
It's just far too much fun (have you seen the video?) and will end up being my most played song of the year.
The heartbreaker of the year:
Wet, "Deadwater"
This is such a beautiful, well-crafted song that I always forget how much it can destroy me.
Best echo of 2014:
Sharon Van Etten, "I Don't Wanna Let You Down"
She had my absolute favorite album of last year, and this folksy single would've felt right at home among the endearingly earnest tunes of Are We There.
Biggest and boldest statement:
FKA Twigs, "In Time"
Really, all of FKA Twigs' M3LL55X belongs here. It surely would've ranked very highly on my album list if it were more than an five-song EP.
The most fun to hear live:
Hinds, "Davey Crockett"
The spunky Spanish quartet ended its November Lincoln Hall set with this jam and the entire crowd lost their minds.
Best sing-along chorus:
Snakehips, featuring Tinashe and Chance The Rapper, "All My Friends"
Full disclosure: I know absolutely nothing else about Snakehips, but the chorus of this song is the catchiest. It was love at first listen.
Best non-A.V. Undercover cover song:
Hot Chip, "Dancing In The Dark"
I thought Haim's take on Tame Impala's "Cause I'm A Man" was ingenious, but this cover of The Boss wins on sheer radiance (with just a dash of LCD Soundsystem).
Most "2015" jam:
Unknown Mortal Orchestra, "Can't Keep Checking My Phone"
Between its funky throwback vibes (a common theme for the year—see also: Tame Impala, Toro Y Moi) and its concerns over unreplied messages, it doesn't get anymore more "2015" than this.
Best fist-pumper:
Health, "New Coke"
"Life is good," as they say.
Zach Schonfeld
1. Torres, Sprinter
2. Joanna Newsom, Divers
3. Sleater-Kinney, No Cities To Love
4. The Amazing, Picture You
5. Destroyer, Poison Season
6. Ava Luna, Infinite House
7. Panda Bear, Panda Bear Meets The Grim Reaper
8. Pile, You're Better Than This
9. Beach House, Depression Cherry
10. Carly Rae Jepsen, Emotion
Five honorable mentions that only barely missed the cut:
1. Protomartyr, The Agent Intellect
2. Kendrick Lamar, To Pimp A Butterfly
3. Miguel, Wildheart
4. Port St. Willow, Syncope

5. Modest Mouse, Strangers To Ourselves
Five acclaimed albums I couldn't get behind in 2015:
1. Viet Cong, Viet Cong
2. Adele, 25
3. Sufjan Stevens, Carrie & Lowell
4. Ryan Adams, 1989
5. Bob Dylan, Shadows In The Night
Five favorite songs of the year:
1. Joanna Newsom, "Time, As A Symptom"
2. Ava Luna, "Steve Polyester"
3. Heems (feat. Dev Hynes), "Home"
4. Torres, "New Skin"
5. Carly Rae Jepsen, "Let's Get Lost"
Eric Swedlund
1. Father John Misty, I Love You Honeybear
2. Courtney Barnett, Sometimes I Sit And Think, And Sometimes I Just Sit
3. Beach Slang, The Things We Do To Find People Who Feel Like Us
4. James McMurtry, Complicated Game
5. Hop Along, Painted Shut
6. The Helio Sequence, The Helio Sequence
7. Earl Sweatshirt, I Don't Like Shit, I Don't Go Outside
8. Jason Isbell, Something More Than Free
9. Calexico, Edge Of The Sun
10. Leon Bridges, Coming Home
The next 10 (in no particular order):
Titus Andronicus, The Most Lamentable Tragedy
Sleater-Kinney, No Cities To Love
Giant Sand, Heartbreak Pass
La Luz, Weirdo Shrine
The Minus 5, Dungeon Golds
Kendrick Lamar, To Pimp A Butterfly
Blitzen Trapper, All Across This Land
Sufjan Stevens, Carrie & Lowell
My Morning Jacket, The Waterfall
Protomartyr, The Agent Intellect
25 killer songs beyond the top 20:
1. Alabama Shakes, "Don't Wanna Fight"
2. Waxahatchee, "Air"
3. Natalie Prass, "Bird Of Prey"
4. Lord Huron, "Fool For Love"
5. Young Fathers, "Shame"
6. Mountain Goats, "The Legend Of Chavo Guerrero"
7. The Dodos, "Goodbyes And Endings"
8. Punch Brothers, "I Blew It Off"
9. The Districts, "Peaches"
10. Twerps, "Stranger"
11. Craig Finn, "Newmyer's Roof"
12. Modest Mouse, "Lampshades On Fire"
13. Chastity Belt, "Cool Slut"
14. The Tallest Man On Earth, "Darkness Of The Dream"
15. Murs, "Okey Dog"
16. The King Khan & BBQ Show, "Alone Again"
17. Built To Spill, "Never Be The Same"
18. White Reaper, "Make Me Wanna Die"
19. Fidlar, "West Coast"
20. JR JR, "Gone"
21. American Aquarium, "Wolves"
22. Richard Thompson, "She Never Could Resist A Winding Road"
23. Joel Plaskett, "The Park Avenue Sobriety Test"
24. Josh Ritter, "Getting Ready To Get Down"
25. Telekinesis, "In A Future World"
Best live album:
Dr. Dog, Live At A Flamingo Hotel
Best posthumous album:
Pops Staples, Don't Lose This
Best vault clearing:
Bob Dylan, The Bootleg Series Vol. 12: The Cutting Edge 1965–1966
Best as-yet unreleased new song:
Tom Waits, "Take One Last Look" (live on the Late Show With David Letterman)
Kevin Warwick
1. Protomartyr, The Agent Intellect
Protomartyr's charm lies mostly in apathy, but more specifically in the dark and sullen drawl of frontman Joe Casey. And as he lumbers forward—sometimes poetically, sometimes boorishly—the understatedly sharp, blue-collar post-punk stays right in step with his vocals (complemented by only a slightly drunken swagger). Take into account that Under Color Of Official Right was one of 2014's gems, and it's pretty much straightforward logic that these Detroit dudes are currently one of the best rock bands making full-length albums.
2. Health, Death Magic
The L.A. noise-rock foursome returned with a giant album after a six-year absence that was partially spent soundtracking the video game Max Payne 3. Death Magic leans a lot more toward experimental electro—occasionally bordering on poppiness—but they still often pull the pin and devolve into a shitstorm of guitar gashes and primal, frenetic drumming.
3. Deafheaven, New Bermuda
Trailblazers of the new retroactive "blackgaze" movement. Look it up.
4. Grimes, Art Angels
5. Speedy Ortiz, Foil Deer
More abrasive and more disjointed than on 2013's Major Arcana, Speedy Ortiz shred and paste riffs together on Foil Deer like they're composing a poetry-slam performance. And frontwoman Sadie Dupuis is at the same time gutsy and endearing—via her romantic lyrics and outsider guitar playing—which, when seeing her live, you begin to realize is a special occurrence.
6. Beach House, Depression Cherry
7. Battles, La Di Da Di

Forget the vocals this time around on the experimental math-rock trio's third full-length. Light and playful—and always technically fascinating—the instrumental album is starker than its predecessors, but that doesn't make a nearly seven-minute track like "The Yabba" any less peculiar and awesome as it resembles a Legoland of guitar effects held in check by the expert drumming of John Stanier.
8. Black Breath, Slaves Beyond Death

Black Breath is at the top of the game of heavy and hateful, D-beat-influenced metal. Though this album isn't as thrash-forward as Heavy Breathing and Sentenced To Life, it's still plenty destructive in its onslaught of tremolo picking and bile-filled vocal yowls. Track titles like "Reaping Flesh" and "Chains Of The Afterlife" should pretty much let you know what you're getting into.
9. Colleen Green, I Want To Grow Up
10. A Place To Bury Strangers, Transfixiation
A dependable fixture in the shoegaze-influenced noise-rock underground, the Brooklyn trio is well known for reaching deafening levels of volume during its intense live shows (my ears were still ringing the day after I recently saw them in Chicago). You get more than just a sense of that on Transfixiation too as the guitar squall swells and the serrated bass lines violently cut through the clatter.
The next five:
11. Chvrches, Every Open Eye
12. Disappears, Irreal
13. Royal Headache, High
Led by the temperamental mononymic frontman Shogun, these Aussies make an off-brand of pop that's soulful garage one moment and breezy indie rock the next. And Shogun's raspy vocals keep it all in check by roughening the edges as he goes along. One of the year's catchier albums that didn't seem to catch on quite as much as it deserved.
14. Metz, II
Did you hear the first Metz full-length? Boy, I bet you did. This is mostly like that, so it's also really good.
15. Passion Pit, Kindred
I'll be the first to admit that Michael Angelakos can get way too wacky with dragging out the trunk of bells and whistles and kazoos and glockenspiels in order to compose a glittery electro indie-pop song. But I'll also admit that he pulls it off more often than not, and I'm surprised and pleased each time he does. Plus his oft-solemn lyrics tend to keep the hyper-colored instrumentation at least a little grounded.
Other cool records that belong on a list:
Natalie Prass, Natalie Prass
KEN Mode, Success
Sheer Mag, II (7-inch)
Golden Pelicans, Oldest Ride Longest Line
Minneapolis Uranium Club, Human Exploration
Zombi, Shape Shift
Vexx, Give And Take (7-inch)
Video, The Entertainers
Torche, Restarter
The Sonics, This Is The Sonics
Best attempt to slice a sound down to its bare bones:
My Disco, Severe
Since 2006, the Australian trio has released four albums of calculating, repetitive, and minimal post-punk, but this year's Severe is as sparse and scorched as anything they've done—almost freakishly so. The looping bass lines from frontman Liam Andrews slowly bleed into the backgrounds of tracks as he mechanically repeats simple and chilling lyrics. The guitarwork so often consists of menacing feedback and noise while the drumming devolves into a series of accents rather than anything that constitutes a cohesive rhythm. The negative space of each track will eventually get to you—but that triggered paranoia is all a part of the album's greatness.
Best Dick Dale impression:
The "Swami" John Reis and The Blind Shake
Having already fueled an impressive pedigree of bands that includes Drive Like Jehu, Rocket From The Crypt, and Hot Snakes, John Reis doesn't have much else to prove—so for shits and giggles, why not do a surf-rock band? Written with the pro garage-punk dudes from The Blind Shake, the collaborative album Modern Surf Classics suits Reis perfectly: Not only does he get to smoke through riffs just like the King Of The Surf Guitar, he gets to do it while donning an Aloha shirt and a hammed-up grin. No one has more fun on stage, even while touring through the Midwest in the dead of the 2014 winter on a surf album.
Best reason to shrug off watching the Blackhawks win the 2015 Stanley Cup:
Algiers at Schubas in Chicago on June 13
There were maybe 30 people in the crowd as the transatlantic trio—currently based in New York and London—plowed through a heated set of soulful and experimental post-punk with a level of intensity that drowned out the hubbub simmering in the front room while the Blackhawks took control of Game 6 and won the Cup. Algiers' self-titled debut on Matador had just been released and it was apparent from the get-go that they were going to leave pools of sweat on stage trying to convert its small Monday-evening crowd. Their incredible first single, "Blood," is a mix of gospel-flavored vocals and a haunting bleak rhythm that'll make the hair stand up on the back of your neck. Here's hoping this band gets the bigger audience they deserve.
Annie Zaleski
1. Grimes, Art Angels
2. Sleater-Kinney, No Cities To Love
3. Wilco, Star Wars
4. Line & Circle, Split Figure
5. Duran Duran, Paper Gods
6. FFS, FFS
7. Veruca Salt, Ghost Notes
8. Waxahatchee, Ivy Tripp
9. Carly Rae Jepsen, Emotion
10. Ryan Adams, 1989
Next five:
11. Noel Gallagher's High Flying Birds, Chasing Yesterday
12. Rhett Miller, The Traveler
13. Fall Out Boy, American Beauty/American Psycho
14. Madonna, Rebel Heart
15. Screaming Females, Rose Mountain
Most pleasant surprise:
Bob Dylan, Shadows In The Night
I'm no Dylan geek, but I thought this record of standards was fantastic, mainly because his vocals had incredible, mysterious gravitas.
Most pleasant surprise, part II:
Marilyn Manson, The Pale Emperor
Possesses the kind of goth-glammy cinematic swagger that his recent records have sorely lacked.
Most unpleasant surprise:
Gang Of Four, What Happens Next
Really, you don't want to listen and find out.
Most underrated major label record:
Smallpools, Lovetap!
Major label indie-pop bands are a dime a dozen these days, but Smallpools do the shiny new wave/electro-pop dance better than most, thanks to strong songwriting.
Most underrated major label imprint record:
Waters, What's Real
Grungy indie-rock indebted to Pixies and Modest Mouse is also rather prevalent, but this Vagrant-signed band has a scorched, angsty soul that helps them transcend common influences.
Best space-rock return:
Failure, The Heart Is A Monster
After influencing a whole new generation of grungy space rockers, the L.A. trio returned triumphantly to reclaim their crown.
Best singing reality show transcenders:
Melanie Martinez, Cry Baby + Adam Lambert, The Original High
The latter remains a supremely underrated glam-pop diva; the former puts a delightfully modern spin on gothy '90s singer-songwriters.
Best pop culture clash:
Fall Out Boy, "Uma Thurman"
Appropriating the Munsters theme didn't make everybody happy, but it did make for an infectious, irresistible tune.
Best summer jam:
Best Coast, "Heaven Sent"
Letters To Cleo meets the poppier side of Hüsker Dü, with a dash of reverb thrown in. Sold!
Best cameo:
Pet Shop Boys' Neil Tennant on Brandon Flowers' "I Can Change"
As if a prominent sample of Bronski Beat's "Smalltown Boy" wasn't fantastic enough, this B-Flow song features Tennant popping his head in to simply utter the line, "And when you're looking for a change…"
Best reunion:
Ride, live in concert, anywhere

The U.K. rock titans plugged in, turned up their amps, and blew every single neo-shoegaze band off the stage by reuniting and sounding even better than they did the first time around.