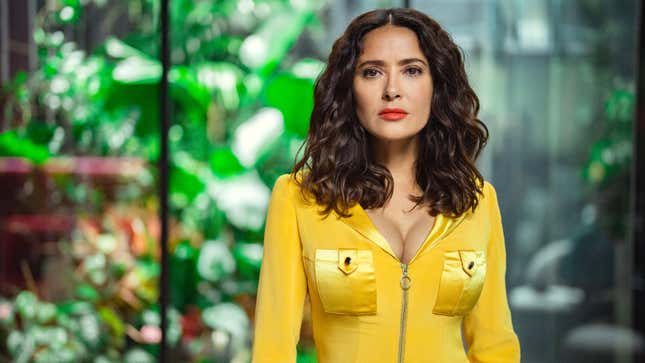 One of the shining jewels in Netflix's crown, Black Mirror's darkly speculative musings about our not-so-distant future have always been subjected to impossibly high expectations. We've pored over each episode (literally, The A.V. Club has ranked all of them) in microscopic detail and analyzed every reference and Easter egg to death. Some of us have heeded its warnings. Yet, for as much as the show has been lauded, it has occasionally been subjected to unimaginative (and misinformed) criticisms over its "technology is bad" messaging.
Netflix plans to make you freeloaders finally cough up the dough
Now, after four long years of waiting, it's back. And the much-anticipated sixth season of Charlie Brooker's dystopian anthology, which premieres June 15, has absolutely zigged where you'd usually expect it to zag. (Can we get a hands up for who thought ChatGPT would be the villain of this piece?) Whereas past seasons have focused wholly on lives invaded, manipulated, and transformed by tech, however, this one deals instead with the corruptibility of humankind.

From lust to envy, pride to wrath, this is a version of Black Mirror that deals with the driving forces behind our everyday (or not so everyday) transgressions. Indeed, two of the season's episodes—all of the installments are quietly confident in their narratives, able to take their time and focus on those tiny human moments we usually lose in favor of, say, a swarm of robotic bees (see season three's "Hated In The Nation")—actively strip away all of the trappings of modern tech by setting their stories in the '70s and aughts. As such, the eponymous black mirror it holds up to our reality is pointed squarely at…well, at us.
The first episode, "Joan Is Awful," sets us up for this unexpected tonal shift. Starring the ever-delightful Annie Murphy and Actual Salma Hayek, it spins a yarn about an average woman with above-average hair who is stunned to discover a global streaming platform has launched a trashy new TV drama adaptation of her life, warts and all. It's LOL-funny in places, which is always welcome. It's engrossing, too, despite being the weakest in this new collection. (There's a whiff of "South Park did this" that proves annoyingly difficult to ignore once you've made the connection.) Still, the flaws of its meandering middle come good in its wildly meta end. And its themes surrounding the ethics of privacy and media consumption are picked up deftly in the very next episode.

The second chapter in the tale, "Loch Henry," sees a couple of bright young things (Samuel Blenkin and Myha'la Herrold) head to a sleepy Scottish town, where they plan to make a very lovely and ever so high-brow documentary about a vigilante of the natural world. Instead, they sit down for a pint with Stuart (Daniel Portman, a.k.a. Podrick Payne, aka the unsuspecting darling of Game Of Thrones' Westerosi brothels) and quickly become obsessed with his tale of a shocking true crime that rocked the town many years ago. Too bad, then, that Stuart's booze-guzzling dad (an almost suspiciously famous John Hannah) doesn't want them digging over the coals of the past. It's a twist wrapped up in a mystery that, even if it doesn't keep you guessing until the very end, is guaranteed to fill you with a delicious sense of impending doom.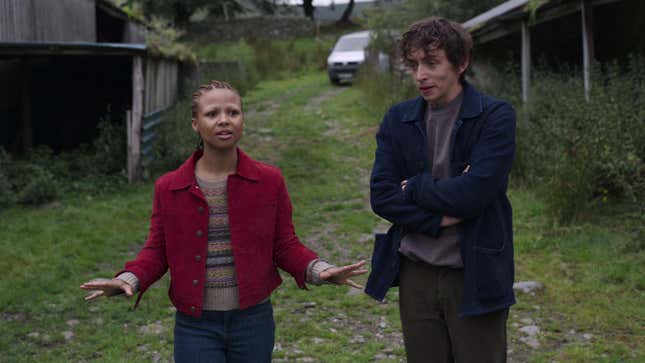 Impending doom evolves into horrified awe in "Beyond The Sea," the third chapter of the season, which steers us away from the light and back into the darkness we've come to associate with the series. Set in an alternative 1969, it sees two men on a perilous high-tech mission—Josh Hartnett and Aaron Paul—who find relaxation and solace in the world of robotics. As you do. When one of them is shattered by an unimaginable tragedy, though, it's up to the other to find a way to help their near-catatonic colleague by any means possible. Yes, the tech in this one is a poorly disguised plot device, designed to propel us towards its unforgiving final moments. Honestly, though, the story is irrelevant: The power in this piece comes from its powerhouse performances, whether that be Rory Culkin's menacing turn, Kate Mara's gentle warmth, or the ever-growing intensity of Paul and Hartnett.

The penultimate episode is one of our favorites, despite the fact it isn't really focused on tech. At all, actually. Set in the aughts, it sees Clara Rugaard step into the shoes of Mazey Day, a deeply troubled starlet who finds herself hounded by paparazzi at every turn. Paparazzi such as, for example, Bo (Zazie Beetz), a woman who just wants to snap that $30,000 photo of Mazey so she can make her goddamn rent and get her obnoxious flatmate off her case for the first time in forever. As she doggedly pursues Mazey across the country, however, Bo soon realizes that there's more to the celebrity's downward spiral than meets the eye. The kind of more that will have you howling at your TV before the credits roll.

"Demon 79" is the very definition of saving the best til last. Again, it sends us rocketing back in time, to 1979—and, again, its focus isn't on the evils of technology. Instead, it gives us Nida (Anjana Vasan), a lonely sales assistant who accidentally summons a discowear-clad demon on her lunch break. Serving twisted It's A Wonderful Life vibes, it soon transpires that Paapa Essiedu's Gaap has to earn his demonic wings, and that he will only do so if he convinces Nida to carry out three human sacrifices. Thankfully, he's hot, charismatic AF, and has the ultimate trump card up his flared white satin sleeve: If she doesn't get a-murdering soon, it's end of the world time. Eep.

The result is an eclectic collection—in both tone, genre and subject matter (as anthologies are wont to do)—and one which makes for a brilliant weekend bingefest. Sure, there's an air of "having your cake and eating it" when it comes to the show's dim view of streaming platforms. (At times, it feels as if Brooker has conveniently forgotten he's in bed with Netflix.) Sure, one or two episodes are a bit longer than they need to be. And sure, the showrunner's decision to move away from his usual musings on technological advancements might upset some of his more inflexible fans. However, there's no denying it works. It usually works well, too. 

In the very early days of Black Mirror, there was a charmingly indie feel to each episode. Nowadays, it boasts the cinematic sheen and obscenely talented casts that we've come to associate with Hollywood money. And, rather than allow this to dilute the impeccable satire spinning at the center of his creation, Brooker has instead used it to his advantage: more impressive world building, more room to explore the depth of human emotion, and infinitely more ambitious, thought-provoking, and moving narratives. Still, you'll be pleased to know it hasn't lost its playfulness: Indeed, there's one scene, set inside a Catholic Church, that will give you the same WTF vibes that "The National Anthem" did when it was released way back when.

It's the sort of TV that demands you put away your phone and pay attention, quite frankly. And, after the show's divisive fifth season (which prompted many to accuse it of overstaying its welcome), we are genuinely relieved to see it back on form. Fingers crossed there isn't still another twist to come.

---
Black Mirror season 6 premieres June 15 on Netflix