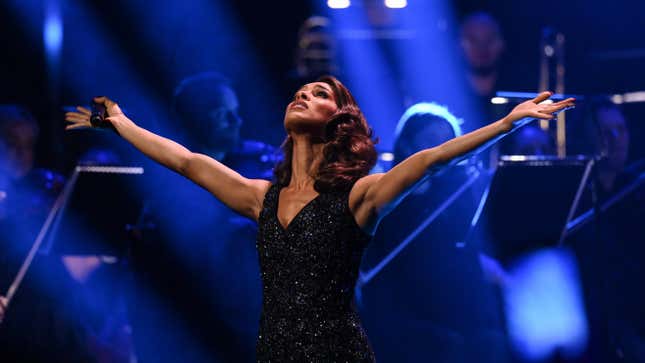 Okay, so: On the one hand, it is usually considered extremely poor form, when attending musical theater as an audience member, to sing along with the songs from the crowd. There's a reason that all those people in the costumes up on the stage are being paid to be there, while you had to shell out cash just to get your ass in the door. Let them do their damn jobs!
Joe Dante on Key & Peele's "Gremlins 2" sketch
But on the other hand: How are you not gonna belt out the chorus of "I Will Always Love You" when the spirit of Whitney takes you, huh?
Such is the conundrum that apparently seized members of the audience at a U.K. production of the stage musical version of The Bodyguard this weekend, which was apparently shut down and canceled as a "mini-riot" broke down because people would not stop joining in for the Dolly Parton-penned mega-hit.
Per Variety, the Friday night Manchester production of the show actually had to stop down more than once, as a few members of the audience simply wouldn't stop singing along with various songs. (Reportedly drawing cries of "Shut up" from the more restrained voices in the crowd.) But the final straw came at the play's climax, when star Melody Thornton (from The Pussycat Dolls) went for her big showstopper, only to have the show, uh, stop, with her mic cut and house lights brought up due to the unwelcome accompaniment. We're just going to go ahead and quote the Variety story verbatim here about the aftermath, because it's fascinatingly surreal: "Two women were forcibly pulled out of the theater by security, and several police cars arrived to oversee the evacuation of the theater after what patrons on social media described as 'fights in the aisles' and even 'a mini-riot.'"
Amazingly, this is not the first time this particular show has dealt with these issues: A standing Glasgow production was also apparently subject to similar disruptions, including repeated incidents of theater-goers trying to "outsing" the actors. Is this some new epidemic of theatrical rudeness? Or just the natural consequence of deploying a weapons-grade refrain like "I Will Always Love You" on an unprepared populace?