Dearly beloved:

We are gathered here today to mourn the loss of 20 butterflies, suffocated to death in the breasts and bracelets of a drag queen. RuPaul crowns America's next drag superstar in season 10's grand finale, but the moment of the episode is when Asia O'Hara attempts a costume reveal that goes devastatingly wrong.
Asia is a big conceptual thinker, and she incorporates living butterflies into the outfit she wears to lip sync against Kameron, who had her own memorable butterfly look earlier in the season. All of the final four have a reveal at some point in this episode, and Asia certainly makes an impression with hers. Unfortunately, it's the kind of impression that demands an apology for committing mass insecticide on an international stage. There's a crushing sadness on Asia's face when she lifts her bracelet cover and finds dead bugs, but she knows she has to let them all loose or her lip sync number won't have that wow factor.
Asia O'Hara's finale tragedy is the greatest case against reveals as showstoppers. Instead of putting together a high-energy lip sync with dance moves and a distinct character, Asia builds her routine around the butterfly reveals, a foolhardy decision from the start because butterflies don't read on camera. It's hard to tell what exactly is in Asia's bracelet at first, and it doesn't quite register that these are living (but not really) butterflies until the camera zooms in on some of them gasping their final breaths on the runway before they're crushed by dancing queens. Once it registers…cue Monique's dropped jaw and WTF eyes. This lip sync is so much worse the second time around, and that's when you can really notice the spirit immediately drain from Asia when she realizes her hopes have failed to take flight.
G/O Media may get a commission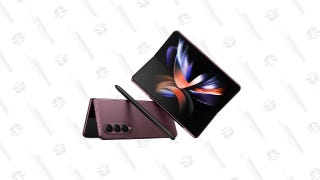 Save Up to $300
Galaxy Z Fold4
Asia has been covering her face for her public appearances after the finale, and maybe it's because she's the only final queen who knows she hasn't won. Or mourning her dead butterflies. A lot of people have been looking at the deeper social implications of Asia's recent looks in the aftermath of the reunion, and the events of last week have me thinking about Asia's finale journey from a different perspective. The moment of Ru giving Asia the opportunity to slap her back comes across as a public humbling after Asia talked back to her during the Vixen conversation, and while I don't know which episode was filmed first, the order of them airing creates a narrative where a moment that's supposed to be funny turns into an uncomfortable display of authority. The butterflies are dead, Asia. Take the slap.
The reunion also influences how I look at Kameron in this episode, and while she may present herself as an innocent pastel princess, I've started to get a more calculating, slightly sinister vibe from her. I'm more cognizant of the mask she puts on for this show, and I think there's a shadier queen inside Kameron that could have potentially won this competition. She defeats Asia because she doesn't kill anything but the track, and the extent of Kameron's reveal is pulling off a robe to reveal and shiny bodysuit. What she does is perform the hell out of Janet Jackson's "Nasty," and while it's very good, it's still more of what we've already seen four times this season.
It's exhilarating when you see a queen lip sync for their life for the very first time, especially when they've gotten through the entire season without having to worry about it. Aquaria lip synced in the final competition episode, but that's a showdown that doesn't have the same stakes of fighting to stay in the competition. In her lip sync against Eureka, she reveals that she's a passionate performer who connects to the music in both her acting and dancing, skills that she prioritizes above any reveals. Her Jiffy Pop shell is dropped at the very beginning of the number to immediately get the crowd going, and then she spends most of her time living the music before removing two cones on her breasts to reveal a bedazzled brassiere.
Eureka has a series of major costume reveals—a hair loaf under an oversized wig, a transformable dress that zips away to unveil a bodysuit—and a lot of high kicks and splits. The moves outside of those reveals are standard Eureka, but you can't underestimate just how powerful those costume changes can be when they work without any hiccups. The bar I was in went wild for every single one, and I imagine the audience at the finale taping was similarly enthusiastic.
RuPaul keeps the both of them, a decision I see as a direct response to Aquaria complaining about Eureka and Kameron both being safe earlier in the season. Aquaria was bitter because that meant there wouldn't be a double save when she was in danger, and Ru gives her what she asked for at the most inopportune moment. This exposes the negative side of the double save, and Aquaria doesn't get to continue to the next stage knowing that she rightfully won that challenge.
There's a collective gay gasp in the theater when Ru announces that Kameron, Eureka, and Aquaria will be lip syncing to "Bang Bang" by Ariana Grande, Nicki Minaj, and Jessie J, and it's one for the ages thanks to some genius prop usage from Aquaria. Kameron completely fades into the background when she has to compete against more than one person for the spotlight, and you can tell that she's getting worn out from doing the same moves over and over again.
Eureka gives a strong performance and she has the right attitude for this song, but what she doesn't have are Aquaria's confetti cannons, the perfect prop for a song called "Bang Bang." Once again Aquaria starts things off by impressing the audience with sparks shooting out of her hand, and she fires the first confetti cannon after furiously jacking it off during a build in the song's chorus. She saves the second cannon for the very end, a power move ensuring that the audience continues thinking about her after the lip sync as they watch confetti float through the air, remembering that perfectly timed moment when Aquaria unleashed it in the air.
The winner of RuPaul's Drag Race season 10 is a product of the series, and it's fitting that Aquaria would be crowned in the year celebrating the legacy of the show. This finale begins with the majority of the season 1 queens—sans Tammie Brown, currently walking children in the Australian outback with Trixie Mattel—back together under season 10 lighting, and they return for a lip sync extravaganza with the season 10 girls. The 90-minute running time gives the producers the opportunity to incorporate these memorable extra bits, and it makes the episode feel like a VH1 Special rather than a series finale, complete with celebrity contributions from Sally Jesse Raphael, Dame Judi Dench, and muthafuckin' Oprah.
There's a lot of self-congratulation in this episode, and RuPaul brags about how much the show has permeated pop culture and redefined the drag economy. She's not wrong, but the bigger the show gets, the more mainstream and commercial it feels, which isn't great when you're dealing with a fundamentally subversive art form like drag. RuPaul's Drag Race has brought ball culture, created by queer people of color in the city looking for a place where they can escape oppression, into the homes of suburban white families, where a gay kid like Aquaria isn't dealing with the same struggles as someone like The Vixen growing up on the south side of Chicago.
That's not to say that Aquaria didn't struggle because so much of queer existence is persevering through suffering, but she has opportunity and privilege and doesn't deny it. She'll deny that she has a sugar daddy, but she recognizes that she has been dealt a lucky hand in life. That's allowed her to reach this level of excellence early in her career, and she's been able to build up a huge career at a very young age thanks to the resources and support she's had for much of her life. She already had the money to come to drag race with a full wardrobe of runway-ready looks rather than putting things together last minute. Aquaria doesn't need $100,000 the way some of the other queens might need it, like Eureka, who wants to pay off the medical bills for her mother's throat cancer treatment.
But this isn't a competition won by who needs the money most; it's determined by who has the most exciting vision and executes it the best. Aquaria has done that time and time again this season, and she does it in this finale. She's the queen who saw that the final lip sync song was "Bang Bang" and came up with a crowd-pleasing gimmick that would tie into the song impeccably and have huge dramatic impact. Handheld confetti cannons aren't expensive, and she incorporates them into her outfit so you don't see them coming.
Aquaria is an outstanding drag queen but, more importantly, an expert Drag Race player, performing at a consistently high level and regularly surprising the audience by having performance chops that matched her elevated fashion. She's America's Drag Superstar, and given just how young she is and her established position in drag fandom, I'm eager to see what this win means for Aquaria's evolution as an artist and entertainer.
Stray observations
I don't know the facts about the Miss Congeniality tampering, but I think it's dumb to make that a public vote anyway and having the queens vote for it is a much better indication of who was genuinely the most congenial person to work with this season. Monét is the winner and that's a great choice.

I need to gush about Sasha's look, a work of art I'm calling "Glamour Xenomorph Seduces Satan In The Garden Of Eden." She's serving body, face, skull, and snake, a blend of high-fashion elegance, sci-fi imagination, and silly drag humor that knocks me on my ass every time I see it. I was hoping for something that I would never expect, and she really embodies everything exciting about her drag in this look.

Is it just me or does it suddenly feel like Vanjie's moment has passed? People weren't really chanting "Miss Vanjie" at the bar I was at.

I need Monique to have some sort of webseries because she makes me so happy. 10s across the board for her transformable Brown Cow Stunning revival.

Yuhua also comes through with A+ prop game when she whips out a giant fan for her look.

Aquaria's moth mask is a safe, striking alternative to other the winged insects outfits in this episode.

Why does Aquaria call Jaymes Manfield "shapeshifter"? Anyone have the scoop on this?